Life
Indian American Tennis Player Thrown Out of University Team for Misogynistic Speech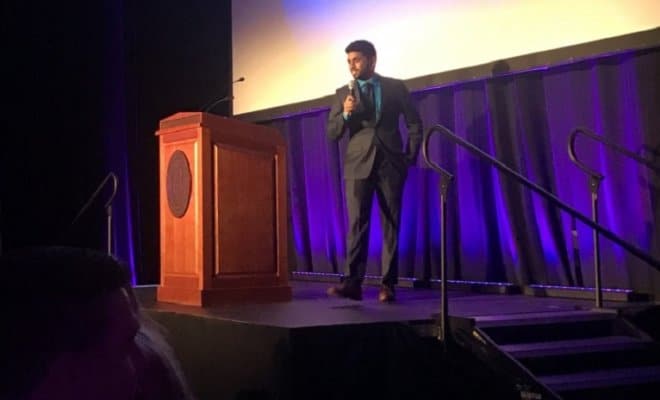 An Indian American student at University of Portland was kicked out of the tennis team for making a misogynistic speech at the university's fifth annual Wally Awards–a year-end sports banquet–on April 15.
He was hosting the awards during which he talked about his sexual quest to "get white women to sleep with brown men". Goutham Sundaram, a senior from Portland, opened his speech saying that he was going to "open up, get real and make the stage his locker room," according to a column in the university's student newspaper by Olivia Sanchez, a senior on the Pilots' rowing team who attended the event.
By April 18, Sundaram was removed from the team and his name did not appear in the online roster. The university's president, the Rev. Mark Poorman, who was also present at the event said he was "appalled" by Sundaram's "shocking and offensive" comments.
"I apologize to all of you that this occurred," Poorman said in a statement. "Clearly, we have continuing work to do to educate and raise consciousness," Poorman added.
Sanchez wrote on the student newspaper that Sundaram's speech was about his sexual pursuits for the last four years of college during which his main goal was "not academic or even athletic, but sexual: to get white women to sleep with brown men," reported the New York Post.
At one point, the tennis player said "Go brown and turn your frown upside down." He also spoke about his parents, who met in India and immigrated to the United States. He said, his "family's journey would be worth it if he could "hook up with a white girl".
He also made a reference to Mahatma Gandhi, saying that he "didn't fast for 20 days so that I could get to America and not sleep with white women," according to the report.
Sanchez called Sundaram's speech "violent, misogynistic". She added that she and others, including the men's head basketball coach and former National Basketball Association player Terry Porter, walked out of the event.
The Indian origin tennis player later apologized in an e-mail sent to the university's athletic program for "taking away from the focus" of the annual sports banquet. "I would like to address what happened at the Wally's last night," Sundaram wrote, according to the New York Post. "I want to apologize for taking away from the focus of the night. The night is meant to celebrate the excellence of student athletes and I would like to apologize if I made any people uncomfortable," he added.