Magazine
Why Do We Pamper These Losers in Blue?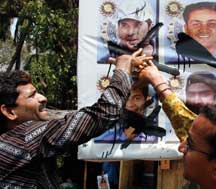 One quibbles not so much with the fact of a defeat, as much as the manner of the defeated.
Team India is down and out of the ongoing World Cup. Its trip to the 2007 tournament lasted a brief and eventful seven days,
the cricketing equivalent of a week-long Caribbean cruise.
Indian bowler Zaheer Khan, second from left, celebrates with wicket keeper, Mahendra Dhoni, center, and Harbhajan Singh, right, after taking the wicket of Sri Lanka's Sanath Jayasuriya during the Cricket World Cup match with Sri Lanka
Runners-up of World Cup 2003, India began its campaign this time on Saturday, March 17 with a shocking defeat at the hands of lowly Bangladesh. The following Monday, after a weekend of stunned introspection by Indian fans and player alike, it thrashed an even more lowly Bermuda by a whopping 257 runs. In beating this "Popatwadi" side – the pithy Mumbai street slang for the weakest side of any tournament – the Indian "tigers" shattered the world records for the highest total in World Cup history (413 for 5 in 50 overs) and for the highest victory margin in all One-Day International matches ever played.
Later that same week, it was back to painful reality on 23 March – one of the blackest Fridays in Indian cricket. The team capitulated before a well-oiled cricketing machine called Sri Lanka, and was effectively eliminated from contention in the very first round. By the end of that evening, the tigers had metamorphosed into a line of lambs trudging listlessly to the slaughter house. The Indian bowlers, particularly Ajit Agarkar, began reasonably well, but lost steam along the way, allowing the Lankans to break loose in the final overs and reach a decent 254. Only one word can adequately describe the Indian batting that followed: spineless.
This however is not the first time that the Indians – particularly the Big Three of Sachin Tendulkar, Rahul Dravid and Saurav Ganguly – have flattered to deceive in a crunch game. Forget, for a moment, the once-in-four-years World Cup tournament. We have a dubious record of losing umpteen finals even in routine tri-nation series matches during regular seasons. And the pattern has persisted over the last decade or so.
India's batsman, Virender Sehwag celebrates his century against Bermuda in the Cricket World Cup
One quibbles not so much with the fact of a defeat, as much as the manner of the defeated. I seen several past Indian cricket teams lose matches and yet cover themselves with glory for having tried their hardest by playing out of their skins against formidable opposition. Team India – significantly after the mid-1990s when brash commercialism in the form of cable television and big sponsorship began dictating the game and its players – has seldom shown that kind of raw spunk. Rarely, if ever, have recent matches ended after a well-fought contest. And rarely, if ever, has the opposing side beaten us: it's our boys who have forfeited the contest by a shameful lack of grit, morale, application and commitment.
So why, oh why, do we pamper this bunch of losers and non-performers? What is it about cricket and cricketers that gets us Indian fans so weak-kneed and mushy that we're ready and willing to give them an interminably long rope? We don't do that to our politicians, do we? We vote them out of power even when we aren't sure that their successors will deliver the goods. We don't suffer film stars either, do we? We simply stop patronizing their movies, which is also called voting them out with our feet.
But cricket is another story for the Indian fan. Or, truth to tell, another religion. We deify our cricketers and not even their repeated failures can shake our devotion. We thought nothing of allowing a straggling old warhorse like Kapil Dev to continue to tag along and play for the country during the last stages of his career in the early to mid-1990s in his quest to break Sir Richard Hadlee's world record for the largest number of Test wickets. We thought nothing of the cost of this "offering" we made to the demi-god Dev (in return for the 1983 World Cup?) in terms of the matches we lost or failed to win, or even in terms of the delayed entry of an exciting pace prospect in Javagal Srinath. No other country – least of all, champion Australia. which ruthlessly axed One-Day utility players like Michael Bevan and Andy Bichel when they were just past their best – would tolerate players the way India has done.
I recognize that the public reaction back home to the latest World Cup debacle is rather sharp and alarming. Three fans succumbed to heart attacks in Pune, Ahmedabad and Hyderabad, and one in Thane (on the northeastern outskirts of Mumbai city) killed himself after the Sri Lanka match. Tour operators are left holding hundreds of trip cancellations to the Caribbean, and corporates running Cup-specific ad campaigns are in a "depression" of sorts. As we go to press, irate fans have attacked the houses of Yuvraj Singh (in Gurgaon) and Mahendra Singh Dhoni (in Ranchi) as well as Zaheer Khan's restaurant in Pune. Promptly, security at the homes of all other team members was beefed up as well. Wags are having a field day on the Internet and mobile SMS.
Angry fans demonstrate against the team after India's humilating World Cup loss
But is this anything more than a knee-jerk reaction of extreme disappointment and let-down not uncommon after a major defeat, and hopefully not long-lasting either? Ajit Wadekar's Bombay apartment was stoned after the dismal England tour in 1974-75, the humiliating defeat made all the more palpable by the earlier series victories in West Indies and England in 1971. And more recently, Mohammed Kaif's bungalow in Allahabad met a similar fate after he scored a duck in the 2003 World Cup Final. Both these cricketers faded out of the reckoning soon after.
The loss in this World Cup has also exposed our cricket officialdom. Traditionally, the Board of Control for Cricket in India has been dominated by professional politicians. The situation today is different only in that the economic stakes are a lot higher. BCCI honcho Sharad Pawar – whispered as being the country's richest politician – and his lackey Rajeev Shukla are reciting the mantra of "new young players" and have thrown Coach Greg Chappell to the wolves. Pawar told reporters the coach's contract, valid till World Cup 2007, would be reviewed. Privately, BCCI sources are certain that Chappell's will be the first head to roll.
Greg Chappell probably knows in his heart of hearts that his excessive experimentation with the team contributed in no mean measure to the overall debacle. Witness for instance the havoc he played with Irfan Pathan who began as an all-rounder of promise a few years ago and has ended the World Cup tour without playing a single match owing to lack of form, focus and confidence. Chappell's case wasn't helped in the least by his outburst at the post-match news conference where he hrefused to accept any responsibility for the defeat against Sri Lanka and for the Cup elimination, and claimed instead that he was not answerable to anyone save his employer, i.e. BCCI. We now know that we can't trust the future of Indian cricket in the hands of a man just because he's a firang. But how far can we really trust its future in the hands of politicos like Pawar and Shukla who appear to have discovered their love for the game only after the BCCI became known as the world's richest cricketing body?
Greg Chappell probably knows in his heart of hearts that his excessive experimentation with the team contributed in no mean measure to the overall debacle
Are we prepared to transcend the impulsive acts of wanton rage by fans and the petty, myopic manipulations of officials? Do we have the sagacity and the integrity to take a clear hard and objective look at the state of our cricket?
If we do, we must discount the statements of the likes of Harbhajan Singh's mother who told a TV channel that her son's team lost to Sri Lanka not because they didn't play well enough, but because God was not on their side that day. We must also discount that biggest hoax and subterfuge our players resort to in post-match interviews: After all, it's just a game. Just a game, my bloody left foot!
Let's accept once and for all, that cricket stopped being just a game and turned into a real big and serious business in the 1990s. When you get paid obscenely huge amounts of money and get backed by a billion hopes, it is nothing short of criminal to be dismissive about your mission. To call your vocation "just a game" is, for a modern international cricketer representing India, a cunning escape-clause to duck your responsibility to the country, to the spectator and finally to the game itself. Are our cricketers so cavalier about their celebrity status – which derives solely from their association with the game – when they're negotiating sponsorship deals with the corporate biggies?
Do coaches get murdered for just a game? Pakistan coach Bob Woolmer's murder has vitiated not only the atmosphere in the ongoing World Cup in the Caribbean, but also highlighted the dangers of letting money in the "game" of cricket go berserk. Suspicions abound that Woolmer – who emerged untainted despite being South Africa's coach in the heydays of the Hansie Cronje match-fixing controversy – was on the verge of revealing details of the cricketer-bookie nexus in a forthcoming bookand thus found himself in the murderous cross-wires of the international gambling syndicate that has many star cricketers on its payroll.
Is there a way out of this snowballing mess of corruption at the highest level of international sport? I believe there is – at least for Indian cricket. If the root of the evil lies in too much money resulting in too little concentration and commitment to the game, let's deal with it head-on. The ultimate question is: how do we transform this beautiful game of cricket to its original pristine glory from its present gaudy and commercial incarnation? The solution is two-fold. It involves the Indian fans on the one hand and the BCCI on the other.
BCCI President Sharad Pawar. How much can we trust the sport in the hands of politicos who discovered their love for the game only after BCCI became known as the world's richest cricketing body?
The fans first. I beseech all my countrymen – and I include NRIs among them – to boycott all products endorsed by cricketers, at least till they win another World Cup. What will this achieve? To begin with, it will keep commercial sponsors out of dressing rooms, in a manner of speaking, and help relegate money to a secondary position in a cricketers' priority list. Several Indian cricket stars are known to skip practice sessions and "minor" matches to accommodate lucrative commercial deals. Even if the star has his priorities right, shooting schedules for TV commercials do take their toll on a cricketer's time and stamina, leaving him drained and exhausted for the real job of practising for and playing top-class cricket. (It's not easy being a poster boy, you know? Ask Dhoni.) A boycott will jolt the cricketer back to the primary task at hand. And no, such a boycott won't pauperize him. No way. Match fees by themselves ensure that he's a millionaire and more within months of selection. The sponsorships put him instantly in the multi-billionaire bracket. For players, most of them in their teens and 20s, it's definitely too much money too soon in life for doing too little.
The BCCI's role is in some ways even more central. It involves suitable penalization of match-fixing cricketers, and strengthening the domestic cricket infrastructure. The first is self-explanatory. The second includes rescheduling Indian cricket's international calendar to make way for greater participation by the players in local Ranji and Duleep Trophy matches. It also includes making greater allocations to the National Cricket Academy at Bangalore for training new budding talent and rehoning old skills. Not too much of an ask for a Board with billions in its kitty.
A stronger domestic program fueled by the cricket academy will develop a larger larger pool of talent for Test and One-Day selection. (Australia is a prime and successful example of this solid professional approach.) We will then no longer be reliant on non-performing stars whose arrogance stems largely from the realization that there is no ready substitute to replace them. There is currently talk of changing the captain and radically overhauling the team after the dismal World Cup performance. But the talk stops short of taking names. Reason: we just don't have the reserve-bench strength of decent quality in any department.
Furthermore, time at the academy and in domestic tournaments will give players opportunities to iron out their technical blemishes and improve their all-round game, fitness and confidence. They will no longer have to resort to "buying insurance" for anticipated failures by downplaying expectations before a big challenge. Look what happened even before the Indian team left for the World Cup. They stretched themselves, not so much in their match preparations, but in promising fans they would aim at the Semi-Finals and would most probably feature in the Cup Final. A senior player like Saurav "Dada" Ganguly, who in the past has expressed disgust at always being the bridesmaid and never the bride, was reduced to playing safe: "…there is no reason why we won't be contesting for the honors on April 28." Today, of course, that reads like a sad joke. On the eve of the tournament it hreflected a strangely diminished and wimpy mindset. Why not aim for the top slot – the World Cup – no less?
I recall my teacher at elementary school who always admonished those who lowered the bar of ambition. "If you jump for the moon, you will at least reach the tree-top," she'd philosophize with an endearing sense of drama, "but if you jump for the tree-top, you will end up in the ditch." There's a lesson there for a team which went to the Cup aiming to play the Semi-Finals or at most, the Final – and ended up being eliminated in the very first round.
It's never too late to go back to school.
Laugh It Off!
Here are a few jokes doing the email and sms rounds after India's World Cup elimination.
A family court judge was deciding on a little girl's custody.
Judge: Baby, would you like to live with your Daddy?
Little Girl: No, he beats me
Judge: Then you'd like to live with your Mummy?
Little Girl: No, no. She beats me too.
Judge: (exasperated): Then who would you like to live with?
Little Girl: The Indian cricket team. They don't beat anybody.
Q. Who's responsible for India's exit from the World Cup?
A. Indira Gandhi. She created Bangladesh.
Team Manager: Hello.
Voice: Can I speak to Sachin? This is his wife.
Team Manager: Sorry, he's just gone out to bat.
Voice: Okay, I'll hold on.
Q. What is the height of optimism?
A. Dhoni coming out to bat with sunscreen on his face.
Q. Why can't Virgin Airlines ever become the sponsor of the Indian cricket team?
A. Not with the way we keep getting f—-d
India is a cricketing nation. It walks, talks, eats, drinks, breathes and sleeps cricket. Too bad it doesn't play it.

– S.H