Life
UK MP Priti Patel Caught in Controversy Over Meetings with Israeli Leaders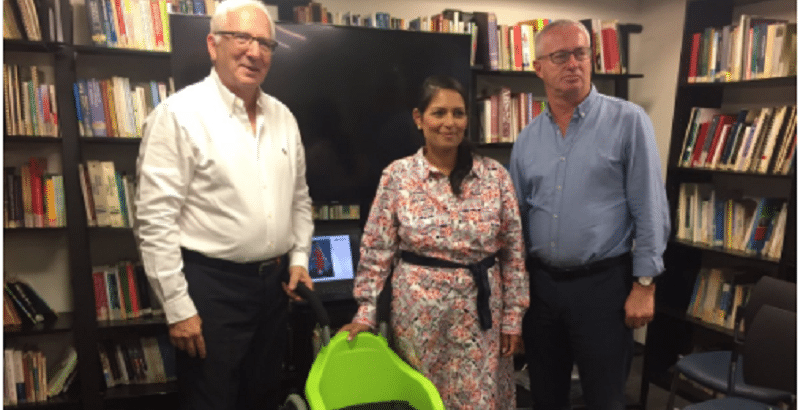 Priti Patel, who was accused of withholding information about her meetings with Israeli leaders, said Boris Johnson was aware of her visit.
British Member of Parliament Priti Patel, who was accused of withholding information about her meetings with Israeli leaders, has accused the Foreign Office officials of briefing against her.  
Patel was reported to have been accompanied by Lord Polak, the honorary president of pro-Israeli lobby Conservative Friends of Israel (CFI) while meeting Yair Lapid, the leader of Yesh Atid Party, in Israel during a personal holiday in August. Ministers are required to inform the Foreign Office about official business while they are overseas. The ministerial code of conduct states that "ministers must ensure that no conflict arises, or could reasonably be perceived to arise, between their public duties and their private interests, financial or otherwise". 
Patel visited many organizations where official business was discussed, the BBC reported. However, the Telegraph quoted a source from the International Development department as saying that she had gone on a personal holiday.  
However, Patel said that Foreign Secretary Boris Johnson was aware about the trip prior to her departure, the Guardian reported. She said that officials were wrong to claim she had not informed the Foreign Office.  
"Boris knew about the visit. The point is that the Foreign Office did know about this, Boris knew about [the trip]. It is not on, it is not on at all…I went out there, I paid for it. And there is nothing else to this. It is quite extraordinary. It is for the Foreign Office to go away and explain themselves," Patel told the Guardian. 
Downing Street dismissed allegations that Patel broke ministerial rules during the Israel visit, saying: "There is no investigation," the Independent reported. 
The incident follows weeks of animosity between the Foreign Office and the Department of International Development. Patel is the Secretary of State for International Development and is seen as a possible future prime minister.  
One minister was quoted by the Telegraph as saying, "This is outrageous. She is a Cabinet minister. She just cannot do this." A former minister said: "What does it say to the rest of the Middle East if a senior Cabinet minister in charge of Britain's huge aid budget disappears… from a family holiday in Israel and is under the wing of a pro-Israeli lobbyist?" 
Patel's critics have accused her of currying favor with wealthy pro-Israeli conservative donors to fund a future campaign. Others said that Patel, the former vice-chairman of CFI, was conducting "freelance foreign policy".  
Patel took out time from her personal holiday to meet Lapid on Aug. 24. He tweeted, "Great to meet with Priti Patel, UK Secretary of State for International Development, today. A true friend of Israel."  
Polak told the BBC that he and Patel just happened to be on holiday at the same time. "We met up for one or two things," he said. "…I just joined her for a couple of days, some drinks, some dinner, that kind of thing." That included the meeting with Lapid: "He is just an old friend of mine… We just had coffee with him. It wasn't anything formal," Polak said.