Arts
U.S. Returns Two 12th Century Statues Smuggled From India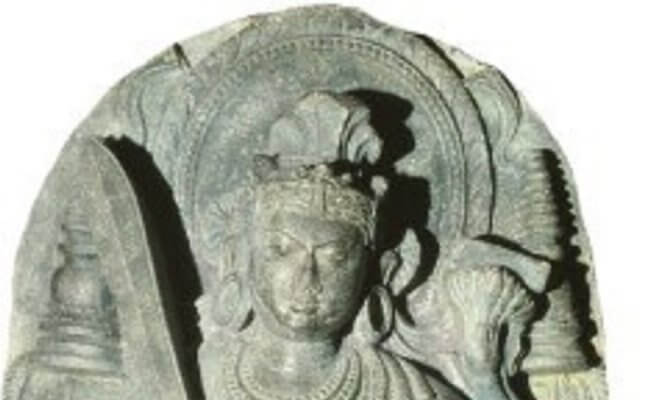 The artifacts were reportedly stolen from temples of Tamil Nadu and Bihar before being smuggled abroad.
Two antique statues worth more than $500,000 that were stolen from India and displayed in American museums were returned by the U.S.
Both statues are believed to be from 12th century and were handed over to Consul General of India Sandeep Chakravorty by Homeland Security Investigations (HSI) Special Agent-in-Charge Angel M. Melendez and Manhattan District Attorney Cyrus R. Vance, Jr. on Sept. 4th.
The first statue "Lingodbhavamurti" is a black granite sculpture dating back to Chola Dynasty and depicts Hindu god Shiva ("Lingodbhava"). Reports said the statue was stolen from Tamil Nadu in the early 2000s and is valued at $225,000. The statue was on display at Birmingham Museum, Alabama. The second statue is made of phyllite and depicts bodhisattva of wisdom. This statue was smuggled out of Bihar in early 2000s. The statue, which was on display at Ackland Art Museum, University of North Carolina, Chapel Hill, North Carolina, depicts "Manjushri" holding a sword and painted in gold leaf. Dating back to the Pala period, the statue is worth $275,000 today.
Acknowledging and appreciating the collective efforts of organizations that helped repatriate the statues back to India, Chakravorty said, "We deeply appreciate the sincere efforts and collaboration received from the office of the Manhattan District Attorney, from the Birmingham Museum of Art, the Ackland Art Museum, as well as from the team at Homeland Security Investigations, who have worked assiduously for the return of these antiquities."
According to the statement, both sculptures were seized in August by Manhattan District Attorney's Office's Antiquities Trafficking Unit following a search warrant and an ongoing joint investigation with international law enforcement into the illicit trade of stolen antiquities which eventually led the team to the sculptures.
The meticulous search operation was jointly led by Homeland Security Investigations and Manhattan District Attorney's office.
Angel M. Melendez, Special Agent-in-Charge of HSI New York, said, "The preservation of one's culture is a commitment made by whole communities, and has existed since the beginning of time." He added "each of these items have a cultural significance in India and we are proud to be a part of their repatriation to their home country."
District Attorney Vance criticized such crimes calling "the pillaging of world heritage for profit is a tragedy. Moreover, trading in stolen artifacts is a crime, and my Office's Antiquities Trafficking Unit is committed to recovering these precious items and returning them to their countries of origin for the benefit of all those who seek to study, view, and appreciate these treasured relics."
Quoting officials of India's Department of Revenue Intelligence, First Post said, Subhash Kapoor, a U.S. citizen of Indian origin is the mastermind behind theft and smuggling of antiques from Indian temples and museums. Kapoor is now held up in a jail in the southern Indian city of Trichy in Tamil Nadu after he was extradited from Germany in 2012. Kapoor is accused of a number of other thefts including 18 idols from Sundareshwar temple and Varadaraja Perumal temple in Ariyalur in April 2008 and eight idols from the Arulmigu Pragatheeswarar temple in the same town.
Last year, as many as 200 smuggled antiques were returned by the U.S. to India with the active collaboration of agencies of both the countries. Similarly in 2014 and 2015, several sculptures were repatriated from Australia and Germany which were smuggled by Kapoor.