Crime
Trump Isn't Telling the Truth About Illegal Immigrants And Crime. The Public Knows It.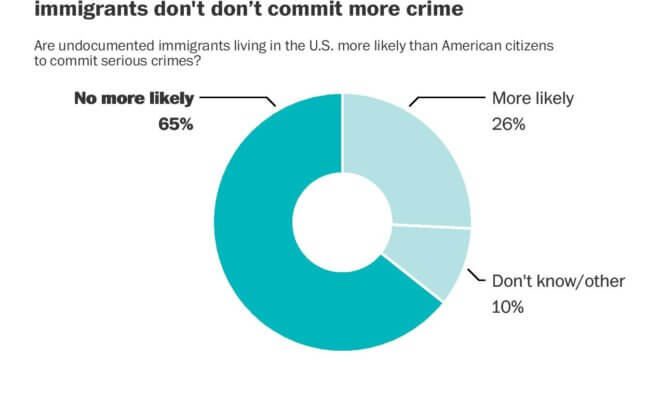 In his push for stricter immigration laws President Donald Trump has repeatedly claimed that undocumented immigrants are a threat to public safety because of what he alleges is their propensity to commit crime.
This claim is false. The best available research shows that immigrants, legal or otherwise, are significantly less likely to commit crime than native-born citizens.
The latest survey from the Pew Research Center shows that an overwhelming majority understand this: By more than a 2-to-1 ratio, respondents said that undocumented immigrants currently living in the United States are no more likely to commit serious crimes than U.S. citizens.
The percentage of Americans who believe undocumented immigrants commit more crime is virtually unchanged since the summer of 2016, suggesting that the White House's frequent and misleading messaging on immigrants and crime has not been effective.
Other results from the survey show that the public is becoming more favorably disposed toward immigrants in the second year of the Trump administration. For the first time in at least two decades, for instance, the share of Americans who say that legal immigration should be increased (32 percent) is greater than the proportion saying it should be decreased (24 percent).
It's not just Democrats driving this shift. The share of Republicans who say legal immigration should be decreased has fallen 10 points, from 43 percent in 2006 to 33 percent today. The share of Republicans saying legal immigration should be increased rose 7 points over that period.
The survey also finds that the American public is growing more sympathetic to the plight of undocumented immigrants. Sixty-nine percent of respondents told Pew they feel "very" or "somewhat" sympathetic toward undocumented immigrants, up slightly from 63 percent in 2013.
A majority of Americans have long supported a pathway to citizenship for undocumented immigrants, and the survey finds that opposition to such a policy is further softening. The share of people who say providing a pathway to citizenship for undocumented immigrants is akin to "rewarding them for doing something wrong" has fallen by nine percentage points since 2015, from 36 percent to 27 percent.
Taken together, these numbers suggest that the Trump administration's hardline immigration agenda, which involves cutting legal immigration, cracking down on undocumented immigrants and blaming immigrants for crime, economic woes and more, is embraced by a shrinking minority of the public.
(c) 2018, The Washington Post