Magazine
The High Life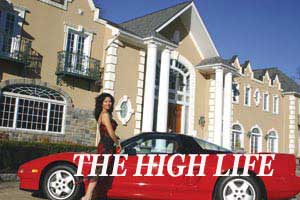 These Indians turn work into play and play into work.
Raj Kanodia's home is a $9 million mansion in Bel Air Estate, Los Angeles, with a private guesthouse for VIP friends. His nearest neighbors? First Lady Nancy Reagan, Liz Taylor, the King of Saudi Arabia and the Sultan of Brunei.
Poonam Khubani's 27,000 sq ft mansion in New Jersey has 9 bedrooms and 17 bathrooms!
Meera Gandhi lives in a historic townhouse in Manhattan that was once the home of First Lady Eleanor Roosevelt, and pictures of Mrs. Roosevelt in India are right in the foyer.
Vikram Chatwal and his buddy Sean Puff Daddy Combs party together and the King of Morocco sent out his private jet to transport them to celebrate Puff Daddy's birthday in style.
Raj Bhatia spends his days in his rolling horse farms in Connecticut and when he needs a change of pace, he takes off in his private jet to Martha's Vineyard or East Hampton.
Poonam Khubani's 27,000 sq ft mansion in New Jersey has 9 bedrooms and 17 bathrooms! And when she has to talk to family members, it's just easier to use the intercom than to walk to their rooms!
Kamal Dandona knows so many beautiful and powerful people, from Sharon Stone to Amitabh Bachchan, that if he were to name drop, it would cause an avalanche or a traffic jam.
Bharat Jotwani who has built his reputation and money bringing bollywood stars to America, is a a hi-roller whom casinos love, courting him with limousines and luxurious rooms.
Bharat Jotwani is a hi-roller whom casinos love, courting him with limousines and luxurious rooms for exclusive soirees. If he wants to head out to Atlantic City, he is flown in the casino's private jet.
Not your usual 9 am to 10 pm, wake-up-work-eat-sleep existence, you'd say! All these Indian Americans have learnt the tricky art of eating their samosas and having them gilded in gold too. They turn work into play and play into work, having a great time even as they almost print dollar bills by the pile. Their lifestyles have a lot to do with their work but are also about fun and living the good life.
The casinos may not be exactly what amma would have approved of, but their siren song is heard and heeded by thousands of Indian Americans who head out for Atlantic City or Vegas. While most go just for a lark, transported in casino buses or family cars, often surrendering their quarters to the one-armed bandits, there are a sizeable number of big players who spend – and sometimes make – big bucks at the casinos.
Bharat Jotwani has been a hi-roller for over 20 years. For uninitiated, a high roller is not a device at Home Depot to apply paint on hard to reach places, but a daring, either very brave or very foolish soul, who takes on the casino and hopes to win. Hi-rollers are people who gamble $50,000 to $100,000 in a night and live to tell the tale.
Kamal Dandona rubs shouders with biggest Hollywood and Bollwood stars in his Bollywood Awards Extravaganza
Understandably, the casinos love these brash guys (and they are mostly guys), plying them with comps, free luxury suites, limo rides, star studded shows and more gourmet food than they could eat in a lifetime.
Jotwani, who plays baccarat and craps, is classified as a high roller in several casinos, including MGM in Las Vegas and Trump Taj Mahal in Atlantic City. "I used to be very big, though now I don't play that much. Now I've toned down but it can go up to $20-30,000 a night. In fact that's on the low side. Six figures and up is considered a true high roller," he explains.
In all his years of casino hopping, has he seen other Indians playing high stakes? "Yes, there are high roller Indians in both Atlantic City and Las Vegas, but most don't want their names to be known. There were quite a few hi-rollers about 15 years back when the casinos started in Atlantic City, but now a lot of them have tapered off, because it's just a myth, being a hi-roller – chances are you'll end up losing."
The dotcom bust made a lot of people lose their appetite for high risk, but in recent years, says Jotwani, the casinos have been attracting people who have done well in the hotel/motel industry as well as convenience stores.
The casinos know how to take care of their high rollers. When The Bargada opened two years ago, Jotwani, because of his high roller status at the MGM in Las Vegas, found himself as the only Indian invited to the exclusive opening night party in Atlantic City, where Billy Crystal was flown in specially to entertain the guests. At yet another party held for 200 special guests, legendary singer Paul Anka was flown in just to perform at the gala, and once again Jotwani was there.
Jotwani, who brings in star-studded Bollywood shows from India to the tri-state area, liked the casinos so much that pleasure soon turned into a work relationship and he started doing his live shows at Trump Taj Casino. In fact, he says, he opened the casinos to the ethnic show business. Since the Trump Taj has a theater capacity of 5,000 people and he's moved on to bigger shows, Jotwani now does his shows at the Boardwalk Hall in Atlantic City, which can accommodate 14,000.
The casinos often sponsor his Bollywood shows and also purchase tickets from him for their hi-roller ethnic clients. For the recent Shahrukh Khan Temptations 2004 Show, the casinos actually bought front row seats at $1,000 a pop for their favored clients. A small price to pay to please a hi-roller they could later relieve of $100,000 at the tables!
For Jotwani, work and play have conflated as show business has permeated his lifestyle. He says, "Everyone knows I put in a lot of hours, because I'm a hands-on guy who runs the show himself." After having been in the airlines business many moons ago, he says his new schtick is definitely superior.
Raj Kanodia's home is a $9 million mansion in Bel Air Estates and boasts Nancy Reagan and Liz taylor as neighbors.
Normally people have a one-way relationship with the stars: you see them on the giant screen and they don't see you or know you or care. But in the business of live shows, Jotwani has hosted the biggest stars and forged friendships with many of them. When he goes to Bombay, Shahrukh will greet him with a hearty handshake, Salman Khan will drive him in his own car and Sanjay Dutt spotting him at the Marriott promptly invites him to join the party at his table.
The man who gets the title of the Bollywood Badshah is Kamal Dandona, New York based impresario of the Bollywood Film, Music and Fashion awards, where's he brought in every big name from Aishwarya Rai to Kareena Kapoor. Over the years he's donned many roles from commercial pilot to savvy businessman to publisher to showman.
Dandona's Rolodex should be an interesting book to read from cover to cover for he rubs shoulders with so many powerful people, including the Hindujas. Nine years ago at his very first live show he managed to get the Big B to turn up on stage, and since then each year he seems to get the most biggest names in showbiz: Sharon Stone, Richard Gere, Michael Jackson, Harvey Weinstein, Steven Seagal, Jean Claude Van Damme and Diane Von Furstenberg. At the fashion awards he's had everyone from Tyra Banks to Jerry Hall to Nicky Hilton.
A mover and shaker in the truest sense, he's always where the moving and shaking is taking place and has met every U.S. president from Ronald Reagan to Bill Clinton to both Bushes, and every New York mayor from Ed Koch to Michael Bloomberg.
For Dandona, the good life means trips to Monte Carlo, Cannes and Nice every year, and his show business has taken him to meetings with the president of Guyana, and Princess Ocansie of Ghana He was a state guest in Haiti under General Avril, probably the only private Indian to be invited by the government.
One strange result of all this hobnobbing with celebrity power is that some of it gets transferred to Jotwani and Dandona too and in the exalted role of Entertainment Provider for the Indian Community, they find themselves being feted at political fundraisers, social soirees and community events. After all, for our film-mad desis, the impresarios of live Bollywood shows are right up there with the inventors of Penicillin and Phone Cards, shucks even God!
 
Out in California, Dr. Raj Kanodia is also brushing with stardust. As a celebrity plastic surgeon in Beverly Hills, he has gained quite a reputation and his lifestyle has taken on some of the glitter of the stars that he chisels. Many Hollywood and Bollywood stars come to him for treatment, but you're not going to learn who they are. "It happens all the times," says Kanodia, but he's not about to let any secrets of the faces or breasts of the rich and famous he has sculpted our of the bag.
So he must be surrounded by beautiful people all the time? "That's my life," says Kanodia cryptically. In a typical day he does about 25 botox treatments and lip enhancements, and out of that at least five orsix6 will be prominent Hollywood people. Patients fly in all the way from London or Switzerland for injections and surgery and occasionally he's asked to fly out to treat them in their homes.
Now he's actually become somewhat of a star himself, starring in Doc 90210 on the E network as himself and actually performs surgery on the show. The show is seen in 100 countries, and is No. 1 in several of them. In one segment he removed some moles from Cindy Crawford's body and the gorgeous supermodel endorsed him right on TV.
One of the perks of keeping Hollywood celebs looking good is that they pamper him with parties and invitations. "I'm at all the major events in the world and I attend them in full glory and style, because my patients and my friends have 150 foot yachts and tickets to the events. So I do indulge in all those fun, luxurious things."
Does he get to date beautiful women too? He says with a mock blasé air, "All the time!"
Vikram Chatwal parties with the likes of Sean Puff Daddy Comb and shared the private jet of the King of Morocco for Puff daddy's birthday party.
But he doesn't want to be made out to be some kind of a playboy. Kanodia, who is single, believes in fun. "That's my middle name," he says. "That's absolutely my middle name. As hard as I work, I play equally hard. I love fun, because that's the way I balance my life for my work is very serious."
While the good doctor may work very hard at the operating table, but away from it, his life has the trappings of a movie star. His mansion in exclusive Bel Air Estates has more highflying neighbors than any other neighborhood, since it's home not only to stars, but also sheikhs and kings and a First Lady. Many Bollywood stars come and stay with him; he has a guesthouse separately on the grounds for all his high-powered celebrity friends
Kanodia drives a Porsche Ceyene Turbo and a Mercedes 600 CL and he says with the evenhanded, fair touch of someone picking between two children, "They are both really fine cars."
He loves clubbing and dining out. He travels to Europe ten times a year, to St. Moritz for skiing, to Wimbledon, to Cannes, attending all the parties surrounding the events. In Hollywood he can be spotted at the Academy Award bashes. He may never win an Oscar, but his handiwork is out there ever so often when one of his clients gets up to pick one up.
When AJ and Poonam Khubani of Telebrands, a large international infomercial company based in New Jersey, decided to build their home from scratch, it metamorphosed into a 27,000 sq. foot mansion on four acres of property, with 9 bedrooms, 17 bathrooms, a great room, a dining room seating 20 for a sit-down dinner, a pool and a 6-car garage. Russell Simmons, the head of Def-Jam Records, lives down the road from the Khubanis and other neighbors include the best-selling novelist Mary Higgins Clark and the actor Danny Aiello.
American sitcoms on TV draw laughs when family members line up to use the sole bathroom, with the teens hogging up the space. Well not in this house! There are more bathrooms than there are people!
Why 17 bathrooms? "I just wanted an attached bathroom for every bedroom, two in the foyer and two in the basement since the house is so big," explains Poonam Khubani. The pool house also has a couple of bathrooms and as for AJ and Poonam, they have three – his, hers and ours! Laughs Khubani, "I wanted my space and he wanted his."
The house is so big that family members could live in it without actually meeting up and use the intercom a lot. Says Khubani, "When we built the house I didn't think it would be such a difficult thing to run over, but human beings always try to find an easy way out, so we use the intercom to get hold of each other!"
The 6-car garage houses some pretty snappy horsepower with both speed and beauty. AJ Khubani has a passion for fancy fast cars – an NSX, a Hummer, a Mercedes S 55 and a BMW 745. A green Lamborghini is joining the stable soon. AJ also has a yacht, which he sails on the lakes and the Hudson in the summer. In the winter they can hook up on a friend's private jet for skiing trips.
As president of international sales for Telebrands, Poonam Khubani travels extensively in Europe, South America, Australia and India: "I have to make sure the show is on the air, the retail is right, the penetration is right and that right from the beginning to the end everything works smoothly for the products that we sell all over the world."
Meera Gandhi lives in a historic townhouse in Manhattan that once was once the home of First Lady Eleanor Roosevelt, where she rubs shoulders with such celebs as Queen Noor and Prince Pavlos.
A talented singer who performed on Doordarshan in India, Khubani produced her first pop album three years ago, which made No. 3 on the SUB TV charts in India. As a pop singer, she will be producing another album soon.
Telebrands recently diversified into filmmaking and is currently producing a movie in India called Aryan, starring Sohail Khan, Sneha Ullal, Kapil Dev and Fardeen Khan, for which Khubani is recording two songs. This unusual film revolves around boxing and Australian boxers and fight experts were flown in from Down Under. All this hectic activity means constant jet setting to different cities in different time zones, from very hot to freezing weather.
And that brings us to the closets!
Khubani has such a huge shoe closet loaded with footwear that her friends tease her, "This is worse than Imelda Marcos!" She has one huge walk in closet just for her Indian outfits, another for her western outfits, yet another closet for her winter clothes and a cedar closet for her furs.
The reason is purely practical, insists Khubani: "It helps to keep my life organized, because I run around all the time and I'm just hopping from one country to another so it helps to figure out the season, pick up my clothes and get out of the house. It keeps me mentally straight on line and it's a big time saving factor for me." Sure.
The Khubanis love entertaining and held a party last year for 150 people with a safari theme. A cigar person rolled fresh cigars for the guests and entertainment was provided by feisty fire dancers. Everything was safari themed from the servers to the food, and short of importing elephants on to the property, they did everything to transport the guests to Africa.
The king of the party scene, of course, is hotelier Vikram Chatwal. He's had lots of practice. In fact, at times it looks as if partying is his main profession! Clubs, bars, lounges, and restaurants – he knows them all and probably could take you on a guided tour of every hot spot in New York City! He parties with Sean Puff Daddy Combs, Alex von Furstenberg and Gotham Chopra and often lands up in society columns.
Last summer he vacationed with Puff Daddy on a private yacht to Ibiza, an island in the south of Spain. On Puff Daddy's birthday, the King of Morocco sent his private 747 to transport them to Morocco. Recalls Chatwal, "The party started on the plane and when we landed, there was a full circus with camels and the whole country stopped for this one guy!"
So what does it take to be a master at partying? "Partying takes energy, takes a good sense of humor and more than that, it takes good people around you. So it doesn't have to be a great party, if you have some fun people and you can be together and have fun, then you're having a good party."
Looks of course can be deceiving, for Chatwal has a MBA from the Wharton School of Business and is managing a mini-empire of boutique and specialty hotels at Hampshire Hotels and Resorts. The son of hotelier Sant Singh Chatwal, Vikram has his finger on the pulse of the happening crowd and brings that energy to the boutique hotels that he creates and manages.
His Time Hotel in Time Square was a real showstopper, wildly popular with the fashion circles. Now his new Hotel Dream is also creating a big buzz. It has a spa designed and operated by Deepak Chopra.
Because of his insider status in the happening crowd, Chatwal has succeeded with the K Lounge concept in New York (the K stands for Kamasutra and the fun lounge has the exotic touch) and he is planning K Lounges in Las Vegas and Los Angeles.
The recent opening of Dream, in Manhattan, was a big bawdy celebration with hundreds of beautiful people swarming the place, moving around 30 foot high glass aquariums filled with glow fish. Inside, he's created more party places – the Ava Lounge at the penthouse level with a view of glittering Time Square and Sub Conscious, a space for the young and restless. As a partner in Joe's Pub, one of the city's happening lounge and performance venues, he stays connected to the music world.
So Chatwal has a legitimate reason for partying. After all, he's just doing his research! He says, "My business carries into the night, the hotels, the bars. So sometimes when I'm out, it looks like I'm partying, but I'm actually checking on business." Then he admits, "Well, that's the excuse I use, 'I'm working!'"
For Chatwal, the good life also means trying on different lifestyles, almost like a new wardrobe. He's been a model for Italian and American Vogue, Brook Brothers, Banana Republic and has done catwalk modeling for Valentino. Now he's starring as the hero, a Sikh immigrant in Paris, in the movie One Dollar Curry. He says life is a mix of things and so he tries to balance it all. And if life requires some serious partying, modeling and acting with beautiful actresses, then he's ready to take it on!
Indeed, New York is a town where partying is serious business, especially with the champagne and caviar crowd who attend benefit galas. In fact, it's almost a social obligation! There are literally hundreds of charitable organizations and every high society diva has a favorite cause.
The evening sparkles as guests mingle, sip champagne and nibble on hors d'ouevres, while plugging causes from AIDS research to children's charities. All the great museums, art galleries and theater, dance and music institutions are supported by the black tie crowd, who raise an astounding amount of money for an astounding array of causes.
A handful of Indian Americans are part of this social whirl and they include New York socialite Meera Gandhi and her investment banker husband Vikram Gandhi. When it comes to partying, Gandhi is the pro, renowned for her own great parties too. The Gandhis live in a beautiful historic townhouse, which once belonged to First Lady Eleanor Roosevelt, which they have spent years restoring. It is decorated according to Vaastu principles and is crowned with a roof garden.
Meera Gandhi, who is on the board of ValKill, the summer residence of Eleanor Roosevelt, has held events at her home for the First Lady's grand daughter Anne Roosevelt and many fund raisers for different causes. Mike Wallace, Paula Zahn, Robert Thurman, Steven and Kimberly Rockefeller and actress Phylicia Rashad are some of the big names who've attended parties at the Gandhi residence.
An MBA from Boston, Gandhi worked as an investment banker with Banque Nationale du Paris and Banque Indo-Suisse, before switching to fashion, becoming a buyer for Lord & Taylor and then worked for Calvin Klein, Armani and Oscar de la Renta, collaborating with her mother in India.
Currently on a long break from work, Gandhi is concentrating on her family and on doing some good, while having an outrageous amount of fun. And that's the benefit of attending a benefit – you feel saintly while you're having a wicked amount of fun! Meera is on the board of several organizations – the United World College, the Grameen Digitial Partners Foundation and Safety Net – and her way of supporting them is by raising funds and awareness through events.
She hosted the fundraising Asia on My Mind dinner for Asia Society with the theme: "Passage to India" with CNN's Anderson Cooper, and a couture sale by top Indian designers at her home, which was organized with the U.S. Ambassador's wife and raised funds for the Gujarat earthquake through American India Foundation, chaired by former President Bill Clinton.
A socialite's life means all the other trappings: Holidays are usually spent in Ritz Carlton villas around the world or traveling to India to meet the family.
This year alone Gandhi has traveled to Moscow, St Petersburg, Hong Kong, Shanghai, Beijing, Bangkok, Chiang Mai, Hua Hin, London, Bombay, Delhi, Bangalore, West Palm Beach, Colorado and Los Angeles.
Needless to say, being a socialite involves rubbing shoulders with celebs on the red carpet, and Gandhi has rubbed her share, including Queen Noor, Prince Pavlos, Senator Hilary Clinton and actress Reese Witherspoon. She is, in fact, working on an exclusive event with Senator Clinton for just 100 people, to raise funds for Val-Kill. Yes, working for the greater good is tough work, but someone's got to do it!
It is safe to say that few Indian Americans could be spending their evenings on a horse farm! For real estate developer Raj Bhatia, there is little separation between his personal and the work lives as he goes about creating an equestrian community in the beautiful town of Southbury in Connecticut. Willowcreek is a 103-acre historic horse farm, and though Bhatia bought it as an investment, he and his wife Darcy quickly fell in love with it.
The plan is to build 24 high-end houses around the property and the project will take about three years to complete. Says Bhatia, "In Connecticut horses are absolutely part of people's lives here and it is said there are more horses here than any other state in the country, per square unit. It seems to be absolutely true."
While Bhatia has "a healthy respect" for horses, his wife Darcy is crazy about them, having grown up on a horse farm and riding since she was 3 years old. So even as they build the equestrian community, they have taken in boarders on the farm, and presently have a total of 48 horses, 13 of which belong to Darcy. The rest of the horses are boarders, whose owners pay for their stall and upkeep.
The bonus is that the Bhatias actually get to live on these rolling acres of green with a huge pond on the property.
It's very different from their weekday home which is a penthouse in Manhattan, where Raj is in real estate development and Darcy is in wealth management in partnership with a grandson of the Nestle family.
How is waking up in the morning and finding yourself in a cottage? "It's great," says Bhatia. "You wake up in the morning and you smell the fire from the night before. It's incredible waking up and looking out at the lake. The farm is only an hour and 15 minutes from the city and that's really amazing."
Raj Bhatia spends his days in his rolling horse farms in Connecticut and when he needs a change of place, he takes off in his private jet to Marthas Vineyard or East Hampton
The Bhatias like to hang out with friends at the Hunt Room, a dark oak paneled room with horse prints and old English antiques, which is also on the farm, complete with a bar and a 600 sq foot wine cellar.
Says Raj, who collects wines, "A number of our friends are chefs and sommeliers from the city at excellent restaurants who would like to come up and do wine dinners in the Hunt Room."
While Darcy would rather be riding, Raj prefers flying. He's had his pilot's license since 1995 and recently bought a single engine plane, a Cirrus, which has the unique feature of a parachute in the plane. In an accident, the parachute shoots out of the plane and actually brings the entire plane down to the ground safely. It's all very hi-tech and Bhatia enjoys flying to Martha's Vineyard and Boston. East Hampton, which would be four hours by road, is just 20 minutes.
But more and more, he tends to head for Willowcreek where he can go skeet shooting or fly fishing: "It's like we're on vacation even though this is work. It's work being here, it's work watching over things but it's incredibly gratifying. You're working and you're having a good time."
Willowcreek is a large property, with the occasional coyotes and bobcats on it, so recently Bhatia went to the Bridgeport state police to apply for a gun permit.
The man issuing the gun permit turned about to be an Indian officer. Bhatia recalls, "He said to me, 'You must be the only Indian horse farm owner in the country!' And I said to him, 'You must be the only Indian giving out gun permits in the country!"
As more and more desis make it in this country and rachet up their lifestyle, it is perhaps only a matter of time before we see Indian Americans home on the ranch in Crawford, Tex., not just visitors to it, or living in a hi-tech futuristic structure like that of Bill Gates.
The good life has many interpretations, and Indian Americans seem ready to try it in all its avatars!