Politics
Taj Mahal's Exclusion From UP Tourism Booklet Stirs Controversy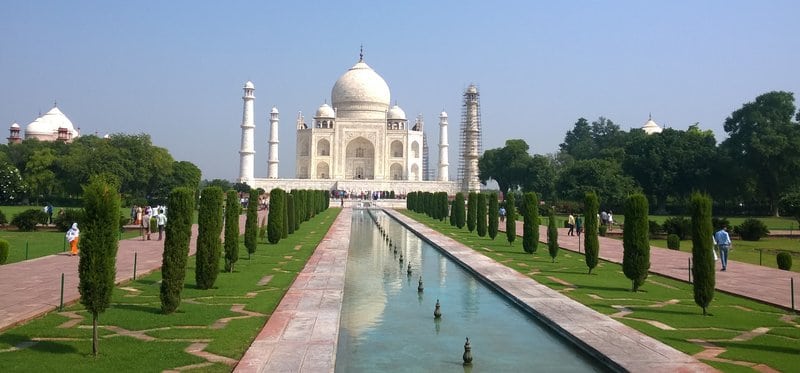 Uttar Pradesh Chief Minister Yogi Adityanath came under fire earlier this year for saying that Taj Mahal "does not reflect Indian culture".
By
The Uttar Pradesh Tourism Department has invited controversy by releasing a 32-page booklet showcasing the cultural and heritage sites in the state, excluding the Taj Mahal from the list.
The omission of the most well-known monument in India, which was featured in the tourism video of the previous government that called the state "The home of Taj" has drawn ire and bemusement from the Opposition, and on social media. The fact that the booklet was released six months into Hindutva leader Yogi Adityanath's tenure as the state's chief minister in the state has not gone unnoticed.
Yogi was reported as saying in June that the monument "did not reflect Indian culture." The comment came when he was listing the achievements of the Narendra Modi-led BJP government where he mentioned that foreign dignitaries were now given copies of the Bhagvad Gita and Ramayana instead of replicas of Taj Mahal, "which did not reflect Indian culture."
The booklet released by the state government promotes the Gorakhpeeth in Gorakhpur, which has Adityanath as its head priest, as a tourist attraction, along with the Devipatan Shakti Peeth.
The absence of the 17th century mausoleum from the booklet was mentioned on Twitter more than 12,000 times in the last 24 hours.
If u wanna disqualify #TajMahal from being a prime tourist/historical spot,u gotta decide whether it's a 'grave' or ShivaTemple from 5000BC

— TheRichaChadha (@RichaChadha) October 2, 2017
Taj Mahal is no longer a tourist destination. @UNESCO should declare @myogiadityanath'Gaushala in Gorakhpur as a World Heritage site. 💩🐮🐄

— Prerna Bakshi (@bprerna) October 2, 2017
Utter shame! I had said many times before too @myogiadityanath running his own agenda in UP as per his whims & fancies. #TajMahal https://t.co/PjdZmsces2

— Sadhavi Khosla (@sadhavi) October 2, 2017
The Opposition pitched in too.
"If it is a booklet on tourism and it excludes Taj Mahal, at one level it is a joke and at another level it is tragic. It is like saying we will have 'Hamlet' without the prince of Denmark," Congress party spokesperson Abhishek Manu Singhvi was quoted as saying in The New Indian Express.
After the booklet generated huge backlash, the Uttar Pradesh government came out with a release on Oct. 2, saying it has allocated Rs 156 crore for schemes catering to Taj Mahal, the mausoleum built by Mughal emperor Shah Jahan in memory of his wife Mumtaz Mahal.
The release stated: "Tourism projects worth Rs 370 crore are proposed, under which schemes worth Rs 156 crore are meant for the Taj Mahal and its surrounding areas in Agra. The proposal for the projects have been prepared in consultation with the World Bank and submitted to the Union government for approval, which is expected within the next three months."
Avanish Awasthi, a UP tourism department official, told the NDTV news channel: "The booklet was released only for the purposes of a press conference and is not a guide to Uttar Pradesh's tourism spots. It mentions new and upcoming projects of the Uttar Pradesh tourism department, and new focus areas."