Arts
Sunny Side Up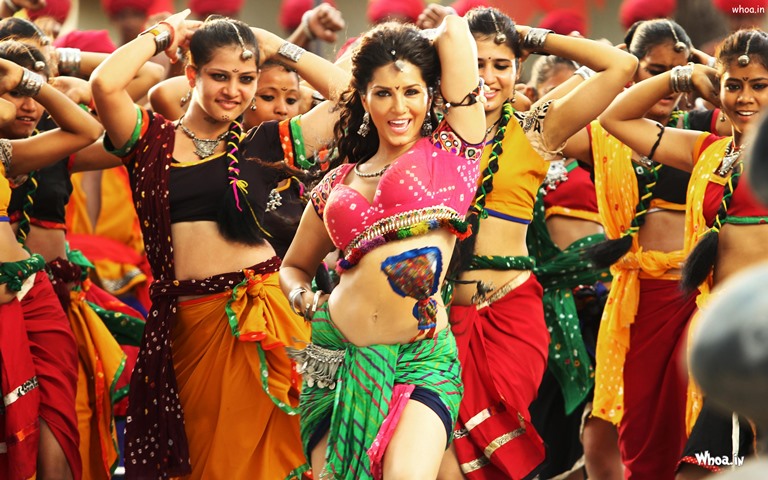 Love to hate you, baby is a popular refrain in showbiz.
Ever since red-hot imported porn-star Karenjit Kaur Vohra (that's the name she was born with, guys) graced the Indian media scene as Sunny Leone in Big Boss it's been one helluva hulchul and hungama! The so-called purists went ballistic! An adult entertainment industry bimbo with porn written all over her luscious body, how dare she enter our territory to corrupt the masses?
In the age of the internet, the horny types have surely seen her in action. Now that dirty woman comes through the front door, all cylinders firing, to completely ruin the moral fibre of the entertainment business. How low can these traders of Jism go to seduce viewers and cash in on their sexual fantasies? Sunny Leone is poison and should be banned — health advisory anyone? — because she is way beyond booze, nicotine and paan masala, dangerously injurious to health!
Blame it on the fearless iconoclast Mahesh Bhatt, forever tilting at windmills and showing the middle finger to the establishment, who, in typical dramatic style, entered the Big Boss house to offer Sunny Leone a film, as viewers gasped.

Sunny Leone during the celebrations of Ragini MMS 2.Jism 2 got the ball rolling and very soon, other filmmakers leaped onto the Sunny bandwagon. After all, hard close-ups of a body to-die-for appeared irresistible as a potential cash cow. Equally hot was her sensational, ball-bustin' score card on Twitter and Facebook — 1.3 million and 16.5 million gasping devotees respectively, further crowned by the title of "the most searched individual" on Google for the last 3 years — real sizzling stuff, huh?
Whatever the fate of her released movies (Jism, Ragini MMS2, Jackpot, Ek Paheli Leela, Mastizade), there is little doubt that whatever waves they made and the publicity they garnered, without every ingredient required to woo the box office — big stars, big budgets, sexy locales, great music, solid content, smart presentation, clever promotion — was solely on Sunny Leone's persona alone.
Call it curiosity, perversity, hypocrisy, double standards of the shareef badmash or the deep seated secret desire to connect in a darkened hall with sexual fantasy, the ex-porn star's presence was the only reason for those films to attract attention, trigger desire and whammo action! In the final analysis, the funda was clear: Sunny Leone was one kind of a brand consumed by one kind of viewers — the naughties and cheapos! Nobody in the Industry, trade, or press ever considered taking her seriously and had no problem openly mocking, ridiculing, insulting and dismissing this besharam tart.
Interestingly, it took just one interview to effect a dramatic change of heart and perspective amongst the self-styled purists and sanctimonious regarding the Sunny Leone face-beneath-the gloss. Bhupendra Chaubey's interview with the scorcher — live and exclusive — offered unguarded viewers a startling close-up of contrasts: A respected, well-seasoned, mature veteran TV journalist, all heated-up, excited and powered with a one-point-agenda of putting words in the interviewer's mouth that would conform to the popular perception of the hottie, an acknowledged Porn star, taking all the humiliating, provocative, searching, grilling and badgering to spill out red-hot confessions of sin and guilt with astonishing cool, poise, calm, charm, dignity and above all honesty.
Leone had the guts to speak out her heart with passionate conviction and sincerity and remained firmly unapologetic about both her past and her focus in the Bollywood space. She also stated that she had no illusions about how big banners and stars perceived her image and was confident that none of the Khans would dream of coming close to her. Incidentally, after this telecast, Amir Khan went on record to state that he would love to do a film with her. An astonishing situation where the "fallen woman," in one fell swoop, redeemed herself by showing her human side while the normally sane and together interviewer came across as a bullying, intimidating, over-heated school boy, desperate to take the high moral ground to reveal her low life…
Whether Leone's magnificently composed, confident, honest and up-front interview — ostensibly to promote her latest release Mastizade — helped the film's journey up remains unclear, but what is abundantly clear is this: The earlier image and perception of the Sunny Leone persona as a cheap, lime-hogging opportunist determined to corrupt India's morals and men, steal husbands and boyfriends and generally sow chaos in the raging hormone universe is forever deleted.
In its place is the picture of a very alluring and desirable young woman attempting to do a professional job of work to the best of her extremely limited capacity and ability with what is offered to her, eager and open to learn from caring mentors about how to improve her acting skills and craft and re-invent her image to straddle both worlds while constantly fighting against overwhelming and frequently unfair odds, begging for a level playing field.
Bhupendra Chaubey's Scorching Questions
Do you not sometimes get affected that your past, the past that you were a 'porn queen', will continue to haunt you? Or maybe it will continue to pull you back?
I wonder, and pardon me if I am being offensive here, how many people would think in terms of growing up to be a porn star?
Is your past now literally, figuratively a thing of the past now? Is that something that you think about?
There are some who believe that if Sunny Leone is becoming a brand ambassador of sorts of this new India, then it is a very dangerous trend to have. There are many housewives, there are many Indian married women who look at Sunny Leone as a threat to their husbands. They believe their husbands are all going to be taken away by Sunny Leone."
There are some viewers of mine who are saying that your identity remains that of your past, which is your association with pornography, and porn stuff. They believe that you are not an actor, still not an actor, some are accusing you of lowering the level of the fine art of cinema. Is that a just criticism?
Since you have come in the mainstream, the number of people who are watching porn in India has, in a proportionate manner, increased to the extent that we are now the largest consumer of porn. Is there any correlation?"
A lot of chatterati (sic) that takes place, you see a Sunny Leone film, and you get morally corrupted. I am wondering whether I am getting morally corrupted because I am interviewing you."
— The Hot Seat, CNN-IBN