Life
Rural Sports Storm Center-Stage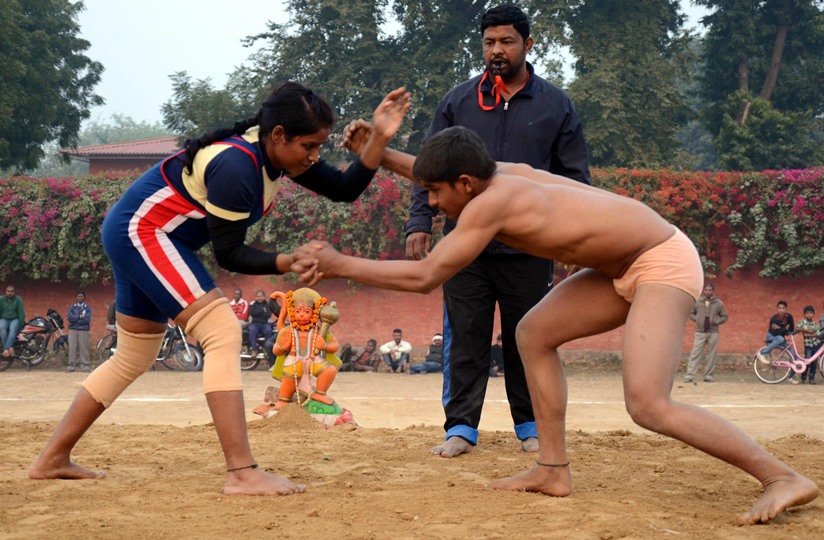 The reason behind this democratisation of unglamorous, earthy, hinterland sports for popular, urban, TV-driven consumption.
Until recently, cricket was the sole hero, religion and passion of India, with hockey, football and badminton relegated to supporting roles. Tennis, golf and squash sporadically entered the frame, but in terms of the big picture and pre-sold blockbuster — media coverage, public attention, fan-following, sponsorship — cricket ruled. If even in jest you mentioned the Kabaddi, you'd be either jeered off the stage or given strange, weird looks.
Kabaddi, wrestling and other earthy sports, loved and played for generations in villages and small towns — and even parts of cities — were considered by the post-91 consumerist aspirational and global Indian as ganwaar and downmarket sports, totally declasse and infra dig. India was India and Bharat was Bharat — and the twain could never meet.
It was maverick Lalit Modi — and before him Kerry Packer? — who with his seductive Indian Premier League, sowed the first seeds of the professional league bimaari by broad-basing cricket's presentation via an amazingly viewer-friendly format in both form and content. No one had ever dared dream of tampering with the revered, sacrosanct, traditional model of India's loved sport, but Modi, audaciously sexed it up, blending glamor and entertainment with big bucks and took the world by storm.
Overnight, he converted a sport into a product and brand, with all cylinders firing and pressed hard on the promotion and marketing button to make IPL both eminently saleable as everyone's preferred brand and crazily spectator-friendly. Soon, this league syndrome caught fire and on cue, football and hockey followed.

Wrestler Sushil Kumar at a press conference on Pro Wrestling League in New Delhi.However, the surprise package was the Pro Kabaddi League. Could something as totally off the popular radar as this rustic sport have any hope of gaining popular currency with city-slickers? Surprise-surprise, it has proved to be a big hit with the glamorous Bachchans coming to the party as team owners, as also the Ambanis. The promo, marketing and media coverage is rocking, proving that Bharat with its very own rustic sports repetoire, is slowly moving centre-stage and that, the days, years and decades of staying in the shadows and perceived as a backward sport of a lesser god seems to be over. Bharat is but a heartbeat away from India.
Now, hot on the heels of kabaddi comes the latest from the heartland — wrestling. Before there's a collective gasp of "OMG, really – what next?!" from the well-heeled, a brief history of this ancient sport, initiated and valorised by European countries.
It is believed to have kicked off in ancient times, but recorded history traces it to the end of the 19th century, when Greco-Roman wrestling style was considered fashionable in the sporting arena. Re-enforced by the rise of gyms and athletic clubs, Greco-Roman wrestling and modern free-style wrestling were soon inducted into the formal competition stream. Across several competition centres, big prize money was also offered to the participants. over time, this model spread to UK and USA as well.
In 1898, Frenchman Paul Pons, known as "The Colossus," became the first professional world champion. Other leading wrestlers during that time, such as Frank Gotch and William Muldoon, were elevated and lionised as heroes. In the USA, Martin 'Farmer' Burns dominated the ring with a record of winning 5,990 of the 6,000 bouts he fought. Interestingly, professional wrestlers during this period would participate in both sporting competitions and perform shows focussing on spectacle, dramabaazi and entertainment. Why? Because wrestling was introduced to the public as a variety act to lend masala to the limited action related to body-building-wala strongman's attraction at the turnstile. One of the earliest gimmicks was Cornish-American ex-miner Jack Carkeek who would gamely challenge audience members to last 10 minutes with him, sowing the seedsm say historians, of differentiating between professional and amateur wrestling.
India was not totally out of the Kushti frame. Dara Singh's King Kong face-offs attained folklore status in the 1950s. Even if it wasn't the favorite sport of sophisticated city-slickers, who dismissed it as some uncouth and uncool grappling of oily, ugly, naked bodies, there was always a section of people who enjoyed and followed the sport.
However, post 1991, in the changing landscape, Garadi Manes or Vyaam Shalas have had to re-invent themselves, especially in the last few years. The word Garadi comes from Garuda, the vehicle of Lord Vishnu. Garuda was known to have enormous physical strength and wrestling as a sport therefore goes back to the Vedic age. However, in the age of new-age multi-gyms and fitness centers, Garadis have been dying out as weight-lifting, power-lifting and body-building — Salman Khan style — zoomed centre-stage. The gym culture is in and in the absence of patronage, government funding, but most importantly, youth-connect, Garadis are rapidly and predictably losing their grip on this celebrated sporting activity.
It is precisely at this critical juncture that the Pro Wrestling League has muscled in. While many critics are perplexed and shocked at this lift for a sport that they perceive as "dehati, ganwaar and way out of focus," many others believe its an idea whose time has come.
Says Charu Sharma, the articulate creator of the hugely popular Pro Kabaddi League: "I wish you guys had an inkling of the massive struggle we experienced getting PKL off the ground. To say that we were greeted as (un)certified lunatics and they laughed so that they may not weep, is to put it very, very mildly. It's not as if, like the great Martin Luther King, we had a dream and wanted to instantly activate it …. We went into the practicalities with tooth and comb before deciding to throw our hats into the ring.
"Sure, it was a calculated risk and we knew from day one, that good intent and potential is one thing, but in year 2015, heavy-duty marketing and promotion are components that are impossible to ignore. The challenge was to convince and persuade TV channels to invest big bucks and push it, big time with equal passion and purpose."

Esmaeilpoorjouybari Masoud (L, lower) of Iran fights against Bajrang of India during the men's freestyle 61kg gold medal match of wrestling at the
17th Asian Games in Incheon, South Korea.Sharma explained that PKL was lucky to get Star Sports to come on board and pull out the stops to popularize the event, as also get like-minded, market-savvy sponsors to move in, adding,"Of course, the star and glamour participation — Bachchans and Ambanis — also gave PKL a further fillip since it's a visual event and a little entertainment does no harm for India's glam-crazy crowds.
Sharma reckons that Pro Wrestling League will follow a similar template, "There will be huge roadblocks and challenges and investors will have to be patient and understand that ROI and positive feedback will take time. The journey is the excitement and today with PKL making waves, PWL has a great chance in going that route. After all, monetizing an ancient physical contact sport, loved by many, could revive the grass-root connect and help in bridging the gap between Bharat and India."
The PWL is scheduled from Nov 8 to Nov 29 and will showcase 66 top wrestlers, including eight current world champions. The league has set a base budget of Rs. 20 crores with a prize purse of Rs. 5 crores. Each team will comprise of 11 players, six men and five women. The teams are expected to have six Indian and five international wrestlers. Nearly 20 Olympic medallists will fight for the six city-based franchises. India will field its biggest stars — Sushil Kumar, Bajrang, Phogat-sisters Geeta, Babita and Geethika Jakhar. They all walked the ramp at the launch event of the PWL and confessed "awkwardness," but admitted that they need to adjust to these changes, where auctions also play a significant part.
Kumar is enthusiastic about the initiative, because of the ''international exposure and will help our wrestlers prepare for the Rio Olympics."
Meanwhile, PKL is all set to launch a series of Kabaddi-centric entertainment products, ranging from gaming app to a movie.
The Mumbai franchise U Mumbai says that it is meant to be a part of their ''popularirising and urbanizing the sport." Kabaddi-themed birthday parties have already been introduced and the first of the apps is scheduled to hit the market early January.
So the seed is sown. Can a similar model for PWL be far behind?