Arts
Preity-Rani VRS time ?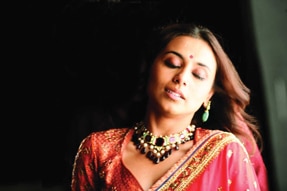 Its scary how one religion (read: cricket) can impact another (read: Bollywood). As the cricket team goes through exciting re-invention, B-town seems to be taking stock of its A-list. In recent years, they appear to be energetically turning their focus toward inducting and promoting young 'uns. To be sure, this is restricted to heroines. The lads, The Khans, Akshay, Suneil Shetty, Anil Kapoor, Ajay Devgun, Jackie Shroff, and the Big B are off limits. Why? C'mon, they're heroes, baba!

The two biggest casualties are yesterday's much loved, adored and admired sweethearts — Preity Zinta and Rani Mukherjee. To close Bollywood-watchers, this shift in sentiment is tinged with irony. At a time when Bollywood seems to be maturing, as reflected by the range of films (Aaamir, Fashion, Mumbai Meri Jaan, Sajjanpur, Rock-On, Dev.D) they are bringing out, the total blanking out of two of the most gorgeous and accomplished Bollywood stars is surprising. So what gives? Age? Is 30 the new 40? Does youth — and youth alone — triumph over experience as the prime, preferred choice of the movers n' shakers in Tinsel Town? Disturbing, troubling …

Not really, say trade analysts. They argue that while change is indeed in the air, the masses — the aam janta, not the niche intelligentsia — are reluctant to keep seeing the thobdas of the same 30-plus heroines, day-in and day out. They either want to see them do different stuff or make way for fresh, young lasses. And that explains why Katrina Kaif, Priyanka Chopra, Kareena Kapoor, Bipsha Basu, Minnisha Lamba, Kangana Ranaut, even Mallika Sherawat are on riding high. Rani and Preity have been over-exposed and over time have not bothered to go beyond their bubbly and beautiful ghisa-pita image, which doesn't suit them any more. Here, the myopic directors are to blame too … but that's another story!

The Box Office reflects their lack of sting. Neither has had a commercial hit in ages. Their last hit was KANK! Rani's bombs include Babul, Tara Rum Pum Pum and Laaga Chunari Mein Daag. Preity's thuds include Jaan-E-Mann and Jhoom Barabar Jhoom, Lear and Videsh are critical successes and ovies in the kitty include another art-house project Har Pal.

Their pet directors seem to have forsaken them. Adi Chopra went in for new face Anoushka to co-star with Shah Rukh Khan in Rab Ne bana Di Jodi, which has proven to be a hit after several misses. Karan Johar invited Priyanka Chopra to share the frame with Abhi and John in Dostana.

Loyalists of the two stars are shocked, disgusted and angry at the way they are being treated by the industry. "It is so sad that just because their films have not been successful, they are being penalized. So unfair! What about others in the project like directors, heroes, screenplay writers and everyone else? Both these girls have always been open to do new things and participate in new genres," complained one. Critics are less generous. They believe with new, young, gorgeous models and beauty queens blitzing the scene everyday, the glamor, fashion and sex-appeal quotient zooming up every second and inhibitions disappearing as never before, no heroine can afford to take her place for granted anymore.

She will have to either re-invent herself as a force the new-age audience can't ignore, move to strong character roles … or get married and disappear into the world of family bliss. Hot n' happening babes are emerging from the woodwork!

At the end of the day, youth is in and Youngistan is their capital. Whether it's the Fab 4 in cricket or the gorgeous duo in Bollywood, the new world decrees that past is history; it's the present that rocks. Ad Endorsements

re-affirm the predicament. Nestle dropped Rani for South Indian actress Trisha, who ironically replaced Preity in the Scooty Pep ad! The "Bubbly" Zinta (who appears to be more involved with IPL than movies in recent weeks) was also relieved of her endorsements, say insiders, with Perk, Lyril, BSNL and Santro.

Deepika, Asin and Genelia are the new kids on the block creating havoc with Katrina Kaif and Priyanka already doing their number. It's a chilling commentary on our times. One can only hope that both these gorgeous and gifted actresses have seen the writing on the wall and have it in them to re-invent themselves and get something they richly deserve … a glorious second innings!