Life
Pink Ball? Hello Amrika?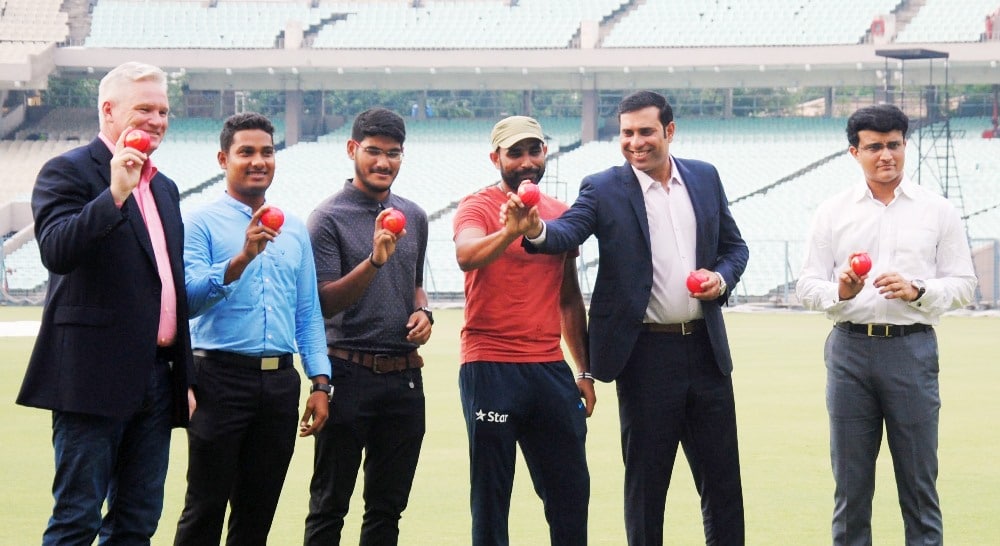 India's ex-cricket Captain Sourav Ganguly set the cat among the pigeons when he forcefully advocated the support of pink balls in cricket. Purists were shocked; where is the world and cricket headed? Was the "white-flannelled gentleman's game" going vulgar and, like the worst of Bollywood, targeting and catering to the lowest common denominator with crowd-drawing gimmicks.
Fact is, cricket, for some years now, in keeping with the consumerist, instant-gratification-driven-times, has been changing its virginal avatar to remain both relevant and exciting in a fiercely competitive era, where distractions and pressures in the workplace, leave people little time or energy to indulge in leisurely cricket-watching, like in the past. Even so, loyal lovers of the game follow the old format, applauding both the nuances and spirit of the sport, whenever they get the chance. The occasions for them to be excited, however, appear to follow the laws of diminishing returns, with twists and turns, unusual body language, scams and controversies taking center-stage — ODI, T-20, Day-Night, white ball, colored clothing…. But pink ball? How? Why? And what's this nonsense about taking this beautiful game to baseball and basketball obsessed America? It's just not cricket, ol boy!
Realists smile indulgently, inviting the moth-balled lot to step off their time-machine and taste the coffee. To be relevant, exciting and most importantly, viewer-friendly, change is the only constant. Like a visionary guru once said, talent is great, but an audience is greater! Isn't the objective of all sports to attract viewers to applaud excellence in performances — and along the way provide commercial support to sustain it meaningfully? The whole idea of both the advent of the pink ball and Chalo Amrika, insist its advocates, is to take the game into newer and more rewarding heights, crossing boundaries and exploring previously untouched terrains with high potential.
Bangalore-based sports commentator Charu Sharma commends both moves: "Sourav Ganguly, sharp, fearless and forward-looking as ever, was bang-on in supporting this Pink Ball initiative and hitting new countries! It demonstrates a hands-on effort to recognize the writing on the wall and act with focus and speed."
Sharma believes that since cricket is really played in only 12 countries — compared to over 150 for football — it makes sense to try and break fresh ground. "USA is the perfect starting point for two reasons. One, the massive diaspora is dying to watch the game and thrilled at the opportunities to actually see stars in flesh n' blood action. Second, America is a fabulously open-minded country cool to engage with anything that is fun, exciting and commercially viable. The fact that many A-lister Production houses of Hollywood have collaborated so powerfully with Bollywood, the other religion, in setting up joint-production bases in Mumbai is because they've recognized the huge popularity of their brand and stars and globally see it as a great investment and revenue-generating opportunity.
These are very early days for cricket in the USA. Who knows? Cricket could well be an exciting side-show for the adventurous and sports-loving American youth? C'mon guys, give the game a chance!"
Renowned cricket commentator Ayaz Memon agrees: "The idea of the Pink Ball was largely due to the desire to switch to Day-Night Test format. The traditional 5-day Test seems to be bad news, because both the time factor and patience threshold of today's viewers have undergone drastic change. ODI and T-20 have changed the nature of the game with speed, excitement and instant result coming center-stage. Day-Night 4-day Tests target the lost office-going enthusiasts to join the fun in the evening and thus attract more crowds for this format. Pink, being the closest to Red, has been scientifically selected as the color because it doesn't clash with the white, required as Test clothing. The recent Duleep Trophy played at Greater Noida — Raina's XI versus Yuvraj's XI — was the first match played with the pink ball. Let's wait and watch, before screaming foul!"
As for exporting cricket, Memon agrees with Sharma: "Remember the India-Pak matches in Toronto in the late 90s? They were huge hits. There is a large Indian, Pakistani, Sri Lanka, Bangladesh, West Indian, Brit, South African and Kiwi community in the U.S. Most of them love cricket … so there is huge challenge and opportunity for the powers-that-are to market cricket, smartly and successfully to a pre-sold audience."
Purist and relentless loyalist, legendary Delhi-based spin-king Bishen Bedi opposes both these moves: "Haven't we had day-night contests with the white ball all these years? What's the idea of mucking around with traditional, tried and tested formats? If the idea is to attract crowds, play good cricket, damn it! Don't change the color of the ball, for chrisssake! It's nothing but a gimmick!"
As for taking cricket to America, Bedi, ridicules it as stupid: "It's a different sporting culture out there with baseball, basketball, boxing, swimming, golf, soccer, tennis and athletics dominating the scene. Sure, there are communities that represent cricket-playing nations, but they comprise a minuscule. Besides the new-gen, second/third generation Indians, have little interest or knowledge about the game, connecting much more with baseball, basketball, etc. Let's face it, this move is basically about selling rights to TV channels, attracting ads and big bucks. Indians back home are cricket-crazy and will see anything their team is involved in, anywhere. Also, this holier-than-thou idealistic motive of spreading the sport is bull crap! Do other nations — Japan, U.S.A., Germany, whoever — come to our 1 billion plus country to spread their domestic game? Its greed and this desire to monetize and commercialize everything is destroying the sanctity of this great game. I know that the Big Boys master-minding Indian cricket will not agree with me and nor will the cricketers, but I don't care, because I am in a huge majority of one!"