Expats
Passage to Bihar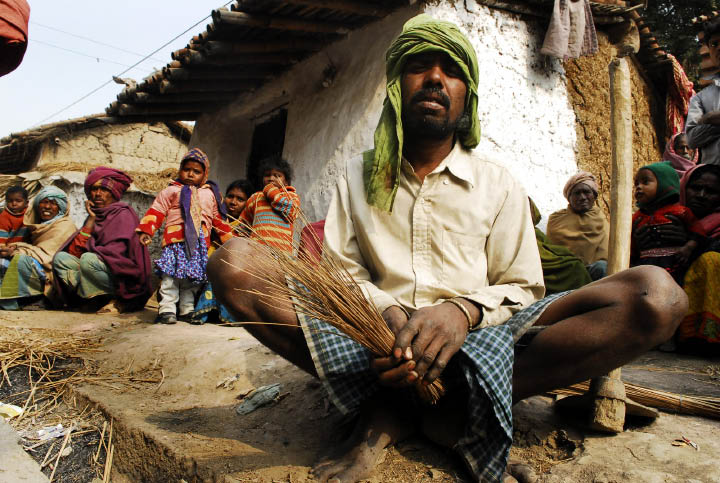 A series of high profile politicians from foreign countries make a pilgrimage to Bihar in search of their roots.
Mahesh Mahto, an impoverished mason, who earns Rs 150 a day when he finds work, was adding bricks to an unfinished wall, when a messenger from the Bihar government congratulated him for a rare "achievement." He was told that he is a distant relative of the ruling president of Mauritius.
Mahto's hand trembled; he wondered if he was day-dreaming. The messenger also told him that Mauritian President Rajkeswur Purryag was on his way to meet him in a few weeks. The words of the messenger spread like wildfire in this nondescript village of Wajidpur, 20 kms from the state capital Patna.
Mahto became an instant celebrity and Purryag's visit became a matter of immense curiosity. In the following days, the ordinary village in Bihar, one of India's most backward states, witnessed a flurry of infrastructure development projects. Dusty road leading to the village were beautified and a narrow lane leading to Mahto's modest house was constructed with concrete.
"I felt like a king. So, many masons working for a mason," Mahto said.
On January 6, Pres. Purryag arrived in Wajidpur amidst high security to cheering villagers. It was the first time the village was hosting a president of a country.
An emotional, Purryag fumbled with his handkerchief while addressing a motley crowd of villagers and government officers. During his 10-minute speech, tears rolled down his cheeks and he choked up thrice.

Villagers crowd around the old house in Wajidpur, from where Mauritius President Rajkeswur Purryag's ancestors migrated.
Photo: Biharphoto/Prashant Ravi"I am proud to be a Bihari. This is the land of my forefathers," Purryag told residents of his ancestral village. He reminded the villagers in a voice overwhelmed with emotion that, "My forefathers left this village in search of livelihood decades ago."
Purryag, who was accompanied by his wife Anitah, was even more emotional when he finally met Mahesh Mahto. Amidst flashes of cameras, a visibly nervous Mahto gifted a pouch filled with the soil of Wajidpur to the president.
"I cannot afford expensive gifts for the president. I am a mason and realized that soil of forefathers would be cherished by the president who is also a son of this soil," Mahto said.
Purryag mixed with the residents of his ancestral village. He informed them that nearly 40 percent of the population of Mauritius comprises of people of Bihari origin. The villagers were almost in disbelief. He also shared with them the deception that British traders used in the 19th century to lure Bihari laborers into indentured servitude in Mauritius. "When our grandfather reached the foreign land cramped in a ship they were made to work in the sugarcane field. They were barely given a meal a day," he said.
Purryag is the latest in a series of high profile politicians from foreign countries to make a pilgrimage to Bihar in search of their roots.
In August, Kamla Persad Bissessar, the first woman prime minister of Trinidad and Tabago, visited her ancestral Bhelupur Village in Buxar.
Four years earlier, in 2008, Mauritius Prime Minister Navinchandra Ramgoolam and his wife also visited his ancestral village in Harigaon in Bhojpur district. Ramgoolam too was emotionally charged, touching the soil of his ancestral village and applying it on his forehead to loud applause from villagers.
The migration of Bihari laborers to Mauritius, Fiji, Trinidad, Suriname, South Africa and other British colonies, was at its peak from 1840 to 1880, according to a study of "Bihari Migrant Laborers: Incidence, Causes and Remedies," by Girish Kumar and Pranab Banerji. The magnitude of the migration to Mauritius was so high that presently nearly one in eight Mauritians speak Bhojpuri.
The former slaves who toiled in the sugarcane fields of the island country have become extremely successful. In recent decades, a majority of the country's presidents and prime ministers have been of Bihari descent. According to the book, Across the Kalapani: The Bihari Presence in Mauritius, with one exception all the prime ministers in Mauritius since independence in 1968 have Bihari origin.
Purryag had been searching for his Bihari roots for the past several decades. He came to India 22 years ago to trace his ancestors but failed. Recently, the Bihar government helped him trace not only the family lineage to the state, but also enabled him to discover several distant relatives of his family tree in Wajidpur.
During the past three years, the Bihar government has received nine requests from presidents, prime ministers and bureaucrats from, Fiji, Surinam and Trinidad and Tobago to trace their family lineage in Bihar. Old records showed that Naveenchandra Ramgoolam's grandfather, Moheet migrated from India in September 1871. His descendant Seewoosagur Ramgoolam was elected as the first prime minister of independent Mauritius in 1968. Ram Lakhan Mishra, grandfather of Kamla Persad-Bissessar, the prime minister of Trinidad and Tobago, migrated to the Caribbean islands on the ship Volga in July 1889.
The Bihar government has now launched a scheme "know your roots" to help non resident Indians discover their ancestral roots in Bihar. To further help Indians of Bihari origin, the deputy chief-minister of Bihar Sushil Modi decided to hold a foundation day statehood celebration of Bihar on a large scale in Mauritius and Trinidad and Tabago.
The state government hopes that the visit of high profile dignitaries in search of their roots will help the state prosper in the hope that these dignitaries will contribute funds for the development of their villages.
Sure enough, the visiting prime ministers and presidents have offered a volley of promises to develop their ancestral villages.
The current prime minister of Mauritius, Navinchandra Ramgoolam, announced a financial package of $250,000 for the development of his ancestral village during his visit. He also surprised everyone with a flamboyant announcement of two scholarships for higher education to meritorious Bihari youth.

Mauritius Prime Minister Ramgoolam during a visit to his ancestral village in Harigaon in Bhojpur district.
Photo: Biharphoto/Prashant RaviThe villagers were jubilant after the announcements. "Our village will see a major revamp. We do not have proper drinking water and health facilities," one villager said.
Pres. Purryag also promised the revamping of health and drinking water facilities in Wajidpur.
Nearly four years after the visit of the Mauritian Prime Minister Ramgoolam, one year since the visit of first woman Prime Minister of Trinidad and Tabago Persad-Bissessar, and three months since the visit of Mauritian Pres. Purryag to their respective ancestral villages, nothing has changed on the ground, however.
No work has started in Ramgoolam's ancestral village. Residents have nearly forgotten the high profile visit of the "son of the soil."
Mahesh Mahto continues to toil as a daily wage mason, aided by food grains and sugar he receives through the BPL Red Card provided to those living below the poverty line.
The concrete road leading to his house during the Mauritian president's visit is unkempt and littered.