Food
Nutty Delights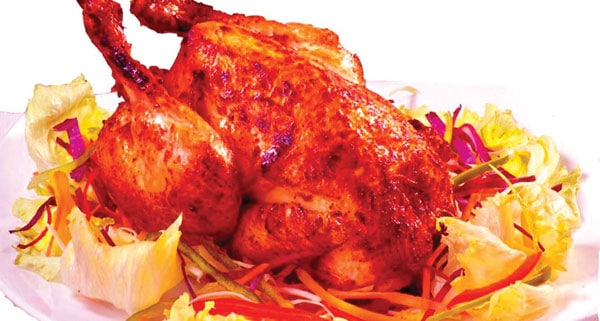 Nuts contain carbohydrates, vitamins and a wide range of minerals. They are rich in high quality proteins, making them a good vegetarian substitute for meat.
Almonds
Almonds are high in monosaturated fats and vitamin E. They also contain a fair amount of magnesium, which is beneficial to arteries and veins and the potassium in them helps with blood pressure.
Badami Murg
Ingredients
2 pound whole chicken cleaned
¼ pound hung yoghurt
¼ pound cream
¼ pound peeled and ground almonds
1 teaspoon cardamom powder
½ teaspoon cinnamon powder
1 teaspoon grated ginger
2 tablespoon sliced almonds
Salt and white pepper to taste
Rub ginger, salt, pepper, cardamom powder and yoghurt into the chicken. Set aside for two hours. Heat 4 tablespoons butter, add the chicken, mix in the almond paste and pepper and cook covered over slow fire without water until it is cooked thoroughly and done to preference. Mix in cream, place on a serving dish and decorate with sliced almonds.
Tofu Delight
Ingredients
½ pound tofu
4 ounce peeled and ground almonds
4 ounce plain yoghurt
A few drops orange food color
1 teaspoon ginger and garlic paste
½ teaspoon red chili paste
2 tablespoon ground sesame seeds
1 tablespoon chopped cilantro
2 tablespoon olive oil
Salt to taste
Mix together all the above ingredients and set aside for an hour. Place mixture in a greased baking dish and place under grill for 10 minutes. Decorate with chopped cilantro and serve.
Walnuts
Walnuts are a very good source of protein and are easily digestible. They are also rich in unsaturated fatty acids, potassium, calcium, magnesium, phosphorus, carbohydrates, sulphur and Vitamin B. Walnuts contain an amino acid arginine, which the body uses to produce nitric acid that aids body cells flexible
Green Pepper in Walnut Sauce
Ingredients
6 green peppers
4 ounce grated cheese
4 ounce cream cheese
2 ounce tomatoes
4 green chilies
1 tablespoon coriander leaves
Salt to taste
For sauce
4 ounce walnuts
¼ cup each of almonds and cashew nuts
8 ounce cream cheese
1 pomegranate peeled with the seeds removed
Salt to taste.
To prepare the green peppers, hold them with a fork over a gas flame. When the skin blisters, wrap them in a damp cloth and leave for half hour. The thin peppery skin will easily peel off. Slit length wise on one side and remove stems and seeds. Grind together tomatoes, chilies, coriander and salt. Cook over a slow fire until mixture thickens. Mix in the cheese. When it melts, stir in the cream cheese. Stuff the mixture into the capsicums and arrange on a serving platter. Grind together all the nuts and add to the cream cheese along with enough milk to make a sauce as thick as mayonnaise. Pour the sauce over the green peppers and decorate with pomegranate seeds.
Walnut Rabdi
Ingredients
8 ounce chopped walnuts
2 liters milk
4 ounce melted chocolate
4 ounce strawberry crush
½ pound sugar
1 teaspoon cardamom seeds
Mix milk with cardamoms and sugar and boil on a slow fire until it is reduced to ¼ of its original quantity. In individual glasses place alternate layers of rabdi, then the strawberry crush, followed by the chocolate sauce and again the rabdi. Decorate on top with nuts and serve.
Peanuts
Peanuts are rich sources of proteins and menstruated fat and also contain potassium, thiamine, niacin, Vitamin E, phosphorus, magnesium, copper, selenium and zinc. The nut is also rich in falconoid and anti-oxidants.
Peanut Potatoes
Ingredients
½ pound baby potatoes boiled and peeled
¼ pound peanuts roasted and coarsely pounded
1 teaspoon cumin seeds
1 teaspoon garam masala
1 teaspoon dhania jeera powder
1 tablespoon dry mango powder
1 tablespoon chopped cilantro
1 teaspoon ginger strips
2 green chilies chopped
Salt and chili powder to taste
Fry cumin seeds in 3 tablespoons oil. When they stop popping, add the peanuts, ginger, all the spices and salt. Stir well. Add potatoes and cook over a slow fire for a few minutes. Decorate with cilantro and green chilies.
Peanut Centered Chocolates
Ingredients
12 tablespoons brown sugar
4 ounce coarsely pounded roasted peanuts
1 pound melted chocolate
Melt sugar with little butter in a pan, stirring all the time. When golden colored, mix in pounded peanuts. Roll out the hot mixture into a thin sheet. Break into small pieces when dry. Dip into melted chocolate with a fork and place on greased paper, one inch apart. Place in the fridge for a few hours to harden. Wrap in paper.
Cashew Nuts
Cashew nuts are rich in saturated fats, folic acid, iron and Vitamin B. They also contain thiamine, which rejuvenates the nervous system and stimulates the appetite, whilst riboflavin in the nut keeps the body active and energetic throughout the day.
Paneer in Cashew Nut Paste
Ingredients
½ pound paneer cubed
2 ounce cashew nut paste
2 cups cream
1 tablespoon white pepper powder
½ teaspoon cardamom powder
2 tablespoons chopped coriander leaves
1 ounce roasted cashew nuts
4 tablespoons onion paste
½ teaspoon each of ginger and garlic paste
Heat 3 tablespoons butter and fry ginger, garlic and onion paste until soft. Add cashew nut paste and spices and cook until the butter separates. Mix in paneer and cream and cook for few minutes. Place in serving dish and decorate with onion rounds and serve with piping hot parathas.]
Cashew Chocolate Nougats
Ingredients
4 ounce sugar
3 ounce coarsely chopped cashew nuts
For the casing
8 ounce plain chocolate grated and melted
Essence of rum
Melt sugar over a slow heat, mix in the nuts and immediately remove from fire. Pour the mixture on a greased rolling board, roll at once into a ¼-inch thick sheet. Mark into small squares; when cold break the squares. Dip in melted chocolate to which essence of rum has been added and set in the fridge to harden, then wrap in paper.
Pistachios
Pistachios have great nutritional value, are very delicious in taste and are rich sources of iron, protein and calcium. Their high iron content strengthens red blood cells and aids in respiration. The nut is low in the glycemic index and is recommended for diabetics and obese people as it helps maintain blood sugar levels.
Nan Khatai
Ingredients
½ pound refined flour
½ pound castor sugar
½ pound clarified butter
1 teaspoon cardamom seeds
For decoration
4 ounces sliced pistachio nuts
Mix together flour, sugar, cardamom seeds and clarified butter into a smooth mixture. Form into lime sized balls. Press to make them into round shapes. Place in a greased baking tray 1-inch apart. Decorate with pistachio nuts and bake in a moderate oven for 15 minutes or until a toothpick inserted in the center comes out clean. Cool and store in airtight container.
Pista Shrikhand
Ingredients
3 ounce of blanched pistachios
½ pound yogurt
8 ounce sugar
1 teaspoon cardamom seeds
¼ teaspoon essence of rose
Tie yogurt in a muslin cloth and hang up for 1 or 2 hours until all water drains. Place in blender and blend until smooth. Place in a serving dish, add essence and half of the nuts and raisins. Decorate with remaining nuts and raisins. Serve chilled with piping hot puris.