Arts
NRI Fantasies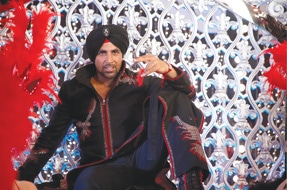 Is Bollywood misrepresenting the real India
Gorgeous stars, glamour, emotion, passion, sex, melodrama, music, dance, pop-patriotism riding on

parampara

and timeless values, spinning its own version of realism to attract, entice and seduce a star-struck constituency of non resident Indians (NRIs) and second generation overseas Indians – gullible, impressionable, disconnected totally from the real Indian experience and completely blown by its mesmerizing blend of

masti

and magic!

Is this simplistic, cutesy representation of India manufactured to suit B-towns' vested interest, vulgarizing the intrinsic, rich and multi-layered character of a nation by presenting it in a comic-strip, cardboard-cut-out, easy-to-love-and-digest package? Is the Yash Chopra (Dilwale Dulhania Le Jayenge) Karan Johar (K3G, KANK) and Vipul Shah (Singh is Kinng) brand of punjabiyat an accurate snapshot of Incredible India? Or are we getting too touchy and overreacting to a medium that is meant to dramatize and hype life in an entertaining fashion and ignoring a hard fact that is there for all to see… Bollywood's triumphant global march.
Aloo Chhat
The world is taking cognizance of the power and reach of Bollywood, as countries vie to have Bollywood shoot films there, offering tempting packages, facilities, amenities and even lip-smacking subsidies. Fiji (the latest Bollywood struck country) is allegedly willing to give producers a thumping 35% payback on the costs of shooting. King Khan signing on as South Korea's cultural ambassador to promote its tourism by luring Indian filmmakers to shoot there reaffirms Bollywood's red hot footprints on the international map.
Celebrated Theatre Director Feroz Khan (Tumhari Amrita, Gandhi v/s Gandhi, Salesman Ramlal, Salgirah) is singularly unimpressed: "Bollywood's approach today is direct and single-minded: Reduce everything to a level of mediocrity that instantly allows mass-consumption! B-town is a planet focused on offering an alternate reality promising bharpoor entertainment without fullstops." The worst part, says Khan, is that Bollywood is aggressively elevating mediocrity to excellence.
He is equally critical of the "sexy re-mix" of the Indian experience by Bollywood that guarantees the "feel-good" factor, because NRI audiences "are not looking for reality. As for responsibility and commitment, the B-town guys have only one mantra – the Box Office. Period."
Delhi 6
Script writer Javed Akhtar (Zanjeer, Sholay, Don) begs to differ. "Anyone who believes that the NRI is gullible, impressionable, ignorant or plain dumb vis-à-vis cultural and social influences, is mistaken. Two things need to be understood immediately. One, there is a huge community of solid professionals – doctors, lawyers, engineers, bankers, architects, IT and finance experts, businessmen – who invade this NRI space with distinction and pride. Are they all culturally regressive and under-privileged?"
In any event, Akhtar says if NRI kids "choose" to patronize Bollywood films, then they do so of their choice. "No one is forcing them to go ra-ra over the SRK (Shah Rukh Khan) road shows or Singh is Kinng. Also, if the non-Bollywood fare was really so fabulous, surely they would find their own audience."
Kunal Basu, the celebrated author of The Japanese Wife and Oxford-based professor of management studies rejects the market driven defense as naïve and a disservice to NRIs. "The Indian diaspora continues to be Bollywood's largest customer-base in the West. In addition, Bollywood has also entered the popular, mainstream consciousness in North America and Europe as the most significant Indian cultural import of the last decade. Whenever there is a big Bollywood event in the UK, for instance, supernovas like SRK and Big B (Amitabh Bachchan) arrive, are feted and dutifully interviewed by all the major TV channels. Shilpa Shetty – post the (in)-famous Big Brother show – has become the face of Bollywood in Britain. Imagine! Everyone (never remotely interested or knowledgeable about Bollywood) seems to have heard of her. Umpteen books continue to be written on and about Bollywood and launched with glitzy fanfare. BBC Channel 4 regularly shows B-town movies on certain days of the week. All this aggressive, sharp and big bucks marketing, over time, has positioned Bollywood, in the absence of any other significant cultural import from India, as the Big one!"
Kal Ho Na Ho
Basu points out that in the 1970s overseas Indian cultural influences were driven by people like Ravi Shanker, representing a culture of a distinctly higher order. That space has been dumbed down by Bollywood. This dangerous spin, Basu says, has resulted in two negative consequences. Second and third generation NRIs weaned on Bollywood's version of India, is shocked, disgusted and disillusioned once they arrive here. The abject poverty, corruption, pollution, dirt, dust and chaos that colors every major metro city turns them off India, may be for life. In addition, Bollywood's vice-grip and money and marketing muscle blocks the market for any other Indian cultural import.
Kolkata-based, art-house film director Rituparno Ghosh, acknowledges the validity of some of the criticisms, but he also counters with some hard-hitting questions for Bollywood-bashers. "If the non-Bollywood films have found no audience, exposure or support among the NRI community, whose fault is it? What has this fraternity – me, included – done to win audiences or any kind of ground swell in the NRI space? Surely, even within the NRI domain, there are enough bright, young, educated, intelligent, curious, open-minded and culturally-driven kids who are interested to know and sample India's other cinema. How have we addressed their needs? Why blame them? They have had little or no connect with any other cinema and therefore, naturally, perceive the Bollywood product as the Indian reality."
Ghosh says that to the NRI sensibility, an Adoor Unnithan, Girish Kasaravalli or Buddhadeb Dasgupta film will never be as exciting, fun, glamorous or entertaining as a Bollywood blockbuster. "Let's face it. Our kind of filmmakers, quite honestly, make niche films for a niche audience. Why on earth should they suddenly want their products to be hugely popular abroad, even with the NRI community?"
Dev D
"In a globalized world, you enjoy all the advantages of globalization, but the moment things don't work your way, you moan and groan " Finally, he says, "If the other guys feel so strongly about championing their product, they should go out and do something. Symposiums, seminars and panel discussions are not the answers. Focused and aggressive action is."
Aparna Sen (who gave us classics like 36 Chowringhee Lane, Mr and Mrs Iyer, 15 Park Avenue) has a more nuanced perspective on the controversy. "Two things need to be immediately contexted while discussing this theme. One, the undeniable connect that most NRIs have with Bollywood. It's a hugely emotional thing and has to do with nostalgia and roots completely impervious to background, culture, education, social status, reason or intellect. The other point is slightly different and deals with Bollywood's aggressive insistence on presenting a pseudo, Indian identity through an upper-class, North-Indian, male-female prototype. This is a construct imposed on the Indian identity, an artificial kind of 'oneness' foisted on India through films and loads of the Saas-Bahu kind of serials. For example, Sangeet is strictly a North-Indian custom; so is karva-chauth. Thanks to these two they are tremendously in vogue, among the younger generation everywhere, even in Kolkata. Homogenization can often be dangerous because by gaining a little you seem to lose the beauty of your own roots. Is it, then worth it? Remember the beauty of India lies in the multilayered charm not in a forced and contrived, filmy, pan-India image."
Singh Is Kinng
Respected Kolkata-based film and theatre critic Samik Bandopadhyaya, who has tracked Bollywood for years, is scathing in his criticism: "It's a little frightening, actually. Why? Because there seems to be an entire academic community – co-opted by Bollywood – engaged in the single-minded business of valorizing and championing this cinema… presenting it as authentic representation of the political reality and social forces at play. It is an agenda aggressively fronted by some so-called scholars – Nasreen Kabeer being the foremost of them – who travel the university and campus circuit across USA. Canada, Australia, UK to spread and power the message. It is done in a quiet and insidious manner. All this lends the movement the required credence and respectability with this academic-scholastic color in the form of Studies in Indian Cinema, a source of great significance. This, in turn, hugely impacts the thinking of even the non-diasporic community because of its pseudo-serious nature and brilliant packaging."