Life
Move on Mythology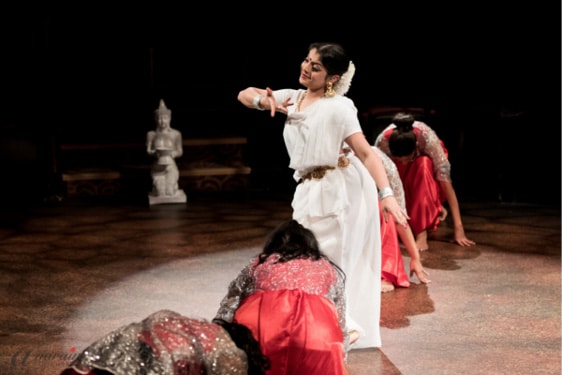 Last year, an epic dance drama, depicting the story of a warrior princess who embraces femininity to win over a man, opened at ACT Theatre in Downtown Seattle. The story tracing the life of an Indian princess, Chitrangada, based on a play by the great Rabindranath Tagore, intrigued many Americans, who were mesmerized by the colorful costumes and classical dances that formed the heart of the show.
Elsewhere in the Bollywood stratosphere, Sanjay Leela Bhansali's epic Padmaavat registered the highest opening overseas ever for a Hindi film, collecting a whopping Rs 6.25 crores ($1 million) in the first few opening weeks. This despite many caustic reviews questioning its over-the-top sets, ornate garments and billowing pomposity. The film did well perhaps, because even with a shallow storyline it promoted the somewhat jaded idea of an imagined ancient India with elephants, forts and warring kings.
India, for all its advancements in science and technology, ranging from ISRO (Indian Space Research Organization) launching the first mission to land near the moon's south pole recently, to medical tourism, which is projected to grow to $7-8 billion by 2020, has long been viewed as an exotic land of mythological tales. Especially in the Western world, the cultural markers for India remain classical dances or its spiritual and mythological past.
So, have Indian performing arts popularized only one aspect of its identity, almost blighting its many contemporary advances? Chicago based Ketki Parikh, who runs Vachikam, an entertainment company that pioneered in bringing Indian plays to the United States during the 1990s, agrees that many Americans associate India with its myths and legends: "Popular forms of entertainment, have often shown the classical tales that has led to a reaffirming image of India with all its traditional bounty."
Performing arts have a way reflecting the state of a culture. Unfortunately, mainstream Bollywood with its obsession with dance and songs routines and prime time television in India with regressive family series ignores real advances in urban India.
Entertainment and television critic Priyanka Singh says: "It all boils down to what is seen to popular mediums. Even though I do not mean to look at West to draw a reference every time, but truth be told, unlike in America or Britain, how many lets' say, medical docuseries or science fiction programs do we see on Indian television? The same applies to performing arts too. All our plays, tend to follow the tried and tested trajectory of showing kings and queens and dances and costumes. While we are immensely proud of it, we also have to show the new India and the brilliant work our scientists, geologists, engineers are doing."
By contrast, in British programs, the TV series Humans on AMC showing everything from artificial intelligence to robotics or Grey's Anatomy with its unsettling medical cases, the drama and depiction reflect current advances in the West.
Artist Sohaila Kapur concurs that theater in India borrows heavily from myths and legends, but she also points out that a new wave of performing arts is giving a contemporary twist to enactments.
Theatre director and Bollywood actor Rajat Kapoor who has directed Indian versions of popular plays, such as Macbeth and King Lear, blames Bollywood for gobbling up the space for alternate entertainment that has many interesting and newer stories to tell: "I believe, not just in India, it is a global phenomenon where people are looking for easy, 'popcorn entertainment'."
He adds: "We need to look and promote alternate art cinema as well as contemporary stories being told by small filmmakers and play directors to break the perception. Unless, we bring the other issues to the forefront, it's unlikely that people will know the real, new stories emerging out of our land."
The ground may be shifting. Ketki Parikh, who conceptualized the South Asian Film Festival in Chicago, says: "The depth and the subjects that we see new filmmakers talking about is mindboggling. And the change is being reflected in many alternate Indian films that are getting global recognition."
Even so, ancient stories have powerful messages. Anushka Chauhan, who attended the screening of Chitrangada in Seattle, says ancient tales still have resonance: "That is a part of our heritage and more importantly they tell often liberating, feminist stories about the time many may have misconceptions about. In Chitrangada, to which she took several American colleagues, she says: "Many were shocked to see the valor and bravado of an Indian woman from the 18th century. So, what may be more important is to ensure that even the classical tales are told in the right context."
And that urgency to tell the tales in the right context may account for the flak over Padmaavat and its mute representations of practices such as sati or jauhar in ancient India.