Arts
Meltdown Hits Tinsel Town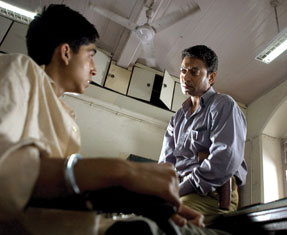 When the going gets tough, do the tough really get going.
Bollywood is Big with a capital B! The whole world (including Hollywood, the revered entertainment capital) recognizes and acknowledges its clout. Over time it has developed, evolved and perfected a unique format, idiom and language — song, dance, passion, romance, melodrama, glamour — that has resonated across countries and continents in one mesmerizing swoop!
Ghajini, starring Aamir Khna, turned out to be a blockbuster hit at the end of last year.
SRK, Big B, Aamir, Salman, Akshay or Hrithik, Rani, Priyanka, Ash, Preity, Bipasha or Kareena spell collective insanity for howling mobs — anywhere! Their concerts and shows abroad are mega-hits. Fans, advertisers, production houses, TV channels, big Bollywood producers and the media dote on them, making them demi-gods and their bank accounts Fort Knox! The whole world revolves around their halo, aura, star-draw and magnetic pull … and their every wish is perceived by their producers, as their command!
So will this recession clip their sexy wings, cast a shadow on their glowing halo, rain on their glitzy parade? Will the meltdown create a new climate and environment where (at long last!) the men will be separated from the boys, the real from the fake, the challenger from the pretender? Will this sensational tail-spin work as a much-needed detox for an industry that — financially speaking — went berserk? Will a new, sane focus replace the chaos of the free wheeling decade, with funds allocated in a more responsible and accountable manner? Or is this just a little intermission before the glitz returns to show business, Bollywood-style?
For once, its seems, we are not just crying wolf — the wolf has actually arrived, dangerously salivating with sharp teeth and sharper claws, ready to strike. And B-town is nervous. When was the last time you heard the bubbling announcements on mega releases powered by super-stars? Or about obscene star fees … or about gigantic alliances, mergers or acquisitions?
From Chandini Chowk to China, set off a diappointing first quarter for the Indian box office.
No, people, all is not well in the perfumed paradise of Bollywood. Several biggies, including Salman Khan and Vipul Shah's whopping Rs.100 crore plus starrers, as well as Pooja Bhatt, Himesh Reshamiya and Nagesh Kukunoor's projects have taken a hit. If rumors are to be believed, even the much trumpeted partnership between Anil Ambani's ADA Group and golden boy Spielberg has hit rough waters.
So what's going on?
In the last few months, impossible budgets and star-fees blitzed all conceivable media avenues, with Vipul Shah's Rs. 100 crore ($20 million) project heading the list. Insiders say that this financial craze became contagious when corporates came on board. Seduced by the glitz and glamour of Bollywood, convinced that they could turn it into a fast moving consumer product and genuinely convinced of the huge marketing opportunity, if only the "systems" were in place, the big boys hit overdrive, sending costs spiraling to unrealistic heights.
Now that the economy is souring, they have slammed the brakes. Film-maker Mahesh Bhatt (who has always believed through action, not just words that the subject, theme, treatment and passion makes a film, not overpaid and underachieving stars, is not surprised at this sudden panic. "While their intent may be honorable, they are first-timers in this new game and recession can really throw the biggest and best off balance … at least for a while". Prominent distributor Rakesh Sippy is convinced that "the bubble was waiting to burst. It was getting to be of an impossibly and unrealistically gigantic size. It burst."
The fallouts are there for all to see. Nagesh Kukunoor (Iqbal, Dor) has no takers for his long completed John Abraham starrer Aashayein. Two projects of superstar Salman Khan have been shoved into the deep freeze. Himesh Reshammiya's new project Gujju Bhai has been shelved while Vipul Shah's Rs. 120 crore ($24 million) London Dream is hitting choppy waters. Producer Bhushan Kumar has reportedly instructed director Pooja Bhat to slash the budget of their new project, Kajrare. Even the much hyped deal between Anil Ambani's Big Entertainment and Steven Spielberg's DreamWorks SKG is facing greater scrutiny as Dreamworks struggles in the new economic environment to close its financing. Big, marquee name producers and banners suddenly find their projects under the microscope.
Shakeouts in supporting sectors are coloring the space as well. Theatre and satellite revenues have taken a huge dive. The Mumbai terror attacks have dampened theater attendance. One big Delhi distributor says the occupancy in some areas has dropped by as much as 50%. In turn, that has triggered the sale of pirated DVDs and hit the Multiplex viewing experience, big time.
Satellite revenues are taken an equally hard hit. Only a few months ago, the latest Aamir Khan-starrer — scheduled for a January 2009 release — went for a cool Rs.22 crores ($4.4 million) to Studio 18. Earlier even films like Welcome and Singh is Kingg went for Rs. 12 crores ($2.2) and 16 crores ($3.2 million), respectively. However today, according to a reliable industry source, the market is weak that even a big Yash Raj film like Dostana, which would easily have commanded Rs. 15 crores ($3 million), is attracting only close to one-third that amount.
For all of Slumdog Millionaire's worldwide critical success, the box office performance of both the Hindi and English version in India was tepid.
This source believes, however, that this is just a "temporary" correction process, reflected across the board — Real Estate, entertainment, Industry Sensex – forcing caution because of the liquidity crunch that is tightening all forms of conspicuous consumption. However, he is confident that within six months, things will return to normal and channels will be forced to pay big bucks to big films with big stars, "because the TRP's (television ratings) come from them."
His optimism is not universally shared. We have to wait and see …
Meanwhile, overseas rights, which have proven hugely lucrative during the last few years since Bollywood aggressively hit the global button, have also taken a solid sock in the plexus. Mega companies like Neptune, Venus and CA Corp have been pulling back and no new major sale has been recorded. Scary …
But it has not driven everyone in the industry into a depression. Some even believe it's the best thing to have happened to an industry that was freaking out in wanton, extravagant and bindaas fashion. Observes an avid Bollywood tracker, "It desperately needed to detox. Now, the fly-by-night, short-change artistes will disappear, thank god! The guys who came in for a fast-buck with proposals and deals. Script, story and substance will come center-stage, along with sane budgets. Producers will think many times over before pumping in money."
If rumors are to be believed, stars like Sanjay Dutt and John Abraham have voluntarily taken a fee-cut, agreeing to profit-sharing. Whether others will follow remain to be seen, but one thing is certain, many marginal stars who were taking home insanely disproportionate paychecks can now take a walk. Their honeymoon is over. They get paid on results!
The other issue that will be addressed immediately, according to critics, is the absurdly, exaggerated numbers that the industry keep trumpeting and hyping. Pritish Nandu Communications honcho Pritish Nandy has repeatedly cautioned against hysterical numbers advertised across publications, because "most of the times any resemblance with the truth is a coincidence!" Remember the mind-bending headliner claiming Akshay Kumar receiving fees of Rs. 150 crores ($30 million) for a project? More restraint, sanity — and most importantly — responsibility is likely to emerge from the dream factory, leading to a stable environment. A firm rethinking of budgets and renegotiation with stars is the new industry imperative for survival.
There are likely to be fewer movie releases due to the meltdown in 2009. This could be a blessing in disguise, throwing up better quality films and offering actors/stars fewer, but more interesting, projects. The jury is still divided on whether the big or small budget films will be most affected. One camp believes that the age and time for good scripts and stories has returned, giving a leg up for small films. Others argue Bollywood is really about glamorous, star-studded blockbusters — that the market is for SRK, Big B, Aamir, Salman, Akshay, Hrithik, Saif, Kareena, Bips, Ash, Katrina, Priyanka, Rani, Preity — and this focus can never change.
Perhaps we may see two tiers of ticket prices a $10 million mega-budget starrer from the Aamir, Mumbai Meri Jaan, Welcome to Sajjanpur film with entirely different economics.
At the end of last year, the new SRK-starrer Rab Ne Bana Di Jodi (a Yash Chopra production), which was released simultaneously in UK, USA, Australia, Europe, Africa and parts of Asia broke all previous records and clocked a monster Rs. 60 crores ($12 million) worldwide during its opening weekend. Ghajini, starring Aamir Khan, also turned out to be a blockbuster hit.
On the other hand, the first quarter of the year has proven disastrous. Warner Brothers Indian foray with From Chandni Chowk to China, proved disappointing. Indeed, according to Box Office India, "There have been around 30 outright Hindi film releases so far this year and one third of them have been box office disasters losing practically all their investment and just two success."
One thing this recession has taught Bollywood is — hasten slowly! Movie mogul Yash Chopra, says financial forces should never be allowed to compromise content. "At the end of the day, we should never forget why the audience see what they see…to escape from their dull, routine, humdrum everyday life full of stress and anxiety to spectacular world of hope, glamour, beauty and excitement! A three-hour excursion, to a collective, joyous, willful suspension of disbelief! This motive is common to both local and NRI audiences (today to global audiences as well), because tales of good, victory over evil and love conquering all are themes that defy physical or geographical boundaries, challenging caste, creed, color, language or nationality. They will always resonate with anyone who has eyes to see and heart to feel."