Life
Lucknow Version 2.0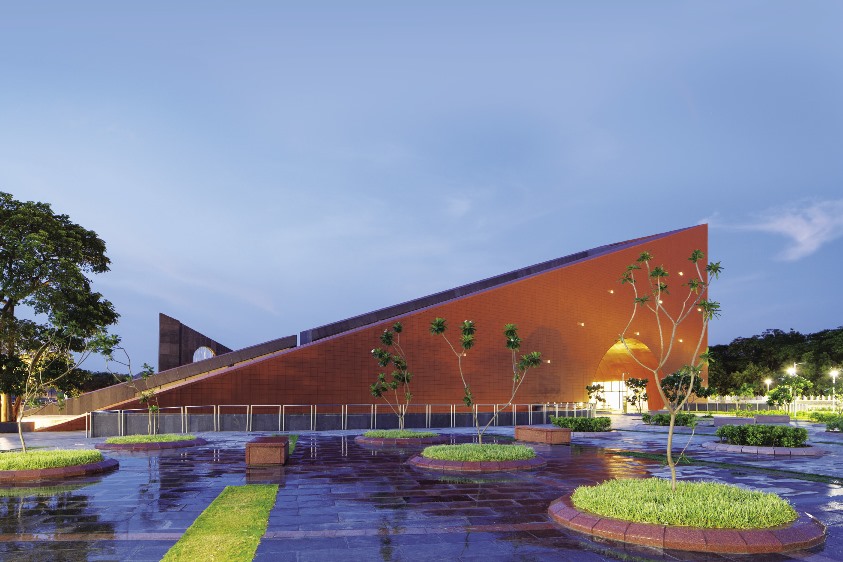 Lucknow, the capital city of Uttar Pradesh, in India, has for centuries played its part as the nerve center for artistic, cultural, culinary and political discourse in the country.
Lucknow, the capital city of Uttar Pradesh, in India, has for centuries played its part as the nerve center for artistic, cultural, culinary and political discourse in the country. The former seat of the Nawabs of the 18th century and the home of Ganga-Jamuni tehzeeb (a term used for a fusion of Hindu-Muslim culture prevalent along the region of river Ganges and Yamuna) has lent the heritage city a unique cultural identity all its own.
If lovers of history remember the place as the relic of important eons, such as the Sultanate era, the dynasty of Nawabs during the British Raj, for modern Indians, the city still resonates a dash of its gentility.
Many of the great contemporary musicians and performers of our times, such as Javed Akhtar, Talat Mahmood, Anup Jalota, Naushad and Birju Maharaj, hail from Lucknow. The land of legendary poets, such as Mir Taqi Mir and Kaifi Azmi, has also been home to former Prime Minister Atal Bihari Vajpayee and President Shankar Dayal Sharma.
Even though during the past several decades the city has fallen victim to haphazard growth, witnessed by most Indian megacities, urban Indians world over still remember Lucknow as the city with an artistic soul. Despite the fact that what was once a cradle for leisurely art forms, like poetry and Kathak, is now struggling with urban rot, gridlocked streets and infrastructural nightmares, the city still invokes memories of courtly diction and luscious Awadhi cuisine for scores of NRIs now settled abroad.

Current (left) v proposed (right) images of Lucknow.
Good news then, that this city of beautiful baroque monuments, buckling under the pressure of a bustling metropolis, may be on its way to reclaim some of its lost charm. A few months ago, Lucknow, secured top place, in the list of Fast Track Smart Cities released by India's Union Ministry of Urban Development. The competition was conducted by the central government among 23 cities that had improved the quality of life for their citizens by at least 25 per cent.
Smart Cities Mission is a program aimed at urban renewal initiated by the Government of India. The idea is to develop 100 sustainable cities in the country, for which the cabinet has approved Rs 980 billion ($15 billion), including costs for rejuvenating 500 other cities.
For many NRIs, who left Lucknow decades ago and witnessed a gradual erosion of its legacy over their occasional visits, it comes as a welcome initiative. Neha Dhawan, who came to New York, 15 years ago, having grown up in Lucknow, remembers the city as a quaint cultural replica of the past: "Over the years, Lucknow lost its affable character and became like any other city struggling with urban problems. I regret that even our historic markets, such as Hazratganj and Aminabad, have happily swapped our local traditional clothes and jewelry for super market finds from big cities like Delhi and Mumbai."

Hussainabad heritage walk
Over the years, Lucknow despite being the proud custodian of some of the most historic monuments, somehow missed the bus as a tourist destination. Although Uttar Pradesh is in the top three states visited by foreign tourists, with nearly three million foreign footfalls in 2015, the bulk of travelers visited Agra or Varanasi.
India's golden triangle route, the most preferred tourist destination, carefully connects the cities of Delhi, Agra and Jaipur in a 720 km stretch, bypassing Lucknow, which stands tall as a cultural edifice, more so in modern times, with its contribution to various art and craft forms.
The callous representation of Lucknow's craft is reflected in how chikankari, the elegant shadow work embroidery on delicate muslin cloth, native to the city, lost out in popularity to pashmina from Kashmir. While every NRI and foreigner visiting India makes it a point to prize a Pashmina, chikankari is losing its grip even in India.
Realizing this gap, a Lucknow native, Anchal Gupta, unable to find any good quality Lucknow chikankari and kamdani dresses online, started an online shop dress365days.com, a few years ago. The India based portal reports a growing clientele in countries like Canada, USA and Middle East. To cater to the NRIs, it has introduced western style tops, tunics, and palazzos in chikankari work.
However, Dhawan laments that she misses seeing girls in Lucknowi dresses back home. She says, "The young in Lucknow are increasingly wearing what their counterparts in New York City wear; and yes that sometimes does take away the distinctness of the place." She sheepishly admits, "Not sure if I can blame the young, as I myself do not have a single Lucknowi piece in my wardrobe."
Though it may be some time before Lucknow finds its place on the fashion map, state officials are hopeful that developmental work will bring NRI and visitor interest back to the city.
Some years earlier, MA Yusuff Ali, managing director of Abu Dhabi based EMKE LuLu Group, ranked 24th on the Forbes 2015 list of richest Indians, announced plans to invest Rs 1,000 crores ($150 million) in the U.P. capital. Chief Minister Akhilesh Yadav's initiative at the first Uttar Pradesh Pravasi Diwas, held in Agra, earlier this year, is another attempt to attract NRIs back to their state of origin while showcasing the business potential of the state.
Lucknow has been witnessing infrastructural developments, such as the metro rail project and the Gomti river front development program, but what remains a growing concern is the neglect of the city's historic past.
Sourabh Gupta, principal architect, Archohm Consults, an architecture studio that has been involved in some of the new projects in the city, says: "Preserving one's heritage means recognizing the very necessity of relating to one's past, of the stories it has to tell and the role it plays in the present. This preserved past never remains static, but is in a constant state of change and this change is the value addition that each of the subsequent generations adds to its past."
In a quest to craft a balance between tradition and modernity, a bouquet of other projects, ranging from the master plan of the city, design of street signages, preserving the history, organizing heritage walks, farmer markets and cultural haats, along with specialty hospitals, modern residential units, hospitality ventures, etc. have been proposed or are underway to reinvent Lucknow.
While these sound like spectacular plans to redevelop the heritage city that has often deservedly, earned the bad rap for failing in urban planning, whether the mission will succeed at a grass-root level remains an open question.
Agrima Tewari, a Lucknow native who shifted to North Carolina, three years ago, says: "It's welcoming to find that infrastructural changes are being introduced. Even till a couple of years ago, we had real third world problems, like restricted water supply and power cuts."
For Lucknow natives who have made Western shores their new homes, it's these mundane troubles that remain a major roadblock in thinking of returning home. Tewari says: "There has been a clear under-representation of our heritage. Americans, are unaware of the existence of Lucknow. They do know Taj Mahal, but beyond that there is nothing in UP that they know of."
Gupta says, "If smart cities are exemplified by Singapore and Dubai and are defined by parameters, such as modern skylines, extreme efficiency and perceptible absence of poverty, then there are plenty of road blocks in making Lucknow a world-class city."
Despite the obstacles, the face-lift raises hope of reviving the city's exemplary heritage. The Rumi Darwaza, a majestic gateway, built in 1784 by Nawab Asaf-Ud-Dowlah, has been often compared to Gateway of Constantinople. The Dilkusha Kothi, the 18th century house built by British resident Major Gore Ouseley, reflects English Baroque architecture and the prestigious La Martiniere College is an example of Indo European style.
Hearteningly enough, some of the newer initiatives seem to be keeping the sentiment of a city seeped in history alive. The Hussainabad Heritage Walk is aimed at educating visitors on a bevy of monuments belonging to the Islamic period, such as the Bara and Chota Imambaras, the Rumi Darwaza, the Satkhanda, the Asafi Masjid and the Bhool Bhulaiya.
The state government has initiated a project for Shilp Graam, an artisan's village spread across 20 acres, housing 200 craft shops.
Lucknow, like all the growing cities in the world, has to move with the times, employ technological advances, address economic growth and exemplify social and cultural trends. But, hopefully, without losing its renowned tehzeeb.