Life
Love and Marriage, South Asian-American Style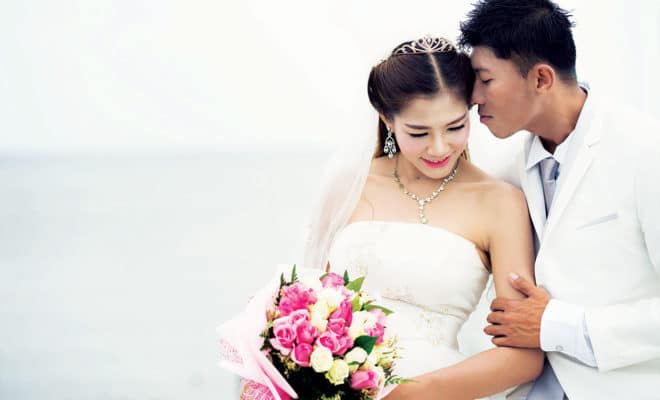 Shankar Prasad wasn't supposed to want this.
He was born in the United States, the third of four brothers from a family who immigrated to this country from India in 1975. He grew up in New Jersey. He went to Rutgers. He worked for a hedge fund in New York. In short, he had a "modern" American life.
He was supposed to meet the love of his life in a bar in Manhattan's East Village. Instead, in 2008, he told his mother he wanted to get married — and he wanted her help.
"Everybody wants that romantic story, the boy-meets-girl that you see in every movie and TV show," said Prasad, 35, the associate provost for global engagement and strategic initiatives at Brown University. "This is our version of a boy-meets-girl. It just happens to be somebody who looks like you and speaks the same language as you do and comes from your culture. But it's the same idea."
Prasad had willingly entered what most would describe as the Westernized version (although it also happens in South Asia) of an arranged marriage.
No, he did not meet his wife on his wedding day or fly off to India and come back with his partner a month later. Instead, with his mother's help, Prasad made use of a network that has been in place in the United States for at least two generations, with one goal in mind: marriage.
It is very much a hybrid of the old world and new. Parents are usually the writers of their offspring's "biodata," a résumé, of sorts, that comes with multiple photographs.
That résumé, which is often sent out across the United States and Canada, typically lays out criteria that may go beyond ethnicity and religion, such as caste, geographical region and language group.
"It's like dating fully endorsed by our families," Prasad said. "Everybody knows. There are no secrets or hiding. It can be great because it's pretty transparent."
That transparency often comes after a lifetime of hiding. Prasad's parents expected him to study hard in his youth and consider romance later. As a junior in high school, he told his parents he was going to an advance placement chemistry study group on the night of his prom. He changed in the car.
This can extend into adulthood, as in "The Big Sick," a semi-autobiographical film by Kumail Nanjiani and Emily Gordon that tells the story of a young man from a traditional Pakistani-American family who falls in love with a white woman.
While seeing her, he allows his parents to suggest potential wives for him, collecting and keeping "biodatas" in a cigar box.
That lack of honesty can only hurt. The 2015 documentary "Meet the Patels," directed by actor Ravi Patel, 38, and his sister, Geeta, shows Patel looking for a mate with his parents' help. He neglects to tell his mother and father about the white girlfriend he has broken up with and for whom he still has feelings.
While Patel ended up meeting the woman who is now his wife by accident (she is not the girlfriend he broke up with), he said he respects the process.
"I think the part about this whole process that is probably most shocking to the non-Indian is the extent to which it's successful," Patel said. "And by success I mean, not only do they end up being married, but they end up being truly happy." (Still, it's no guarantee: Estimates for divorce rates among South Asian-Americans range from 1 percent to 15 percent.)
When Prasad went to his mother for help, she was ready. She pulled out a black book full of the names of families with a Telugu language background and daughters close to his age. Sumana Chintapalli, the younger daughter of one such family, was finishing law school at Northeastern University.
Beginning with their first phone conversation, Chintapalli was explicit about who she was and what she wanted. She spoke about the importance of family in her life and also wanted Prasad to understand that she would have a career.
After a few weeks, Prasad traveled — with his mother — to meet her. While his mother spent time in the hotel room, he and Chintapalli met for dinner and followed up with a date the following day. A week later, Prasad returned for her barrister's ball. At a certain point, Chintapalli turned to him and said they should get married. He agreed.
A year later, the couple had a wedding with 1,200 guests in San Antonio. They now have a 3-year-old daughter.
"I didn't realize how nice it is to end up actually marrying someone who is not only an Indian but is also Telugu," said Chintapalli, 34, who works with the Conservation Law Foundation. "It's all these little things that are super-specific to different types of Indians. It also matters in raising our daughter. We don't need to have a ton of conversations about what to do because we both share the same values, the same ideals."
Prasad had an easier time than Bhargava Gannavarapu, 35, who grew up in Oklahoma, with virtually no friends of Indian descent. The older of two boys, he went through high school in Dallas and college in Chicago without dating. It wasn't until his third year of medical school that his parents ushered him into the arena.
"I'm not the kind to blindly accept what you are being told," said Gannavarapu, a gastroenterologist at the University of Illinois Hospital in Chicago. "I would never have done this unless it became my own issue and idea."
"Online dating kind of took off around the period when it came time for my parents to talk to me about this, and I finally thought about it," he recalled. "I said, 'You know what? This isn't that much different.'"
GGannavarapu began the process in 2006. Initially it was exhausting. While doing his residency in California, he found himself traveling to New York, Boston and Washington, D.C. Eventually, he told his parents, "Before you even try to introduce the next person, I would like them to at least live in the same time zone."
"During that period my dad would ask, 'What is wrong with her?'" Gannavarapu said of one potential match. "I said, 'There is nothing wrong with her. Don't make me point out flaws in people, because that isn't the point. It's just not going to work.' For them, they were like, 'If you don't find this person unattractive and not awful, why shouldn't it work?'"
In 2012, Gannavarapu told them he needed a break from the process. They left him alone for more than six months. Then his mother called about a family friend who lived in California, where he was finishing his residency in internal medicine.
When Harika Parige met him, she had no expectations that the two would even date, much less start a life together.
But after a week of seeing each other, the relationship began to change. Five months later, a fellowship in gastroenterology took Gannavarapu to New Mexico, where he remained for two years. During six months of long-distance dating, the relationship continued to move forward, and by the end of that year he proposed.
"I think people should be a little bit more open to this, because it can be a nice way to meet someone," said Parige-Gannavarapu, 29, as their 7-week-old son lay nearby. "Had I been really weirded out by this whole thing, I would have never met Bhargava."
"But I feel like that is actually a rarity nowadays," Parige-Gannavarapu said. "My mom recently introduced one of my really good friends to another guy that she knew. Even in doing that introduction, my mom didn't provide a 'biodata' or anything like that. She said, 'Here is this guy's number. If you are interested, give him a call.' And that was it."
One might expect these couples to shy away from their origin story, given that they grew up in the United States, where you're supposed to meet like characters in a romantic comedy.
"People are always asking, 'How did you meet?'" Prasad said. "And we both say, 'Oh, an arranged marriage,' and it starts the conversation. And we are happy about that. Because when you first start this, you are both interacting because you are interested in getting married."
"There is no noise here," he said. "It could have gone badly in so many ways, but it didn't. We each found the person we were meant to be with. It worked."
© 2017 New York Times News Service