Arts
LOVE-AAJ KAL!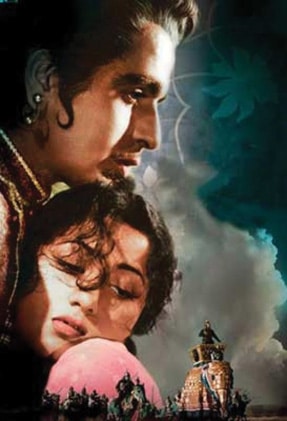 Is the golden age of romance in Bollywood over?
First things first. It has been said that the history of cinema is also a history of exciting, adventurous and celebrated love affairs. Dead right. And for excellent reasons. The very nature of filmmaking provides the mood and milieu for amorous encounters for two people thrown together.
Jab We Met
Far off Switzerland or neighboring Goa and their close and constant physical contact often leads on and off the sets to the romantic intimacies of the screenplay. Then again, the stars have an exclusive, subliminal and indefinable psychological bond. Idolized and damned in equal measures, these larger-than-life creatures turn to each other for fulfillment, leading them to believe (with some truth) that only a star can truly understand, relate and love another. But how does love surface in the first place? And what does this divine madness do to screen lovers? Does it actually help them emote better?
According to many distinguished people who pass their life and times tossing educated opinions on screen love in Bollywood, Dilip Kumar, Raj Kapoor and Dev Anand were the greatest. Let's take Dilip first. In an environment brimming with hammy overacting, Dilip was perhaps the first actor in Bombay to introduce the rare, dignified and yet powerful element of restraint. And this element, naturally, crept into his love scenes. The Dilip-Madhubala, Dilip-Vyjayanti, Dilip-Meena, Dilip-Waheed love scenes were fashioned by this wonderfully refreshing trait. A quiet, intense, sensitive (often to the point of shyness) lover who very nearly doesn't make it. The near-lover, the puzzled introvert – these are some labels that come to mind for Dilip's love scenes.
Aawara
In total contrast was the Raj-Nargis love saga. Loud, boisterous and always full of life and laughter, this team brought a daring and pizzazz to their love-scenes, which were completely Western in concept and then unknown in popular Indian cinema. The Raj-Nargis love scenes were very passionate, very beautiful and often very physical.
The heady fever comes through loud n' clear when you compare Devdas, Daag, and Paigham with Barsaat, Awara, and Shree 420. One has to think very hard indeed to match another couple that set a generation ablaze as Raj and Nargis did with their onscreen romances.
If Dilip and his heroines brought intensity, sensitivity and restraint in their love-scenes, while Raj-Nargis introduced passion, boldness and undiluted physicality, then nodding head Dev Anand screamed "contemporariness." Neither too serious, nor overtly passionate, he brought in style, chaal, ada every time he "pharmaoed" ishq.
From Suraiya to Tina Munim, Dev's love scenes (Manzil, Paying Guest, Asli Nakli, Guide, Des Pardes) have always been sprinkled with rare flamboyance. His style of talking, walking and his mannerisms turned-on not only his heroines, but millions of adoring fans over the decades. Oh, there was Guru Dutt too, who blazed with all cylinders firing and lit up the screen with lady love Waheeda Rehman in classics like Pyaasa, Kagaz ke Phool, Chaudvin ka Chand, Sahib Bibi Aur Ghulam, but Dev Anand stood apart.
Bipasha Basu & John Abraham
All these stalwarts of Indian cimena emoted much better (as their films reveal) when in love and deeply entrenched in their heroine's soul. The only real inheritor of their legacy was Rajesh Khanna, who in the early seventies brought back love (in all his crinkled eyed glory) to where it belonged – center-stage! Such was the hysteria that his early romantic films (Aradhana, Kati Patang, Amarprem, Sacha Jhootha, Roti, Aaan Milo Sanjna, Apna Desh, Aap Ki Kasam, Do Raaste) generated that girls actually were known to have married his photograph and applied sindoor, sometimes in blood.
These days Shah Rukh Khan and Kajol may well be voted the "most romantic couple of the day" in an opinion poll and Dilwale Dulhania Le Jayenge the "all time favorite movie," but somehow they are no match against romance's glory days.
Pure, raging, insane, passion – love to die for – has been replaced by love parading as a designer emotion, a fashion statement, fun n' cool, with sensuous body language in place of inarticulated expressions of love, loss and longing. Furthermore, today, in a world where speed is the watchword and quantity the cardinal turn-on, love has become a publicity gimmick, a marketing tool, designed to psyche and hustle the turned-on mobs into storming a movie.
As can be gathered, this blitz is normally machine-gunned before the release of a film. What these dumbbells don't understand is that publicity can't sell a lousy movie. Nor can curry-dipped rumors. At most they create a climate of excitement, which can – and often does – dangerously boomerang if the promise does not match the performance.
Dhoom 2
New star-teams (Akshay-Kareena in Kambakkht Ishq; Saif-Deepika in Love, Aaj Kal) are caught in the spectacular race for box-office buzz. Are they only confirming the obvious: that the world of passion and intensity has been replaced by hype and heart-string manipulators, panting to get into the fast lane, at any cost?
"I totally disagree! I don't buy the idea the environment in earlier times, stars, movies, individuals, were more romantic than ours," says Bollywoods new, blazing love-guru, director Imtiaz Ali (Jab We Met and Love Aaj Kal). "The passion and intensity of love, loss and longing that you speak about is still around. It could, for example, well be a man sitting in a café, sipping coffee by himself, cheerful, bullish on life, doing his crossword. Suddenly, we see tears rolling down his cheeks. There could be a zillion reasons, only the manifestations are different. These are complex times and the trappings, idiom, style and manner of expressing love, feeling and emotion has changed to keep pace with it. The real thing, however remains intact."
The inimitable Gulzar takes a more nuanced view: "I don't think it is all true, although partially it seems so. I feel it's a completely time and place things. The long drawn romance born of rishtas that came from different cities, defining the distance-lends-enchantment factor in todays' life belongs to the fiction category. The tremulous meeting of eyes, accidental brushing of hand, leading to unspoken, inarticulated, romantic highs doesn't happen any more. That was then … the fifties. In year 2009, it is a more pro-active, informal and direct interface between young men and women living in a world dominated by internet, cell phones and ATMs. It's a generational thing, That's the way the young people conduct romance today … and I go along with it all the way!"
Mughal-E-Azam
Ah well, but dear reader you might want to pause and reflect on this as well…
Once upon a time, love was romance. Dilip holding his Queen of Hearts protectively in his arms, while his eyes blazed defiance at his royal father; Raj embracing his woman passionately: Dev prancing around with his lady love. All that resides in the fluffy soft focus of a distant past.
Today, love appears to be less of a sublime emotion, more of a consumer perishable along the fast moving consumer goods line. To be clinical is to be in. The primacy of permissiveness has replaced love with sex, corrupting into an act, a behavior, an ingredient so artificially (and seductively) relevant that filmmakers have appointed themselves as lab-specialists. They have detailed, magnified and celebrated titillation in the mainline commercial, and in so doing, destroyed emotion, buried passion, corrupted intimacy, killed charm and de-mystified romance … forever.