Magazine
Life is a Soda Bottle…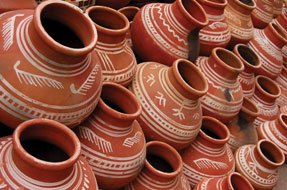 I am missing matke ka paani. What on earth got you hooked on Busleri?
Wow! Imported shampoo! Imported T-shirt! Imported soaps! Imported chocolates! Wow! Lives abroad! Vacations abroad! Accent, etc., etc. Wow! What's in the bags?
I would rather say, "What's in a bottle?"
How passé these lines sound today. Two decades ago, they were pride points; foreign countries were a fantasy. Products brought from there were enough to make people envious, although nobody cared to look at the labels — Made in India, Vietnam, China, Bangladesh, etc.
If you had a distant aunt or cousin living in New York you would feel proud to share their stories with friends. Even if they brought you soaps from hotels they had stayed in, you would show them off in your bathroom. When they paid with a credit card at a posh restaurant where they took you for dinner, you would be in an awe of the shining gold piece of plastic. And yes, when they ordered salads, which, of course, you would never want to eat, you would be all gaga about it. When they asked, "What will you have for dessert?" you would find yourselves on the horns of a dilemma. Oh God, what should I order?
They yellow Faber Castell pencils were the pride of your pencil box. The M&Ms, Snickers and Mars were so wow. And hello, how can you forget the Peanut Butter and Kool Aid? The camera that uncle carried around was amazing and it was called a Handi-Cam! The manicure kit my cousin gifted me would accompany me to all the cities I travelled. And, by God, their kids, they could never be wrong. Even if they cried or screamed for absurd reasons, it was okay. The list is endless, but I cannot neglect the little things: they drank Bisleri mineral water, used hand sanitizer and would only sleep with mosquito repellent!
I say, "The bottle is full of soda!"
I am sure all you desis out there know what I am talking about. The imported shampoo didn't do much for your hair. You might have discovered that your oversized T-shirt was a give-away at your cousin's university or some event or bought while on vacation at a flea market. The chocolates… even those who have have visited the M&M and Hershey store in Times Square, know they are no match for 5 Star. What a taste man! I am craving for it right now. Yes, the smooth chocolate and the gooey toffee beneath…. Umm, umm.
Today, when you see the label on that little black dress or the linen shirt at Macy's with a "Made in India" label, you feel proud and wonder, why is this so expensive?
Okay! So your aunt, some uncle and a distant cousin who used to visit India once every three years live here. Sooo?
What a life! Do you guys have a full time Bai or a Maharaj? Believe me, the dishwasher is a bigger pain! Lavender crèmes? Hello, I still use my Indian Nivea and ya those shell shaped hotel soaps, they just made my skin dry. When I talk to my friends back in India now, I actually sometimes am jealous of their lifestyle — maids, cooks, smaller rents, bigger houses, no parking problems, no tickets, small health insurance premium and ya the doctor gives you the reports by hand.
So what have you got?
Peanut Butter and Kool Aid? Very unhealthy! Salads? My home made roti and bhindi ki sabzi beats it hands down. And can the rice and French beans stand any chance before daal chawal? As for that dessert you were inquiring about? I don't think a chocolate mousse or a Tiramisu really works for me. Can you pass over two pieces of gulab jamuns or gajar ka halwa please? What say you? I know half of you will be panting for an Indian restaurant or whipping up an Indian meal this weekend.
Handi-cams? Sorry, I don't have any room for that in my backpack, what with the water bottle, umbrella, and book. My 16 megapixel phone camera does just fine. And Mr. Cousin, his kids. Would you believe it, they are are thinking of shifting back to India?? Ha, ha, ha. Don't bother taking back the manicure kit you brought for me. Even the nail cutter was hopeless.
I am missing the matke ka paani. What on earth got you hooked on Bisleri?
Life has a way of coming full circles, bubbles. Heck the fizz is gone from the soda bottle.