Arts
Krishna Reddy, Master Printmaker and Indian Modernist, Dies at 93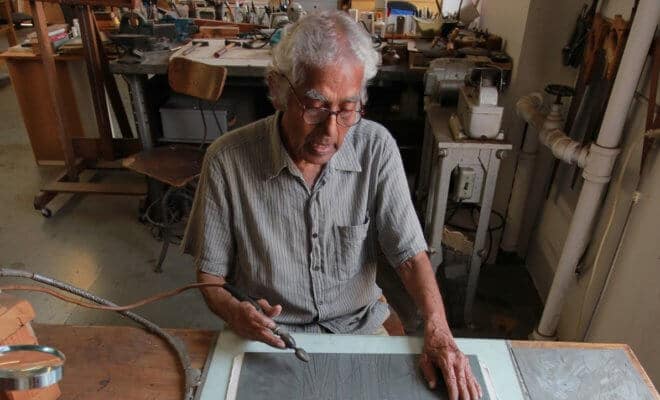 Reddy belonged to a generation of artists who gained international recognition after India's independence from England in 1947.
Krishna Reddy, a master printmaker, sculptor and teacher who played an important role in the shaping of modernist art in India, died on Aug. 22 at his home in New York. He was 93.
His death was confirmed by his wife, Judy Blum Reddy.
Reddy belonged to a generation of artists who gained international recognition after India's independence from England in 1947. Like many of his Indian colleagues, he was fully conversant with developments in contemporary European art but was working in fresh directions — demonstrating, for example, that abstract art was not, as is still often assumed to be, a Western invention, but had distinctive sources and forms in other cultures.
He was born on July 15, 1925, near Chittor in the southeastern state of Andhra Pradesh. His father was a farmworker who also painted temple murals.
Reddy's talent as an artist was evident early on. He attended the nearby Rishi Valley School, founded by philosopher and spiritual teacher Jiddu Krishnamurti with a curriculum based on ego-reducing principles of community service and collaboration. Then, in his early teens, he was sent to study at Santiniketan in West Bengal, where writer and artist Rabindranath Tagore had opened an experimental university.
The school, Visva-Bharati University, was designed as an alternative to the colonial British model of education. Rather than focusing on rote classroom learning, Tagore advocated free-form study conducted in outdoor settings. Art and science were in balance; in addition to painting and sculpture, Reddy studied botany and biology, pursuits that would do much to produce the organic imagery of his later art.
He was mentored there by artists Nandalal Bose and Ramkinkar Baij, and he quickly graduated to the role of instructor himself. In 1949, with recommendations from Krishnamurti, who would remain a lifelong influence and adviser, Reddy traveled to London to study at the Slade School of Fine Art, where he apprenticed with sculptor Henry Moore. In 1957 he enrolled at the Brera Academy in Milan to work with Italian sculptor Marino Marini. But it was a move to Paris in the early 1950s that brought a major shift in the focus of his art.
In Paris he joined Atelier 17, a printmaking workshop founded by British surrealist Stanley William Hayter. Intaglio printing, in which a plate is incised with an image, covered in ink and pressed onto paper, soon consumed Reddy's energies and became the art form for which he is now best known. At the workshop he was able to observe, and work alongside, older sculptors — including Alexander Calder and Alberto Giacometti — as they explored print media.
"Sculpture is my love," Reddy once said. And in Paris he began to apply sculptural techniques to printing, transforming metal plates into the equivalent of relief sculptures. Collaborating with Hayter and a fellow Indian artist, Kaiko Moti, Reddy developed a printing method based on the use of colored inks of varying viscosities to produce complex images from a single plate. Many of the images produced from this technique were abstract, suggesting cellular forms, radiant flowers and whirlpools, often infused with a tone of surrealist menace.
While much of Reddy's work was abstract or semiabstract, not all of it was. In 1942, he painted hundreds of figurative protest posters for the Quit India Movement, initiated by Mohandas K. Gandhi to demand the end of British rule in India. Later, in Paris, he made posters in support of the Algerian revolution. (He was sometimes taken to be Algerian and harassed by police; he was arrested more than once.) And in 1968, in response to the student and worker uprisings in Paris, he produced a series of prints and bronzes titled "Demonstrators."
A younger friend and colleague of Reddy's, photographer Ram Rahman, recently described him as "a gentle soul with sharp political beliefs, his roots combining Tagore and Gandhi with a good dose of the French left."
At Atelier 17, where he eventually taught and served as co-director, Reddy met American artist Shirley E. Witebsky, whom he married. In 1964, two years before her death, they traveled to Montreal to collaborate on a monumental sculpture and attend an international symposium. The trip brought him an invitation to lead a printmaking seminar at the American University in Washington.
Many other requests to teach followed, from, among other institutions, the University of Minnesota, Maryland Institute College of Art, Pratt Institute in Brooklyn and New York University. In 1976, he joined the NYU faculty as a professor and director of graphs and printmaking. He was named professor emeritus of art and art education in 2002. A book of his instructional writings, "Intaglio Simultaneous Color Printmaking: Significance of Materials and Processes," was published in 1988.
Reddy kept close contact with India all his life, but he made New York City his home. He lived in a SoHo loft with his second wife, artist Judy Blum Reddy. He is survived by her and a daughter, Aparna Reddy-Sargent.
Reddy's work circulated widely. In 1981 the Bronx Museum of the Arts organized a retrospective, which three years later traveled to museums in Mumbai, Bhopal and Kolkata. Another traveling survey was organized by the Palacio de Bellas Artes in Mexico City in 1988. In 2008, Thomas Erben Gallery in Manhattan mounted a show of work from 1950 to 1980.
In recent years, Indian modernism has gained increased institutional recognition in New York, and Reddy's work has been very much in the picture. In a series of three 2011 exhibitions called "Modernist Art from India" at the Rubin Museum in Manhattan, he was represented by drawings of figures he made in 1940 at the Ajanta Caves, a monument dedicated to the Buddha in northwest India, underscoring the Indian sources of his art.
And prints had a central place in the 2016 Metropolitan Museum of Art exhibition "Workshop and Legacy: Stanley William Hayter, Krishna Reddy, Zarina Hashmi," which confirmed the collaborative spirit of his long and prolific career.
Daniel J. Wakin contributed reporting.
© New York Times 2018