Arts
Ishq Ishq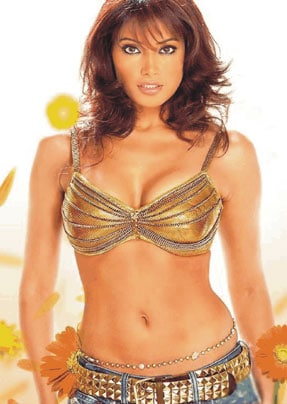 It has been said a zillion times, and yet, warrants repetition, that the world loves a lover! More so when hot reel life spills over to real life — or is it the other way around? Who cares!
Bollywood stars Aishwarya Rai Bachchan and husband Abhishek Bachchan on the red carpet at the Cannes Film Festival.
God knows, over the decades B-Town has thrown up dozens of coochie-cooing couples (real or manufactured) with a ravenous, voyeuristic, sensation-driven media swooping in to blitz every move across TV, radio, press, Internet. Has it helped? We check it out.
Let's start with Abhishek-Ashwariya. Everyone knows that today's golden couple did quite a few films together (before they got romantically involved and married) and each of them had to be peeled off the ceiling! It was Mani Ratnam's Guru which broke the jinx, with Abhishek delivering a truly brilliant performance, ably supported by a de-glam Ashwariya. Sarkar Raj was also there, but their connect was lost in the intensity of the storyline and general focus.
Ajay-Kajol have been hitting dud-street with depressing regularity. Dil Kya Karen, Raju Chacha and U, Me Aur Hum … here today; gone today! Shahid-Kareena were hot, hot, hot remember? Their films, however, were real thanda (cold)! Ironically, the last film they did before they parted ways, Jab We Met (shouldn't it have been Jab We Split?) really caught fire, but their personal relationship burnt out.
Saifeena really captured popular imagination with Chhote Nawab, flamboyantly, passionately (and publicly) wooing Kareena, with her name, dramatically, inscribed on his arm. These red-hot vibes, however, translated to zilch when their much hyped Tashan went p-h-o-o-s-s! The John Abraham-Bipasha Basu jodi sizzled big-time in their earliest film together, Jism. As the liaison translated to a garma-garam relationship, all eyes were fixed on their starrer Goal. No prizes for guessing what happened.
The Priyanka-Harman pairing too was hot n' heavy with the "We're good friends" number hitting impossible heights. However, their Love Story 2050 fizzled. The newest hot, IT couple on the block is Ranbir-Deepika. Bachna's success truly powered their market value while lending a new resonance to their personal vibes. More wind beneath their wings!
Priyanka Chopra with Harman Baweja at the press conference for Love Story 2050 in London.
So what's the overall conclusion and score? Simple. While the voyeuristic public (aided and abetted by an ever-hungry ratings driven media) devours, explores, exploits (even manufactures) scandals, controversies, break-ups, gossip and new pairings, it refuses to automatically carry this enthusiasm into film success. Why? Because that's a different space altogether and must be evaluated and judged through a set of criteria totally unrelated to hype, gossip or scandal. It has to do with the film per se — story, casting, brand-fit, passion, believability, looks, acting, components that influence the overall viewing experience.
Interestingly, in some earlier pairings in the golden age of Bollywood there was considerable crossover success in onscreen and off-screen romances. Recall sepia-tinted times couples like Raj-Nargis, Dilip-Madhubala, Dilip-Vyjantimala, Guru Dutt-Waheeda Rehman, Dev-Suraiya, Amitabh-Rekha, Amitabh-Jaya?
At the end of the day, off-screen chemistry cannot guarantee on-screen success. What it definitely does is generate huge curiosity, great expectations, evoke interest … in general, work up solid lather among the gasp-pant janta … but that's it. Thereafter, it rests entirely on the merits of the movie and whether the red-hot off-screen vibes translate to on-screen dhamaka. And hey, get one thing straight: no amount of media-spin can salvage a dead pair. The Priyanka-Harman disaster is the most lethal example!
BIG BUCK AD ENDORSEMENTS
Cashing in on luv has grabbed the younger Power-Couples in B-town, big time. It does not always translate into movie hits as we have seen, but what about ad endorsements? How do they fare in that area? Are on-screen successes the critical criteria … or do their exciting personas and off-screen dramabaazi ignite popular imagination and convince big brand advertisers to slot them in product categories that exploit this attractive part of their pairing-image and chemistry? Let's take a look ….
Bollywood actress Kareena Kapoor with former flame Shahid Kapur.
If proven and movie–hit success was the criteria, then Brand Saifeena would be nowhere (even remotely) near the radar! But guess what? They emerge as B-Town's hottest couple in the endorsement scene with an estimated $20 million riding on them! Their endorsement rate is between $1.2 to $1.4 million.
Explains Anita Nayyar, CEO of Havas Media: "Apart from being big stars in their own right, they are young, attractive and seductive newsmakers, adored by their zillions of fans across the globe. Their (public) real-life chemistry too is warm and wonderful and sends out extraordinarily positive signals which is a huge turn-on for the admirers." Interestingly, all this, despite their mega thud, Tashan.
Brand Ajay-Kajol — despite flops galore — have attracted $10 million in endorsement fees. Reason? Their image as "a solid, cute, stable, together married couple" is perfect for family-products. Brand Abhi-Ash have around $6 to $8 million riding on them, and Brand John-Bipasha take home a cool $800,000 per endorsement (despite doing no film together) … such is the jodi's combined brand-equity.
The latest lovebirds rocking the bandwagon is the exciting, young, now twosome, Ranbir-Deepika! Hot n' heavy after their Bachna success and cute Youngistan ads, industry insiders believe that they are worth a up to a deadly $1 million per ad. "They have no competition in the Baba-log market and swing hot n' high in the youth segment," confesses Media analyst Nayyar.
Romance is great and big buck endorsements are cool … but bottom line, do these jodi-endorsements work in the market place? More importantly, what drives advertisers to pay such obscene amounts to stars to push their brands? Let's tackle the second question first. Insatiable curiosity by the 24×7 fans (voyeurs?) constantly hankering for every sight, sound and gossip-byte they can get of their favorite stars. What better platform and vehicle to turn fans into potential customers than get these stars to endorse their products, together?
Remember, cleverly leveraging the stars' popularity by cashing in on anything topical —scandal, event, idiosyncrasy, release, affair, controversy — and working it into a believable storyline powering the ad, can be a huge talking point and publicity boost for the star, the product and the company! Besides, power-couples, on-view, always ensure mesmeric viewing, right?
John Abraham
However, a word of caution for advertisers. These "relationship-endorsements," tempting and attractive as they are for stars and their fans, can take on a dangerous life of their own unless they are cleverly and subtly weaved into the basic fabric of the ads, so that the stars are characters and the products — not they — are the real heroes! The other point is: do these big buck power-couples deliver the goods, or is their on-screen record in endorsements as dismal as the movies in which they starred?
Trade analysts believe that endorsements work better for them because the entire premise is less complicated and different. The heavy-duty demands (story, casting, performance, looks, screenplay, total impact amidst a galaxy of stars, etc.) don't figure and is not scrutinized in excruciating detail by critics, industry, colleagues, etc. It's more about the direct chemistry between the star-couple and how they translate that into the product experience they project. It's basically about looking hot — or appropriate not — in the ad. It's about interestingly, attractively and memorably (John-Bips in All Clear; Saif-Bebo in Airtel; Ranbir-Deepika in Pepsi) reaffirming their image as an endearing power-couple.
It not about great acting, but smart posturing. That's something the coochie–coo star-jodis know how to play well.