Magazine
Is IPL Killing Cricket?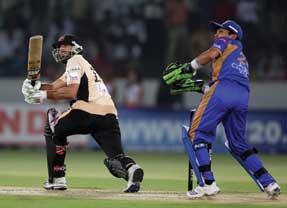 IPL, ICL, T20.Call it what you will - but just don't call it cricket.
Raju Shrivastava may have been only half-joking, after all.
India's best known stand-up comic (yes, we too have that breed back home) has a favorite cricket routine, embellished with the choicest Bhojpuri-Hindi slang. It begins with a profile of the team's nameless and utterly non-descript but indispensable player who runs all sorts of errands for the skipper, maintains an unending supply of chewing-gum for his fielding team as well as the opposition batsmen on the field, avoids a particular corner of the boundary to escape the pecuniary demands of a corrupt selector who's come to collect his dues, and finally escorts his own sister to a BCCI (Board of Control for Cricket in India) official's hotel-room assuring him she'll do "everything" – even play cricket: "Sometimes she does look like a man in shirt and trousers," he deadpans.
The routine ends with a futuristic look at the game. Trying desperately to cope with the demands of an "instant" society, one-day cricket, he reports, has shrunk from 60 overs an innings to 50, and now to 20-20 – which is the T20 format. One day, not too far off in time, it will go down further to 15-15, 10-10, and 5-5. Next….imagine this ultimate scenario: "The two captains walk to the center of a packed stadium with an umpire in tow. The umpire tosses a coin, one captain calls, and lo! The toss, as well as the match, is won in a single flip-and-roll. Game over, the crowd cheers, the captains shake hands and everyone goes home, good night."
Shrivastava, believe me, has the makings of a soothsayer. Nothing today seems off-limits for the game's carpetbaggers as they seem hell bent to push cricket toward its doom via the path of miniaturization. And what's the force driving it down the tubes? Commerce, of course. Never for a moment, mind you, am I even suggesting that the resulting spectacle would be bereft of "entertainment"- as it's conventionally construed. So expect dollops of snazzy glam-sham, and little of "cricket" – as it's conventionally construed.
Let's first look at how we got here. Cricket, for the uninitiated, went through its birth-throes and emerged in a competitive international form in 1877 as "Test Cricket" with England playing Australia and losing. In 2000, Bangladesh became the tenth and newest Test entrant. Its standard five-day format calls for approximately 90-overs to be bowled per day till the match is drawn, tied or won/lost.
One-Day Internationals had an interesting origin. Although the limited-overs format began in 1963 in the English domestic circuit, the first ODI was played (again) between England and Australia when the first four days of a Test match in 1971 were washed out, and the sun came out on the fifth. ODIs became so popular so fast that by 1975, the cricketing nations had played their first World Cup.
Curiously, the shorter versions of the game – including the latest Twenty20 of 2003 vintage – germinated in the otherwise staid English environs. But their origins belied the later, more glamorous and mercenary versions. Australian media magnate Kerry Packer's World Series Cricket – a rebel private-sector venture – recruited the best and the brightest from across the entire cricket fraternity (significantly, leaving out Indian cricketers who were then too timid to thumb their noses at BCCI), introduced white balls, colored clothing and night cricket. Stars like Pakistan's Imran Khan appeared in publicity campaigns sporting suggestive "Big Boys Play At Night" T-shirts. There was however nothing suggestive or oblique in the late Packer's money-minded approach to his cricket "circus". He is reported to have once begun a meeting with Australian Cricket Board officials with his dollar-inspired plainspeak: "There is a little bit of the whore in all of us, gentlemen. What's your price?"
Every generation begets its own messiah. If the fans of one-day cricket were shepherded to their television sets by a hard-nosed entrepreneur in the persona of Kerry Packer, the T20 flock has Lalit Modi as its high priest. A quintessential Indian yuppie, Modi is certainly younger and more colorful than his Australian predecessor – and probably as cocky. But a skeleton from his rumbuctious past recently rattled his composure: Modi was convicted by a North Carolina court in 1985, during his reportedly wild and unruly university student days, of possessing drugs (cocaine), kidnapping and assault – charges to which he confessed and which would have cost him two years in the slammer. He was let off on probation. But the conviction crept back up 20 years later during the hearing of two suits in Indian courts challenging Modi's position as a cricket official. Reason: Cricket associations do not, under their rules, permit anyone convicted of a criminal offence to hold the post of an office-bearer.
As the cases dragged on, Modi had a lethargic legal system and a supportive boss in BCCI honcho Sharad Pawar to thank for his subsequent rise. Far from sacking Modi, Pawar – who has developed a sudden love for cricket and its administration after its money-making potential became evident – handpicked him for a bigger plan. Keen to counter a local rebel in Zee Television owner Subhash Chandra who has started the rival T20 Indian Cricket League (ICL) after being piqued at losing cricket telecasting rights on his channel, and buoyed by India's triumph at the first T20 World Cup in September 2007, BCCI floated the DLF-Indian Premier League. At its helm was placed a poster-boy from the BCCI's own stable: the bespectacled yet youthful-looking high-profile Modi. (Perhaps fittingly, the biggest non-financial news story of the inaugural IPL season was the doping charge against a player.)
Whatever the court verdict, there can be no two opinions about Lalit Modi's commercial acumen and its resultant success. As Chairman and League Commissioner of DLF-IPL, he has proved his whiz-kid reputation. In its very first season, which ended in June this year, the league has overshadowed its rival ICL, which unlike the IPL continues to be deprived of legitimacy by the International Cricket Council.
Being blessed by the ICC is, of course, not an insignificant part of the IPL success story. The "official" status that brings in the star-players also ensures the incessant ringing of the cash registers, and Modi has deftly exploited it. The one-season-old league has already brought in assured deals extending several years worth billions of dollars as income for BCCI from television and sponsorship rights. Apart from DLF, the list of sponsors/partners includes Sony, Pepsi, Citi Group, Vodafone, Hero, Honda, ITC-Welcomgroup and Kingfisher Airlines. To the astonishment of business observers who expected none of its franchisee teams to break even in their inaugural year given the enormous investments involved, two of the league's eight franchisees are already in the black and four others are projected to make profits from the next season. (See Sidebar)
Expansion plans are underway. That, of course, is hardly surprising with demand for establishing fresh franchises. Four new teams will join the bandwagon from the 2010-2011 season, and two more from the 2012-2013 season – a 75% increase in league strength within the next five years!
By far the biggest beneficiaries in terms of returns on investment are the players themselves. Without expending too much time, money and effort on honing their existing skills, they have struck a goldmine. And as in real life, the rich are getting richer. Five Indian cricketers – Sachin Tendulkar, Saurav Ganguly, Yuvraj Singh, Virender Sehwag, and Rahul Dravid – have been designated "icons". In moolah terms, it means they form the crème-de-la-crème, making 15% more than the highest paid player in their respective 16-member teams. Within a total spending cap of $5-million in the player auction, a franchise must accommodate at least four local players and not less than four players from the BCCI under-22 pool, while being allowed no more than eight foreign players in the squad and at most four in the playing eleven. The minimum annual salary for an under-22 player is $20,000 and $50,000 for others. To call that a "decent" take-home pay packet for any young entry-level professional living in India today is to make a gross understatement, even considering the spiraling inflation.
Where else, at the end of a cricket match, would you see a player from the national team slugging his bowling colleague in the face instead of shaking his hand — as we saw Harbhajan Singh of the Mumbai Indians do to Kings XI's Sreesanth (being consoled here by team owner Priety Zinta).
IPL has thus proved to be a financial windfall for several strugglers – players good enough for competitive cricket but unable to break through the first-class and Test cricket barriers. Dinesh Salunkhe is a typical example. The 25-year-old leg-spinner from a lower middle-class family living in the northeastern Mumbai suburb of Chembur got a dream break with the Rajasthan Royals – the franchisee team which ultimately won the tournament this year – played under the legendary leggie Shane Warne who captained the squad, and has already firmed up plans to buy a dream house and start a small business to keep his siblings employed. His cricketing ambitions though, are realistic and limited: at best, a place in the Mumbai Ranji Trophy team.
On the face of it, the IPL is a classic instance of the clichéd win-win situation. The League makes money, the franchise-owners make money, the players make money, and the sponsors and advertisers get millions of viewer eye-balls in return. And the eye-balls, they get their fill of action, drama, sex and violence – all delivered right into the living rooms.
Which other television program gives you the exciting prospect of the world's most famous cricketers battling it out in a "short-and-sweet" 20-overs-per-side game? And warms your heart with the heroics of an aging superstar like Australian bowler Shane Warne who exhibits hitherto unseen prowess as a batsman and captain to lead his underdog team to final victory? And allows you a side-glance at Bollywood Badshah Shahrukh Khan (who owns the Kolkata Knight-Riders) puffing away nervously at his cigarette and saluting every boundary his players hit? And shows you an enticingly tomboyish Preity Zinta (who is co-owner of Kings XI Punjab together with beau Bombay Dyeing scion Ness Wadia and others) jumping with unbridled joy at her team's occasional victory, and then holding captain Yuvraj Singh in a tight appreciative hug?
Which other game in India gives you generous glimpses of scantily clad well-toned bodies gyrating to a myriad synthesizer-generated beats – including the Washington Redskins cheerleaders flown in by beer baron Vijay Mallya for his Bangalore-based Royal Challenger matches? Where else, at the end of a cricket match, would you see a player from the national team slugging his bowling colleague in the face instead of shaking his hand – as we saw Harbhajan Singh of the Mumbai Indians do to Kings XI's Sreesanth?
So when all concerned are sufficiently endowed or entertained, why should anyone – least of all, a sucker for sporting entertainment like this writer – crib over the unfolding of a new phenomenon that has hundreds laughing their way to the bank and millions laughing at the antics of their favorite sportsmen?
Simply because the game of cricket stands today at a crucial crossroads. In the pursuit of big thrills and bigger deals, we may well have endangered the genus (the game at large) by tampering indiscriminately with its species (its shortened-format variations). This is not another alarmist observation from any purist. It's high time the issue took center-stage, and cricket fans see the problem from the perspective of those who have been relegated unfairly as the crusty naysayers chronically hamstrung by tradition.
The problem is two-fold. It involves the rampant commercialization of the game, together with its almost mindless miniaturization over the years.
The standard knee-jerk reaction to the former is: Hey, what's the problem with more money coming into the game? It provides for better facilities and attracts better talent, thus increasing the level of performance. An exhibition of a higher order of skills brings in more spectators and television viewers which, in turn, brings in more sponsors and advertisers in a growing spiral of excellence. So what's wrong?
There is however a flip side to this otherwise indisputable paper-logic. More money, in the context of Indian cricket, does not necessarily mean a better game or even better players. In fact, just the opposite. This was glaringly true in the bad old days of the match-fixing scandal of the 1990s when bookies swayed individual as well as team performances with bagfuls of fun money. (The cricket establishment claims that the game has since been cleansed, but nobody believes them and the taint remains.) At the height of the scam, a young upcoming batsman is said to have asked his media reporter-friend in an off-the-cuff moment: "Tell me, if a player can hope for the Man of the Match award of say Rs. 2.5 lakhs ($6,000) by playing well, and is offered Rupees 25 lakhs ($60,000) by a bookie for playing badly in the same match, what do you think he'd do?" More money, yes. A better game? Guess.
When star players opt out of practice sessions – and sometimes out of a match or two – the stated reason is often injury or just plain rest to counter mental burnout. This may often be a genuine complaint, but as often it is not. It is not unheard of for them to honor shooting schedules (for television commercials) during such breaks. More money, yes. A better game? Guess.
The argument that market forces would pretty much ensure that the best players will play and the laggards will fade away is negated by an outrageous real-life example. For at least a couple of seasons in the not-so-distant past, the Indian cricket team was saddled with a player whose abysmally low performance cost the country quite a few matches. But he stayed on, and was dropped only after a public and media outcry. The reason for his inclusion at the highest level without any domestic cricket experience? Some say inter-state association politics, but many insiders attribute it to his chubby boyish looks. Convinced that he was the marketing icon for selling products to teenagers and young adults, sponsors and advertisers were effectively playing selector: pressuring a pliant money-worshipping administration into retaining him against the wishes of the selection committee. More money, yes. A better game? Stop guessing.
Vijay Mallya summarily sacked the seasoned
commentator-turned-administrator Charu
Sharma as CEO of his franchise, and publicly
blamed his mild-mannered captain Rahul
Dravid for the team's failures.
The pain that genuine lovers of the game suffer when they see this blind prostration before the gods of commerce was typified by this excerpt from a fellow writer's column: "Nothing shows the commercialization of players and the game more than the picture last Sunday of Sourav Ganguly pasting a sponsor's sticker on his bat in the team hotel. Even as a spectator one feels diminished by the way some cricketers demean themselves in advertisements. Particularly when the advertisement involves a player diving full length to grab a soft drink as if his life depended on it."
IPL, that gaudy citadel of private-sector entrepreneurship in Indian cricket, has taken commercialization to the next level of absurdity. Who's to track and stop two franchise owners from meeting over drinks with a bookie in a hotel room, and fixing a match with help from their "trusted" players? Worse, having given it the official go-ahead, the ICC watches helplessly as the league is taking priority over its own Test and ODI schedules. Early signs of trouble erupted on the eve of the IPL season. Players from Sri Lanka, with the backing of the country's president Mahinda Rajapakse no less, forced their Board to allow them to play in the IPL and to propose alternative dates or decline a tour invitation to England.
A worried ICC chief Haroon Lorgat recalled some home-spun values. "My folks always told me to be careful because money is the root of all evil. The root of this issue is the sums of money involved – it is far more attractive financially to play in the IPL," he conceded.
Which other game in India gives you generous glimpses of scantily clad well-toned bodies gyrating to a myriad synthesizer-generated beats — including the Washington Redskins cheerleaders flown in by beer baron Vijay Mallya for his Bangalore-based Royal Challenger matches?
Astute observers like Geoffrey Boycott and Javed Miandad had seen it coming. Miandad went on record to call it "nothing but entertainment, and lacking quality." Boycott put himself in the mind of New Zealand cricketers dithering over the English tour earlier this summer: "There are going to be a lot of players saying, 'Look, if we are playing in the official Twenty20 league, we really don't want to join the New Zealand team in the warm-up matches before the Test series with England in May, because if we stay an extra three weeks in India, we can earn far more money than by playing in the warm-up matches for New Zealand.'" This is only the tip of the iceberg threatening the very survival of conventional Test and even one-day cricket, warned Boycott.
IPL has also skewed the concept of a player's "value" in that it's no longer just the runs you score or the wickets or catches you take that matter, but also your economic value as determined by the price paid for your acquisition. Thus Shawn Marsh of Australia made news not merely because he had the highest batting average and the most points in the league, but also because he was acquired for a relatively paltry sum of $18,000. Similarly, the season's failures – Sachin Tendulkar, Ricky Ponting, Jacques Kallis, Shahid Afridi and Ishant Sharma – had more than performance on their mind: they were constantly being reminded of their high cost to the franchise.
Money in the DLF-IPL doesn't speak, it yells. Note the very name of the league: you'd think it was a private club built and run by the league's primary sponsor, the New Delhi-based DLF Group of Developers. Witness the arrogance of Vijay Mallya as he summarily sacked the seasoned commentator-turned-administrator Charu Sharma as CEO of his franchise, and dismissed the reasoned comments of his mild-mannered captain Rahul Dravid, publicly
blaming both of them for the team's failures. The churlish attitude of the power-drunk top executives of an event management company is reported to have prompted two black British cheergirls to walk out of their contract on grounds of racial discrimination.
The other problem with IPL is endemic to the T-20 format. To put it bluntly, how much can you compress a bubble without having it burst? How many short cuts can you take before the journey or the process loses its meaning, and the result becomes a nullity?
With the possible exception of boxing and chess (on either ends of the violence-in-sport spectrum) where a couple of swift moves can settle the issue for good, every other sport has to reach a threshold duration for achieving a satisfying fruition.
Take athletics. "The fastest man on Earth" must still breast the tape at 100 meters. That distance hasn't reduced in recent memory, nor – I wager – it ever will, because it has been universally acknowledged as the minimum stretch needed to test a sprinter's speed, pacing skill as well as endurance. Take professional baseball with its nine innings per side. True, it has a softer, miniaturized version, but that version has taken on a new independent identity (with a distinct set of rules and equipment) and another name – softball.
Now take professional cricket. I suspect the game may have reached its "absolute minimum" with the 50-over-per-innings ODI. Anything less, and you may have violated its core. There is more to cricket than just tonking a sphere of cork-and-leather flung from across 22 yards with a piece of wood. Played in the right spirit, there is scope for skill and strategy, pace and patience, flair and fortitude. But never was it meant to be frivolous nonsense indulged in by cavalier picnickers. IPL, I'm afraid, has reduced the game to just that. South Africa's paceman Dale Steyn hit the nail on the head when he confessed after a poor performance by his Bangalore Royal Challengers: "The IPL was only four overs a game (per bowler) and it was like a paid holiday; you only had to work hard if you felt like it, which is probably why we finished second-last."
IPL, ICL, T20. Call it what you will. Just don't call it cricket.
Franchise
Owners
Price
(Millions)
Revenues
(Millions)
Expenses
(Millions)
Profit/Loss
(Millions)
Mumbai Indians
Reliance Industries
$111.9
$17.3
$21.3
-$4.0
Bangalore Royal Challengers
UB Group
$111.6
$11.3
$22.0
-$10.8
Hyderabad Deccan Chargers
Deccan Chronicle
$107.0
$16.0
$20.5
-$4.5
Chennai Super Kings
India Cements
$91.0
$18.2
$18.3
-$0.1
Delhi Daredevils
GMR Holdings
$84.0
$17.6
$19.3
-$1.7
Punjab Kings XI
Preity Zinta/Ness Wadia
$76.0
$16.5
$17.1
-$0.6
Kolkata Knight Riders
Shahrukh Khan/Red Chillies
$75.1
$22.3
$19.0
$3.3
Rajasthan Royals
Emerging Media
$67.0
$14.8
$13.3
$1.5