Arts
Imagining America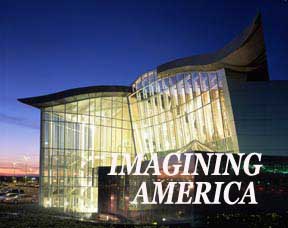 How is the story of America told? Through brick and mortar, through glass and steel, through the architectural footprints each successive generation leaves across the topography of the land. Through sky-kissing towers, grand museums, state-of-the-art hospitals, and of course, the inevitable shopping malls.
The Anchorage Internatiional Airport Terminal designed by Mohinder Datta of Kaplan Mclaughin Diaz
Then there are the mass transit systems, the dramatic sculptural bridges, the vast highways, the scores of community centers, houses of worship and universities that are the markers of a society.
Now increasing-ly there are Indian hands in the great architectural projects of America.
Visit the wond-erful new National Museum of the American Indian in Washington, D.C. and you will find the touch of Damyanti.S Radheshwar, senior associate with Polshek Partnership Architects, who was the project architect, supervising a large team of architects and designers, including Native American ones, to bring the virtual concept to reality.
Check out the blueprints for the Second Avenue rail project in New York City, which will dramatically change life on the Upper East Side of Manhattan, and you will find the fingerprints of Sudhir Jhambekar, a principal at Fox & Fowle.
Walk into the MD Anderson Cancer Center in Houston, Texas, and be awed by the new modernistic ambulatory clinic rising on a 22-acre site, designed by Mohinder Datta, a principal with the large architectural firm of Kaplan McLaughlin Diaz (KMD) in San Francisco.
Mall at Wellington Green in west Palm Beach Fl., designed by BKBC's Sanjiv Bhandari
Yes, just about everything, from major museums to prisons, to even the prosaic bridge and tunnel tollbooths where you impatiently stop to pay up before you can drive on, may be designed by an Indian architect!
Indian architects may come from a country famous for such slums as Dharawi, but they also are inheritors of one of the richest architectural traditions – a people who gave the world the futuristic Indus Valley Civilization, the palaces and forts of Rajput India, and the rich Mughal architecture culminating in the Taj Mahal. Underlining it all is their knowledge of Vastu, the ancient Hindu science of architecture.
There are hundreds of Indian architects in the United States, many simply efficient cogs in the wheel of prominent architectural firms or public work departments. Others have steadily worked their way up the rungs to important positions in major architectural companies. Still others are principals in mainstream firms or own small companies that are doing noteworthy public projects.
Damyanti S. Radheshwar was lead architect for the National Musuem of the American Indian
"I doubt that there is a significant office in the United States that doesn't have two or three Indians working there," says KMD's Mohinder Datta.
"I've worked all across the United States and I run into Indian architects in just about every city. There are obviously not as many architects as there are computer specialists, but it's a fairly significant group of people, and many are in mid-level or senior positions."
Uday 'Dan' Purushe, based in Laurel, Maryland, is the principal at Laurel Design Alliance, which he founded 10 years ago. The company has done several community projects and is currently designing the Fort Washington Forest Park Community Center.
Purushe's route is one that many architects have taken, working in major firms and then starting their own. He earlier had been a senior designer at Hackner, Schroder & Roslansky, a 100-person firm in LaCrosse, Wisc., where he designed the LaCrosse Convention Center that won an AIA award.
Later he joined Sheretz, Franklin, Crawford & Shaffner, an equally large firm, as director of design and was responsible for the $17 million Colonnades Retirement Community in Charlottesville, Va., and the $17 million Masonic Homes in Elizabethtown, Penn. And of course, having the Indian perspective helps with certain clients: he just finished the impressive SST Temple in Secaucus, New Jersey!
Some of the architects have founded their own companies and then merged with larger mainstream firms, becoming principals or partners. Sudhir S. Jambhekar joined Fox & Fowle Architects in 2000 as a principal when the firm he co-founded, Jambhekar Strauss, merged with Fox & Fowle, a twenty-five year old architectural, interior design and urban design firm.
A rendering of a residential restoration in Harlem by Rohit Misra and Krishna Misra
Jhambekar, who's won awards for several of his projects, says he approaches design as a perceptive search for meaning and usefulness, narrowing the infinite possibilities for a project to an idea that balances the various forces at work in each. He's done very diverse projects including the design of Manhattan's new Second Avenue Subway Line, the Communications and Multimedia Centers at Lehman College, and the new LCOR office building in Jamaica, Queens.
He led the design of the award-winning competition entry for the Queens Museum of Art expansion, chosen as one of five finalists, as well as the firm's innovative entry for the new Perth Amboy High School competition, also a finalist. Both these projects won the prestigious AIA award in 2004.
"You always think beyond the project and look for the bigger linkage," says Jhambekar.
" If someone gives me a building to design, I don't just design the building, I think about the entire area, I try to see how does it connect, how does it participate in the city, how does it benefit the public. When we were designing the Second Avenue subway, people may think it's below ground construction.
What we did was say, no it's an urban intervention, it has as much street level presence as below grade presence.
So we created urban strategies to improve the entire Second Avenue, in turn improving the experience of all of us, as the citizens of New York."
The P-4 monorail station at New Jersey's Newark Airport by Raj Ahuja and Viswa Priya
The design for the Perth Amboy High School, he says, comes from this same larger strategy: students need to be empowered to learn by experience and that meant creating a campus like atmosphere rather than a single building with long corridors which serve as the typical school.
Some of the architects specialize in particular fields, and for KMD's Mohinder Datta, the draw has always been healthcare. The firm has offices in New York, Charlotte, Seattle and Los Angeles, with offshore offices in Mexico, Korea, Japan and China. The company focuses on six divisions; the largest being healthcare, which is headed by Datta.
Datta works at humanizing the architecture for the patients with innovative solutions that transform hospitals into hospitality/wellness centers. His large scale projects beside the MD Anderson Cancer Center in Houston, Texas, include Duke University Children's Hospital in Durham, NC, and Harrison Memorial Hospital in Silverdale, Wash. Another major client is Sloan Kettering Memorial Hospital for whom KMD is doing a hi-tech surgical center in Manhattan.
Harborview medical center in Seattle, Wash., by KMD's Mohinder Datta
Does he bring a special skill as an Indian architect? Datta, who studied at IIT Kharagpur before coming to the United States for his masters, says, "I doubt if anyone can take their cultural backgrounds out of themselves when they work."
He points to the intricacies of Indian architecture, where painting, sculpture and crafts are all interwoven in great detail. He says, "I bring a level of detailing into my projects. A lot of work in the United States tends to lack details, and in so doing creates an absence of human relationship to the built environment."
He says that the focus of architecture can be to heal the body and through design and landscaping, accentuate the positive.
Main Street Center in Salt Lake City by BKBC Architect's Sanjiv Bhandari
At MD Anderson Cancer Center, Datta created a central garden, reminiscent of Mughal gardens on top of the parking garage, which is surrounded by hospital buildings.
He says, "Instead of focusing on the cancer and worrying, patients are able to focus on the beauty of nature and the positive energy."
Within the building too, textures, paint and sculptural touches enhance the surroundings: "When people are ill they draw energy by touch and in America the sense of touch is so often removed in the architecture that touching is one of the senses that I draw on. The sense of comfort is important and I spend a lot of time in figuring out how to achieve it."
An architect who's earned a reputation for her fine work in theaters and museums is Damyanti S.
Radheshwar of Polshek Partnership Architects. Besides the stunning National Museum of the American Indian on the Mall in Washington D.C., she's been involved with the National Museum of the American Indian Cultural Resources Center in Suitland, MD, for which she received an award.
Lied Center for Performing Arts, University of Nebraska in Lincoln
Coming from an Indian background, she felt a great affinity with the spirit of this project, joking with the Native Americans that she was the only real Indian on the project!
Growing up in India, where rituals involved worshiping natural elements and phenomenon, respecting the elders and learning numerous mythological stories, Radheshwar found great affinity with and understanding of the Native American cultures. She says, "Listening, learning and accepting and sensitively depicting this in architecture has been the most fulfilling experience for me."
She has also been involved with high visibility projects like the Santa Fe Opera Rehearsal Hall in Santa Fe, NM, and the New York Botanical Gardens in the Bronx, NY.
She is currently working on the renovation and expansion of the Yale University Art Gallery in New Haven, Conn., and on the Mercersburg Academy, Performing and Visual Arts Facility, in Mercersburg, Penn.
IBM building in Montreal designed by Fox and Fowle's Sudhir Jhambedkar
She's done supportive housing for Common Ground Community and Actors Fund in Brooklyn where the most challenging aspect of the project is cantilever steel trusses over subway tunnels.
Indian architects are certainly doing innovative things. In San Francisco, Sanjiv Bhandari of BKBC Architects is experimenting with the desi shop-cum-flat concept as a smart alternative to suburbia that brings in its wake urban blight and congestion on the highways. He says, "All our bazaars were that way, made with street retail and residences above, with the store owners living above. It's not coming that far here, but I think it is starting."
He is working on several urban projects in the Bay area as well as a major two block complex in Salt Lake City in Utah where he is putting four high rise towers with a million sq feet of residential and another million square feet of retail space.
He says, "All of these developments are downtown or close to residential hubs. Theoretically people who live here will use less of automobiles. That's the motivation.
"Cities fall in love with this concept. Architectural designers have come back to downtown and revitalization, and lot of cities have set up redevelopment agencies that are not only putting money in infrastructure, but are helping developers bring in these kind of projects."
That could have helped Harish Shah, who came to the United States on a student visa while his wife Jyoti, also an architect, came to work with an architectural firm in Chicago.
MD Anderson's Cancer Center in Houston, TX by KMD's Mohinder Datta
He recalls the good old days when they first came to the United States: "We could not both afford to go to school.
We are from middle-class India, so she worked and paid for my fees. There were three things we were spending money on: one, of course food, another was phones – she was in Chicago and I was in Missouri – and third was Greyhound, because she would take a bus to come and visit me."
Today both are principals in Shah and Kawasaki Architects in San Francisco, which they founded in 1999 with Alan Kawasaki. The firm specializes in the design of civic, institutional and community oriented facilities. Their projects include Goodwill Industries' Community Center in San Francisco, the San Jose Museum of Art, Yerba Buena Center for the Arts, and the historic restoration of Temple Emanu-El.
The Shahs, who are from Gujarat, have worked as architects in Chicago for 13 years and then another 22 in San Francisco. Today their 26-year-old son, Manan Shah, who studied at University of California at Berkeley and then went on to the Massachusetts Institute of Technology, is an architect with Fox & Fowle Architects in New York, and is also married to an architect.
Le Royal Meridien Hotel in Chennai, designed by Krishna Misra and Rohit Misra
Asked if architects are born or made, Shah gives the example of his son, "When he was six, like other children of that age, he drew an airplane. But he didn't just stop at that – he made a plan view, two front views and two side views!"
The Shahs are involved with museum work, which is a real labor of love since these large-scale projects, often dependent on public funding, can take over a decade to complete. Their important ones are the Mexican Museum in San Francisco in association with noted architect Ricardo Legorreta and the Visual Arts and Design Center with another big name, Fumihiko Maki.
Although they have done many residential projects, such as the $20 million home in Hawaii for venture capitalist Tom Weisel, their heart lies with public projects, be it museums or community centers. Shah says, "We found there is more engagement with the client and the building and the architect in nonprofit projects, be it museums or houses of worship. Our passion over the years has grown to doing those projects that are community based."
Damyanti S Radeshwar
Currently the Shahs are involved with a $40 million museum project in St. Louis, Mo., and are also doing pro bono work in Surat for a religious group, building 52 townhouses for the devotees who are from the United States.
The Shahs are both profoundly influenced by metaphysics, vastu kala and Indian philosophies in their lives and this finds its way into their work too.
Says Shah, "How you really bring heart and your individual energy, the so-called spiritual energy, into what you do is to really live it before you select an architectural vocabulary."
They favor environmentally friendly building materials and green architecture: "In modern days we may think that we are outside nature, and everything else is nature. But we are part of nature, so how do we create building materials and buildings that are more in tune with it?"
Some architects are doing a mix of projects and adding some global work to it too. Misra and Associates is a father and son team in New York and both Krishna Misra and his son Rohit Misra are involved in community projects as well as high rise condominiums.
Sanjiv Bhandari
"We've got involved in lot of rehab and conversion projects where clients have acquired old properties in Manhattan," says Rohit. "Some are in historic neighborhoods, some are landmarks and we are assisting them in developing the design and converting them into residential properties."
As specialists in restoration work, they work closely with New York City Landmarks Commission on these ventures, some of which are in Greenwich Village. They are also doing restoration work on a large project in Harlem. He says, "These are very handsome brownstone buildings with very nice ornamentation and detailing and we're actually restoring the exteriors because over the years they've fallen into disrepair."
Apart from doing work for the city and private developers, the Misras are also involved in large-scale projects in India. One of their recent projects has been the 252 room Le Royal Meredien, a five star hotel in Chennai.
Raj Ahuja and Vishwa Priya
The hotel structure used all local materials like granite and stucco with local craftsmen contributing their talents in reinterpreting the indigenous style of the region in a contemporary way.
Krishna points out that it's the first effort at Green Hotel design in India. For example, the wastewater that is generated in the building is treated at a plant on the facility grounds and it's recycled and reused to irrigate the landscaped gardens.
The Misras are also designing a large office complex for a major American financial corporation in Bangalore, which is expanding its operations in India. One of the major concerns while designing this building was security, particularly in the 9/11 environment with American installations overseas.
Krishna Misra and Rohit Misra
Says Rohit, "This was given a lot of thought in the design process, and you try and do it in such a way where it makes the building secure and also doesn't take away from the function of the building and the aesthetics of the building."
Asked if a whole new market had opened up for Indian American architects in India, Rohit says, "Absolutely. Ten years ago there weren't that many Indian architects in the U.S. working on projects in India. Now you'll find that number has increased." Are multinational companies more prone to hire an Indian architect for India based projects, knowing that there will be something common in communications? He says, "We understand the culture here and the culture there and once having done a couple of projects in that part of the world, you become kind of familiar with how things work, from the construction side of that, the financing side of it, and that's an advantage we are able to bring for the clients."
Raj Ahuja and Vishwa Priya are principals in the New York based firm of APA Architects, and have been involved in several cutting edge public works in the city such as the $400 million Airtrain terminal at Jamaica Station project, conceived by the Port Authority, in which they worked along with a whole consortium of firms.
Their personal involvement was in the $30 million glass and steel office building, which dominates the skyline.
Mohinder Datta
They are currently working on major exterior structural rehabilitation and application of a new exterior façade and upgrade for the 500,000 ft., 13 story high Science Building at The City College of New York, a $50-60 million project, which will give the campus a dramatic new look.
In all their years of work, have they seen Indian architects grow in the industry?
Not enough, says Ahuja. " Surprisingly, 15 years back all of us who were in practice in New York, the same people are still in practice today and I don't see any new major firm emerging among the younger architects."
"In fact, they are leaving and joining hands with larger firms even after practicing on their own." says Vishwa Priya. "It's a lot easier than to run your own practice. We are not part of a firm, so we have to go out and get work, conceive, design and get it built."
The two architects, who had earlier worked with major architectural firms, went on their own in 1989 and have had a regular flow of work and opportunity, doing several community centers for the New York Housing Authority and other projects for public agencies. "Most of these agencies have become highly design sensitive. They are encouraging design and looking for good design," says Raj Ahuja. "Public agencies, are on the whole, promoting quality work and thereby more and more architects are willing to work for the governmental agencies.
"This is where most of the dollars are, while private industry is actually harder to break into because you are dealing with individuals and individuals have their own reasons for awarding jobs or hiring architects.
With the public agencies, it's more or less a level playing field. I think Indians have a fair go at it."
Vishwa Priya points out that all the grand edifices since the 1900's were all done as public works and all the good architecture in the city was part of it.
He says, "That whole revival today is with the same kind of spirit – the MTA, the airport, the infrastructure buildings, all the community centers, the NY Housing Authority."
As a partner with the iconic Philip Johnson, Ahuja saw first hand the power of the brand name, which can draw in clients. If one is not a brand name, one needs an extensive Rolodex and network of contacts, which can take many years to develop.
He says, "And for us, as immigrants, we came here only 20 or 30 years back. I think it will take us some more time before we can break into that kind of a social setup where Indian architects will get major noticeable assignments in the private industry.
"However, I think there are more dollars being spent today in the public sector and more work is being done and I think they are going to get an ample share of it in the coming years."
Yes, our Indian architects are penetrating just about every state, even in the Arctic! Mohinder Datta has designed hospital projects in Alaska and also designed a train station in Anchorage. He says, "It's right at the airport, so that tourists landing there by plane can switch to trains and from trains to ships to go up north."
This award winning train station, modeled on the grand train stations of the past, serves a dual purpose: "There's no tourism for six or seven months of the year, that space is rented out on winter evenings for parties. In the summer it's a train station and in winter it becomes a party place. It's designed as a celebratory environment for people to gather in."
So in winter, the trains come to a halt, the tracks are blanketed with snow.
The beautiful train station is accessible by a tunnel with special light effects, also designed by Datta. As the moon shines eerily in the Alaskan night and temperatures drop to 20 or 30 degrees below zero, partygoers, bundled up in winter gear, head for the train station designed by an Indian.
Yes, the story of a civilization is told through its edifices, the fabulous monuments it leaves behind — the Taj Mahal, The Egyptian Pyramids, the Maya ruins. With their innovative ideas and penchant for intricate detailing, Indian architects are increasingly helping create the blueprints that tell the story of America.