Magazine
Here There Everywhere An Indian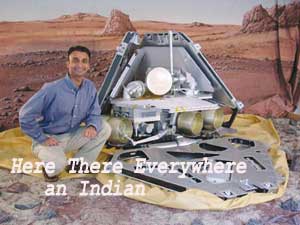 Every sixth person in the world is an Indian – and suddenly we seem to be running into them all, here in the United States.
Prasun Desai heads the team responsible for the entry and landing on the twin rovers on Mars.
Nowadays, it seems, you cannot turn a corner without bumping into an Indian. Even on Mars! As the world watched, the Mars Exploration Rovers undertook detective work on the red planet, guided by computer software developed by a National Aeronautics and Space Administration (NASA) team lead by Kanna Rajan. And the team responsible for the entry and landing of the twin rovers, Spirit and Opportunity, is also headed by an Indian American, Prasun N. Desai.
Desai, an aerospace engineer at NASA's Langley Research Center, Va, who led the team which supported the Jet Propulsion Laboratory, explains:

"The system that we contributed to was the entry, descent and landing system for MER, determining how we bring this Lander safely down; It was just a completely amazing experience – putting a system like this together to make it successful trying to land on another planet."
Even as Indian Americans are an invisible presence on Mars, their native land is very much in the news with its own ambitious space program, the outsourcing of millions of jobs to India, the proliferation of call centers, the booming export market and an Indian presence in every field from science to trade to literature to cinema.
Every sixth person in this world is an Indian – and sometimes, you feel you're meeting all of them at the same time! Indeed, as home and the world increasingly entwine in a global embrace, Indians at home and Indians abroad are all surfacing in different endeavors, in many different fields.
Here in America, you seem to bump into Indians in all walks of life and sometimes in big clusters. Step into any inner city hospital or managed health care center – you may as well be in India, judging by the number of Indian doctors, lab technicians and nurses around.
Jehangir Mehta is pastry chef at Aix, the populat Manhattan French restaurant.
Go into any Ivy League university or urban community college and there are bound to be Indians shaping the education of the citizens of tomorrow, researching in campus labs and writing new computer programs. Hail a cab and you're likely to get a South Asian cabbie; stop at a newsstand for a copy of the newspaper or a bar of candy, and it most likely will be handed to you by an Indian.
Whether it's candy for the mouth or food for thought, Indians are willing and able to provide it. The Indians who have emigrated to the far corners of the world seem to be impacting their adopted countries and you can hardly read a newspaper or magazine without encountering Indian names. Browse a newspaper at random and you see that McKinsey and Company's senior partner Rajat Gupta has been elected co-chairman of the United Nations Association of the United States of America, a foreign policy organization in Washington DC; Neelum Arya, a California lawyer, has just been selected as a Soros Fellow for 2004; and in South Africa, an Indian woman, Ferial Haffajee, has been appointed editor of a national weekly newspaper, The Mail and Guardian.
Surf channels on TV and you might see Dr. Sanjay Gupta, with his trademark smile, explaining medical intricacies to Americans on CNN or Newsweek's Fareed Zakaria chatting about the state of the world with Charlie Rose on Channel 13. While names like Ismail Merchant, M.Night Shyamalan, Mira Nair and Gurinder Chadha are well known in Hollywood, it's interesting how often you find Indian names in the roll call of cast and crew, in all sorts of support jobs.
Sujut Chawla stars in a one-hour episode of reality show Date Patrol.
Science and math have always been Indian strong points and it is academic skills that brought in the wave of Indian professionals into the United Sattes, starting in the 60's. There are thousands of academics and scientists in American universities and legions of physicians and nurses in American hospitals.
The children of the immigrants who came in the 60's are growing up and making their own mark in many different fields. Mars is a long way from Bilimora, the small town in Gujarat where Prasun Desai was born. He came to the United States with his parents in the early 70's when he was just six.

He grew up in New Jersey and did his masters in Virginia and then stayed on to work at NASA Langley.
Desai's background is in flight dynamics, but his role evolved into a systems engineer lead, looking at everything holistically and coming up with solutions to make it all fit within the budget and time frame.
He says, "The rover is designed for 90 days to roam the surface, but we hope it will last longer; it all depends on the exact conditions on Mars during that time frame so we'll just have to wait and see."
Desai, 37, lives in Hampton, Virginia and has been involved with the MERS program since inception, about three and a half years, supervising a team of 25. Asked if there are many Indians at NASA, he says that while it's obviously not as prevalent as doctors or computer/electronic engineers, it's beginning to happen at NASA too.
"Regarding contributions to space exploration itself, this is the first mission where we are able to drive away from where we landed, and during those 90 days we will be able to go to many different areas on Mars and able to characterize different areas," he says. "So in essence this mission is a lot of missions all in one, and that from a scientific perspective is definitely going to be very exciting, trying to understand the conditions on Mars. It's been a truly amazing experience for me."
Naresh Jessani co-owns the Dog Spa.
Does he see Indians making a mark in America? He says, "In the grand scheme of things I haven't thought about it too much but yes, it is amazing how we as Indians are making great contributions in so many different areas, not only in the TV/movie industry, but in the business world, electronics and now the space area as well. So I guess our day is arriving in terms of the world stage."
The world, of course, already knows about the technological skills of Indians. Indeed, it is causing much outsourcing angst in America as major Red, Blue and White corporations take their dollars and their jobs to India. But Silicon Valley is still buzzing with Indian names and there are plenty of desi computer wizs right here who are doing unusual things, such as Krishna Bharat, who created that staple of Internet life, Google News.
"The 2003 Webby Award winner for best news site wasn't dreamed up by marketers looking for a way to extend the ubiquitous Google brand," writes Stacie D. Kramer in Online Journalism Review:

" It started with one avid news consumer trying to manage the flood of information in the days after Sept. 11, 2001."
The news portal has been so successful that Google has added eight international versions, including India, Canada and France.
While most readers are aware of the major success story of Indra Nooyi, the president of PepsiCo, they may not have heard about Padmasree Warrior, Motorola's new vice president and chief technology officer.
Warrior shows how far Indian Americans – especially women – can go; she leads a global team of 4,600 technologists and guides creative research at Motorola.
Warrior, who graduated from the Indian Institute of Technology (IIT) in New Delhi, went on to receive a MS degree in chemical engineering from Cornell University and has been with Motorola since 1984. Her 20-year career with Motorola in the U.S. started in Arizona, and has taken her to Texas and now Illinois.
Iowa House Representative Swati Dandekar, co-chaired Senator John Kerry's come-from-behind Iowa campaign.
She has served on the Texas Governor's Council for Digital Economy, and is a member of the Texas Higher Education Board Review panel. She was one of six women nationwide selected to receive the ëWomen Elevating Science and Technology' award from Working Woman magazine in 2001.
She says: "Motorola is a very diverse and global company. So although I have been based in U.S. cities for my jobs, I travel extensively and manage teams worldwide. I travel often to India on business and Motorola's software operations in India report to me."
Does she see many more Indian women getting into technology and science? "Absolutely," she says. " There are many competent Indian women leaders in science and technology both in the industry and in academia."
Making a difference offers the greatest satisfaction in her high profile job: "When some things change for the better because of what I started as a leader, it gives me a tremendous amount of pride. It could be changing the culture in an organization, creating a strong team environment or introducing a new technology."
Warrior grew up in Vijayawada in Andhra Pradesh, in a family that was very close and nurturing, but also gave great importance to education: "I would say there was an added emphasis on science and math, because most of the extended family members were either engineers or science majors. I suppose that was the underpinning for my interest in science."
Indians seem to be succeeding in so many diverse fields now from technology to politics, films to literature. What are her thoughts on this sudden success of Indians?
"I don't think it is a "sudden success,'" she says. "I think it is more a matter of reaching critical mass to gain global recognition. In other words, now there are a number of Indians in positions of influence in many fields that have more of a global reach than say, ten years ago."
And this critical mass is crucial: even as the Indian American population has burgeoned to almost 2 million, you see that ambitious drive in so many aspiring youngsters too.
You have Indian names bouncing off the walls in any Spelling Bee or nationwide Science contest or lists of Rhodes Scholars.
Sometimes the Indian presence is invisible, such as in the 2003 Mathcounts National Championship, where the winning team of four students – all non-Indians – was coached to victory by an Indian American woman, Pallavi Shah.
Shah, along with her co-coach Mary Fay-Zenk led these students to their big win in a national contest among 57 teams. She teaches mathematics to seventh and eighth graders at Miller Middle School in San Jose, and trains 7th and 8th graders for math competitions organized by Mathcounts.
Motorola's Padmashree Warrior: Reaching critical mass.
Indian Americans seem to have a finger in every pie, from Mars to Mass Transit. Yes, there are hundreds of Indians in New York's bustling mass transit system, from engineers and programmers to token booth clerks.
Although Senator Hillary Clinton was quite mistaken when she identified Mahatma Gandhi as running a gas station in Atlanta, Indian-Americans are the many cogs in the wheels that make America move: they get your cars to run, fix you when you are sick, truck your merchandise, work in construction, sell you your house, interpret your test results in laboratories, check out your groceries and sell you your beer. They have embraced all jobs in their quest of the American Dream.
And now the last bastion – political power – also seems within reach. Although Dilip Singh Saund has been the first and only Indian American congressman, there are many working towards emulating his example. Political action committees have proliferated and the number of Indian-Americans standing for political office has grown, and in Bobby Jindal's hard-fought campaign, an Indian American almost made it to the Governor's mansion in Louisiana.
Several Indian Americans have had successful bids for political office including Kumar Barve who won his bid for the Maryland House of Delegates and Satveer Chaudhary who won a seat in the Minnesota State Senate.
Indian Americans are finally standing for public office, be it on school boards, town and city councils or more visible political offices.
Meet Iowa House Representative Swati Dandekar, the dynamic first term legislator and the co-chair of Senator John Kerry's campaign for the presidential nomination. She is responsible to some degree for his stellar showing in the Iowa Caucuses, relentlessly spreading the word amongst Iowans, especially women.
She says, " I talked to women all over Iowa and told them why I was supporting Kerry and I was able to convince them that he is the right candidate to be the next president of the United States." Dandekar has been working on education and economic development and serves on the Appropriations Committee that gives funding to all the departments, as well as on the International Relations Committee.
Pallavi Shah and the winning Mathcount team.
Unassuming and accessible and quite Iowan in her ways, Dandekar had never planned to be in politics. As a newcomer to America, she had wanted to learn more about the country and connect with her neighbors, and so got involved in volunteer work, teaching elementary level school children. When the school district found out that she had a degree in chemistry and biology, they asked her to tutor high school students.
She believes that people usually enter political office driven by a need to make an important change. This happened with her, when as a mother of two junior high school students, she found the school board was implementing a program that was watering down the curriculum.
Although she was just one person, she decided to speak up and did. She says, "It never occurred to me that I'm Indian American, how will people react when I said I don't like this program, I found out that not only I didn't like it, but there were lots of people who were in the same boat and they supported me when I went in front of the school board, they were there in numbers."
The result was that she managed to get the decision overturned. She says, "When you do something like that you realize that one person can change the course, with the help of the community of course." After that, she stood for the school board elections, and won by a landslide.
Her organizational and problem solving skills attracted the attention of Dick Meyers, the Democratic Party leader, who asked her to run for political office.
She became the first South Asian woman to win in a district that is 99.99 percent white American, winning with 59 percent of the vote. She says, "When you see how I won, it says a lot about my district and says a lot about Iowa."
How does she perceive the Indian American success story? " I'm very excited. As Indian Americans, I think we've done a great job of becoming a part of mainstream America and not forgotten our heritage and culture.
I think we are very comfortable with it, and once you're comfortable with your culture and you're proud of your heritage, it's very easy to mainstream. One can always improve but I think we are getting there and we are doing it."
Indeed Indians are turning up in the most unusual places, in jobs which have nothing to do with their South Asian heritage or culture. What could be more red, white and blue than Ford? And yes, there's an Indian behind that 100-year-old company too. Ford Motor Company researcher Haren Gandhi is the highest-ranking scientist/engineer at Ford and was awarded the 2002 National Medal of Technology by President Bush.
The citation for Dr. Gandhi commended his leadership in the automotive industry in ensuring the judicious use of precious metals and conservation measures. He is credited with pioneering research and has more than 40 U.S. patents in automotive engineering. If you've driven a Ford lately, you certainly have him to thank for the great ride.
While Indians have been making an impact on serious disciplines such as science, medicine and technology, what is life without some fun, a big helping of dessert and a Dog Spa!
Jehangir Mehta, who hails from Bombay, is the pastry chef at Aix, the popular Manhattan restaurant that showcases the cuisine of French chef Dider Virot. Mehta's innovative desserts are deliciously revolutionary, pressing spices, spring flowers and even green tomatoes into service, creating new taste sensations.
Yes, Mehta might be Indian but there's not a gulab jamun in sight as he concocts unusual endings, which become the talk of diners and food critics. As Moira Hodgson of the New York Observer wrote, "One of the most daring and original pastry chefs I have come across in New York. His creations are unexpected but with coherence and personality." Mehta, who did a four-year course in hotel management in Bombay, earned his chef's toque at the Culinary Institute of America. He's been a pastry chef at some of the top restaurants in New York, including Jean Georges, Union Pacific, Virot, Compass and now, Aix. He also creates gourmet handmade chocolates, fresh flower wedding cakes and teas at Partistry, his online confectionery. A French pastry chef who's Indian – now we've seen it all!
Spas may be all the rage now for Americans, but a dog spa? Naresh Jessani is the co-owner of New York Dog Spa and Hotel in trendy Chelsea, a streamlined 8000 sq. foot establishment for the dog in your life, offering all amenities like boarding, daycare and vet care as well as a boutique, massage therapy and manicures for canines. Jessani just opened a second location and the stores are a multimillion-dollar business.
So how did an Indian get into the pet business? Jessani, who was born in London, laughs: "When we started, it was something pretty unusual for anyone to be doing, leave alone Indians! I don't think Indian culture is dog oriented though the British culture is. It's said the British are warmer to their pets than to their children. But Indian culture isn't anti-dog and we do see a lot of Indian clients."
His engineer father moved the family to New Jersey in 1970, and Jessani studied at Rutgers before becoming a management consultant. Wanting to test his wings as an entrepreneur, he and his partners decided to research the pet market thoroughly.

They found that with more and more couples delaying marrying and having children later, pets become a surrogate family and people want to do right by them. He says, "Day care is very popular with young professionals as it's a very convenient service."
Jessani compares his Dog Spa to a Marriott – consistent and comfortable and within reach of most clients, though it gets its share of upscale clients who insist their dogs be given Evian to drink! They also do makeovers for dogs; recently the popular TV show Queer Eye for the Straight Guy was doing a makeover for a guy and brought in his dog to Dog Spa for a beauty treatment too.
So how does Jessani view the diversity of Indian professions? He says, "In the beginning when we first moved here, all the Indians were academics, doctors and engineers because that's all they allowed in the country. And then immigration laws changed and then you had the stereotypes of Indians as a hotel owner or a gas station owner.
"Now I see Indians everywhere, in construction, plumbing, air-conditioning work. I've been here since 1970, and I think Indians are almost completely assimilated into the American culture after one generation of children. Everything is changed. I think in 30 years Indians will be in everything." Talking of offbeat choices, you now have an Indian American guy starring in a full one-hour episode of a hit reality show on national cable TV this fall. Sujit Chawla, a filmmaker, decided to let the cable network find him a girl friend and starred in this real life event on an episode of "Date Patrol" on The Learning Channel (TLC).
Turning his life into an open book, the show turns him into the center of attraction for a full hour, helping to remake him to land the perfect date. Chawla, who graduated from law school, was working in the legal department of a hospital in Connecticut. He had also worked on the filming of American Desi and recently decided to become a full-time filmmaker. He sent in his application to Date Patrol on a lark and was surprised to get an immediate call from the producers, asking if they could come over the next day and video tape him.
They did and a week later they told him he was on the show. In the show, they take Chawla, who is based in Manhattan, and let the experts improve his dating skills and appearance. By the end of the episode he is supposed to be a new man and go out and find his own dates. The program blurb put it this way: "30 years old and unemployed, Sujit hasn't had a date in five years and spends most of his day in front of the computer or TV. The Date Patrol's mission: to get Sujit out of his apartment and confidently meeting women."
Laughs Chawla, "I wasn't really happy with the way they put it, but technically I suppose it's not incorrect! I suppose it looks better to make it sound as bad as possible and then see the transformation at the end. You have strangers telling you what you're doing wrong and cameras following you around all the time but it was fun."
Ford Motor Company's Haren Gandhi receiving the 2002 National Medal of Technology from George Bush.
For years and years, it was hard to find an Asian face on mainstream television but now it's certainly starting to happen, and Indians are getting a piece of the pop culture pie. As Chawla points out, there are scores of reality shows from the big ones like Survivor to small ones like Blind Date, and none of them have ever had Indians in them.
"I think the folks at Date Patrol were looking for something outside of the ordinary, a little more colorful than normal," says Chawla. " I think reality TV is starting to come to the understanding that Indians are a large part of the American population and their stories are like everyone else's but at the same time they are also a little bit different, so perhaps more people will be interested in seeing it."
An Indian starring in a reality show! Now, in America's way of evaluating things that means we've really arrived! For young Indian American kids, seeing faces like their own on fun shows and in popular culture makes them feel they do belong.
But never too far from India. Prasun Desai, after spending months of nonstop, around the clock work on the successful expedition to Mars, is now looking for a nice, long break.
He says: "I actually don't want to think for a while so I'm planning to go back to India and go to the family farm and just pick mangoes for a while – and not think!"
From Mars to the mango groves of Gujarat, the journeys continue.