Bollywood
Guarding Against Bodyguard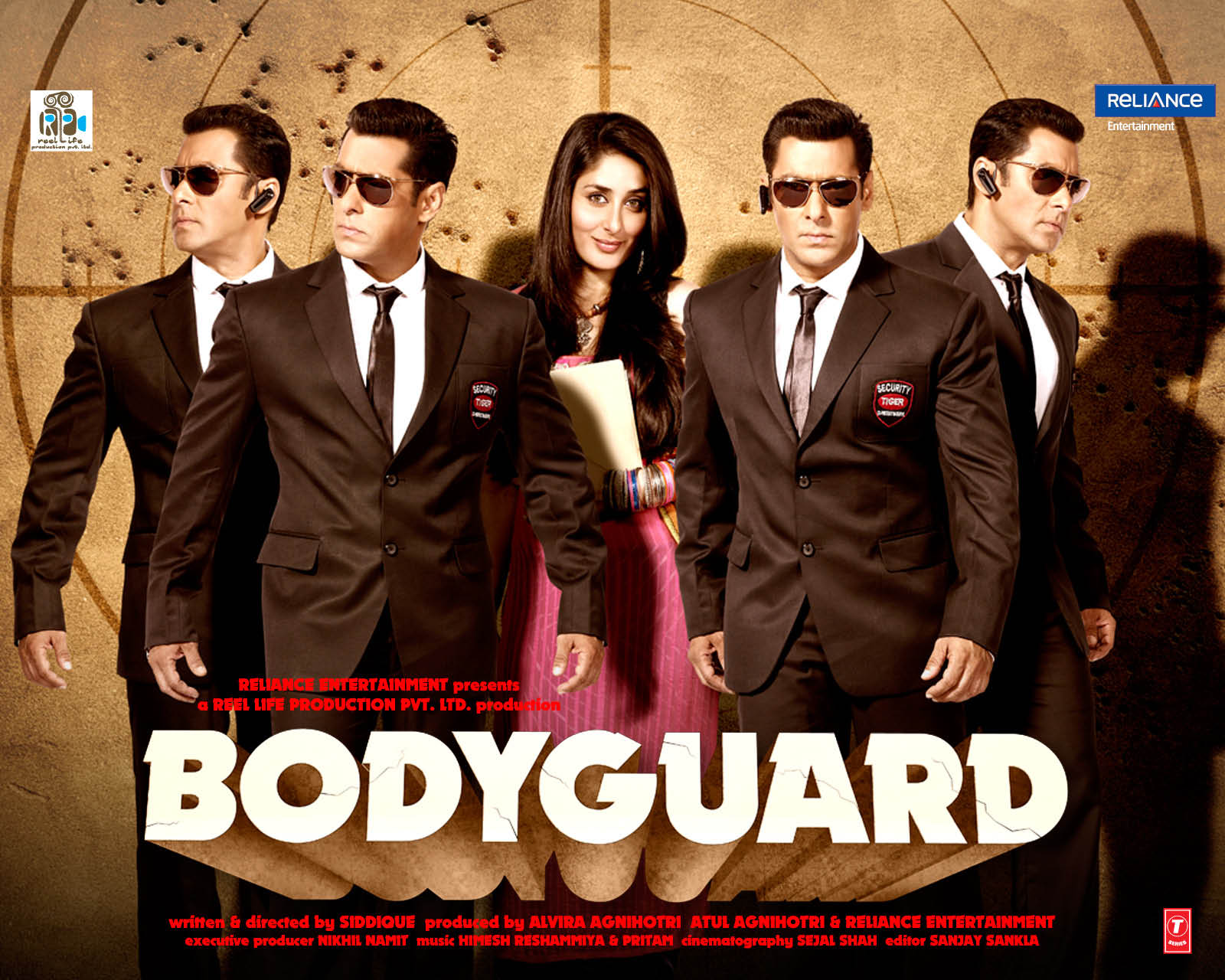 Junglee, Janwar, Budtameez, Pagla Kahin Ka … can any hero ever hope to survive after associating with films [as leading man] with these crazy titles? Shamsher Raj Kapoor did … and how!
18-year-old Monica Sharma was ecstatic. The London based Salman Khan-devotee saw Bodyguard thrice in three days and just couldn't get enough of the hunk! " Sallu is too much! He is a real force of nature! He is who he is. Unlike Shah Rukh Khan or Aamir Khan he is not bothered about self-conscious positioning savvy PR or sharp clever promotion breaks. He just shows up and that's enough!"
Meena Kapoor, 25, violently disagrees. The Kolkata based art curator thinks that the recent "Salman fever" is lethal and poisonous. "The guy can't act to save life despite being in the industry for two decades. Repetitive and boring as hell — with some rare expectations — his recent loud, mindless action movies that blasted box office records is bad news for good taste in cinema. Constantly catering to the lowest common denominator, a Salman Khan movie is nothing but more of the same with everything including his topless dramabaazi! Is anyone interested about the storyline, script, graph or name of directors of Wanted, Dabangg, Ready, or Bodyguard? Or co-stars? Got the message? He's just ridding his luck and enjoying the darkest hour of public taste in Bollywood history! This too will pass…."
That has been Salman Khan all the way, attracting fierce loyalty or deep contempt. Unlike the other two Khans, he's been the irreverent, loud, bad boy, perpetually living on the edge, making headlines for the wrong reasons, getting into deep trouble…. and yet, always, miraculously coming back, into the embrace of his loyal fans.
Everything about him is topsy-turvy. He's been in the big league all along without the backing of solid, big banner production houses or great scripts. No Yash Chopra, Karan Joharm Raju Hirani or Ashutosh Gowarikar to prop him, Salman has pretty much winged it on his own. Strategy or planning don't feature in his lexicon, professionally or personally, but he gets away with it everytime.
What's his secret. Critic Anupama Chopra believes that he is " Hindi Cinemas last rockstar! Aamir & SRK maybe wonderfully charismatic, but only Salman feels subversive and deliciously dangerous. He's all attitude. He's our fantasy of life lived large and without regret. With him there are no half measures. Every facet is epic. He is a bundle of fascinating contradictions, yet he is amazingly seductive. Above all he has no sub text. What you see is what you get."
Adds Sociologist Shiv Vishwanathan, " Salman Khan does not need a good conduct certificate. He doesn't need a high IQ. He doesn't have to take stands on issues and is not an intellectual like the other two Khans. He is the lowest common denominator, who is both a superhero and a wish list. All of us dream of being loved when we are bad; Salman accommodates that world. He is also the family man, without being married. He advertises himself. He is his own message." Psychologist Dr Harish Shetty joins the party with his spin on the subject. " The nuance, nautanki and loudness is all cool. No wonder he is the darling sub ke liye!"
A growing number of Salman watchers are alarmed at the astonishing Salman wave — Wanted, Dabangg, Ready and now the biggest Bodyguard — and worried about the depth public taste has sunk and deteriorated. While most of Salman Khan's recent films have been critically panned, box office and his massive fan base are flocking to him. As he said in a recent interview: "My films are for the masses and solely designed to entertain. There is no cultural, intellectual or sociological baggage attached. For that, maybe you need to look elsewhere," hinting at the art-wallas (and maybe) the other two more self-conscious Khans.
Veteran Bollywood observer Ashish Oberoi thinks the Salman factor doesn't augur well for quality cinema. "Its broad-based, uncomplicated, simplistic and populist following the classic low-brow war-cry of: **Motabol! Seedha Bol! Jaldi Bol!** It's french fries for the eyes, a deliciously seductive fast moving consumer good. Is that what popular movie fare supposed to be? Weren't the recent My Name is Khan and 3 Idiots in the same frame of commercial Bollywood films? How come even they were big hits too and yet miles away from the crassness of the Salman Khan products?"
Meenakshi Reddy agrees. The Toronto-based Film Studies academician believes "Salman Khans films celebrate all that is gross and appealing to the culturally challenged…. and God knows there are enough! It's dangerous because its huge success leads impressionable people to confuse popularity with excellence, though in reality, they are worlds apart."
Concludes Film Critic Partha Chatterjee, "The monster success of these films lead to at least two dangerous fallouts. One, fear and insecurity among filmmakers attempting to pursue anything small experimental, creative, fresh, new, different. Would they stand a chance in the face of hurricane Salman? Two, herd mentality being what it is, superstition being what it is, and finally Salman Khan being who he is, will production houses, distributors and exhibitors — and also large sections of Salman and Bodyguard converts — even begin to show any interest in films that are funny romantic, reflective, quiet with passion and energy internalized instead of being screamingly exhibitionistic?