Life
Growing Old in America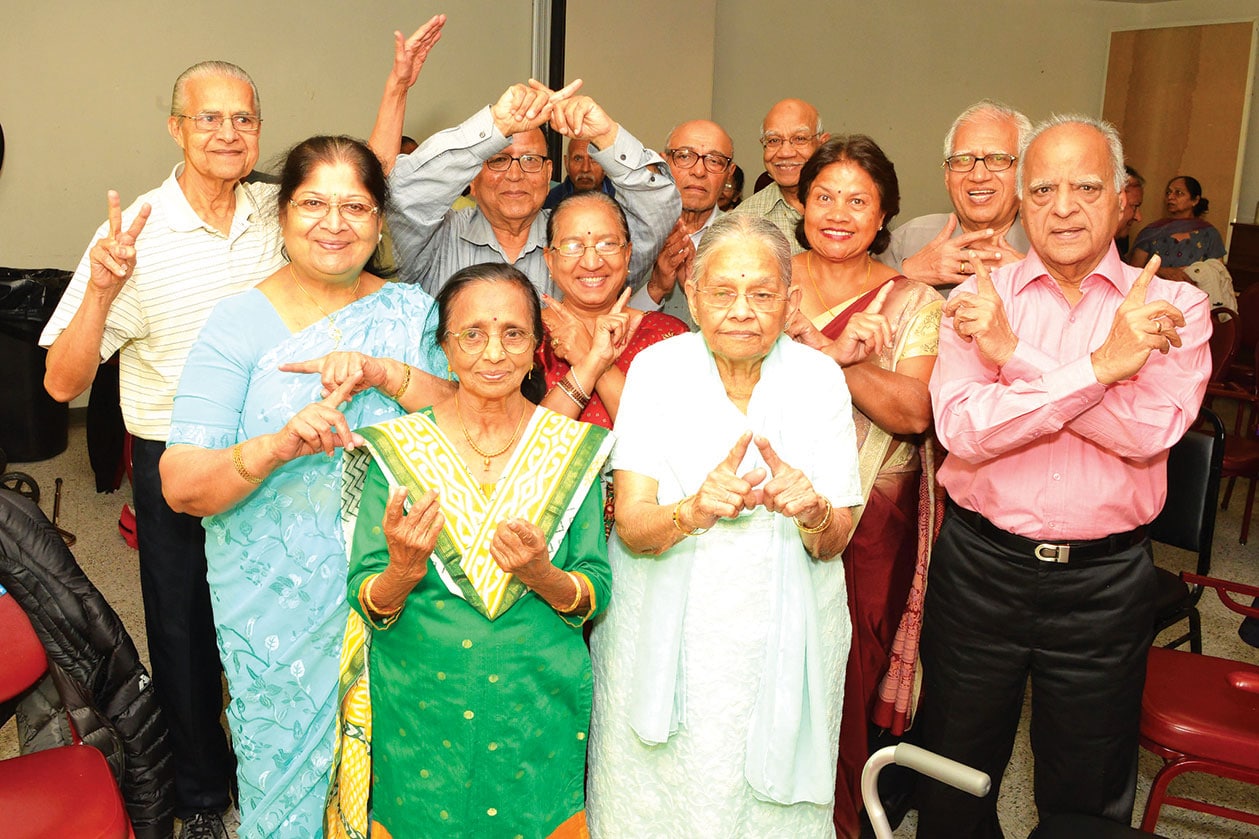 For many Indians in America, aging can often be an alienating experience. Senior facilities dedicated to Indian Americans are aiming to bridge the gap.
Dinesh Kumar Parmar, 69, came to America in 1987 to build a new life in a new land full of promise. The Queens, New York, resident, underwent the familiar, albeit inspiring, grind that many South Asians in America, go through to find a footing for themselves in their adopted country.
As a 41-year-old, he arrived with his wife on an immigrant visa, which his brother-in-law had applied for him years earlier. Aware of the struggle that lay ahead, the couple made the hard decision of initially leaving behind their four young kids in the care of their grandparents in Vadodara, Gujarat. Many years, many odd jobs, multiple shift duties and pittance for pay later, he was able to crack the civil services exam and bagged a job at the New York Transit Authority, where he worked for 25 long years.
But three years ago, when he retired from his job as train service supervisor, Parmar began experiencing an unfamiliar loneliness. He says: "During my long career, I made many social contacts with Americans and people across nationalities, but post-retirement I longed to interact with people my age that shared the same experiences and values. Americans are a fantastic bunch of people, but unlike your Indian friends you cannot just call them to chat or drop in to your neighbor's house."
 Around this time, Parmar discovered India Home, a senior center in New York City, providing social, recreational and spiritual services for South Asian seniors. Today he spends a lot of his free time at the center connecting with other visitors. He says: "I drive on my own and by virtue of living so long in New York, I am well-versed with the functionalities of the city.
I am always available for any fellow senior citizen if they want to do a bank run or have to go to a hospital. But more than anything else, we want to be there for each other to share joys and festivals and lend a shoulder to cry upon when nostalgia or memories haunt us. Something, perhaps our American colleagues or neighbors may have reservations doing."
Parmar sums up the emotions felt by a many South Asian senior citizens in America, who after having spent many years fitting into an alien culture and learning its nuances, want to slip into the ease of their comfort zone in their retirement year.
Bharat and Usha Shah, an elderly couple living in New York, spend most of their weekdays visiting senior centers for Indian Americans across the city. Usha Shah, 73, says: "My husband retired after working at JFK Airport a few years ago and we had lot of time in hand. We began going to centers and met many like-minded people."
The couple often schedule their days to participate in events at various centers.
On weekends they attend the Gujarati Center; on other days they head to Hindi Gita classes in a center for South Indians in Flushing, NY.
According to a Population Reference Bureau Report, titled Aging in the United States, the number of Americans 65 and older is projected to more than double from 46 million to over 98 million by 2060. The share of the 65 and older age population will rise to nearly 24 percent from 15 percent presently.
The older population is also becoming racially and ethnically diverse.
 According to a 2017 report by the Center for an Urban Future, The Aging Apple: Older Immigrants A Rising Share of New York's Seniors, in 2015, 49.5 percent of New York seniors (65+) were foreign born, up from 46 percent in 2010. The report projects that by 2020, the majority of  New York City's seniors will be immigrants and currently in 23 out of 55 census-defined neighborhoods in the city immigrants are a majority of seniors.
Another report by Asian Americans Advancing Justice, Los Angeles, entitled A Community of Contrasts: Asian Americans 50 and Older, found that nearly 89 percent of 50-plus Asian Americans in Los Angeles County are immigrants. It emphasizes that the delivery of services to the growing Asian American older adult population should recognize their immigrant character, addressing geographic mobility and education in social services programs and policies. It also points out that many seniors, particularly from South East Asian countries, face challenges related to disabilities.
According to the Census Bureau's American Community Survey 2015, nearly 8 percent of the Indian American population was over the age of 65 and another 2 percent were between 62-65. Nationwide, according to census data, there are 4,815 retirement communities and nearly 26,000 business establishments providing services to the 48 million elderly and the disabled people in 2012. Very few services targeted the nearly 300,000 elderly Indian Americans, however.
Mahesh Nihlani, 67, a resident at Priya Living, an Indian American retirement facility in Santa Clara, says the reason these retirement homes are cropping up only now is because the first wave of Indian professionals who immigrated to America are now entering their golden age: "After having lived here so long they want an independent place and do not wish to be dependent on their kids. However, the number of facilities available is too few considering a large number of Indian retiring population and something needs to be done about it."
NEED FOR THE NEW
Things are beginning to change as new providers emerge to provide culturally customized solutions and communities for South Asians. The earliest retirement community for Indians in America emerged in 2015, when Shanti Niketan opened in Tavares, Florida. However, senior social facilities, such as India Home in New York, have been operational since 2007. Retirement facilities aimed at Indian Americans are now mushrooming all over the country.
 Indian Americans are relatively better acclimatized than other minorities with higher personal income and better understanding of English. So what is the need for centers catering to the community?
 Arun Paul, founder, Priya Living in Santa Clara, Calif., says: "It's a misconception that only the elders feel alienated. The truth is that despite all our well assimilated lives in America, even the immigrant young feel the pinch of being uprooted and crave for cultural connections.
However, toward the golden age the need to be with the ones you better relate to becomes acute as often children leave homes and start their lives, leaving the old idling away in front of TV all day."
Meera Venugopal, development manager at India Home, which runs four centers for South Asian seniors in New York, says: "There are mainly two categories of Indian seniors in America — those who came during the 1960s and 1970s, worked their way up in the American economy and are now retired and the others who came to the country at an older age to be with their children settled in the U.S. While the former are more competent in leading a life in America than the latter, who are more likely to have language barriers and difficulty in transportation, the common feeling that both share is that of isolation."
It is a sentiment that long-resident Indian Americans can relate with. 38-year old Sunnyside, NY, resident Usha Mehta came to the United States with her husband and daughter 30 years ago. She held a managerial position in a company and believes that coming to the United States has been great for her family. But she acknowledges that the communal warmth that India offers cannot be replicated: "I am a cancer survivor and I owe it to the extraordinary medical advancements in this country that I was able to recover. America also helped us shape our daughter's career. It is a wonderful place, but I cannot overlook the fact that there are glaring differences in Indian and American ways of life." Elaborating on her experiences, she says: "Americans are a private lot; they do not want to be disturbed and are happy living all by themselves. On the contrary Indians are contagiously sociable, they want to share life's experiences with each other."
On a more practical note she says: "Elder homes are important because sometimes the seniors don't even know how to call emergency numbers. Sadly even after spending a lifetime here, I would not necessarily expect someone on the road to help me."
One constraint, according to many Indian American elders, is senior centers usually require Medicaid to avail their facilities. Usha Shah says: "I generally avoid going to such centers as I don't have Medicaid."
SOCIAL STIGMAS
In a culture where it is mandated that children take care of their aged parents, isn't leaving for old age retirement homes seen as an affront to family ties? Arun Paul admits that when Priya Living launched, they recognized this as a potential problem. However, he says, the old system in which parents were expected to stay close with children at the expense of their own life, needs to be challenged on many counts: "The traditional system was based on the assumption that the woman stays home to take care of elderly. As the role of women changed across the globe, the elders were left alone at home. Also, in families often the parents are reduced to be the babysitters, and especially in Western countries where house help is scant, it is doubly unfair to have elders take responsibility of the chores, such as laundry and cooking. It's the children who deny their parents a chance to live an individual life who should be the ones called out instead."
Usha Shah clarifies: "It's wrong to assume that elders are visiting the centers because their children are not taking care of them. On the contrary, unlike Americans, most Indian seniors I have met continue living with their children or very close to their children."
Mahesh Nihlani says while many Indian Americans struggle with the conviction that they owe an obligation to have parents live with them, the practice is changing in India. There, even if parents don't go to dedicated facilities, many maintain individual households.
Relating his own experience, Nihlani says: "I came here in 1994 and both my wife and I were clear that once our boys grow up and we retire we will shift to India. However when I saw a similar set up like India in Bay Area itself I chose to stay back."
Indian seniors participate in activities at Priya Living, an Indian American senior center in Santa Clara, Calif.
Indian American retirement communities claim to give seniors a chance to live wholesome lives. Anand Patel, director of sales at Anand Vihar, an upcoming desi retirement facility in Tampa Bay, Florida, says: "The idea is to provide a place for older residents to share like-minded experiences. The stress-free idea of not having to spend time cooking hot vegetarian meals daily is also very appealing. This provides our residents with more time to enjoy life with fellow active adults."
Many of these retirement communities offer culturally appropriate facilities, such as vegetarian meals, Ayurveda classes, prayer rooms and festive celebrations.
On the societal bias toward elders joining a retirement center, Venugopal says: "The negative perceptions exist more in India. Those of us who have lived here are totally okay with the idea as we understand it's the need of the community."
Dr Kiran Dave, one of the founding members of India Home, says, "People have also realized the absolute necessity of dedicated centers." She cites her own example: "My mother was a scientist, but in her old age she suffered from Alzheimer's dementia. I put her in a nursing home, but she was not happy, as it was not culturally sensitive. My mother, a woman who was fluent in English, yearned to talk to someone in her native language.
"Besides her treatment required major finances, which we could afford as we were physicians, but that made me realize how important are such centers for aging and that was the motivation behind India Home."
To cater to the medical needs of the aging Indian community, My Indian Nursing Home (MINH), a nursing program that operates in eight centers in New York and New Jersey, provides Indian patients a dedicated environment, with Indian doctors and nurses, Indian food and publications and a chance to recuperate in a totally Indian atmosphere. Jay Thakar, director of operations at MINH, says: "My dad, who has been a physician, observed that Indian patients did not feel at home in American hospital setups. They had difficulty communicating; they couldn't eat the food provided and could not even effectively express their concerns. He thought of giving them a familiar setup. We also provide rehab services for recuperating patients and the fact that many patients voluntarily choose to overstay their rehab periods as they felt so much at ease in the environment is proof that the elderly require a socially approachable setup while living in America."
Venugopal concedes a small proportion of elders come to the centers as they don't have family support, but the vast majority, she says, do so for kinship and cultural association with others elders.
 CHALLENGES
The Indian senior population topped 300,000 in 2015, according to U.S. Census data.
But the number of centers catering to the community is miniscule because of challenges that are particular to the community, says India Home's Dave: "Our organization is a non-profit that is run on donations and government aid. Also, statistically Indians are one of the more prosperous minorities in America. But the challenges remain that Indians do not believe in donating for noble causes, such as these. They may donate large sums to temples, but when it comes to providing care for their own seniors there are reservations."
Dr Vasundhara Kalasupadi, also a founding member of India Home, says: "Another problem remains that Indians are so divided in sects that it becomes difficult to keep everyone happy. There are so many regional cuisines, cultures and festivals and everyone wants to promote their regional beliefs. It is important that we see the entire community as a holistic unit instead of breaking them up in sects."
Service providers also observe that often Indians in America are discomforted about inquiring about preferences from their parents. Arun Paul says: "Till today, in America the topic of sitting parents down and asking them if they would want to live in a dedicated community is an uncomfortable topic to broach. Many never have the courage to ask their parents…. When we did our research, we found out that given a choice most seniors would want to move out and live on their own in a culturally suitable community."
Apart from psychological yearnings for belongingness, Thakar points out that retirement communities contribute to their physical well-being in areas that are particular to the community, such as high proportion of obesity, diabetes and cardiovascular diseases. Meera Venugopal says: "We try to include mind stimulation, excursion trips, give financial and tax related counseling and even conduct computer classes in some centers. The community needs to realize that it is important for seniors to get out of the houses and lead a more confident life."
Nihlani says, "We have a vast population, but not many Indian doctors think about setting up weekend units in senior homes and providing basic health check-ups to older citizens. Besides, commuting remains a challenge for most seniors due to lack of efficient public transport in America."
Indian Americans are particularly resistant to moving to distant senior centers that cut them off from families. Paul says, "Most elders want to live on their own, but within comfortable proximity to their kids. They do not want to be holed in a far-flung place. Therefore it is also important that we bring such desi communities nearer to cities where their children may be working." He adds: "We chose Bay Area despite its formidable cost of living, because we realized that nothing brings more happiness to seniors than frequent visits from their family."