Life
Globalizing the Indian Diet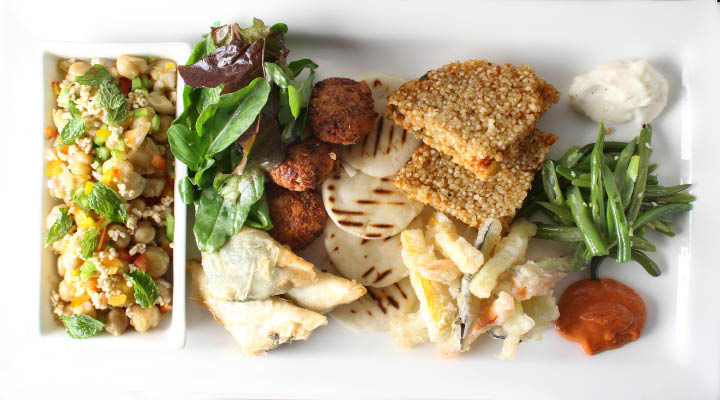 The 21st century Indian professional is a global citizen. Well read, well travelled and yes, well fed! She knows her blue cheese from a feta, pita bread from a naan, dim sum from a momo. These up-worldly mobile Indians do not shy away from asking for New World Wines with specific harvesting years nor are they insensitive to subtle flavors like truffle oil, asparagus foam or recognizing the robust overtones of a genuine Thai bird eye chilli and galangal.
Wherever they might live, Indians are very passionate and sensitive about their food. Whether it is Mr. Singh's juicy chicken tikka masala or Mrs. Iyer's perfectly puffed idlis, all believe they have the last word when it comes to food.
Over the years, the idli and chicken curry have found their way out of the restrictive confines of purists and are mixing well in urban homes. This new-found fusion is reigniting the Indian love affair with food in Indian metros.
The 21st century Indian professional is a global citizen. Well read, well travelled and yes, well fed! She knows her blue cheese from a feta, pita bread from a naan, dim sum from a momo. These up-worldly mobile Indians do not shy away from asking for New World Wines with specific harvesting years nor are they insensitive to subtle flavors like truffle oil, asparagus foam or recognizing the robust overtones of a genuine Thai bird eye chilli and galangal.
Pinky M. Padmaraj, manager, marketing and communications, at The Oberoi, Bangalore, says that whenever her hotel plans a promotion or menu, chefs do extensive research on sourcing the right ingredient, instruments and presentation as their diners have become "more erudite on food, detailed in their appreciation and criticism, not to forget rightfully discerning when it comes to their palate."
Young urban Indians have opened their kitchen to global tastes, a trend increasingly stoked by expats, returning NRIs and corporate executives. They are happy to experiment with new ingredients, which has led to a boom in the Indian food industry, from the launch of global cuisine restaurants, gourmet stores that stock up on products and produce that one only read about just a few years ago, to international food magazines, food festivals, and TV shows. These influences, in turn are subtly dictating how urban, nuclear families cook and eat.
The Krishnamoorty family of five spent this summer vacation holidaying at a farm in Coonor, a hill station in the Nilgiris. The idea was to bond over farming, cooking and eating. "We've done the five-star holiday route many times. We wanted the entire family to be involved in a single activity and have fun doing it," says Shiela Krishnamooorty, whose husband is a chief operating officer at a multi-national firm. She felt cooking was the obvious choice since her pre-teen and teenage children loved baking.
The Wild Acres Farm, run by one-time successful Bollywood director Mansoor Khan, encourages such family visits. Khan himself leads the class on bread making, right from preparing the dough mixture to setting the temperature in the oven.
The family eagerly took turns kneading the dough, learning about different kinds of yeast that work best to create the perfect loaf, and finally baking the mixture. Their joy was doubled at breakfast when the guests were served the bread with farm-made cheese, jams and preserves.
It is no surprise then that contents of the grocery shopping bags are changing rapidly. The synthetic Mozzarella is slowly being replaced with the sharp-flavored Parmesan. Broccoli is favored over the traditional cauliflower, and bell peppers are adding more than just color as toast toppers.
Enterprising moms are ditching the ready-made pizza breads (that life-saver to rustle up temptation in a stubborn child) to rolling their own pizza dough.
What's more they do not have to look far for help. Just switch on the television and a whole army of celebrated chefs are at your disposal with shows catering to every range of Indian and global cuisines.
The more discerning gourmet is happy to shell out Rs 100 ($2) to leaf through BBC's Good Food Magazine. Its India edition was launched last year and many are already addicted to it. There's a veritable explosion in the media to satisfy this gluttony. Food magazines like Upper Crust, Food and Nightlife Magazine, Food Lovers, innumerable food blogs, Facebook pages dedicated to discussing recipes and new restaurants… the list is endless.
But what clearly whipped up a creamy storm of sorts a few years ago was the Master Chef Australia TV series. The cook-off between contestants coupled with the endearing judges and presenters of the show glued not just individual foodies, but whole families to their sofas.
Such was the response that advertisers were quick to grab their share of this enticing pie, and Master Chef India was served up in style. The second edition saw award-winning Michelin Starred Indian chef and food writer Vikas Khanna anchoring the show. The New York-based chef won many hearts with his ready smile and helpful tips on cooking.
According to Manu Chandra, executive chef at Olive Beach, Bangalore, and Olive Bar and Kitchen, Mumbai: "Food shows have always been popular in India; it is after all one of the most tangible things to watch on TV. With the increasing popularity of western shows, food went from being merely tangible to drama. The competing nature, the edit cuts, the sound effects and the constant feedback (read reality show) combined with a very safe and approachable subject probably gave rise to its popularity."
Adds Sabitha J of Sorbet, a gourmet store which opened shop two years ago in Bangalore, and recently launched another branch in a different neighbourhood: "Our customers are all passionate foodies and come searching for new products and ingredients. However, we also have kids coming in with their ingredient list to pick stuff in the hope that they can replicate a dish from the previous night's show."
While throwing a kid's birthday party at a fast food joint was considered the "in" thing two years ago, today to play the big league, families are organizing "make-your-own-pizza" party where children get to bake what they eat complete with a chef's cap!
Tejaswi Uthappa, a Bangalore homemaker, who travels to her London home every summer, had organized a Master Chef birthday party for her son Crish when he turned nine. "Excluding the birthday cake, the kids made their own food. Each child was handed a personalized apron that carried the party logo. The little chefs were given a master class on cup cake decoration where they learnt to make sugar art and decorate their pre-baked cup cakes," Tejaswi eagerly shares all the details.
She also laid out a complete bar of food ingredients like chopped veggies, grated cheese, cold meats, fruits, sauces, spreads, cooked pasta, pizza bases and bread. Each child made a sandwich, a pasta dish and a pizza with the ingredients of their choice.
"They had a ball! I have never picked up cleaner plates at the end of a party before," confesses Tejaswi. And by virtue of being the birthday boy, Crish was the preordained Master Chef.
A few years ago, the idea of a Master Chef party may not have gone down well with Tejaswi's guests. Imagine sending your kid to a party where they have to cook what they eat! But such has been the appeal of international TV food shows that her party was a success even before it had begun.
Shivakumar Kandaswamy, managing director, Weber India, says: "Global food has entered our kitchen through the television and no one is complaining!" According to him, though the hospitality industry is Weber's main client, it is now targeting consumers (end-users) with a lifestyle tag attached to it. "Licence to Grill," a social event organized by Weber every month, hopes to capitalize on this new-found love for good food, especially in cities like Mumbai, Delhi and Bangalore.
The idea behind the License to Grill sessions is to popularize barbecue grilling, promote healthy eating and share tips and recipes with barbecue enthusiasts and help them find a space in their own kitchen, terrace, backyard and gardens for barbecue parties.
Shilarna Vaz, who ran a successful restaurant in Goa, moved to Mumbai last year to supply gourmet meals. It is a decision that she has not regretted as her client list that includes people who are obsessed with good food, corporate lunches, shoots for advertising production houses and sushi lovers, keeps growing every month. "The idea is to have restaurant quality food served fresh from your kitchen," she says, adding, "I think our cities need to grow and evolve to include this growing demand of world cuisine and more importantly authentic good food."
"India is a big market, there is no doubting that. Youth often become the drivers of trends owing to their willingness to break out of an established mould. Pasta will be cooked at home because they want to have that for Sunday dinner, forcing the mother to learn to cook it," says Manu Chandra.
Chef Chandra, who regularly conducts "kids' day in" cooking sessions at his Mediterranean theme gourmet restaurant, says, "I've actually quite enjoyed watching the kids turn into little food aficionados over the last seven years. There were children that came with their parents for dinner and are returning with dates as teens. Their orders are remarkable for a teenager. It's the grooming they have been through that defines their taste buds today."
Chandra says he cannot even begin to relate how successful the "kids day in" was. "For a child to create something they can eat from scratch is as much an achievement as winning a race. I believe the interest has always existed; there just seems to be more opportunity to partake in it," he says.
The Institute of Baking and Cake Art, Bangalore, is another place where many young people get opportunities to indulge their love for baking. Manish Gaur, director of the institute, says: "The average profile of people coming to learn baking is anywhere from 8 years to 60 plus. Though the majority of our students are women there is an interesting phenomenon where a lot of boys in the age group of 12 to 15 years are passionately interested in baking." Gaur cites innovation in cooking gadgets and easy availability of the equipment in India as important factors contributing to new converts to the kitchen.
It would have been expensive and difficult for Tejaswi to organize her son's Master Chef party even five years ago. Today, people like her just have to take a short walk to the neighborhood gourmet store or look up an online gourmet store.
"We have some high-profile customers who swear by our store because they always get what they are looking for," says Sabitha of Sorbet. The brain child of Sandiip Khanna, an avid food lover himself, Sorbet offers top of the line products and produce from cold cuts, meat, sauces, dips, and pasta to low fat and sugar free products.
Online stores like the Gourmet Company are building consumer appetites with exclusive products like Inspiration Tea, Happiness Tea, Blackberry Apple Jam and Apple & Mint Dressing. "We want to bring the best food brands to consumers across India at affordable prices," says Neerja Mittersain, co-founder of Gourmet Company.
The online store currently features nearly 400 gourmet food products ranging from flowering teas and rare coffees to pastas and even Mediterranean food ingredients.
Recently, the company tied up with two international food brands, Today Was Fun and Kitchen Garden Preserves, to bring their range of teas and preserves to the Indian market.
As Chef Manu Chandra adds, "I find that a lot of Indians have opened up their minds and taste buds to international flavors and concepts. They are often fairly predictable with it, that is, they tread a safe line even while experimenting, but it all takes time. Spaghetti in Meatball was the epitome of good Italian food in the US in the late seventies, by the early nineties however the story was very different. We're getting there."