Bollywood
Gata Rahe Mera Dil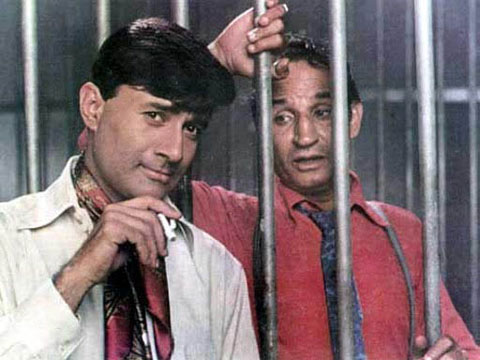 As a Bollywood junkie who grew up in Mumbai's star-filled Pali Hill, two big stars were the eternal bone of contention among our friends: Shammi Kapoor and Dev Anand. Huge fights, arguments, debates and discussions about who was more trendy, stylish and hot, who had more tashan, ada and andaz took place every time their names popped up — and all hell broke loose during a new release. It's ironic that both these stylish icons passed on within months of each other.
Interestingly, Devsaab — he often referred to himself — was actually a contemporary of Junglee Kapoor's elder brother Raj Kapoor and with Dilip Kumar formed a magical troika that defined Bollywood star-power of the 1950s, 1960s and 1970s. They symbolized commercial mainstream cinema of their time and fired public imagination as no other troika has since (although today's 3 Khans seem to give that template a healthy run for money).
No three stars, however, could be more different in style or approach to their craft than the Dilip-Raj-Dev trio. The first was the acknowledged Tragedy King, the intense, brooding Devdas who loved and lost silently and took it with rare grace and restraint. Raj Kapoor was the care-free Awara, the Charlie Chaplin inspired tramp, the aam admi hero for whom truth and love were guiding light. Dev Anand was however diametrically opposite — in fact a universe away — from these two in style and substance, form and content, which is what made him different, unique and special.
Why was Dev, despite being senior and older than the Rebel Star, often slotted in the same "romance-style" bracket? How could he team up with some of the same heroines — Sadhana, Asha Parekh, Vyjantimala, Kalpana — with a degree of credibility that Dilip and Raj could never dream of?
Says Delhi-based devotee, fan and admirer, Rajeev Nayyar: "My first film of Devsaab was in the early sixties, Manzil. I was in school and what struck me was that he was so radically different from guys like the weepie Rajendra Kumar — a huge family favorite — or even Dilip Kumar and Raj Kapoor. He was never sloppy, shabbily dressed, sad or unshaven. He was always stylishly turned out and full of innovative props like caps, hats, scarves, buttoned-up shirts with large collars … all of which he carried with fabulous élan! Also, his persona almost never played the loser/jilted lover role. He was so full of energy, zest and vim to take heartbreak seriously. Besides, which heroine in their senses would dream of ditching the deadly Dev Anand? And his fast, rat-a-tat westernized style of speaking, his swagger, tilt of head, devastating smile, the blink … were all part of a persona that created the Dev Anand magic. From Suraiya and Kamini Kaushal in the 1940s and 1950s to Zeenat baby and Tina Munim in the early 1980s, he romanced them all — with special stops at the doorstep of Nutan and Waheeda — as only he could. Stylish, debonair and forever passionately optimistic and future-driven, he was something else. Sure, today there are the Khan combine and other big stars too — but they can never touch his charisma. He was one of kind. There can never be another Dev Saab"
Curiously, Dev Anand, by his own confession, took his own heartbreak very seriously, which is what made him what he was. Very early in his career he fell in love with actress Suraiya who was both a Muslim and a big star. It was initially smooth sailing and they did seven films together, before he popped the question. Allegedly, her family was not in favor and so the romance ended. "I cried! I was young and heartbroken but I soon recovered and realized that life threw challenges and I had to cope, be strong, look forward and move ahead. That was the only direction that counted. I still follow the principle. The future is where it's at."
Actor Anupam Kher once asked the debonair 18-till-I-die mega star why he spoke so fast. "Life is too short Anu, so I make sure I don't talk slow and get bogged down." Kher remembers his energy, optimism and full-on urbaneness, "Devsaab was always a westernized, cool, smooth, charming city-slicker, metro-centric guy. Have you ever seen him playing a villager or starring in a period film? Impossible!" The other related to the awe that was reserved and associated with Dilip and Raj, but "Unlike the other two icons, he was someone youngsters could easily identify with."
Politician-cum-journo Chandan Mitra was struck by the terrible, flop-ridden, last phase lasting over three decades of Dev Anand: "Sure, effective the early eighties, Devsaab's films didn't fare too well at the box office and his last few movies may have been difficult to connect with, but for all true-blue fans, it didn't matter. Why? Very simply because his romantic, debonair image was so strong, powerful, infectious and seductive that it completely overwhelmed the latter day shortcomings. So, for every Censor, Mr. Prime Minister or Chargesheet, the memory of Hum Dono, Kala Bazar, Guide and Tere Ghar Ka Samne did the trick! And the music of the Dev-S.D.Burman-Kishore combine remains magical matchless and deathless."
True. That was the magic and mystique of Bollywood's original Dorian Grey, a human, turbo-charged dynamo who refused to stand still, look back, rest on his laurels or be discouraged by flops or stinging broadsides of critics, contemporaries and colleagues, zooming ahead with passion, towards his next project.
Media commentator Santosh Desai captures Dev Anand's legend best: "It is almost as if time itself has died. The idea that Dev Anand is no more is a shock not only because it came so suddenly, without any warning, but because it was never in the nature of Dev Anand to die. For a man who lived in the perpetual present to be consigned permanently to the past is an idea that takes some getting used to. It is as though we expected him to talk passionately about his latest film forever; the more forgettable his films became, the more unforgettable the man grew."
Gaata Rahe Tera Dil.