Expat Voices
Expat Voice: Work in Progress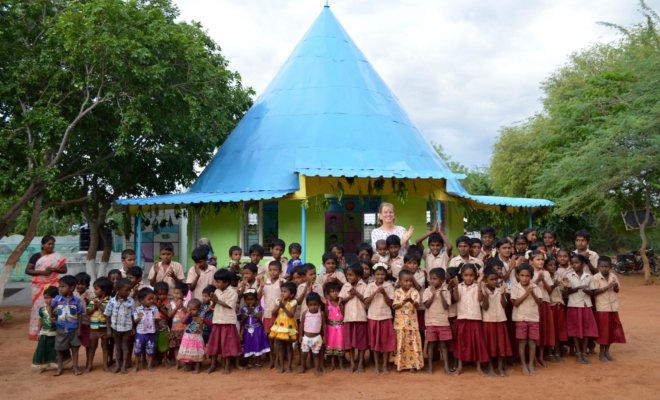 "It was destiny," France-born Benjamine Oberoi says about settling in India. Oberoi, who came to India over 35 years ago as a social worker, went on to earn a Ph.D. in child development and psychology from NIMHANS in Bengaluru. It was during this time that she met her husband Bhushan Oberoi and decided to make India her home.
"When I was in my 20s, I came to India twice to travel and explore, and was deeply intrigued by the culture," Oberoi, who runs Casa Cottage, a heritage hotel in Bengaluru, along with her husband, tells Little India.
The French national is also the founder of Casa Foundation – a charity involved in education, rural development and women's empowerment. She has received the Kalam Award as well as the French honor of the Officer of the National Order of Merit in recognition of the social work she has been doing for the past 35 years.
Oberoi talks about her life in Bengaluru, setting up the heritage hotel, the changes in the city over the past three decades, and more:
Adjusting to Life in India
While it was no piece of cake, I was motivated enough to adjust. Moreover, it was not just me having to adapt to the chaotic order and the marvelous diversity of India, but people around me having to adapt to me too! I felt that people were at times confused since they could not put me into any specific socio-cultural box other than "different," and while that has its own perks, it also comes with the occasional struggle to fit in.
When I first came here, everything surprised, amused and at times annoyed me. Our very own Indianized brand of logic would never cease to amuse me. This is probably the only place where you will see two motorbike riders facing each other and arguing over who is right when they are both riding on the pavement.
The diversity and social machinery of India can be both daunting and inspiring at the same time and it takes a bit of effort to acknowledge, appreciate and accommodate that. It is often a challenge when you realize that you must carve out your niche and yet co-exist with those who know how to bend and work around laws and legislature. Adjusting to the idea of time management here could be an ordeal for any new expat. "Indian Stretchable Time" works rather differently than "Indian Standard Time" and I am often amazed that somehow everything still works.
Best of Bengaluru 
I like the cosmopolitan bubble that Bengaluru has successfully created for itself and appreciate how well the city has continued to adapt to the changing times. It is definitely one of the easiest cities for an expat to live in. The traffic is something I positively despise and the fact that, if there's a way around it (and there usually is!) no one follows rules whether on the road or with regard to safety regulations for construction.
Bengaluru has changed a lot over the years. The general openness of the city has increased, the traffic has worsened, and infrastructure has improved. However, the idlis have remained as delicious as ever! I understand that the gardens and lakes have diminished but I feel hope in knowing that there are more people trying to create an awareness about the same.
Setting up Casa Cottage
Having lived in Richmond Town for over 35 years, we thought we knew the area all too well, when one weekend in 1999, we stumbled upon the property – an old English bungalow originally built in 1915. Time had taken its toll on it but the fact that it was utterly run down, was missing a roof and had trees growing through its walls, could not keep us from falling in love with it. What followed was dedicated and passionate repair work and we soon opened our doors to travelers across the globe as a guest house that seeks to be a home away from home. We tried to maintain the integrity of the original structure and I think the cottage repays us for that with lots of wonderful avocados each year. 

Some of our interactions with guests have led to new additions to our family, like when we became guardians to Shri, who came from Nepal with his sponsor to be enrolled into a school over a decade ago. It has been great to see him grow and flourish into the person he is today.
Improving Lives
The Casa Foundation was aimed at being a bridge not just between the world and India but also for connecting the right social workers to the right causes. Being an international consultant for local and international NGOs in the field of development, I have the opportunity to serve as a liaison between different groups of people.
I get to work on different projects, such as education in schools, skill training, watershed management and land reclamation, flood and cyclone emergency relief programs, housing, rural women development, microcredit and micro-enterprise, etc. I am deeply involved in the work carried out by SEVAI and the French organization, Objectif- France-Inde (OFI). 
Learning Lessons Secretly
Living here has taught me patience and tolerance. I have also learnt that there is always more than one way to tackle any problem and that flexibility is a lesson that really helps when it comes to survival here.
The opportunities and freedom to be able to run our own endeavors has been a takeaway that I am grateful for. More importantly, I realized that honest effort does lead to positive changes, albeit slowly. The curious thing about India is that it often teaches you things secretly and you don't always realize that you've learnt something till you suddenly apply it and then have that epiphany.
India is a curious mix of being welcoming and foreboding for any expat. As someone who has not been born and brought up here, I think my relationship with India is always a work in progress. It overwhelms you, astonishes you, frustrates you but amidst all of that, it makes you fall in love with its colors, contrasts, cuisine, languages and even its imperfections. There are many Indias in this one nation and one's perception of the country is often a matter of choice. It is up to us which India we choose to see and live in. 
The interview has been condensed and edited.
Expat Voice is regular column on expats in India. Email us at expat@littleindia.com to nominate yourself or another expat for the column.