Expat Voices
Expat Voice: Understanding The Indian Education System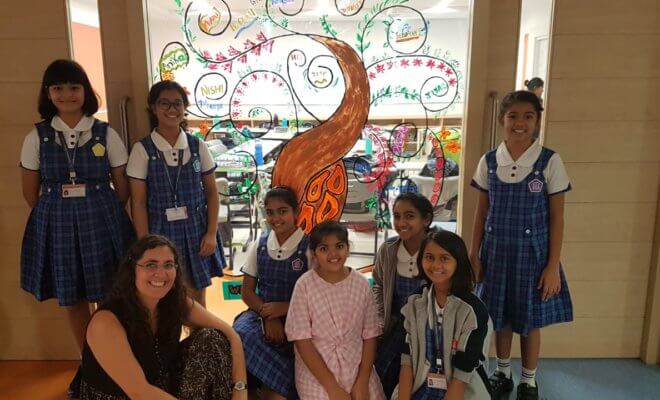 Most people here think that the expats are rich people coming from Australia or the U.S. says Belén Rodríguez
Belén Rodríguez came to India in 2015 from Spain under an agreement between the governments of both the countries aimed at providing qualified Spanish teachers to teach at public-funded Indian Universities and train Indian teachers.
She started her Indian sojourn with Savitribai Phule University and is now teaching at Chatrabhuj Narsee School, both in Pune. In a talk with Little India, she shared her Indian experience.
Understanding the Indian Education System
I was always interested in teaching in India as I was going to be in a multicultural and multilingual country for the first time in my life. It allowed me to develop my sensibility to detect students' needs and the challenges teachers face here. Besides teaching linguistics at the Masters' level, I have organized workshops for teachers, which helped me to better understand the education system here.
Right now, I am working in an international school, which is a completely different experience as all my students are children. I try to visit rural schools and take alternative projects as that let's me experience a diverse educational scenario. For me, teaching Spanish is a way, where I can invite children to experience the Hispanic culture and I can learn about Indian diversity.
Indians Love Singing in Foreign Language
I have a very positive perception about Indian students: all students here usually speak at least two languages, very often three and sometimes even four. It's a big help for a language teacher like me because it means they know a lot of sounds and different structures to organize the same information.
In general, students don't know much about Spain here. It was a surprise for me in the beginning, but I also found them very curious, as they keep asking the most unexpected questions. Once in Bihar, a child asked me about the person whom I take inspiration from. A student in Gujarat asked me why did I decide to become a teacher? These questions would hardly be asked by a child in my country.
At the university, we organized a cooking competition and the students cooked some amazing Spanish recipes without even trying the the dish before in their lives! Lastly, I am always amazed by the love that Indians have for singing in foreign language.
Wife For a Cab Driver
Once I went to a movie festival by cab and the driver was very curious about my nationality and the reason for being in India. He told me that he was searching for a wife but was unable to get one due to his long working hours. I told him that I would spread the word to girls that were in search of husbands.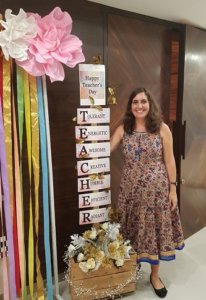 Accidentally, I forgot my pass in the cab and the pass had my phone number. He called me to give it back some days later and of course to ask me about the girls. I did my best, but the girls were not interested despite him being honest and hard-working person.
The Reason for Learning Spanish
Adults learn Spanish for professional reasons. However, I have met students who wanted to learn just to discover Hispanic culture. They want to understand the lyrics of songs, to chat with Latin Americans, or to just visit Spain.
I have had housewives, retired people, and young people in my classes who already spoke German or French. Many of the students came because of the curiosity generated by a film or a song.
 Twin Soul in Remote Area
I met a primary teacher in the Andaman Islands whose sister was working in Poland. I have also lived in Poland for several years. She was so enthusiastic by the coincidence that we immediately called her sister, who was equally excited and told me about her life in Europe. I think that sometimes one can find a twin soul in the most remote area. We are still in touch.
I Miss Spanish Food
I am not very foodie and I can´t have spicy food every day. This is the reason I don't enjoy Indian food. I love the dosa and the coconut chutney, some Goan and Bengali specialties, all tropical fresh fruit juices, and the banana chips.
I miss the amazing taste of the Spanish olive oil and our variety of cheeses and eating with my family some traditional sweets like the "Turrón" at Christmas, the "Torrijas" at Easter or the "Orejas" at Carnivals. I haven't found any Spanish restaurants, so I cook myself some dishes like Vegetarian Paella, Ensaladilla, Gazpacho, Migas or Pisto Manchego.
In India, I Never Get Bored
I like traveling, discovering nature, national parks, and rural areas. Many times, I enroll in seminars for teachers or visit alternative schools. If I am in Pune or Mumbai, I try to enjoy live music, dance or sports activities such as salsa or cycling. I am a cinema and literature lover, so I try to catch up on international festivals and exchange ideas with interesting people at these events. In India, I never get bored.
Indians Think All Expats are Rich and English Speaking
Most people here think that the expats are rich people coming from Australia or the U.S. If they are from Europe, it will be from the UK, France, or Germany. But I am from Spain and it is a different country with a different culture. Probably it is much more like India than many Indians think.

I want to tell that most expats are not rich, and they depend on their profession for money. Sometimes it can be irritating as many times just for being a foreigner one gets overcharged. Indians think that all expats speak English, but I am from a Spanish speaking country.
West Also Values Family
People not in touch with foreigners think that in the West we don't value family, or we don't have many festivals, which is untrue. Just like India, Spain is a peninsula and we have had many invasions, and as a result, we have many cultures. We are a multicultural society with many festivals and old traditions. Spending time with family and friends is our real national sport.
Things I Love in India
I love Indian attires. I find them comfortable, original, and colorful. I also think Indians are lucky as they have more clothing choices.  I find Indian national parks and music fascinating. I love the sea and that's the reason I enjoy being in Kerala, Tamil Nadu, Goa and the Andamans. The Konkan area will always have a special place for me for its tastes, vegetation, beaches, and original soul. I find a lot of poetry in all the old forts by the seas.
Indian Culture: Less Supportive of Women
The hardest point in Indian culture is respect for women. In Spain, women have more choices. But in India, many girls have told me that they are not allowed to make important choices like love, studies or even simple things like dresses and traveling. It changed my perception about my own culture which is very supportive of women.
The main difference is in Spain older women want something better for their girls and encourage them to fight for it, while in India it seems many families pay to give more importance to preserve traditions than understanding the reality of the new generations.