Life
Culinary Journey From India To South Africa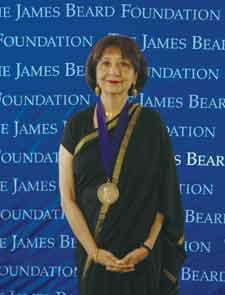 An Invitation to Indian Cooking was Madhur Jaffrey's first cookbook for the American market, published in 1973. It is still regarded as a classic and this year the book was inducted into the James Beard Foundation Cookbook Hall of Fame.
Yet there was a time when Jaffrey, actress and culinary teacher extraordinaire, didn't know a thing about cooking. As a young actress in London many years ago, she was homesick for her mother's home food: "I started writing letters to my mother, mentioning the dishes which I missed – a gobhi dish, a meat dish, khare masala ka ghosth. I didn't know how to make tea, I didn't know how to make rice. Help, help, help." Back came letters with the recipes and Jaffrey recalls, "I made one of them – hing jeere ke alu again and again. I couldn't make rotis in those days so I ate it with Jewish pumpernickel bread, which I could get in my neighborhood."
Now of course she has 15 cookbooks to her credit, including A Taste of the Far East, Madhur Jaffrey's World Vegetarian and From Curries to Kebabs: Recipes from the Indian Spice Trail.
In From Curries to Kebabs she explores the evolution of curry in several countries from India to Sri Lanka to Thailand to South Africa. It's a fascinating journey, showing the impact of Indian food on diverse cultures. The book offers up meat dishes to vegetables, bread to side dishes, and dollops of history and intriguing anecdotes.
Who would have known that Nelson Mandela loves Indian food and that he's even added Indian spices to his Xhosa umngqusbo or stew? During Jaffrey's visit to Johannesburg, she met him at a luncheon and recalls: "For me, it was the best of days. He sat at the head of the table and I sat to his right for the entire three-hour lunch. I have to say that Nelson Mandela certainly tucked into his biryani and did not do so baldy with the Xhosa-Indian umngqusbo either."
NATAL RED KIDNEY BEAN CURRY
Serves 6
1 1/2 cups dried red kidney beans
3 tablespoons vegetable oil
3 whole dried hot red chilies
1/2 teaspoon whole brown mustard seeds
1/2 teaspoon whole cumin seeds
A generous pinch of ground asafetida
10 to 15 fresh curry leaves, if available
3 medium tomatoes (about 1 pound), grated on the coarsest part of the grater
1/4 teaspoon ground turmeric
1 teaspoon ground coriander
1 teaspoon ground cumin
1 to 2 fresh hot green chilies, finely chopped
1 clove garlic, crushed
1 teaspoon peeled fresh ginger, grated to a plup
1 teaspoon sugar
1 1/2 teaspoons salt
Method:
Cover the beans generously in water and leave to soak overnight. Drain the next day, put in a medium-large pan, add 6 cups of water, and bring to boil. Partially cover with a lid, reduce the heat to low, and cook gently for 2 to 2 1/2 hours, or until the beans are tender.
Meanwhile, pour the oil in a medium pan and set over medium-high heat. When the oil is hot, put in the red chilies, mustard seeds, cumin seeds, and asafetida. As soon as the mustard seeds begin to pop, add the curry leaves and tomatoes. Stir once, then add the turmeric, coriander, cumin, green chilies, garlic, ginger, sugar, and salt. Stir and bring to a boil. Reduce the heat to low and simmer gently for 5 minutes.
When the beans are tender, pour the spiced tomato mixture into the pan with the beans. Bring to a simmer, and cook, uncovered, on a very low heat, for 20 minutes.