Arts
Brown Comedy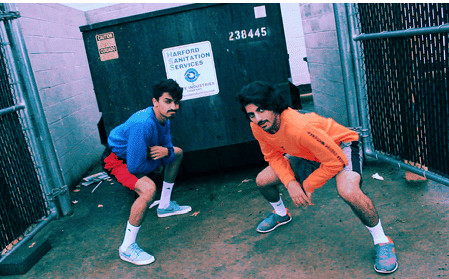 These brown comics are nudging and prodding the community as a whole to loosen up and have some fun with their traditions, identities and eccentricities.
Listen Chris, I can't be this white.
If I wanted to.
These are mirchay, This masala
There's more than just salt in food
What's this gluten, vegan, GMO?
I never had to choose
These are the lyrics from a newly floated parody on the YouTube channel Rwnl Pwnl. Titled Bodak Brown, the hilarious parody of the popular song Bodak Yellow by Cardi B, sums up the struggles of a South Asian sharing a space with a non-desi roommate.
The group members Faras Amir, Shah Ameer Wali, Amber Khan and Dawar Aamir offer a funny take on growing up as South Asian American kids while carefully balancing their hyphenated identities. From skits, parodies and series, the Rwnl Pwnl channel touches upon sensitive subjects in a light-hearted comic tone. So, from a group of young guys preferring chai as a drink to pouring Roohafza in red paper cups, their parodies are something that most South Asian kids growing up in the West can relate to.
Rwnl Pwnl, poking fun both at their eccentricities and often at the not-so-positive desi perceptions, are not alone in using humor as a way to re-affirm their identities. South Asians Lilly Singh and Liza Koshy became YouTube stars in the past as well. Singh secured 10th spot on the Forbes list of world's highest paid YouTube stars last year; Koshy's main YouTube channel boasts more than 13 million subscribers.
But as brown skin becomes commonplace both in popular media as well as political antagonism, we may be experiencing a spike in the number of youngsters carving out a niche in brown comedy. A host of South Asian vloggers, comedians and artists have been garnering attention and applause for their wit-laced depictions of brown lives in the west.
Simmy Singh, based in Los Angeles, is a vlogger posting comic videos about growing up in a brown household in the West. From superstitions with my mom to car buying with my brown mom to even a parody on Bollywood vis-à-vis real life, Singh's videos humorously depict exaggerated situations that are often commonplace in Indian homes.
Even as the new generation smirks at its sometimes-misplaced traditions and practices, owning up to them as their own is reflective of a new-found confidence.
Other South Asian vloggers are digging into indigenous cultures and traditions without making exaggerated political, social or satirical statements. Canada based red-haired girl Mundheep behind Mundheep documents everything from her crazy family pranks to her everyday Punjabi life with friends and family. In one video, she documents her chunni ceremony with all her Punjabi fineries, while in another vlog she shows her crazy Christmas prank of wrapping her brother's entire room. The videos often reflect how effortlessly many first and second generation, immigrant kids straddle between their traditional and contemporary lives.
In many ways, this new crop of youngsters questioning, poking fun and owning up eccentricities they grew up with signal that they are moving past the American born confused desi (ABCD) syndrome.
By bringing attention to their identities, these videos also demonstrate just how ingrained multiculturalism now is globally. And in a subtle way, the comic videos and parodies are also questioning the melting pot philosophy, which has animated American immigration discourse since the 1780s. As a new generation asserts its individuality, embraces its practices and cultural identity, diversity and multiculturalism are increasingly ascendant, notwithstanding the parallel rise of Trumpism and white nationalism.
These YouTube stars are also tackling important social and political issues. Ontario, based popular Canadian comedian and YouTube personality Jus Reign (Jasmeet Singh Raina) has been making comic videos on his South Asian roots. In 2016, while at the San Francisco Airport, Singh was asked to remove his turban. Post security check, when Raina requested a mirror to don his turban, he was directed to the public restroom. The incident garnered widespread media conversations around racial bias in security screening.
Another YouTuber AKTV, who had been posting comic desi life videos periodically, is now back with new videos in his Living with Brown Fam series.
Another duo Sanjeev Gahunia and Ranvir Dheria, known as the Brampton Boys from Canada, release a video every week. With their debut video titled, Benefits of Having a Beard, they created a quintessentially desi identity.
These brown comics are nudging and prodding the community as a whole to loosen up and have some fun with their traditions, identities and eccentricities.