Arts
Bollywood Graduates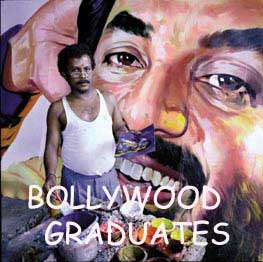 Bollywood is getting some well-earned respect, finally.
"The motion picture, with its fantastic synthesis of Hollywood, Indian folk performance traditions, music, mythology, and linguistic variety, has become a major visual cultural tradition, no less important than the murals of Ajanta, Padmanabhapuram, or the sculptural friezes of Sanchi, Konarak or Mahabalipuram."
– Ram Rahman, artist and curator.
Bollywood Dreams Exhibit by Jonathan Torgovnik.
What! Bollywood – a national monument and a pillar of the cultural heritage of India? Incredible, but true. From the "wah-wahs!" of the pan-bidi char anna class, our beloved, but much maligned, Hindi cinema has gone on to being feted around the world and included in Oscar talk. Once derided for its "masala" flicks, Bollywood is now being spotlighted in the bastions of high culture – the Victoria and Albert Museum in London, the Smithsonian in Washington D.C. and on television channels like the Sundance Network, PBS and Turner Classic Movies.
And yes, serious academics in the ivory towers of elite educational institutions are actually dissecting Bollywood, pondering the effects of this powerful medium on humanity! After all, Bollywood has affected just about everybody from Salman Rushdie to Mira Nair to Russian taxi drivers to Mumbai street urchins! Who knows, if William Shakespeare had been around, the bard too might have been inspired by the reel tamasha of Bollywood!
Bollywood is certainly getting respect – it's even entered the Oxford dictionary as a brand new word in the English language! Certainly it's being pondered in academia by a host of scholars as shorthand for something much more complex and momentous than a mere song and dance routine.
While Bollywood has become a staple in cinema study courses, it is also of great interest to sociologists and anthropologists. At Stanford, its possible to take a course: Bollywood and Beyond: South Asian Histories and Cultures through Popular Film. As the syllabus states, Indian cinema has been an important site for the articulation of ideas about nation, class, caste, gender and sexuality, community, and diaspora. The class addresses such deep questions 'as how do Indian films represent, and reconstitute, "national culture" for audiences in India and the diaspora? What is the role of cinema in the formation of class, gender, and religious identities? What can Bollywood depictions of romance teach us about the complex relationships between desire, pleasure, and politics?' And you thought Bollywood was just about Karishma and Shahrukh romancing in the rain!
Farmer's Home by Samar Singh Jodha at the Heat exhibit.
Yes, scholars certainly have psychoanalyzed Bollywood thoroughly. Thomas Waugh at Concordia University speaks about "Queer Bollywood? Patterns of Sexual Subversion in Recent Indian Cinema." And a history course has this offering: "From 'Mutiny' to 'Bollywood': Cultures of Rule and Resistance, 1857-1954" which also explore how nationhood and partition are shown in cinema.
"Bollywood/Hollywood: Queer Representation and the Perils of Translation" is the subject of a talk by Gayatri Gopinath, a professor of women and gender studies at the University of California, Davis. And at the London School of Economics and Political Science, there have been readings analyzing cinema as a metaphor for Indian society and politics and scholars there have mulled over this hefty topic: "Bollywood, Globalization and Indian Cultural Representation." Rather than just plain zany fun, Bollywood seems to be turning into fodder for a Byzantine of academic research!
After all, Rushdie's erudite Satanic Verses has Bollywood tinsel sprinkled through it, and Amitabh Bachchan and other celebrities find their way into it. It's been pointed out that in true Rushdie fashion he makes a kitchri out of Bollywood gossip and events and makes it uniquely his own. In fact, his writing is almost cinematic, over the top like a Bollywood film, as he swallows whole events, regurgitates them into something quite different, and has great fun doing it.Shashi Tharoor's novel Show Business is also a salaam to the color and cacophony of the Bombay film industry (and Amitabh Bachchan) with as many layerings and colors as India itself. The film with its insightful look into the film industry and its tongue-in-cheek take on films of the 70's was made into a film titled Bollywood.
Bollywood, a term alien to mainstream America only a few years ago, is popping up in media ranging from Salon to Washington Post, and Bollywood influences can be seen on everything from couture fashion to art to literature to music, breaking the barriers between high art and low art.
Bollywood posters became a medium of self-expression for Annu Palakunnathu Mathew.
While ardent Hindi film fans cherish the golden era of Indian cinema and revere such names as V.Shantaram, Bimal Roy, Guru Dutt and Raj Kapoor, much of Bollywood's recent fame in the west has to do with the success of films like Lagaan, Monsoon Wedding and Bend it Like Beckham.
Even though Mira Nair and Gurinder Chadha are hardly card-carrying Bollywood-wallahs, they were certainly influenced by the films they grew up on. Monsoon Wedding is the ultimate tribute to Bollywood, capturing the color and vitality of the high drama of life, love and marriage in India. There was a time when Hindi films were scorned as third-rate masala films, but over the last decade Bollywood has got legitimized in the eyes of the Western world – and even in the eyes of a certain kind of Indian who looked down on these films. Fresh from its debut in the Albert and Victoria Museum in London and at Selfridges in London, the Bollywood tamashas have caught the eye of America as well.
Last year's big Bollywood promotion at London's Selfridges store demonstrated its attraction for Britons of every hue, who lined up to see this magic world. Nitin Desai, the celebrated set designer of Bollywood whose credits include Salaam Bombay, Hum Dil De Chuke Sanam and Lagaan, and who outdid himself with the opulent sets of Devdas, was asked to change the Selfridges emporium into colorful, ornate India.
At Selfridges, Dimple Kapadia's home was recreated for visitors to admire and emulate, and a posse of Indian couture designers interpreted Bollywood style for Londoners. Indeed, the interesting thing is that noted society designers all have one foot in Bollywood, designing for the stars.
And Bollywood-style make-believe does not stop with a store makeover; the wealthy and the famous want to bring that magic into their homes too. When there was a double wedding in the Shah family in Antwerp, diamond mogul Vijay Shah flew in Nitin Desai to create a $28 million Bollywood fantasy.
Sanjay Dutt in dau by D Ravinder Reddy from the Heat exhibit.
As fashion designers create the wardrobes for films as well as for domestic consumers and for trade promotions abroad, the lines are getting blurred. To further confuse things, supermodels like Bipasha Basu, Madhu Sapre, Katrina Kaif, Dino Morea and John Abraham have all become movie stars so the big screen is turning into a perpetual fashion ramp.
Back in the 50's and 60's clothes in cinema were often nondescript or tacky. The actress Sadhana changed that with her stylish outfits in Mere Mehboob, but it is only in recent years that it's become a real pleasure to watch our now sleek and toned heroes and heroines traipsing over hill and dale in color-coordinated designer wear. Abu Jani and Sandeep Khosla are noted for designing for Bombay's stars as well as for Dame Judi Dench and Dame Maggie Smith who flaunted these fashions on Oscar nights. Then you have Raghvendra Rathore, a prince of Jodhpur, who's studied at the Parsons School of Design and worked with Donna Karan, Bill Blass and Oscar de la Renta, and now has his own label.
There's Rohit Bal, who's designed for Bollywood stars as well as Uma Thurman, Cindy Crawford and Naomi Campbell. Manish Malhotra, perhaps the most famous name in Bollywood, is fashion guru to the stars, actually re-designing the images of leading stars. Rina Dhaka with her penchant for young, western style fashion has introduced sheer trousers, crochet, and stretch jersey – the body enhancing fabrics that you see on Bollywood's leading ladies.
Neeta Lulla is a noted designer who creates fashions for Bollywood movies as well as society brides, so that the line between Bollywood and the fashion world continue to blur. Rocky S. is another designer who creates fashions for stars and socialites alike, and the masses can even buy his fashions in his stores in Mumbai.
Bollywood fashions are no longer regarded as gaudy or unstylish, because there's top talent working behind the scenes. Young Indians can relate to these clothes because designers are increasingly including stylish western wear into the star wardrobe.
Interestingly enough, the well-known cosmetics firm of M.A.C has also jumped into the Bollywood fray, having designed the make-up for the stars in Lagaan. East and West seem to mingle freely as Ayurveda becomes a part of skin care. Christy Turlington, Ayla Hussain and Cavan Mahoney are the women behind Sundari, a skin regimen that was showcased in London's Bollywood promotion.
Indian contemporary artists, starting with M.F. Husain, are also increasingly bringing the color and immediacy of Bollywood into their art, as are writers and photographers. Indeed, Husain has always brought the vibrancy of cinema into his work. It is interesting to note that this icon of contemporary art started out in his career as an unknown street artist painting the huge hoardings of Indian superstars!
Bollywood Satirized by Annu Palakunnathu Mathew.
Husain was besotted with Madhuri Dixit, seeing her films scores of times and eventually made Gaj Gamini starring her, Naseeruddin Shah and Shabana Azmi. Yet even though he made a mainstream film using the conventions of popular cinema, he transcends the differences between high and low art. As artist and curator Ram Rahman points out, "He's totally subverted the medium, he doesn't do a regular Bollywood film but a Husain film, a totally personal film, but using this giant canvas, this new medium – and he gets away with it." Husain's next great passion has been Tabu and he's made Meenaxi: A Tale of Three Cities revolving around her.
A recent photography show at New York's Bose Pacia Modern Gallery further emphasized Bollywood's influence on contemporary art. Heat was curated by Rahman and was a group show of photography, video and painting showcasing work by nine artists.
"The relationship of the 'dream world' of cinema and television and the 'real world' of survival, struggle and politics has occupied cultural and social theorists for years," says Rahman. " Not surprisingly, it is the visual artist who has come up with the richest engagement with the 'picture' on the screen and on the box, and its vibrant place in our mental and physical space."
You certainly get dramatic results when news photographer D. Ravinder Reddy decided to shoot the color stills for Ram Gopal Verma's Daud. Explains Rahman, "They are the new Erotic Myths, the new Khajuraho icons for a modern, secular, (egalitarian?) culture. The visual esthetic of these pictures has an erotic heat and color which come from the 'over the top' intensity of the South Indian film world for which Reddy has worked in Hyderabad."
There also seems to be a marriage between the Hindi film industry and the South film industry with talents moving freely between the two. After all, even A.R. Rahman is a gift to Bollywood from the South. "That's why I don't like the word Bollywood, I find it very limiting," says Rahman. He includes the television scene also because it's become a major area where new talent, new acting and new stories are being explored. A lot of people are working in all three, and so there's a lot of infusion from the South and the small screen.
Bollywood Dreams Exhibit by Jonathan Torgovnik.
Philip DiCorcia, noted American photographer, whose work is also shown in Heat was influenced by progressive film directors working in Bombay in the 80's. Says Rahman, "The chaotic and bizarre environment of the biggest film industry in the world provided an ideal foil for his keenly honed eye for that moment of inexplicable mystery and some wordless revelation of an unfolding story which permeate his images."
Then you have Bangalore-based artist Pushpamala whose work also echoes the influences of the silver screen, using cinema as both inspiration and subject. In this series, "Navarasa," she does sophisticated interpretation of the "nine moods" of performance.
Donning masquerades, she plays the stereotypical women seen on the Indian screen in the 40's and 50's: siren, wife, mother, widow, the abandoned woman. She has collaborated for these highly stylized pictures with the legendary studio photographer J.H. Thakker who had shot images of movie icons in the glory days in the very same studio.
Sukanya Rahman uses Bollywood images to make a larger statement about women's varied roles in the Indian state of mind. Sultry sirens, goddesses and Nargis as Mother India all merge together in her playful yet ironic settings. Another artist who is very influenced by Bollywood is Sheba Chhachhi who's done a whole installation in memory of Meena Kumari, using broken mirrors, images and Urdu poetry to create a tribute to woman and star.
Through the lens of photographer Samar Jodha, the ubiquitous television set becomes almost a holy emblem in the homes of the middle-class, for as Rahman points out, "The electronic image joins the pantheons of the gods, religious and political icons and decorative knick-knacks, becoming a house-hold shrine spewing out both fantasy, ads for the globalized ideal life, myth, and multi-channeled news of politics, as important a part of everyday life in the subcontinent as religion." The "idiot box" has thus turned into a powerful and respected icon of modern India.
Subodh Gupta's "Let me Make My Damn Art" from the Heat exhibit.
Artist Subodh Gupta whose work hreflects on social and political violence, brought disparate high and low worlds together when he acted as a small-time hoodlum in the film Haasil and then painted a billboard style image of himself toting a gun, saying "Let me make my damn art.' Always fascinated by Bollywood, he recently made "Irresistible Attack," a video about the Iraq invasion, almost like a B-grade movie.
Ram Rahman's own work has always told the story of India through the painted billboards that dominate both Bollywood and politics. He sees the importance of these posters, a dying art: " It's something which is fast disappearing, as everything becomes mechanized and digital, so in another five years this whole visual culture will be gone. I can see it going before my eyes."
A telling portrait is of a poster of the film Bhagat Singh. As he explains, " It's an iconic picture of Bhagat Singh with the hat and mustache, but the face is of Bollywood star Bobby Deol and this gives it layers of meaning. I love that notion of how cinema plays with history."
Artists, of course, derive inspiration from all that is around them, and Bollywood certainly permeates the very air you breathe in India. Younger artists are even less restricted about this whole notion of high art and low art and they are much freer in the mediums that they use, so that some of the most exciting artwork coming out of India is this merge of high and low art.
The visual power and memory of Indian cinema affects even those Indian artists who have moved to other shores, and they use its color and vitality to make political and social statements.
U.S. based Annu Palakunnathu Mathew was born in England and later moved to India where she lived till she was 28. She recalls, "I did see a fair amount of Hindi movies, but was always struck at the disparity between the fantasy and idealism of the movies with the reality of life in India."
Bollywood posters became a medium for self-expression in her show "Bollywood Satirized." The posters are inspired by Matthew's own experiences as a woman growing up in India – issues of Dowry in the Syrian Christian community, arranged marriages and the double standards in society.
Wanting to tackle women's issues, she found that she could do this most effectively in the language of gaudy, exaggerated and over the top Bollywood posters. She says, "The Bollywood posters hreflect the melodrama of Indian life and are also very much part of the popular culture. I decided to use them as they allow me to further exaggerate the stereotype, allowing me to use humor to make my message more palatable."
Abbass Studio, Delhi, by Ram Rahman from the Heat exhibit.
U.S. based Shashwati Talukdar is a young filmmaker whose offbeat films get their fuel from Bollywood. Eunuch Alley is a Bollywood-Noir about a journalist who encounters notorious criminal Charles Sobraj, sundry gangsters, and eunuchs, and is currently showing on television. Although the film is set in India, it was actually shot in Philadelphia, and Talukdar makes full use of song and dance numbers and Bollywoodian flashbacks.
Indeed, Bollywood's vibrant colors are making it to the most unexpected locales. Last year the V & A Museum in London showcased 70 posters from Bollywood films and even flew in the artists who paint these. Classics like Mother India, Awara and Bombay have been shown in cities around the world.
This July Sundance Channel showed Bollywood Boulevard, a series of three offbeat offerings – M.F Husain's Gajgamini, Agni Varsha, which is retelling of an episode from the Mahabharata with popular Hindi film stars, and Bollywood Bound, a fascinating documentary about Indo-Canadian youth trying to break into Bombay cinema.
These three very different films show the diverse talent and types of movies that all fall under the mantle of "Bollywood." In an increasingly globalized environment, subtitles are considered fact of life, as we vicariously peep into each other's cultures, sometimes stunned at the universality of love and the spirit to survive.
Hindi cinema continues to garner new fans as the increasing number of books on Bollywood in the West testifies. One of the most recent is Bollywood Dreams, a wonderful book of images of the Bombay film industry by Israeli photojournalist Jonathan Torgovnik.
"My idea was to bring this phenomenon to people who don't know anything about Bollywood, to show the world what an amazing, beautiful medium it is in India," he says. "I wanted to go beyond the kitsch and really show the different elements cinema represents in India. I think you can learn a lot about Indian culture through cinema."
Star power is certainly getting respect as Coke and Pepsi and a host of multinationals deluge Bollywood stars with lucrative endorsement deals. And so strong is the magic of Bollywood, it even sells food! Asha Bhonsle owns Asha's, a restaurant in Wafi City in Dubai that is doing very well, as well as a line of Indian spices. Kerala superstar Mohanlal also has a line of spices and restaurants there. Can we expect to see Amitabh's next?
Bollywood also continues to affect the young of the Diaspora, many of them the movers and shakers of tomorrow – providing a line of communication and connection with their homeland. Indian cinema is no longer just three hankie melodramas nostalgically watched by their parents on video.
The films, being made by many vibrant new directors, producers and actors, are a diverse lot, encompassing the good, the bad and the ugly, but also the extremely good.
Increasingly these films are about the schizophrenic worlds that contemporary young Indians live in, the worlds of airplanes, blended cultures and the east-west embrace.
The new Bollywood stars are role models for them, strong, independent and bold. Their fashion styles are something they can emulate rather than scorn and the hi-tech wizadry and production values of these films are comparable to or even better than Hollywood movies. After all, even Hollywood film-makers like Baz Luhrmann of Moulin Rouge are drawing inspiration from brash, color-saturated Bollywood.
So dim the lights, bring out the popcorn and watch Bollywood-ji put on its biggest show yet!