Books
Amazon Is 2nd U.S. Company to Cross $1 Trillion Line, Following Apple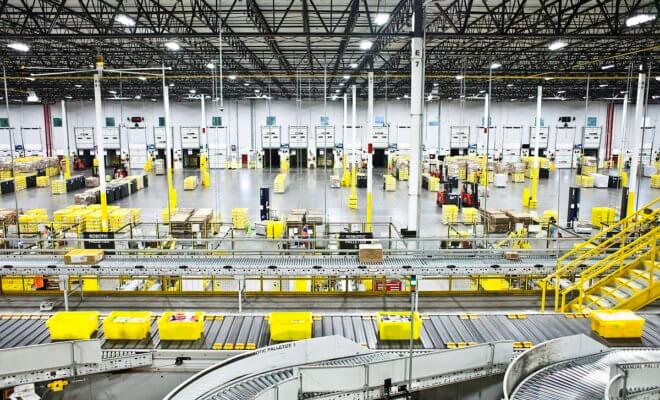 Amazon captures 49 cents of every e-commerce dollar in the United States.
When Apple's market value crossed $1 trillion last month, the reason was simple: It makes devices that a lot of people are willing to spend a lot of money on.
Now Amazon has become the second American company to cross that once-unimaginable line. Its shares rose as high as $2,050.50 on Tuesday morning, pushing it over $1 trillion in value, before immediately falling back and then ending the day at $2,039.51, below the $1 trillion threshold. Amazon's founder and chief executive, Jeff Bezos, is worth nearly as much as Bill Gates and Warren Buffett put together.
This time, the explanation is more complicated.
Amazon captures 49 cents of every e-commerce dollar in the United States. It employs more than 550,000 people and generates $178 billion in annual revenue. It sells everything from computing space to peanut butter to appointments with plumbers.
But the thing it has always sold the most — to investors, customers, the media — is excitement.
In the beginning, Amazon was an exciting new way to shop for books: online. Then it was an exciting new way to read (Kindle e-books), an exciting new way to publish (CreateSpace), an exciting new way to power the internet (Amazon Web Services), an exciting new way to get deliveries (Amazon Prime), an exciting new way to make your house a high-tech outpost (Alexa).
Long before Amazon went to Hollywood and began making movies, it was the star of its own show, generating vast amounts of attention just for being Amazon. No other company had ever managed to turn its lack of profit into such effective drama, or the question of what its next move would be.
Amazon's search for a second headquarters, the company having run out of room and patience in its hometown, Seattle, set off a nationwide frenzy among politicians. Bezos even gamified his philanthropic plans, taking to Twitter to solicit advice about what he should do. (One popular recommendation: Pay your warehouse workers more.) Would Amazon collapse, or would it eat the world? It was the corporation-as-reality series, and it has been a long-running hit.
Public companies usually live under the tyranny of Wall Street, which prizes profits to the exclusion of all else. When Facebook and Twitter recently purged their rolls of fake users and began devoting more effort to cleaning up their acts, Wall Street did not applaud this civic-minded move but pummeled their shares.
Bezos made clear when Amazon went public in 1997 that he would not work for Wall Street, and the result was a company cast in an entirely different mold. It never feared losing money. In a real sense, there were no consequences for being wrong.
Behind the drama is a relentless and sometimes scary ambition. Amazon is the Jay Gatsby of American companies, believing that tomorrow it will run faster, stretch its arms out farther, fulfill the desires of consumers in ways that no other business possibly could. You will live in Amazon's world, it says, and you will like it.
The retailer has retained this futuristic luster even as Facebook, Twitter and Google, which promoted their own versions of technoparadise, have become suspect. It has retained its allure even as many of its ventures have tanked. Remember Kindle Singles? They were electronic articles hailed as the virtual reinvention of nonfiction. No one even noticed when the program fizzled.
"We like to go down unexplored alleys and see what's at the end. Sometimes they're dead ends," Bezos said in 2009. "Sometimes they open up into broad avenues and we find something really exciting."
One of the great benefits for Amazon of this approach is that it is impossible to tell where reality ends and hype — or perhaps even madness — begins.
Take Amazon's drone program, which it first announced on "60 Minutes." "I know this looks like science fiction," Bezos said, as he showed a film of an unmanned vehicle delivering a package. "It's not." He said there were "years of additional work" to be done, but declared himself an optimist. Drone delivery, he predicted, would be a reality in "four, five years."
That was December 2013. Roughly a million features were written about Amazon and its drones, nearly all with the subtext: Isn't this the coolest thing ever?
Over the years, the company kept raising the stakes, as if they were not already high enough. Amazon applied a few years ago for a patent for an "aerial fulfillment center" that would float at 45,000 feet. Drones would fly out of it with your order and then glide down to your backyard.
What delivery could possibly be important enough to merit such a crazy system? The patent has a suggestion: "Prepared hot food." We wanted flying cars, but we got flying burritos instead.
The fulfillment center, which looks in drawings like a blimp tugging a warehouse, has other uses besides delivering dinner. It would drift down to 2,000 feet to what the patent calls "the advertising altitude," where it would present information "about items and/or services." Perhaps it will be just like the movie "Blade Runner," and the floating ads will trumpet the joys of working in Amazon's off-world colonies. The patent was granted this summer.
Still not impressed? Earlier this year Amazon got a patent to more or less bomb people with their packages. The drone would drop the burrito or Stephen King blockbuster from a height of as much as 25 feet, in theory cushioning the plunge with an air bag.
Haye Kesteloo, senior editor of the news site DroneDJ, noted that there were many hurdles to routine delivery by drone, even if the vehicles are not being launched from airships. The claimed drone attack on President Nicolás Maduro in Venezuela will not help soothe nervous citizens.
Nevertheless, Kesteloo, like Bezos, proclaims himself an optimist. "Companies like Amazon will make routine drone deliveries to consumers by 2025," he said — only twice as far away as promised.
There are reasons to be skeptical about even this schedule. But that's the magic of Amazon.
Even if the drones do not pan out, they have kept attention focused on the company, fulfilling a different part of the business plan. There is scarcely any oxygen left to discuss the more contentious aspects of Amazon, like its scorn for taxes or its plans to capture much of local government purchasing.
"There is no doubt anymore," said Ron Nussbaum, who runs an investment management fund called Maverick Value in Los Angeles. "The stock always goes up and no one doubts it will keep going up."
Nussbaum, who emphasized that overall his investments were profitable, might be the last Amazon skeptic. "It's an honor," he said.
And an expensive one. Last year, when Amazon crossed $1,000 a share, he started buying "put" options — bets that the stock would decline. One of his puts has dropped 85 percent; another, 92 percent.
Nussbaum is planning to buy more. He thinks people are confusing their impressions of Amazon the company with Amazon as an investment.
"If I fill up your gas tank for $1 but it costs me $2, you can say it's a great product but it doesn't make any sense as a company," he said.
Apple had profits of $48 billion last year. Amazon's were less than a tenth of that. If profits were all that mattered, Amazon should be worth about $100 billion, the size of United Technologies or Texas Instruments. That is nothing to sneeze at, but nothing to get people excited either.
Even before Amazon hit $1 trillion, the milestone was old news. There was a poll on Facebook run by a group of young Wall Street investors. The question: Would Amazon or Apple be the first to hit $2 trillion?
The vote was overwhelmingly in favor of Amazon. Dreams will always triumph over devices.
© New York Times 2018