Life
A New Beauty Story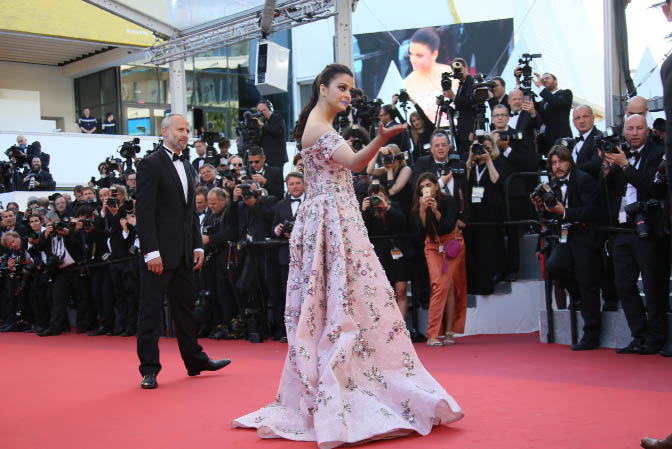 There is enough anecdotal evidence that women have used make up both to make and break rules.
There was an almost conspicuous moment at the celebrated Cannes red carpet this year. When Bollywood star Aishwarya Rai decided to let go of her button-down image and experimented with something as kooky as purple on her lips, it was bound to bait attention.
Though reams have been written about whether Rai's choice of that shocking shade was a hit or a miss, may be the style watchers are missing an even more important point.

Kangana Raut: "If a woman is sexually active, she's called a whore."What deserves recognition is the fact that the former beauty queen who has thus far stereotyped herself as the symbol of conventional beauty chose to go outré at an event so proper that one wonders if the attending fashionistas even folded their dinner napkins in origami patterns before using them at the French Riviera! If we look closely, Aish's belligerent beauty call might be reflecting the emergence of "fourth wave feminism" in the beauty parameter.
While women have been challenging the preset notions of fashion and beauty for some time now, what is interesting to note is that a new strain of sisterhood is not just looking at opposing the existing ideas of what's beautiful. Instead they are embracing the unflattering and owning the oddball; all this, while the world looks befuddled.
According to neo-feminists, the eccentricities in dressing have historically pointed at significant changes in attitudes and ambitions of women during a given period. So, as early as 1912, the women activists participating at the New York Suffragette Rally wore fiery red lips to assert rebellion and during World War II Britain rationed all cosmetics, except lipsticks, as they were thought to boost the broken spirit of women.
There is enough anecdotal evidence that women have used make up both to make and break rules, whether it was Cindy Lauper with big hair and shoulder pads screaming girls lib anthem or the 2015 beauty trend of strong eyebrows perhaps showcasing easing androgynous attitudes. Today, if someone like Rai who has played perfectly by the textbook, lets her stylist take charge of challenging her image, then we can safely assume that women in the subcontinent are in a mood to bend the rules and play their quirks.
Interestingly for onlookers, this is shaping up into the best beauty revenge of recent times. Today we all yawn in unison at the painfully photo-shopped Priyanka Chopra's smoother than the baby's bum armpit on the cover of Maxim India's (June-July, 2016) cover page and yell in delight when Kangana Ranaut says " "If a woman is sexually active, she's called a whore."
In sociological terminology what is happening right now can be likened to a counter club movement in society where all the expected norms and ideas of society are challenged. If we look closely, the way for this phase was been paved all along. It may have reflected in the fact that how post Slumdog Millionaire in 2008, the dusky Freida Pinto challenged our ideas of Indian beauty . When Pinto gave the sari a miss and chose a gown on the red carpet, we understood that the new-Indian woman does not need to resort to tokenism to assert her patriotism. Today we love director Kiran Rao's geeky look and find languid silhouettes way more refreshing than throttling Herve Lager's and clasping corsets.

Post her success in Slumdog MIllionaire, Freida Pinto has challenged our ideas of Indian beauty.In fashion circles, Katrina Kaif's not a hair out of place look is regarded blah and Sonam Kapoor's nonchalant dressing is trendsetting.
Beauty industry insiders say that the change was inevitable. While a few years ago the red carpet prep was all about looking waif thin and consistently beautiful, today the stylists work towards scoring a statement look for the celebrities. So if the goth look defined the gender bender era of 1970s and 1980s, the modern day eccentrics reflect the mood of the moment which is all about —women are in charge and they know it.
The cosmetics industry is pick up the pulse and pinks and posies are no longer the in-things on the beauty shelf. Beauty giant MAC is launching a make-up line inspired by Star Trek later this year. And just as the iconic pop culture show pushes gender and racial boundaries, the new lines will set up new ideals of seeking beauty inspirations from the snazzy world of science fiction and not necessarily the serene calm of nature.
Luxury brand Chanel's khaki nail polish created enough intrigue a few seasons ago and perfume historian and author Barbara Herman debuted her perfume line recently named after Eris — the Greek Goddess of trouble making!
This alternate beauty movement is the antithesis of all the slow movement that has been usurping everything from food to lifestyle trends. Amusingly it is like a fast-paced walk in the realms of our inner attitudes and what comes out may be quirky, but is indeed honestly refreshing.