Life
What A Stretch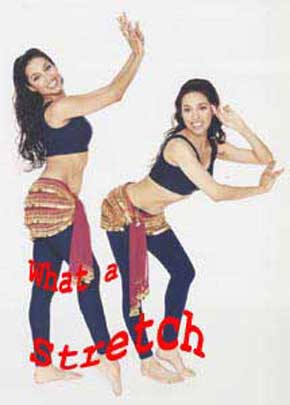 Indians on a treadmill? You gotta be kidding!
Even the dogs are doing yoga in America!
Crunch Fitness, a nationwide gym chain, has introduced Ruff Yoga, yoga classes for Rover to get him relaxed and supple. Two new books have come into the market, Ruff Yoga: Yoga For Pets and The People Who Love Them, and Doga: Yoga For Dogs.
The Belly twins Neena and Veena have given an Eastern twist to dance workouts.
Yes, even dogs may trot to yoga class, but it's far more of a stretch to get desis off the couch! Ask Indu Jaiswal, director of Nutrition Services at the Promenade Rehabilitation and Health Care Center in Rockaway Park, New York, if Indian Americans are into fitness, and she retorts, "They are not! Who in our culture goes for exercise? Nobody."
Jaiswal, who is also a medical nutrition therapist at Western Queens Health Associates in Jackson Heights, Queens, advices many immigrants from India, Pakistan, Bangladesh and Sri Lanka. She says: "No matter which community comes to me, it's the same story. Lack of exercise, excessive consumption of fats and calories, and eating habits that are out of control.
"When you talk to women who are grossly obese, and you tell them to go for a walk – they want a magic pill instead to lose weight. I tell them, 'There is no such magic pill; you have to change your lifestyle.'
They are not ready to do that." America is of course in the grips of fitness frenzy, with gyms sprouting in every neighborhood and yoga centers proliferating even in strip malls. He points out that there is a greater diversity in programming, so fitness is appeals to a much broader audience than it has in the past, and classes are being held in varied surroundings from neighborhood schools to senior centers and community institutions.
Dr Maganlal Sutaria ringing in his company at the American Stock Exchange: "I almost died and that clearly opened my eyes."
Health and fitness awareness may be percolating to the Indian American community, but not at quite the speed that physicians and dieticians would like to see. Says Jaiswal, "The only time they change their lifestyle is when the doctor scares the hell out of them that if you don't lose weight you're going to have a heart-attack, if you don't lose weight, your diabetes will be totally out of control."
Dr. Maganlal Sutaria, a prominent cardiac surgeon on Long Island, has been on both sides of the operating table – as physician and patient. He says that Indians give the excuse of lack of time, but he chalks it down to plain, simple laziness and the fact that they did not grow up in a culture that encouraged physical activity. " It's important to develop a good exercise habit as a child with team sports, because that gets you into doing regular exercise. Most of us who are in our 50's or 60's did not have that kind of early habit so it's harder to develop that habit later."
At the height of his career in 1976, this high-powered physician had a massive heart attack and he admits, "I was no exception, I was like everybody else. Being a busy cardiac surgeon, I was overweight, I was smoking and suddenly at the age of 39 I had a major heart attack.
"I almost died and that clearly opened my eyes. I had three young children, the youngest was only three years old and being a cardiac surgeon, knowing the nature of the disease, I thought I wouldn't live more than ten years unless I did something about it."
He did something about it: knowing that he could not change his heredity and genes, he transformed his lifestyle instead. He says, "I knew the heart is a strong muscle and can take tremendous abuse so I started remodeling it." He went on a high protein and low calorie diet and reduced the oils, and since then has lost 36 pounds.
Sarina Jain has created a
popular exercise concept with
her Masala Bhangra.
In the early stages he could not even do ten minutes on the treadmill, but today at age 67, he still works out one hour a day, five times a week, besides toning exercises. He says, "While I'm on the treadmill in the morning, I meditate and listen to classical Indian ragas, which puts you in a relaxed frame of mind. It's an enjoyable way to start the day by eliminating all negative thoughts." By changing himself from a Type A to a Type B, calmer personality, Sutaria outwitted the disease: "As you know, coronary artery disease (CAD) which causes the heart attack is a progressive disease, but my disease has not progressed."
Sutaria, who retired in 1999, now has a second career as the CEO of the drug manufacturing company Interpharm Holding Inc., which is listed on the American Stock Exchange. He points out that Indians are genetically disposed toward heart attacks and diabetes, and exercise is all important:
"It is a very difficult thing to do because it requires tremendous will power so people generally try to avoid it. It's a matter of forming a habit, because then you appreciate how good you feel after exercise. It's a great feeling."
While South Asian physicians are aware of the health risks of inactivity, the desi population seems to believe that ignorance is bliss.
Nutritionist Indu Jaiswal: "Who in our culture goes for exercise? Nobody."
Dr. Charulata Badlani, who is a rehabilitation medicine specialist practicing at Long Island Jewish Medical Center, has seen her share of Indians who are at a stage where they really have to make lifestyle changes. "There is a very high incident of diabetes, high blood pressure and cholesterol within the Indian population," she says. "In the last few years I've seen a lot more Indians getting heart attacks and strokes, even very young men dying from heart attacks. So the idea behind exercising is to prevent the risk factors and I don't think enough emphasis is put on that."
She finds that educated people who are tuned into health are aware and do a lot of exercise, yoga and meditation and belong to health clubs, but the majority of people feel they just don't have time to exercise: "We also don't take good care of ourselves where eating habits are concerned. Hypertension, high cholesterol and diabetes are the leading causes of stroke, yet people still eat a lot of salt and high fat foods. We do need to pay more attention to our bodies." To people who claim they don't have time to exercise, she suggests creative ways of building exercise into their daily routine: taking the stairs instead of the elevator, parking the car a bit further from the office and taking a walk during their lunch break instead of snacking in the cafeteria. She points out that after the age of 35, many start putting on weight because of decreased metabolism and so walking is the best way to burn off the calories. While cardiovascular fitness demands brisk walking to increase the heart rate, one needn't walk fast to maintain body weight or burn calories.
Dr Charulata Badlani: "There is a very high incidence of diabetes, high blood pressure and cholesterol within the Indian population."
The aging body also starts getting flabby so exercises are vital. She recommends starting with very mild weights like half a pound and steadily increasing to 2 or 3 lbs: "You don't have to be a body builder. If patients are healthy and don't have any circulation problems, I recommend they put Flex weights around the ankles and walk around the house. In this way you are automatically strengthening your muscles without even making an effort."
After the ages of 35-40, women start developing their menopausal symptoms and their risk of osteoporosis increases, so weight-bearing exercises such as walking and climbing stairs are important. For those with osteo-arthiritis, she suggests swimming and water exercises, because in the water one does not have to carry one's body weight.
Badlani points out that as we age, we also lose our balance so balancing exercises are important and that's where yoga comes into play. "Yoga is also excellent for stress management and it really calms you down, stretches your muscles and reduces joint and muscle pain. Exercise, in general, produces endorphins, which help in reducing pain and prevents depression."
Having no time is no excuse, she says. Even while watching TV, people can use the treadmill, do knee exercises or do bicycling; every movement consumes calories so it pays to be active.
Jaiswal sees a lot of South Asians in her work, and she says many are facing diabetes, high cholesterol, overweight and cardiac problems. At the clinic she does a full nutrition assessment for them and their behavior patterns and puts them on a regimen of a low fat and low cholesterol diet coupled with exercise, and also has Indian menus to help them lose weight.
Nitin Chhoda, personal trainer to stars, with a Manhattan client.
Indian foods are very high in carbohydrates and starch but try convincing desis!
"They tell you I don't eat this and I don't eat that, but when we do the nutritional analysis of what they eat, you'll be shocked to see the amount of calories and fat," says dietician Indu Jaiswal.
She encourages her patients to read labels because otherwise walking through a supermarket can be a landmine.
Indians don't seem to believe in one percent milk at all, and don't realize that the ready-made paneer they buy in Indian stores is made of whole milk, which is loaded with fat calories. Jaiswal suggests making paneer at home with one percent milk, which produces firmer paneer but is low on calories.
Again, for the convenience, people pick up packs of ready-made chapattis, which include oil and salt and have many more calories than the chapattis made at home where the oil can be avoided. She says, "If you're on a weight reduction program you have to read what's on the label. People are shopping mindlessly, like they did back in India. Food is available in abundance here so they are not watching what they eat or how they eat." Again, for the convenience, people pick up packs of ready-made chapattis, which include oil and salt and have many more calories than the chapattis made at home where the oil can be avoided. She says, "If you're on a weight reduction program you have to read what's on the label. People are shopping mindlessly, like they did back in India. Food is available in abundance here so they are not watching what they eat or how they eat."
Indians also tend to drink gallons of tea a day and when you add a spoon of sugar to each of these cups, you have massive calorie intake. Desis also love fruit drinks like pineapple and litchi, thinking them to be healthy, but if they don't burn those calories, it's all going to add up.
While Indians do get high marks for eating lots of fruit, they usually can't say no to sweets. Says Jaiswal, "We tell our patients you don't have to eat it all because these are caloric dense foods that you eat subconsciously and don't realize it. You have to learn to say no and keep your calories for your favorite dessert."
While some Indian immigrants have headed to gyms, others have the equipment at home. However, it requires discipline to actually use the treadmill or bicycle at home, whereas in the gym you are compelled to actually workout. Says Jaiswal, "I don't want to sound negative but it would be just about one percent who actually goes into the gyms. That's a fact, they just don't do it."
What many people don't realize, she says, is that HMO's like Oxford and Aetna provide a free once a year visit to a nutritionist as preventive maintenance for healthy individuals. But most Indians don't avail themselves of this opportunity to customize their food intake. She also points out that the membership fees of a gym are tax-deductible and many HMOs actually even pay a portion of the fees to encourage you to enroll in a gym.
This summer, Fauja Singh, 92, made history by becoming the oldest runner to participate in the New York City Marathon, but he is the exception to the rule. Indeed, one has to wonder for a community that has spawned scores of spelling bee champions and science finalists, but has painfully few athletes, runners and players. Has this something to do with a sedentary lifestyle and a culture that places more emphasis on education than on physical and leisure activity?

Does one feel guilty about spending time and money on the gym for basically indulging one's self rather than the needs of the home and family?
The scene is changing slowly, as Indians realize the health benefits and indeed the necessity of maintaining themselves in a land of high health premiums, escalating medical costs and a stressful lifestyle. Renu Jain, a homemaker, who goes thrice a week to her local Lucille Roberts, is also a volunteer with the American Heart Association.
She organizes awareness seminars on health and fitness in the South Asian community and tries to reach them at temples and gurdwaras. A recent seminar at the Vedic Heritage Temple in Long Island attracted over a 100 people, and future events highlighting physical fitness are planned. One of the most amazing examples of the benefits of yoga is Swami Bua, who at the age of 106, not only commutes regularly from Manhattan to Queens, but also actually teaches a strenuous yoga class at the Hindu temple in Flushing, doing all the twists and turns that would turn younger people turn pale. If yoga were a person, Americans would probably grant it honorary American citizenship, so enamored are they of its benefits! Slowly Indian Americans are realizing the benefits of something that has been a part of their culture for 5000 years. Renu Vakaya, who conducts yoga classes at the Vedic Heritage Temple in Hempstead as well as other locations on Long Island, sees many Indians , even couples, coming in.
Brij and Naveen Gulati is a couple that have been in this country for 30 years, but started their yoga regimen just three years ago. They joined yoga in an adult education class in the Smithtown school district and have an American teacher who was trained in India. Says Naveen, "When we were in India we never went for yoga. Now in class I see more and more Indians. Yoga is good not only for the physical health but also the mental benefits."
Naveen is a medical technologist and her husband is a stockbroker who also exercises in a gym center set up at home. Their grown children, however, go regularly to the gym. Indeed, most immigrants confirm that their children are much more tuned to fitness.

Hardly surprising, seeing all the fit bodies on mainstream television and at the movies! And here, one has also Bollywood to thank for creating role models for young desis. After all, who wouldn't want a toned body like Karisma's or the bugling muscles of Hrithik? Most of the dance-song scenes in Bollywood films look more like frenetic exercise videos and indeed the fitness scene in India has revolutionized too.
Nitin Chhoda, personal trainer to stars like Rahul Khanna and Ranbir Kapoor, has seen this massive change. Trained as a physiotherapist in Mumbai, he has taught personal trainers as a faculty member and has written scores of fitness columns in India.
He says, "I've seen the gradual shift in the public perception of health and fitness.

In 1990, there were a handful of fitness centers in India and now the market has exploded with gyms mushrooming in every neighborhood. Gym memberships and even personal training are now regarded as necessities in the middle class and upper middle class, as opposed to being the symbol of the rich. More and more parents step into gyms each day with the express intention of getting their kids to sign up."
Chhodahas started Total Activation, a fitness venture, in New York partnering with an American chiropractor to provide pain relief methods and personal fitness training in the tri-state area. Their personal trainers teach in clients' homes as well as at local gyms.
One of his clients for the past two years is Samir Joshi, a financial consultant in Manhattan who has a hectic lifestyle. He says, "Until Nitin came along to work with me at my apartment gym, I was inconsistent with my diet and exercise. I would party often, drink and smoke 2 packs a day. Today I know exactly when to stop and when to let loose, thanks to the level of consistency that he helped foster. Even though I travel a lot,ºI manage to findºtime for exercise because quite simply, it is now a priority to me."
The first ones to give an Eastern twist to dance workouts were the California twins, Veena and Neena, popularly known as the Belly Twins. They two have become Hollywood performers, have a 22 member dance company, but are proudest of their ability to get people moving with their Indian and Middle Eastern dance moves. Their workout videos are available in fitness stores as well as major outlets like Wal-Mart, Target and Borders.

Veena finds Indians are increasingly getting into fitness and do enjoy belly dancing: "It's great for fitness because the movements are circular and gentle to your body and are very low-impact. We even have Indian women of both generations come in – it's kind of odd – but they love dance and of course they don't have to dress in belly dancing gear! A lot of people don't stay with fitness programs but Indians all love dance and so dance is a great way to do it."
Sarina Jain of New York has capitalized on the rhythms and energy of Bhangra to create a popular exercise concept with her Masala Bhangra exercise classes and videos, which have really caught on with mainstream Americans. She also teaches at several NYC gyms.
Sarina, who's been in the fitness industry for 14 years, has taught all types of fitness classes ranging from Kickboxing, Total Body Conditioning, Step Aerobics to Latin Groove and Cardio. Masala Bhangra was launched in 2000 and she recently produced her third workout video. She recalls, "My sister Sheila was also very involved with athletics in school, and so our family became involved with exercise and good health. After I began teaching at the larger gyms, it inspired my family to get membership and start attending regularly."
Sheila has a degree in public health, and has focused a lot of her research on the physical activity and fitness levels among South Asians. She believes that there are several dynamics responsible for such low levels of physical activity: "I think for foreign born citizens, the rates are probably the lowest, for several reasons, including time, family priorities, exhaustion, intimidation at gyms, and the lack of importance given to physical activity when they were growing up.
There's also more reliance on automobiles in the U.S, more focus on job/financial stability than personal health, more focus on children than their own personal health that make commitment to fitness very difficult." At the same time Sheila and Sarina, who now are collaborating on classes on both coasts, do see the scene changing even for older immigrants. Says Sarina, "I find older people in our community are dancing more at parties and celebrations, this is wonderful to see." While the elderly and the middle-aged are finally putting on their sneakers and getting active, the second generation is much more committed to looking and feeling good, kicking up its collective heels in creative ways. Radha Nadkarni, who came to the United States from Mumbai four years ago to study at New York University, is currently an account executive with Ralph Lauren Footwear. She says, " It's boring to run on the treadmill so I take the Masala Bhangra classes; it's great cardiovascular workout and it's close to home because it's bhangra!"
So who knows, Masala Bhangra or belly dancing may become the next big trend, the Yoga of the New Century! In America, land of the fit and free and also land of those free to be unfit, anything is possible.