Life
Travel Philanthropy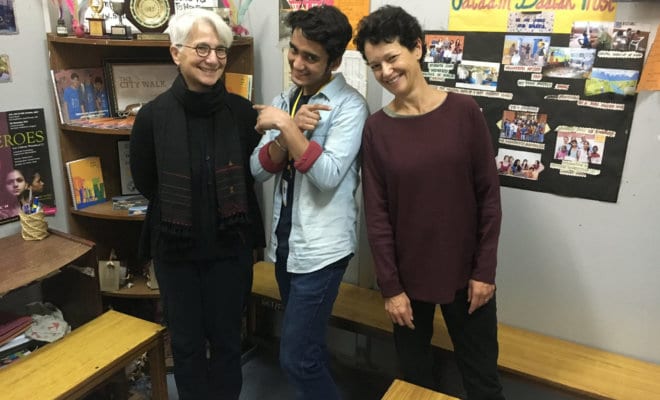 Tourists are seeking to integrate philanthropic experiences and even volunteer work into their itinerary.
The maiden trip of Shereen Arent and Jan Goldstein to India, spanning the country's tourism hotspots of Delhi, Varanasi, Jodhpur, Jaipur and Agra, came with a twist. Their Delhi itinerary included a CityWalk, a tour conducted by Salam Balak Trust trained guides, who grew up as street kids. In Jodhpur, the two visited a women's empowerment center run by a local non-government organization Sambhali Trust, which provides vocational training to poor women and girls to help them become financially independent.
Goldstein, a former arts manager who runs a studio practice in ceramics, says: "We are two women with a strong interest in women's and girls' empowerment issues and felt that while we were India, we wanted to educate ourselves about efforts in this area along our route."
Arent and Goldstein belong to a growing number of global travelers, who do not just see travel as a hedonistic escape to touristy destinations, but also a means to understand world problems and even to contribute to their solutions.
Travel philanthropy is a new niche with travelers integrating philanthropic experiences and even volunteer work into their itinerary.
A 2015 report, Good Travels: The Philanthropic Profile of the American Traveler, by Tourism Cares, the charitable arm of the tourism industry, found that 55 percent of Americans surveyed had contributed money or volunteered while on vacation. The study also found that millennials as well as the affluent of all ages were amongst the powerful social travelers.
Mike Rea, CEO of Tourism Cares, said: "This new research helps the traveling public understand the potential for especially meaningful travel and is a call to action for the tourism industry…. This groundbreaking look at the travelers who give holds the key to more sustainable tourism."
Critics of travel philanthropy denounce it as feel-good experiences for the privileged at the expense of the poor.
Katherina M. Rosqueta, founding executive director, The Center for High Impact Philanthropy at the University of Pennsylvania, says: "For those considering travel philanthropy, it's important to be clear on their primary motivation — Is it to learn? Or is to help? Many people have good intentions, but travel philanthropy or 'volunteerism' can have unintended consequences, like taking jobs away from local community members or supporting organizations that aren't really serving that community well and therefore not worthy of support."
The need to give
In recent years, several travel agencies, travel clubs and philanthropic societies have begun offering travel philanthropy packages.
Vicente Ferrer Foundation USA (VFF USA), a Washington DC based non-profit whose programs focus on women and disabled people in 3,600 villages in India, organizes a 4- day Travel for Change excursion in Anantapur in Andhra Pradesh, including visits with women's groups, community members and villagers.
London-based The Philanthropy Club bills itself a private members club for a new generation of philanthropists. Afzaal Mauthoor, founder of the club, says he and his wife Shaz Mauthoor founded the club five years ago after discovering the interest among entrepreneurs and professional friends who wanted to give back in smart way. He says:
"We started by hosting soirees to get the right crowd together and focus their attention on a social problem in the world and ask each one to help in any way they would know."
The group was not just interested in giving money, but also contributing time, ideas and resources: "Some of the members in the club are in top end jobs and the combined grey matter in a room could truly unlock the potential of a charity's deepest challenge in one evening. We created engagement events that did just that and were a lot of fun."
Elevate Destinations and Elevate Safaris, based in Cambridge, Mass., organize eco-luxury travels that give back to places and wildlife. President, Dominique Callimanopulos explains: "We take donors and board members of non-profit organizations traveling worldwide to visit projects on the ground. We work with organization on issues from poverty alleviation, to water issues, women's rights, education and climate change.
"These donor trips raise many millions for the non-profit groups we partner with, bolstering their important international work," he says.
"There is nothing like seeing the work on the ground to bring home the importance of these initiatives and it is a very effective fundraising tool."
His group also organizes private philanthropy travels: "For families, we custom design trips where they can engage with local communities and volunteer for some days. We have organized trips to Haiti, Kenya, South Africa, Tanzania, Thailand, Cambodia, India and Peru along these lines."
Organizers say that people are increasingly seeking travel experiences with meaning. They want more than posing at Eiffel Tower or Burj Khalifa.
Social feeds on Facebook and Instagram are beginning to reflect the trends. The carefully plated five-star meal pictures are giving way to home grown local food served at roadside dhabas or at village homes.
Callimanopulos says: "The best kind of travel is transformative, and involves a cultural exchange. Engaging with local communities is far more educational than just sitting in a resort and brings a dynamic exchange into play. Travelers are hungry for a more authentic experience abroad, even while also appreciating their comforts and fun."
Gratifying tales
Trisha Curry who traveled to India with VFF USA for a month recalls her experience: "My first impression of India was watching my driver zip around chaotic streets, honking emphatically. The lanes designating traffic direction seemed only a suggestion and cars and motorbikes constantly popped into opposing lanes. I began to notice how despite many close calls that would have surely led to an accident in Los Angeles, the people of India were accustomed to moving in such close quarters. They had learned to survive in an environment, that to an American, would be considered chaos."
Teresa del Moral, a pediatrician in Miami, whose daughter and niece sponsor a child in rural India, visited the country last summer: "After an hour and a half of driving we reached to an entire village waiting for us. This was the visit that took us to the deepest India, seeing how they live in smaller, remote areas. It was a touching, powerful experience."
Shereen Arent, a civil rights lawyer, says, "I had wanted to go to India for long for reasons ranging from its rich cultural and spiritual history to wanting to better understand India's struggle with class and poverty."
The Skeptics
Samantha Hogenson, managing director, Center for Responsible Travel talking about the scope of the movement says: "All over the world, travelers and travel companies are giving financial resources, time, and talent to further the wellbeing of local communities. This emerging movement is helping to support and empower local and indigenous communities by providing jobs, skills, and lasting improvements in health care, education, and environmental stewardship."
Mauthoor adds: "More and more people would like to know what their money is going towards. Philanthropists do not write blank checks and have evolved into impact investors or social investors. Travel philanthropy enables philanthropists or investors to visit and experience the projects they give to first hand. Giving can be a life experience and I don't see this being a fad, but more a sophisticated way of giving and investing."
UPenn's Rosqueta cautions, however: "It's unrealistic to think that a weeklong trip will make much progress against the social issues that global philanthropy seeks to address — poverty, illness, lack of education, etc. However, a site visit can help a donor understand an issue better, often deepening that donor's commitment to a cause and making that person a more effective advocate to others back home.
At the same time, she points out: "For a nonprofit, hosting a donor visit can take valuable time and resources away from serving clients. But it can be worth it for a nonprofit, if that donor then becomes a more committed financial supporter and ambassador."
Travel philanthropists can be both helpful and unhelpful, she says: "Travelers' desire to help, interact, and learn from those they meet during their holiday is clearly positive. However, there are sometimes unintended consequences from these good intentions.
"Misguided contributions can perpetuate cycles of dependency, cause corruption, burden communities with unwanted or inappropriate donations, and require recipients to spend time and resources to handle 'gifts' they didn't request or cannot use. Travelers' philanthropy programs must be strategic and in partnership with the local community. What does the community need? Support for environmental conservation? Support for schools? The community should always be the ones to decide what they need, not the travelers, and not outside tour companies."