Arts
Till Marriage Do Us Part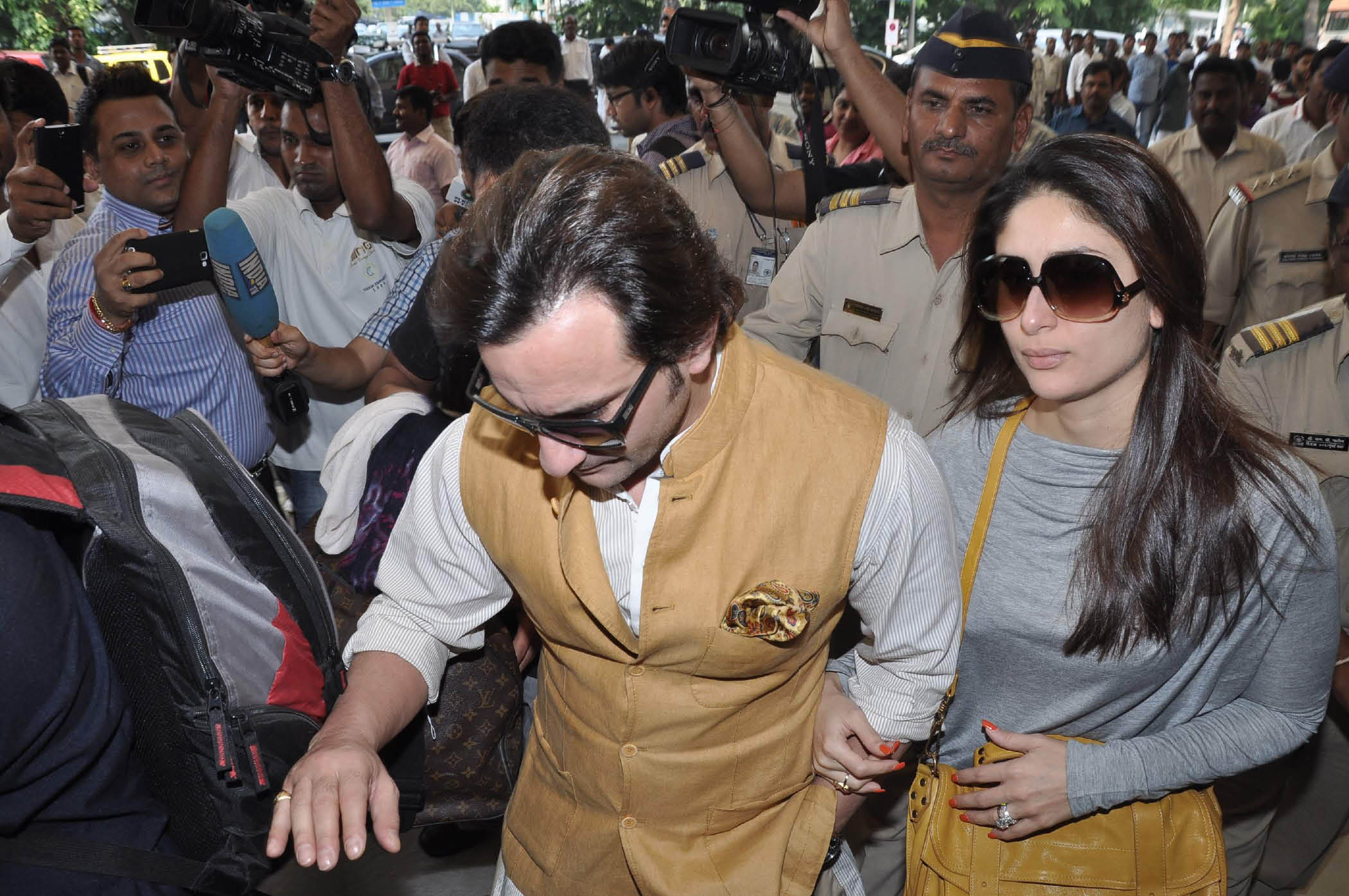 Happy everafter in holy matrimony, maybe. But sexy starlets divorce their fans when they hitch up.
The glowing n' gorgeous new begum of Pataudi, Kareena Kapoor Khan reportedly announced that henceforth none of her future movies will have "intimate" scenes in light of her new marital status. Dignity and decorum befitting her new station in life needed to be respected. Sure, she would continue to act (the chotte Nawab had zero problems) but … conditions apply.
Does that mean no more Chamak Challos and Halkhat Jawanis or heavy-duty scenes of passion, lust or romance even if the script demands it… because Bhopal is watching? Does this rule also apply when co-starring with any of the beloved troika of the killer-Khans, with whom she's romanced into the Rs 100 crore club with confident consistency? So will any demand that is remotely suspect or might, in any way, impinge on her "married" status be summarily penciled out of the script to keep her role clean, non-steamy and non-controversial? If so, won't these "conditions applied" — in writing or unspoken, but clearly understood by filmmakers — act as deadly dampners to the overall glam quotient of the movie, and her sex appeal? Will it not act simultaneously as a blessing in disguise for competitors Katrina Kaif, Piggy Chops Priyanka Chopra and a huge leg-up for the sexy, leggy Cocktail-chic Deepika Padukone?
Opinions differ. Mia Sen believes these are pre-historic views and today's filmmakers or audiences don't give a damn for the "sindoor" factor or the 'just married" status. The London-based academician believes, "They are new-age and liberated and reckon that if they deliver performances, not babies, dumbo, then, all eiz well!"
Supporters point to Kajol, who married in 1999 and continues to be hugely coveted by filmmakers and audiences as Kabhi Khushi Kabhi Gham and Fanaa confirm. All this way after she leaped into the orange blossoms with Ajay Devgan and mothered two kids. Likewise there is Sridevi's superb success with English Vinglish, a comeback after more than a decade. Nah, they declare, the "Conditions Apply" clause does nothing to dampen the enthusiasm of fans who truly adore their favorite stars. The huge excitement that continues to gather momentum over Madhuri Dixit's upcoming two films, despite her Aaja Nachle turkey four years ago, is further proof.
Critics dismiss what they as term as feminist talk with disdain. They aver that with the exception of Kajol, no heroine has garnered anything remotely close to the awe and adoration they enjoyed before they adorned that mangalsutra. And Kajol, unlike hottie Kareena, they argue, was always perceived as a brilliant actress, never a gasp-pant-glam babe, so it really didn't affect her image. Also, the actress has taken pains to look great, remain fit — not flabby or unkempt — but more importantly she has chosen her projects, banners, film directors, themes, roles and heroes very carefully and in sync with her persona.
By contrast, with the likes of Kareena, there is bound to be a definite perception shift. Elucidates avid Bollywood-tracker Abhinav Trivedi: "Sure the Kapoor babe is a fabulous actress (as Chameli, Omkara and Jab We Met indicate) but she is also a stunningly gorgeous and sexy star. Stars are ultimately about fantasies (romantic and lusty) definite objects of desire for their fans. Her single status, despite who she's seeing, imparted on this illusion a delicious sense of easy access. Close your eyes and she's there to play out your most impossible and sinful vision. Marriage is the cruelest cut, because now, legitimately, formally and officially, she is taken. No matter what she did earlier, she was not married. Now she is, so she's off-limits. The entire image of a desirable and sexy star will translate now only in theoretical fashion. Sure she is still fantastic, but the heart has gone out of the hurrah. It can never be the same any more. She's bhabhi material, a cataclysmic turn-off for most Indian male fans!"
Queried why Hollywood heroines were not affected by not one but multiple marriages, Trivedi responds: "This is a very complex and tricky territory. While we Indian males have no problem — in fact derive great pleasure — seeing scantily-clad or sexily-dressed women in movies, parties and gatherings, would we like/tolerate our family members (wives, sisters or daughters) doing the same? By the same token, until an actress is officially married, she remains an object of desire and queen of hearts, full-on fantasy material. Marriage categorically signals to the tradition-bound, conservative, lakshman-rekha-tutored male fan that, bro you've lost her… and please ever after, back-off and look at her as bhabhi. The sexy, desirable and lust factor suddenly exits with startling speed on the wing of an in-built sense of morality and notion of right and wrong hammered into the Indian brain over centuries. So Kareena Kapoor Khan's conditions will definitely apply to both filmmakers and audiences. I can guarantee that while her dazzling looks will attain a new glow and her performances will remain flawless, her new married status will erode her fan following and make directors think twice before casting her through no real fault of her own. Whether you like it or not there is bound to be an indefinable and near-invisible shadow between her, filmmakers and her audience and smart profiling — Kajol style — in terms of how she wishes to be perceived in her new persona (Glam Babe or great actress) will be a key issue."
Trivedi points to the one's who have been dumped by the wayside — Karishma Kapoor, Raveena Tandon, Shilpa Shetty, Sonali Bendre — and suggests unless there is something startlingly new in terms of make-over, today's promiscuous, novelty-driven audiences forever looking for the next big thing couldn't give a damn. Sridevi's comeback worked only because honesty prevailed and she didn't even attempt another glam-soaked Hawa-Hawai!
So does marriage divorce a heroine from fans? Overnight does the desirability quotient disappear and translate into something more antiseptic , tame, tepid, boring? Riding center stag primarily on their physicality, sex-appeal, glamour, beauty, are these luminous creatures sidetracked because of the fatal "I do" factor?
Shantiniketan-trained, Paris-based graphic designer Pia Sen concurs with Trivedi: "I think it's a uniquely Indian thing and impervious to social strata, education or affluence. The sindoor to the Indian male fan seems to signify a red-alert, a danger sign signalizing the guy to cool it and lay off, forget even to dream of associating with her that way! This, to the sexually-starved fan is the kiss of death and the worst news ever. That very private affair — in the mind — with her, indulging in everything that his wild imaginings can conjure up, screeches to an end. To him, the very fact that now she's officially taken is time to write an obit to their (fantasized) relationship. I am quite sure the young & beautiful Kareena will be the latest victim to this very special Indian disease."
Noted Film Critic Saibal Chatterjee begs to differ. "Pia's take is one point of view. Fair enough. However, as a professional film critic closely tracking India's movie scene for over two decades, I don't agree. I believe that the relationship between the fan and the star was and continues to be one based on illusion, fantasy, glamour, romance with, admittedly, large dollops of desire. However to limit it only to the sex factor — easy access, availability etc — is stretching it too far. Today's audiences (even in the mini-metros) are hugely exposed to the barrage of media avenues blitzing their eyes and ears everyday and therefore, unlikely to be in the throes of the Virginal innocence Pia insinuates. Also, I do believe that today's audiences are definitely matured enough to understand fully the heroines marriage thing and therefore not too hung up about their been taken factor. We live in permissive, live-in times and this great sanctity (that once surrounded any or everything attached to the S word) is a thing of the past, restricted to maybe a small, weird and regressive minority intent or connecting single star-heroines with romantic unattachment and easy access for sinful alliances of the mind!"
Chatterjee presses the argument further: "Has it ever occurred to people — must have — that in the free-fall times that we live in, where bad is the new sexy and bold the new beautiful, lusting for a married woman could be a greater aphrodisiac? After all, isn't the seemingly unattainable more desirable?"
Wow! By that token, has the newly married beautiful Begum Sahiba opened up a whole new and exciting vista for the male gaze? That remains to be seen, but what is certain is that as Kareena Kapoor Khan gets older, she will need to carefully re-evaluate her brand equity and navigate her talent quotient in a fashion that is in sync with her persona. Aishwarya Rai Bachchan is an interesting case in point. Wife and new mom, the beautiful actress has moved into a new space and is sensible and realistic enough to recognize that she is no longer a Krazy Kiya Re item bomb, but an artiste who needs to leverage both her beauty & histrionic (Guzarish) ability to win back her doting fans and woo new ones.
So, at the end of the day, one has to realize that to the Indian heart, soul and sensibility, despite the liberalization of market and mind, some basic conditions will always apply. Young Indian women entering matrimony transit into another life leaving behind a lot of stuff they thought and did, determined to make their new life a success. Why should stars be any different? For the fans too, while there could be a sense of loss, they will understand… and most likely move on to a Kat, Piggy Chops, Dips or Bips, where, as yet, no conditions apply!