Magazine
The Temple in The Sea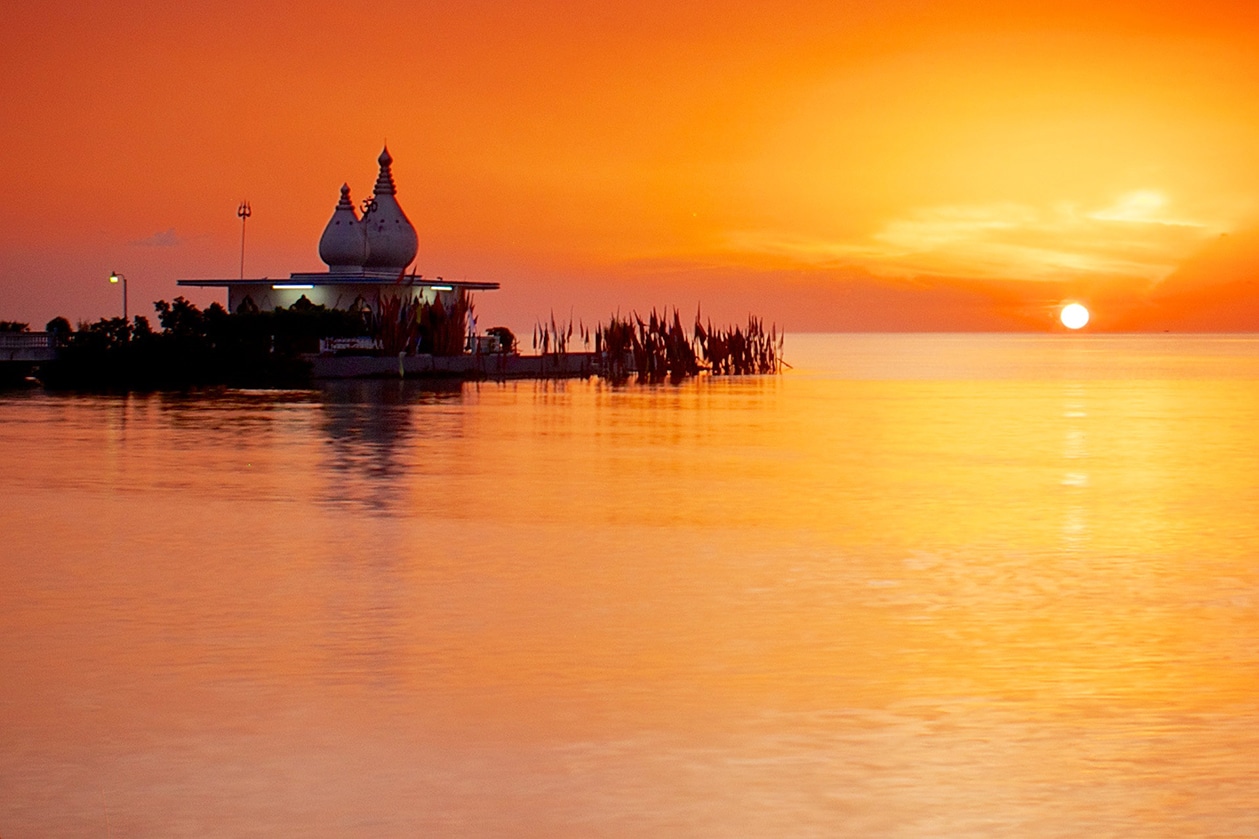 Visitors come from far and wide to pay homage to his memory in a lovely white temple located a quarter of a mile into the Caribbean Sea.
In the 18th century, British colonists shipped poor peasants from India across the globe to work on sugar plantations in the Caribbean. One laborer in Trinidad decided to build a place of worship for Hindus. He ended up creating an extraordinary monument to the tenacity of the human spirit. Visitors come from far and wide to pay homage to his memory in a lovely white temple located a quarter of a mile into the Caribbean Sea.
The first time I saw it, in 1986, the temple was a group of murky ruins that stuck out of the ocean like the broken teeth of a vagrant. The original structure had been buffeted by tides, breezes and neglect for half a century and seemed about to dissolve into the past. On the shore, royal palms and green fields marked the site of a sugar plantation set up by the British colonists who had ruled Trinidad till 1962.
I had heard something about this temple and wanted to know more. I wandered over to the closest village, a strip of low-built, green-doored cottages where former laborers on the sugar estate lived. It was called (fittingly) Waterloo. When I started making enquiries, a middle-aged Muslim man called Ibrahim Khan seized upon me.
 "A man went to jail for that temple!" he spluttered. Then the story emerged.
The temple was built, he related, in the late 1930s, by his Hindu neighbor, Siewdath Sadhu, a poor laborer on the sugar estate. Sadhu was born in India in 1901 in the city of Benares on the holy river Ganges.
"Sadhu was not a talker," Khan recalled. "If you and he stayed together for hours you would hardly hear him talk. You had to do all the talking. He neither smoked nor drank."
The one thing that made Sadhu noticeable was that he saved his meager wages and went back to India every few years to worship at the holy shrines there.
"I once asked him why he went back so often," said Khan. "He said he had made a promise to Bhagwan (God) to return."
But as the years passed, the cost of the trip rose. It became difficult for a laborer working for around 20 Trinidadian dollars a month to keep up this regular pilgrimage. So he decided to create a holy place in Trinidad instead, close to the shore of the calm Gulf of Paria.
"I believe the sea here was like the Ganges to him," another villager piped in.
Sadhu chose a piece of unused swampland and began construction. It continued month after month.
"Seven days a week he used to pass my house on his bicycle," Khan recalled. "I used to call out to him, 'Salaam, salaam!' and he used to reply with a Hindu greeting, 'Ram, Ram.' He wasn't the kind of man to stop and chat, you know."
When Sadhu finished his temple, it was a place of renowned beauty.
"You know that flower, gaandar kapoor (marigolds)?" Khan asked me. "He planted so much of it that you could smell the temple from a distance. He planted eleven kinds of flowers, and vegetables too. And that garden used to be full of the most beautiful butterflies. All kinds of butterflies that you don't see anywhere else. You didn't have to be one of the Hindu faith to feel the beauty of the place."
Sadhu had finally created a place of pilgrimage for Hindus in Trinidad.
"Especially for Kartik (the festival of the sea), we used to have crowds of people here," another villager remembered. "They used to have three day-festivals. People used to come and stay and cook and sing …
But the management of the sugar company, which owned all the land in the area, noticed that a building had been constructed on their property. Though the swampy ground had no commercial or agricultural value, they demanded that Sadhu demolish the temple.
That was asking him to commit a sin. No matter what threats they used, all he would say was, "I cannot break down that."
They took the matter to court. Sadhu was fined $500, more than two years' wages, and was sentenced to 14 days in prison for trespassing. He had to pay the fine in instalments.
"He went to jail!" Khan suddenly burst into tears. "Sadhu was such a soft man, and he made an honorable jail rather than break the temple."
The sugar company was granted a court order to demolish the temple. But since they could not persuade any local person to undertake this task, a British overseer named Gunn, "a large red-faced man," according to Mr Khan, drove the bulldozer that finally wiped Sadhu's creation from the face of the earth.
 Some villagers said that Sadhu warned Gunn, "Just as you break that temple with that bulldozer, so you too will be broken." Others said he just pleaded quietly with the overseer. Whatever the truth, within a month, Gunn was dead. As he was bulldozing a tree some distance away, fell on him and broke his back.
In addition, according to Ramnarine Binda, a former local government councillor and sugar company official I later interviewed, the Englishman who had given the order for the demolition died suddenly of disease soon afterwards.
As soon as Sadhu was released from prison, said the villagers, he was back at the site of his former temple. He looked dejected, but not broken. He set about purchasing a truck. Then he began to collect damaged bricks from a nearby brick factory. He dumped them on the shore, day after day, load after load, in a straight line out to sea. Flattening them down by hand, he inched his way into the ocean with the truck. After several weeks, he had created an extended walkway into the water.
Visitors were intrigued.
I used to have two fishing trawlers," Khan said, "and I used to be at the same spot in the evening waiting for them to come in. I used to watch Sadhu working for three-four hours out there in the sea. He got oil drums from a Unilever factory, filled them up with concrete and tied them together with steel. That was how he made the foundation of the temple."
One day, the tide came up while Sadhu was still working. His truck was trapped in the water and couldn't be moved until the next morning. It was so badly damaged it couldn't be repaired.
"You would have thought that would stop Sadhu," said Khan, raising his eyebrows. "But no. He just continued working. He would put two buckets onto the handlebars of his bicycle. In one, he would have cement, in the other, sand. And he would wheel those buckets out along the walkway he had made, day after day. That is how he built that temple. I am talking about one man, not six men. He did that for more than a year.
"Sadhu was building, not just a temple, but an entire prayer complex, with three shrines, a kitchen, a dining room, a restroom and another room. Around the whole thing ran a verandah."
Added Binda: "We used to say the sea will wash away everything. Sometimes I used to pass and see him up to his waist in water, building. We all laughed at him, myself included."
But once the project was completed, it became the focus of admiration for visitors from far and wide. Hundreds of people came for days and weeks at a time, especially at Kartik and other important Hindu occasions. The sea rang with music and prayer.
"I used to go out to sea with my trawlers," said Khan. "And from miles away I could see Sadhu's kootiah, white and beautiful in the distance. You could use it as a guide to go home."
Sadhu, too, finally went home, for his last pilgrimage in India. He died in 1970 of a heart attack. But before that, villagers say, he spent many happy hours in his temple. The fruit of his faith was then left in the hands of the sea, a fact that grieved Waterloo villagers of all faiths and races. Not only Hindus felt strongly about it.
"I am a Muslim," thundered Mr Khan on my visit, "and this is a Hindu business! But it is hurting me to see the destruction. A man made an honorable jail for that temple! You mean to say we can't keep it up?"
Author's note:
Khan got his wish. After I wrote an article on the temple for a local publication, the temple was restored. It is now a major visitors' site in Trinidad and Sadhu's memory is cherished by all Trinidadians.