Food
The Tea Bubble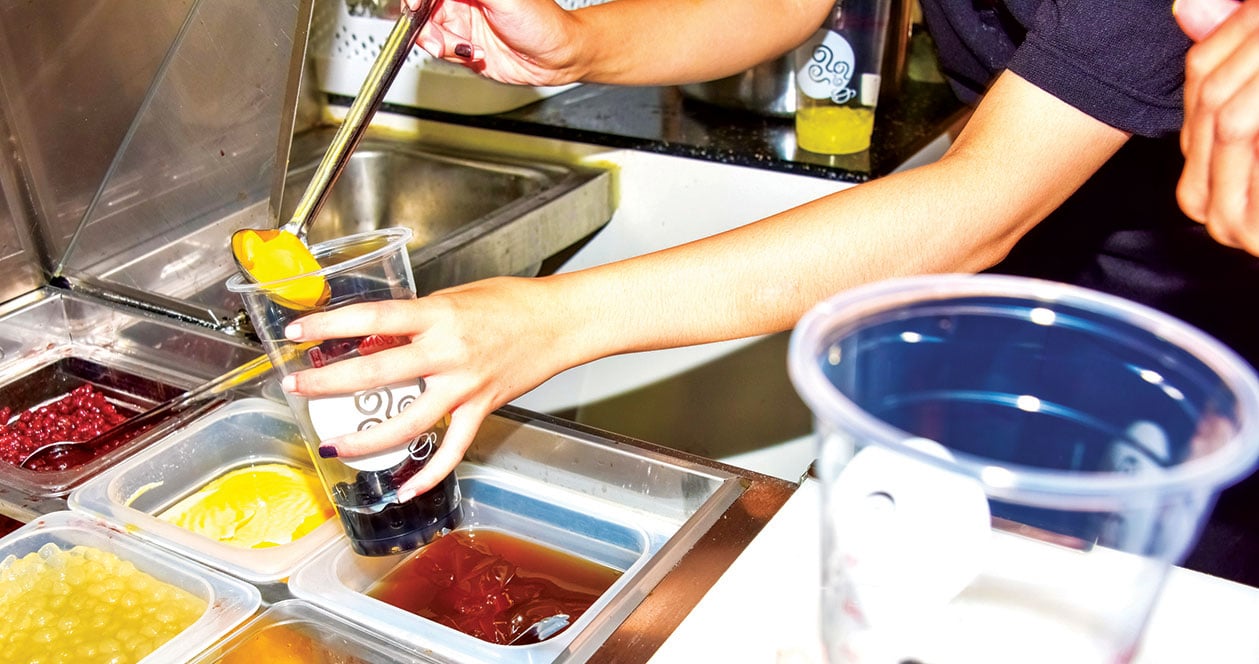 The Blobs in Your Tea? They're Supposed to Be There.
The Starbucks on Waverly Place in Greenwich Village was all but empty at 8:30 on a recent Wednesday night, but across the street at Boba Guys, a bubble milk tea shop, the line was long.
So was the wait: A wave of first-timers had just arrived at the front counter, uncertain of the drill and even more about the boba tea drinks, which are relatively new to the mass market in the United States and which contain ingredients alien to most coffee addicts.
A Boba-ista behind the counter patiently guided them through their options, which were also explained in wall signage: Select a tea (like classic milk, jasmine milk or horchata). Pick a topping — like tapioca balls (which are the "boba," or bubbles), almond jelly or grass jelly (an Asian treat similar in texture to Jell-O).
Then come more choices: Would you like the milk in your tea to be organic, soy or almond? What about the sweetness level: 100 percent, 75 percent, 50 percent, 25 percent or none?
"One hundred percent sweetness," the clerk said helpfully to a baffled customer, "is like a Coke."
Also: Small or large? Hot or cold, and, if cold, lots of ice or just a little?
Complicated beverage trends have to begin somewhere. Remember the first time you went to a Starbucks, and had no idea what to do? These days, bubble tea, an Asian import, seems to be going through the same consumer learning curve, as entrepreneurs bring their exotic menus to malls and big American cities.
"Introducing bubble tea to people other than Asians and Asian-Americans is a challenge," said Anchal Lamba, 27, who owns eight Gong Cha bubble tea shops in New York City and has franchised others elsewhere in New York state as well as in New Jersey, Massachusetts and Texas.
"My stores in Flushing did well from Day 1, because the Asians customers are there" and were familiar with the product, Lamba said. "In Manhattan, I've had to work harder to get Caucasians and African-Americans and Latinos into the store."
According to the Tea Association of the USA, a trade group, 87 percent of American millennials drink tea. Understandably, then, Lamba has made them a key marketing target. She has sponsored events at New York University and supplied drinks to club meetings there.
A little bubble tea background: The concoction was created, so the story goes, at a teahouse in Taichung, Taiwan, almost 30 years ago when, on a whim, a manager poured the tapioca balls from her pudding into a glass of iced Assam tea.
The curious amalgam became a hit in Taiwan and was subsequently embraced throughout the Far East. It washed ashore in the United States a few years back, and has become widely available on the East and West Coasts.
Its many fans include Patrick Lin, a regular at Boba Guys who on a recent visit had just ordered four drinks, including a matcha latte and a horchata, which is made with cinnamon and rice milk.
"I'm trying to try everything on the menu," said Lin, a restaurateur.
But there are those who think the bubbles are a perfectly good cup of tea spoiled. "I don't really get the point," someone recently commented on Reddit. "I just don't really understand what the tapioca pearls actually add to the drink. I've never had a beverage and wished it had little globby balls in it."
Such skepticism aside, perhaps the biggest hurdle to bubble tea's success in the United States is coffee. "Cities in the U.S. are dotted with thousands and thousands of coffee cafes — this hasn't happened at the same level as tea," said Gary A. Hemphill, managing director of research at the Beverage Marketing Corp., a consulting firm in New York.
Lamba of Gong Cha says there is a learning curve to appreciating the chewy, gelatinous bubbles. "Sometimes, people are a little freaked out by it," she said. "They'll have a sip and say, 'This is interesting,' and then they'll have another sip and think, 'Hmmm, maybe I will have it again.'"
"I can't say that everybody who tries it loves it, but there's a misconception that people have to have bubble tea," Lamba said. "We have plain tea, too."
So far, bubble tea "hasn't hit anybody's radar in terms of the next big trend," said Peter F. Goggi, the president of the Tea Association of the USA.
"In order for a trend to latch on, you have to be able to get it anywhere, not just in small tea shops," he said. "It's got to make it into quick-serve restaurants, into food service, into the refrigerated aisle at the grocery store. It's about access."
But, Goggi added: "Innovation is important to any product category, and you're getting a different mouth feel with the tapioca, and you're getting the sweetness. It's making tea more palatable to the soda generation."
Tapioca balls brewing. Anchal Lamba says there is a learning curve to appreciating the chewy, gelatinous bubbles. "Sometimes, people are a little freaked out by it," she said.
In recent years, iced tea and hot tea have been making inroads against coffee, but there are signs of stress: Starbucks recently announced that it would shutter its stand-alone Teavana stores, calling into question the future of a brand it bought for $620 million in 2012.
Bubble tea purveyors hope they can fill the void. Some shops offer dozens of beverage options — like fruit-based teas, smoothies and slushes — and some drinks even incorporate coffee (talk about steeping with the enemy).
But it is the basic bubble milk tea that is the main event. Vivi Bubble Tea, a franchise business, has 45 shops in the United States, most of them on the East Coast, and seven more under construction. Ten Ren Tea and Ginseng Company, which is based in Taiwan, has four stores in New York City and 26 in other states, while CoCo Fresh Tea and Juice has 32 outposts in this country, 22 of them in New York City.
Boba Guys began in San Francisco in 2011 as a pop-up inside a ramen noodle restaurant. It served as a testing ground for the two founders, Bin Chen and Andrew Chau, to refine their three flavors (classic black milk tea, jasmine and soy milk tea) and to work on new concoctions.
"We were in the Mission area, where there were a lot of curious foodies and a lot of Asian-Americans who had grown up drinking bubble tea,"
said Chen, the former creative director at a messenger bag company. He and Chau opened their first stand-alone store in San Francisco in 2013 and have since expanded to six in the Bay Area and three in New York City.
Their goal is to differentiate Boba Guys by positioning it as a premium brand: the bubble tea equivalent of upscale coffee spots like Blue Bottle and La Colombe.
Chen emphasizes Boba Guys' use of freshly brewed teas (rather than powdered), organic milk (rather than nondairy) and made-from-scratch jellies and fresh fruit. (For the record, other bubble tea shops make similar claims for their ingredients.)
Many bubble tea companies have opened stores near college campuses. The thinking, said Derrick Fang, the manager at Ten Ren Tea, "is that Asian students will introduce the culture to their non-Asian friends — and it works."
There's also a concerted effort to guide newcomers. "We introduce people to the way to order, and we explain the toppings and the different flavors," Fang said. "And we had to make adjustments for the U.S. market. People in America like a sweeter taste than in Asia."
© New York Times