Opinion
The Red Beacon Raj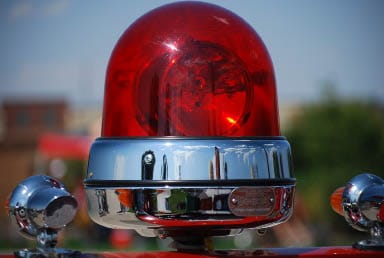 The recent decision by the union home ministry to offer 'Z' level security, the second highest security detail in the country, to India's richest man, Mukesh Ambani, is an appalling waste of public resources and an extension of the corrosive culture of money in politics.
Ambani is being provided the security, allegedly because he received a threatening note from the Indian Mujahadeen. Initially, according to media reports, Ambani requested that a police post be built inside his controversial $1 billion, 27-story palace in the sky in South Mumbai.
Instead of scoffing at the ridiculous request, in typical banana republic fashion, it was moved up the chain to the Central government, which decided to top the theater of the absurd, by offering him the second highest level of security in the country, behind only the president, the prime minister, and a handful of other senior officials. So, Ambani will now be guarded round-the-clock by 28 elite armed commandos of the Central Reserve Police Force. And, of course, there is that little additional perk of an escort and pilot, the ultimate gaudy symbol of importance and convenience.
In a country with just one woefully ill-equipped, lathi-bearing policeman to 1,000 people, that is weighed down by gruesome killings and ghastly rapes in the national capital, and in which two-thirds of its citizens subsist on less than $2 a day, the richest private citizen will now bask in the privilege of being guarded by 28 of India's best and brightest policemen.
Even the Indian Supreme Court, which is currently hearing a petition on the abuse of security cover and red beacon cars, found this squandering of public resources hard to stomach. A bench headed by Justice G. S. Singhvi commented: "We read in newspapers that Ministry of Home has directed providing for CISF security to an individual. Why is state providing security to such person…. If there is threat perception then he must engage private security personnel."
Noting the abysmal state of security in the country, it asked: "What is this nonsense? It is public exchequer. What about security of common man?"
Security details and especially the flaunting of the privilege of red beacon lights on cars have become the ultimate status symbol for politicians in India. As the Court noted wryly: "Once you stop red beacon, half of their status would go. Using beacon has become status symbol. It is like British Raj era."
It is estimated than tens of thousands of policemen are detailed and hundreds of millions of dollars spent annually on security escorts for thousands of officials throughout India. The Supreme Court recently asked state and central governments to compile and disclose the names of individuals receiving security and their associated costs, noting sarcastically: "Security can be given to the head of state, the Prime Minister, Vice President, Speaker, Chief Justice of India, the heads of constitutional authority and similar counterparts in the states. But why all and sundry is given red beacon and security? Even mukhiya, sarpanch move with red beacon."
With the extension of Z Security to Ambani one can expect a new arms race among the country's business elite to measure their importance by the length of their police escorts. Especially if that privilege comes at an even cheaper price than what they currently spend on their private security. The government has disclosed that Ambani would bear a nominal cost of the Z security detail, variously estimated between $20,000 to $40,000 a month.
When you are middle-aged, like Ambani, the next power trip can only come from a security detail that is larger than the number of floors in your house.