Arts
The Queen of Hearts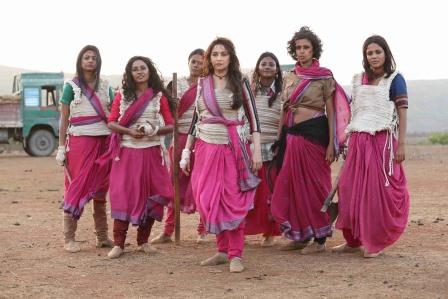 Female-centric movies or movies with female protagonists defying the established social norms have been extremely few and far between.
Over the past eight decades of its journey, Bollywood films have been male dominated with subservient or sexually alluring female protagonists, whose portrayals have affirmed the male dominated and largely feudalistic society's gender stereotypes.
The portrayals of central female characters in Bollywood have been largely divorced from reality or from the real Indian women of flesh and blood.
"Ours is a society where the dominant gender is male. Consequently, our film audiences relate to gender situations along similar lines," noted the renowned filmmaker Shyam Benegal.
Not surprisingly, female-centric movies or movies with female protagonists defying the established social norms have been extremely few and far between.
Exceptions from Past

Kangana Ranaut in Queen
But there are rare exceptions of Bollywood films with strong and independent female protagonists. For example, Nutan played a very strong female character Kalyani in Bimal Roy's cinematic masterpiece Bandini (1963). Waheeda Rehman played the independent, iron willed, but highly nuanced character of Rosie who rejects her husband and elopes with her lover, in Vijay Anand's Guide (1965). Rehman also played a prostitute of uncommon conviction and sensitivity in Guru Dutt's Pyaasa (1957).
In Gulzar's Aandhi(1975), the late Suchitra Sen played a very strong female character; a woman who decides to leave her husband, because of differences with him and to pursue her ambition in politics.
Even at the height of angry young man wave of the 1970s, offbeat films like Ankur (1974) and Bhumika (1977) portrayed women characters with great cinematic sensitivity. The character of Usha enacted by Smita Patil in Bhumika, and Lakshmi enacted by Shabana Azmi in Ankur will likely endure in the minds of millions of cine connoisseurs for ages. Shyam Benegal, who directed both movies, said that both Usha and Lakshmi reflected powerful female protagonists.
Even in the 1980s, where mediocrity was at its height in Bollywood, the supremely gifted Shabana Azmi played the strong and sensitive character of Pooja in Arth (1982), who at the end of the film finds meaning and identity without the support of a man.
But these were all exceptions to the cliched portrayal of female protagonists in Bollywood. In recent years, however, strong female characters are gaining currency in Bollywood.
New Heroines
Select pockets of mainstream Bollywood are not only investing in films which are carried almost entirely on the leading lady's powerful shoulders, but they are also giving their heroines refreshingly different roles.
Even ten years ago, a biopic on Mary Kom, in which Priyanka Chopra plays the role of the internationally renowned boxer, would have been unthinkable in mainstream Bollywood. But it was a box office success. Similarly, Rani Mukherjee played a tough no nonsense cop in Mardaani (2014), who bravely tackled trafficking of child girls by the mafia. And what is more, Mukherjee's character of Shivani Shivaji Roy is a nuanced woman of great substance whose awesome fighting skills (Rani Mukherjee got trained in Krav Maga, an Israeli self defence technique for this film) in no way hinders her sensitivity and kindness.

Priyanka Chopra in Mary KomEarlier Bollywood films in which heroines played cop neither presented them realistically etched nor etched them as powerfully as Mardaani. In those roles the heroines were primarily projected as an extension of their glamor. And in none of those films was the heroine the dominant character as was the case in Mary Kom and Mardaani.
Female protagonists portray independent, bold or uncommon characters in several other recent films, such as The Dirty Picture (2011), in which Vidya Balan plays Reshma, who is not only ambitious about her career in films, but totally unabashed about flaunting her sexuality for attaining stardom. She shows no hesitancy to enter into a relationship with the younger brother Ramakanth (played by Tusshar Kapoor) after her failed relationship with his elder brother Suryakanth (brilliantly played by Naseeruddin Shah).
These are not the conventional traits for the holier-than-thou depictions of heroines in Bollywood, which saddled them with double standards (for instance having the heroine prance around in a swimsuit to seduce the hero, but losing her virginity before marriage was nothing short of sacrilegious). Despite such unconventional depiction of its female protagonist, The Dirty Picture went on to garner considerable critical acclaim as well as commercial success.
Similarly in Kahaani (2012), Vidya Balan played a very unconventional role compared to the stereotype Bollywood heroines. Kaahani is perhaps only the third commercially successful Hindi film without a conventional male hero, the other two being Fashion and Fire.
Queen and the Gang Leader
Queen (2014), in which Kangana Ranaut sensitively played the title character, is the journey of a simple middle class Delhi girl finding her own identity and gradually evolving from a naïve girl to an empowered self-confident lady. One cannot recollect such coming-of-age film of a female protagonist's search for her identity through a varied range of interesting experiences in Bollywood.

Rani Mukherjee in Mardaani
At the end of the film, she also displayed the courage to reject her fiancée who returned to her apologizing after rejecting her two days before their wedding. This film doesn't have a conventional hero, and yet it turned out to be a huge critical and commercial success.
In another first, in Gulaab Gang (2014), females are both the main protagonist (Madhuri Dixit) as well as her antagonist (Juhi Chawla). The film appears is a loud and typically badly produced masala film, the type that Bollywood churns out with amazing regularity. It was a well-deserved flop, but film historians will remember Gulaab Gang for this unique feature.
In Piku (2015), the female protagonist (played by Deepika Padukone) is shown as unmarried, unapologetic about her non virgin status. What is more, her eccentric father (superbly played by Amitabh Bachchan) is not at all uncomfortable with this fact. In fact, he articulates this fact to one of Piku's potential suitors to dissuade him from thinking of Piku as his would be bride.
Fire with Fashion
Seven years ago, a heroine-centric film named Fashion (2008) with no male hero scored huge success at the box office. The female lead Meghna Mathur (brilliantly played by Priyanka Chopra) was a highly unconventional character by Bollywood heroine standards.
Fashion was a watershed film in many ways, which perhaps inspired many sensitive Bollywood filmmakers to broaden the territory for female protagonists in their future projects. In the film, Meghna Mathur is seen in a lingerie advertisement, drinking alcohol, having a live-in relationship, and becoming pregnant in an encounter with a married man. Yet, wonder of wonders the film doesn't end in the erring lady's death, as would have been the case.
Eventually the female protagonist restores her life and career in her second innings at the fashion industry.
Fashion gave a huge momentum to the image of bold and empowered heroines who know their minds; they may commit mistakes, but have the power to rectify them and eventually emerge as winners.
According to Shyam Benegal, the commercial success of a film is primarily driven two factors, which are whether it is engaging and entertaining and if it conforms to socially accepted values and ideas. The success of Fashion reflects on the maturing of the Indian audience and of Indian society.
The evolution of Hindi film heroines toward boldness and modernity began with a cinematic revolution named Fire (1996). Directed by Deepa Mehta, it is possibly the first Hindi film which ran to full houses for weeks across most metropolitan cities without having a hero. It also openly and unapologetically depicted the main characters as lesbian lovers. Fire was a slap on the hypocritical notions of the country's patriarchal mindset, which believes in repressing women's sexual consciousness and satiety in the name of family values.
Behind the Trend
There may be many reasons behind the recent success of a spate of Bollywood films with empowered female characters playing unconventional roles. Because of the rise of the multiplex culture, Bollywood film producers and directors do not have to cater to the lowest common denominator. Now a Bollywood film can hope to be a hit by catering to niche sections of middle class and the upper middle class. A decade ago such a project was fraught with far greater business risk.
A section of the young generation, particularly young educated women, has definitely become more open minded as a result of the influences of globalization. This is becoming reflected in the growing popularity of women-centric films with unconventional lead women characters in Bollywood.

Vidy Balan in the Dirty PictureThe internationally renowned danseuse and choreographer Mallika Sarabhai, who ventured into cinema at the age of 15 and won several coveted awards for her acting prowess in pre-new wave films, rejected Bollywood because of its crass commercialization and depiction of rampant vulgarity. She is cautiously optimistic by the evolution of Bollywood.
She cautions that despite films like Kahaani and Mary Kom, "The Hindi film industry still has miles to go before it can truly be termed as women-friendly, gender sensitive and modern." She lashed out at the regressive and chauvinistic trend of item numbers, which are "taking us back by many years."
Nevertheless, Bollywood is finally beginning to reflect the evolution and aspirations of the new and bolder Indian woman on screen. We may increasingly see mainstream Bollywood films with not just unconventional, but also radical female characters, perhaps even one that unabashedly celebrates the sexuality of women without moralistic lecturing.