Life
The Must-Do Stops for India-Bound Celebs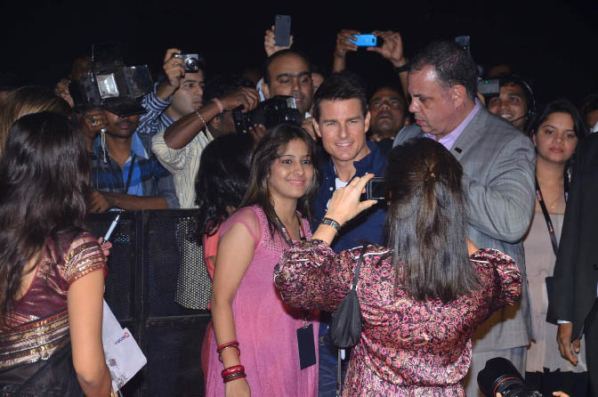 It was recently while being "O-prahed" that it suddenly dawned on me that all these glitzy, glam celebs who've recently paid darshan to mera bharat mahan are doing a totally new number in terms of what-to-see, whom-to-meet and what-to-do. A chalked-out circuit, with stops at the right places, boogey with the right people who will, at the end of the day, guarantee the right impact! Sure some of the ol' faithful favorites remain, like the Taj Mahal ("Oh Gawwd, this so kewwwl" and Rajasthan ("These forts, camel rides and exotic colors … hey, I feel like I am Maharaja already, dude!"), but there is also a remarkable shift with the new celebrity crowd.
First up is a gushing, hi-decibel "Welcome-to-India-and-hey-you just-gotta-meet-a-few-close-friend's bash, hosted by Mumbai's hi-powered socialite queen Parmeshwar Godrej. From Imran Khan, Cindy Crawford to Richard Gere, this charmer has wined and dined them all with a guest-list-attendance of a who's-who of the city's celeb-struck celebs. Gasps a young, college student: "It's so embarrassing, even humiliating, watching visuals and sound-bytes of our so-called celebs, many of them famous only for being famous, falling over each other to be clicked with Oprah and later, moving out with a strange chloroformed look … yaar, yeh regressive, third-world complex kab jayegi? Sure, she's famous as a showbiz personality, but c'mon grow up. Laughable!"
Next up, after the Godrej bash is a B-town hit, with cool, highly-publicized interactions with some of the red-hot A-listers! Remember Hugh Jackman's jig with Shah Rukh Khan, Tom Cruise's yaari with his M14 co-star (don't laugh!) Anil Kapoor and of course Oprah's cozying up with the Bachchan parivar?
Okay, away from the glam and perfumed world, there is a magnetic draw (the Slumdog effect) that is equally riveting for celebhais and behens. Gregory David Roberts Shantaram has gained cult status and seems to have become compulsory reading for this frat. Result? To quote a journalist: "Roberts has become to Mumbai what the late, revered Mother Teresa was to Kolkata." Madonna and Oprah were only two of the phirang icons who were given quick close-ups of life in crap-street! In fact, Poverty Tourism has become a startlingly riveting, cathartic package, offering portraits of the "real" India, upfront, to groups with expressions varying from confusion, curiosity, bewilderment, shock and horror, hanging on to their baseball caps in one hand and sanitized mineral water bottles in the other, scared to inhale, waiting to exhale. On return, some, more stunned than others, quickly write checks to assuage their guilt. The others take long power-showers to get it off their skin in their 5-star hotels, before moving on to the next stop.
Next up is better, more comfortable and deals with matters of the soul — designer spirituality. Maharishi Mahesh Yogi kick-started this movement way back in the 1960s, with the Beatles in mesmeric attendance, trying to get a load of the magical mantra of the day: transcendental meditation. Ever since, India has become the hot-pot for spiritual junkies, looking for a spot of nirvana, on-the-rocks. Elizabeth Gilberts' book, later adapted to a celebrated Hollywood movie starring Julia Roberts, Eat, Pray, Love, fast forwarded this movement, big time. Be it Pushkar, Tirupati or Vrindavan, Madonna, Oprah, Mick Jagger have beat a path there, closed eyes, folded palms, in worship mode. It is another exciting chapter in their India-visit, this metaphysical search for self, amidst surroundings that are as ancient and sacred as mystical.
This influence spills on to their last stop — the search for scenic delights. Yesterday's favorite hot spots, such as Goa and Rajasthan have given way to Kerala's magical backwaters, family-run properties, such as Deogarh, and, of course, Dharamshala, the sanctified seat of the great Dalai Lama. It is the newest draw among the newly-minted Hollywood Buddhists, following their Guru Richard Gere. The buzz is that once Oprah Winfrey airs her India Special on her show (any time now), Brand India will zoom to another sphere