Magazine
The Microsoft Millionaires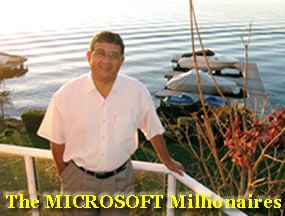 All they want is a laptop and some coffee; food is optional.
Walk into Seattle-based technocrat turned philanthropist Vijay Vashee's spectacular waterfront home in swanky Mercer Island and it is hard to imagine that this 50-ish,
"We were stupid enough to think we could change the world, and surprisingly, very often the world would actually let us change it!" says Vijay Vashee.
soft spoken quicksilver man from Zimbabwe, thoroughly at ease entertaining a toddler, was not too long ago, a tough-as-nails Microsoftie, credited with raising the revenues of Windows Project 20-fold, from $5 million to $100 million, in two years. Or talk to the very wealthy and very down to earth S. Somasegar, 40, corporate vice president of Microsoft's Developer Division, and you would be unlikely to imagine that the man once unable to even afford his school education while growing up near Pondicherry, now, hobnobs with the who's who of Indian politics and American CEOs.
Similar stories of mercurial rises are retold in affluent living rooms and neighborhoods all over Seattle. Thousands of ambitious brainiacs from Chandigarh to Chennai, many via Africa or the famed IITs (Indian Institutes of Technology), have made Microsoft's Redmond campus their home. Many are 30- or 40-something in their Porsches and Mercedes, people with otherwise simple needs. They only want a laptop and some coffee, food is optional as is the need to rejoice in their wealth or rest on their laurels.
Microsoft dominates the world with 700 million personal computers using its products. Its company logo is reputed to be the second most recognized after Coca Cola and its revenue are expected to top $40 billion this year, more than fourfold that in 1996. Roughly half of Microsoft's global workforce of 65,000 works out of the Puget Sound area, where its Redmond headquarters are based. An estimated 3,000 Indians, just under 10 percent, perhaps the largest single foreign group, work for the company in Washington State.
| | |
| --- | --- |
| Alka and Akhtar Badshah with their art work at their home in the Seattle suburb of Bellevue, Wash. | |
The vast majority of Indians at Microsoft are lay software employees, pulling anything from $60,000 to $120,000 in annual salary. But a handful have penetrated the highest echelons of the company, including at least six corporate vice president, including, besides Somasegar, Anoop Gupta, corporate vice president, Unified Communications Group; Satya Nadella, corporate vice president, Microsoft Business Solutions; Gurdeep Singh Pall, corporate vice president, Live Communications Team, Real-Time Collaboration Group; Sanjay Parthasarathy, corporate vice president, Developer & Platform Evangelism Group; Amitabh Srivastava, corporate vice president, Windows Core Operating System Development. Many other Microsoft hotshots have gone on to start their own companies.
Somasegar wants to demystify the urban legend called Microsoft. Still driving his 1994 Honda, Somasegar is likely to blow you away with his simplicity. He is a medical technician's son and a well-known figure in the Indian community in the Emerald City. He says growing up in 1960s, he was in love with mathematics and (something strange at the time), called computers. Life consisted of constantly studying smart to ensure he retained his school scholarships. In a logical conclusion to this technology fairytale, in a reversal of fortunes, his pre-teen daughters now attend math camps at Stanford and his close-knit family vacations at the top resorts in the world.
Many Indians made their millions from the mercurial rise in Microsoft's stock in the early 90s. Between 1986 to 1996 as Microsoft stock soared hundredfold, Seattle economist Richard S Conway, Jr., who evaluated Microsoft's fiscal impact on Washington State, estimates the company generated 10,000 millionaires by 2000. At least a few hundred of them are Indian.
Many of the Microsoft millionaires took long sabbaticals and then returned to work for "the man," otherwise known as Bill Gates for no other reason than to fulfill their love of innovating technology. Most of them say they do not need to work and, in fact, could easily take care of the next three generations of their family. Nevertheless, work has many times been so exciting, intellectually and materially speaking, that many of them have joyfully welcomed its intrusions into important events like marriage, for instance!
35-year-old Sharmilli Ghosh, an ex-Microsoftie and now a consultant with Microsoft, remembers how her start up company Zephyr was being bought in America on the day of her wedding in Kolkata in 1999. While she was getting ready for the ceremony, faxes upon faxes were popping in, telling her how her company's net worth was going up every hour.
Her "very traditional" relatives could only shake their bemused heads at the spunky software engineer's achievements, thanks to her stubborn will to study in America and a stint at Microsoft. Instigated by a conspiratorial elder brother to come to America for her undergraduate studies, Ghosh says luck brought her to the Microsoft Redmond campus where she pretty much lived at work and met and married her fiance, fellow Kolkattan Shubho Bhattacharya. Sure work was grueling, with sometimes no time to even sleep at night, but who could leave at 5 pm when you saw Bill Gates stay on till midnight, she says with a chuckle! Ghosh, now a high profile collector of Bengali art, says in the glory days of mid-90s, Microsoft was the life center of most Indian professionals. If you were going out to a movie, you met at Microsoft; if you were going to a Club you first met there; heck, if you needed late night munchies, you converged on the campus for some Mexican street food. Life had no zing without Microsoft!
| | |
| --- | --- |
| | Sanjay Parthasarthy, corporate vice president at Microsoft, says his original dream was to play cricket professionally for India and says he learned many business management maneuvers from the game. |
A genial laugh often punctuates Vijay Vashee's nostalgic accounts of the early days of Microsoft. He recalls that he enjoyed his interview with Bill Gates and Steve Ballmer so much that he took a 15 percent pay cut (and some stock options, which he saw as little more than a white elephant), to accept their offer to be the second Indian hire and 27th employee at Microsoft. He says he convinced his wife they would be able to buy a bigger house if the stock options turned out to be worth $10 each! He remembers going to lunch with Gates and the gang at cheap mom and pop joints in Bellevue. Thai Kitchen was one such haunt, where Gates would order his favorite burgers and fries from an adjoining restaurant twice a day. Gates had to turn vegetarian for a while when his cholesterol rocketed, but soon reverted to burgers.
Vashee says that is characteristic of Gates; relentless in going after the things he wants, be it fries or revenue! He also remembers his Friday night beer bashes with the gang. It's very different now; when Bill Gates and Steve Ballmer plan lunch together about once a week, they are known to take a helicopter ride to Vancouver, B.C., where they can have some privacy and be back at work in a couple hours! Vashee received his bachelor's degree in electrical engineering from IIT Bombay, a masters degree in Electrical Engineering at Cornell and an MBA at the University of Chicago. After 19 years at Microsoft, a super influential busybody, Vashee retired from active work four years ago.
Ask him what made Microsoft the icon it is and he likens this IT behemoth to Gene Brody, a fictional Scottish school teacher, who said, "Give me a girl who is impressionable and she's mine forever." He says substitute the girl for the world and Microsoft for Gene Brody and you've got one of the world's biggest tech success stories.
Vashee who is chairperson of Bellevue Community College's board of trustees, shares tidbits of Microsoft's early days, when it was a $25 million firm, and just how cocky and wild Bill Gates and his team was, both linguistically and business-wise. He says emotions often ran high at the company and the absence of women in the workplace allowed their language to be colorful. He says, "We were stupid enough to think we could change the world, and surprisingly, very often the world would actually let us change it!"
In an era where corporate profit margins were de rigeur, Microsoft made bets on windows and stuck with the commitment. This stubborn backing of a product, actually stemmed from insane hours researching and fine tuning it and then marketing it till the cows came home. Vashee, a key player in several technology and company acquisitions, led major product definitions and marketing for Windows 1.0, Works, Excel, Access and MS Mouse.

| | |
| --- | --- |
| Samir Bodas, CEO of Disha Technologies, at his office in Seattle, Wash. | |
Vashee co-founded and brought TiE (The IndUS Entrepreneur) to Seattle and regularly mentors many young professionals in the area. He says his focus and humility comes from working years with whip smart people who keep you on your toes and keep your drive to "learn" alive and kicking.
Somasegar credits drive and passion to his motivation to show up for work everyday. He says once at a popular ride in Disneyland a few years ago, he had an epiphany when he looked around at the long line of people around him. He said there was a good chance all of them had used Microsoft Windows at least once, which had been his "baby" for 16 years, which made him feel all warm and fuzzy inside! Some Microsofties find humor in their blinding love for technology in a variety of witty nicknames.
This constant pressure, working with the best minds in the world is anathema to many, but exhilarating for some, whose middle names should read "coding machine," "tech junkies," or "Gals," which stands for "genetically altered loonies." In fact, Vashee says people used to call Microsoft the "Velvet Sweatshop," where you would work very hard, but be so stuffed with money that few would want to leave the hallowed interiors that often consumed 90 percent of their time. He says he remember a coworker who after making his millions retired on an island in Jamaica where he even now lives in a hut without a phone or email. Just the ocean and the sky!
Some of the 40-something millionaires, who are earning salaries or cashing in stock options that would leave ordinary people incredulous, have enjoyed their material possessions, but are also finding ways to share their wealth with the world and Microsoft, along with the Gates Foundation, have led the way.
On a magnolia-scented nook in Bellevue sits the home of Akhtar Badshah, senior director of Community Affairs at Mircrosoft. A doctoral graduate of Massachusetts Institute of Technology, Badshah serves on the advisory board of the Development Gateway Project of the World Bank, World Links India, World Corp., Teachers Without Borders and Datamation Foundation India. Over sips of cinnamon chai, this architect and well-known activist, says Microsoft is his first gig working at a "for profit" company and he is having a ball. He says no other company has the influence of Microsoft, which gives him the freedom to spend its funds on the underserved of the world. Apart from giving substantial grants to poor countries, Microsoft's program "Unlimited Potential," offers IT empowerment to disadvantaged individuals. Microsoft contributes to 500 community projects in 95 countries and has been a leader in HIV/AIDS prevention in Africa. Badshah, who has been directly working with world leaders like Kofi Annan on making large parts of Africa technology literate, and President Bush on doing something similar with Mexico, says Microsoft is hoping to impact the lives of 250 million people by 2010 by teaching them basic IT skills and also by contributing $200-$300 million through its yearly software donation program.
Badshah and his wife Alka, both transplanted Mumbaites, have had a long association with the software industry.
Alka, a user interface designer and consultant for Microsoft since 1993, saw Akhtar disgruntled over the state of corporate giving in America. In 2004 she suggested he come to work for Microsoft to make a difference in the lives of people worldwide. Currently, Badshah, consumed by his non-profit background, is traveling the world, overseeing Microsoft's many IT projects, from Nairobi to Cape Town. Alka, presently on a sabbatical, regularly indulges in her passion making glass art in her spare time. Their home, strewn with art objects from all over the world, is unpretentious like its owners. Here they paint or make sculptures in the courtyard while being serenaded by Sanjeev Kumar's Gulzar classic Aandhi. Neither of them has any bitterness over the years they spent catching precious bits of each other in airport lounges, while their three sons were watched by nannies.
Philanthropy is definitely high on the "to do" list of many of the Microsoft millionaires. Vashee calls himself a spiritual (not religious) man, and has been the founding father of Seattle's first Hindu temple. He says after 9/11, he went to many churches, observed a grieving society and saw how the Indian community lacked a place to gather for emotional release. Vashee is also active in several charities, such Child Relief and You (CRY). His other passions include golfing and collecting art and antiques with his wife Sita.
| | |
| --- | --- |
| S. Somasegar says once at a popular ride in Disney land a few years ago, he had an epiphany when he looked around at the long line of people around him and concluded there was a good chance all of them had used Microsoft Windows at least once. | |
Deepak Amin, a serial entrepreneur in his mid thirties, who founded three successful software outsourcing companies Covelix, VJungle, and Indicus, says he learned virtually everything he knows about business ethics from Microsoft and his father I.D. Amin, an engineer for the Indian Railway, whose other name should be "Tough Love Amin" for the manner he stood up to unions and terrorists in Punjab in the 1990s. In acronyms like ERP, CRM, SCM you see Amin and a motley bunch of tech innovators changing the way we live, work, do business, heck, even talk. Sitting in his high-rise water front apartment in fashionable Kirkland, he talks of the priceless life lessons he learned at Microsoft that motivated him to dive head-long into entrepreneurship.
Microsoft also allowed him to travel all over the world for business and pleasure, but a deep socialistic vein drives him to visit his little village Mannood in the heart of Gujarat every year to make sure he doesn't forget his commitment to making the lives of India's villages better. Married to the artist Mamta Chandra, Amin says his entrepreneurial streak really blossomed after he aced the notorious Microsoft interviews and found himself loving the high pressure epicenter of the technology giant. He says his six-year stint at Microsoft showed him how to deal with work related stress by not taking himself too seriously. Mamta says it takes enormous energy to keep up with him as the rosy cheeked, profusely smiling, chatty dynamo smiled even more in response.
A human dynamo would be a good nickname for S. Somasegar who was hand picked by Microsoft from the blustery winters of Buffalo, where he was studying for his Ph.D. and brought to verdant Seattle in 1989 as a software design engineer. He has since had a meteoric rise professionally. He saw Microsoft Windows being born literally in front of his eyes and now oversees the highly coveted India Development Center (IDC) in Hyderabad. He was invited by President APJ Kalam to India for a CEO seminar in 2003. Somasegar says he has been influenced by Narayan Murthy of Infosys and relates a story when he visited Infosys on behalf of Microsoft. It was a Saturday and guess who showed up to make sure he had a pleasant visit? Narayan Murthy, himself. This level of dedication and attention to detail is what differentiates a statesman from a businessman, says Somasegar, and compares it to the passion of Bill Gates. His wife Akila relates how he lugged his laptop even on vacations and only now has started leaving it at home. She says he never really asks for anything, except a quiet corner to do his work. She says he is an involved father to his two daughters Sahana, 12, and Archana, 9, making sure he spends time with them everyday after putting in his usual 12 hours at work.
Sanjay Parthasarthy, another young corporate vice president at Microsoft, insists that working "smart" hours is critical to success. He took a four month vacation to be with his extended family in Chennai this summer and marvels at Microsoft's ability to allow employees to take such time off to remain creative to battle competitors like Google. Parthasarthy says his original dream was to play cricket professionally for India and says he learned many business management maneuvers from the game.
Amar Nehru, a former vice president for corporate development and strategy, says he felt very empowered and liberated while working for Microsoft. He was interviewed by Melinda French (not "Gates" yet), who offered him the job. Nehru started his Bachelor's in Richmond, Va., the day after his oldest daughter was born and he attended his MBA graduation ceremony at Kellogg Business School with his infant third daughter strapped to his chest in a baby snuggly! Nehru relates a story where he once made a mistake that might have cost the company $3 million. He instantly confided in his boss CFO M. Brown, who went on to become the head of NASDAQ.
Brown told him, "Son, no one got fired at Microsoft for making a mistake; they get fired for hiding one. It's ok, we'll fix it." Now 46, Nehru is retired and enjoys entertaining his wife with his extensive repertoire of international and regional Indian cooking!
Several prominent entrepreneurs in Seattle who have at one point or another worked for Microsoft include Pradeep Singh, founder of Aditi Technologies and Talisma; Samir Bodas of Disha Technologies; Shirish Nadkarni of TeamOn Systems; Naveen Jain of Infospace, and Rajiv Agarwal of MAQ software, among others. Singh, an affable man in his late forties, says the roll of the dice has been very favorable to this nomadic son of an army man, who used to feel like he was an admissions mistake at Harvard! He says working at Microsoft was a liberating and empowering experience where he learned a lot. Where else could he be in charge of a $20 million thriving tech product, Excel on Mac, two years out of business school, at 29 years of age? In 1993, after a life changing bicycle accident, he founded Aditi technologies, a software product development company.
| | |
| --- | --- |
| | Amitabh Srivastava, corporate vice president, Windows Core Operating System Development |
Bodas, CEO of Disha tech, a software testing firm that was recently acquired by Aztec for $12.1 million, is an alumna of the Wharton Business School. He spent several years at Microsoft Corp., most recently as director of SME Customer marketing where he executed the company's worldwide strategy for demand generation, licensing, anti-piracy, and on-line efforts targeting of SME customers. Bodas worked at Microsoft during its most successful decade and says to a large extent, a part of one's success is tied to being at the right place at the right time, and making sure you do a good job. He worked on the company's flagship products, including Windows 3.1 and Window 95 and says that Microsoft helped him grow both as a leader and a businessman.
Nadkarni, of the famed Blackberry, is a 12-year veteran of Microsoft, which he joined in 1987, where he held various senior management roles in marketing, product planning, and business development. A MBA graduate from Harvard Business School, Nadkarni was director of Product Planning at MSN.com, where he successfully drove the product and business strategy that catapulted MSN.com from ninth place to among the Web's top three portal sites. While at MSN.com, he also orchestrated the acquisition of Hotmail.
A common characteristic of the high rollers at Mircrosoft is a middle class academics-oriented family background. Although they have made it big, they are determined to impart simple, middle class values to their children. Many have passed up big mansions and rarely discuss money in front of their children. Most view money as means to an end, treating that extra zero in the paycheck as not being overly important in the grand scheme of things. Many aspire to address social ills, such as poverty and gender discrimination and lack of educational opportunities.
Several of the ex-Microsofties lament that the company has lost its idealistic zeal and has become "a typical company." Other common complaints are that they are so wound up at work that they have forgotten how to relax. Some have trouble sleeping, a few have been chronically depressed, even occasionally seen their marriages collapse.
Seeta Vashee, an IT professional herself, says it is very hard for someone not at Microsoft to understand their spouse's work pressures. Hence, marriages between two Microsofties tend to work better. Amin and Ghosh also talk about an over-the-top work culture where some Microsofties felt that just as the company was invincible, by association, they were too!
Gurpreet Pall, a senior director of architectural strategy, who is in his mid thirties, says that after years of being in the top earning bracket at Microsoft, he has become an active spiritual seeker, often asking himself the meaning of life when he lies awake at 3 am gazing at the heavens! For starters, he now would like to go back to a simpler time, a simpler life, where he could drive a Toyota Corolla to work and have time to smell the roses.