Magazine
The In-Between Generation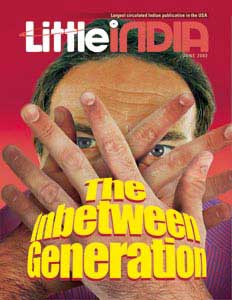 Sandwiched between the ABCDs and the FOBs.
Have you ever noticed how your shadow sticks close to you, is a part of you? Family and friends might leave you – but your shadow, never! Imagine then your surprise and consternation if suddenly one fine evening, this nameless, faceless part of you were to get up and simply wander away!
Yet, for many immigrants who came to America some two decades ago, often as dewy-eyed idealistic students, this is beginning to happen. After 20 years in this country, they are no longer the same people. Nor are their dreams and goals the same. Their shadow selves are emerging – with very different needs and desires – and often they want to tread a very different path, to a very different destination.
People everywhere go through the proverbial 7-year itch and midlife crisis, as they cross their 30's into the 40's and 50's. For Indian Americans it's a little bit of that too, but they are also saddled with a 20-year identity angst. They are the In-between Generation, not quite the desis who landed on foreign shores with a clear-eyed picture of who they were, nor do they have the strong convictions of the second-generation Indian Americans, who, born on American soil, see themselves as belonging to this land, and India is a far-off ancestors' land while America is here, now, immediate with all the cacophony of contemporary pop culture.
This In-Between Generation, sandwiched between the American Born Confused Desis (ABCDs) and the Fresh of the Boat folks (FOBs), is the one that has been transformed most dramatically by its encounter with America. It is the generation which has had to carry its homeland, its culture in its suitcase, in its head and always, always in its heart.
The In-Betweens have had to do a trapeze-balancing act between their worldview and the changing world around them. They've had to negotiate a pact between past and present, between cultures and even between generations. They've been changed by the American workplace, by the neighbors next door, by the American ethos – and indeed by their own American-born children.
Even the face in the mirror remembers another younger face, different dreams and quite a different way of thinking. Outwardly, they may look the same – the glowing bronzed skin, the sparkling Indian eyes. Yet if they were to land upon a mustard field in their hometown in the Punjab or in their old apartment block in Colaba in Bombay – old acquaintances would have to say, "This is not the same person. I know him and yet I don't."
Satya Rana of Markham, Ontario, is not returning to his homeland, but his ashes are: "I would have loved to die in India, but atleast my ashes are going back to India, back to the Ganges."
While the promise of untold wealth may have been the lure for most Indian immigrants, in the long run much more than just their financial status gets changed. Vociferous as they may be about India's 5000 years of culture, they find that American ideals and human values, even the tabloid and pop culture all impact and transforms them. And sometimes, America actually reinterprets India for these immigrants in new and wonderful ways.
Over the course of two and three decades, the immigrant who came to America apprehensive and elated, lugging his belongings, has evolved. It's almost as if he's crested the hill and has a wider view of the surrounding panorama. What seemed to glitter from the distance has turned out to be Fool's Gold, and now other horizons shimmer in the distance, catching the red-gold sheen of the setting sun.
Ask Andy Iyengar of New Jersey, who today leads Sysfour Solutions, a $12 million telecommunications company. When he boarded the plane from Bangalore in 1984, he had a simple goal rather than any grandiose American Dream in mind . "My dream, honestly, was just to be able to buy a house in Bangalore and go back. That's the truth. I wanted to buy a big, comfortable house back home." It took him 10 years to achieve that goal. A mechanical engineer, he had worked with Dunlop and Wendt India before moving to Michigan to work for a hardware company. But his plan did not quite proceed according to script, because the economy stalled, especially in Michigan with the woes of the automotive industry. The company closed down and he was out of a job.
"My wife and I moved to Jersey City and we were willing to do anything and everything in life. Both of us had to start from scratch, with hardly anything in our pockets. We lived in a basement apartment and my daughter attended Public School 123, which was also known as Mahatma Gandhi School."
After a few months of struggle, the mechanical engineer found a job hawking computer hardware in a retail store and his wife Rama was hired by Panam Airlines. But there were other ups and downs to come. "The funny part is that a year after we get our jobs, both our companies filed for bankruptcy! Those days we had free tickets – and we were happily vacationing in India and my wife gets a call from Panam that you'd better take a flight on such and such date, that's the last Panam flight out of India!"
As if that wasn't bad enough, Iyengar also got a call from a colleague in his own office, basically saying, 'You know what, you might as well take an extended vacation – you don't have a job here anymore!' He says, "So we came back and had to start our life all over again. It was not easy."
Today, Iyengar can laugh about it, because he's experienced the proverbial rags to riches transformation, but those tough days were very tough, and very real. He would pound the pavements, going to literally every retail store in Manhattan for jobs. He says, "I would do anything for a dollar in those days."
As is often the case in America, the Iyengars did find jobs and did better than survive. Around 1994, the computer software industry had started to boom, and Iyengar realizing the potential in management of software professionals, found a job recruiting such workers. "I'm one of the beneficiaries of the boom," he acknowledges.
After working in human resources with Key Data Solutions and Comsys, he floated his own company in 1998. Sysfour Solutions handles turnkey projects and employs over 200 people. So in a decade, the house in Bangalore became a reality. Not just any old house, but "a real nice place, right across from the house of my favorite Kannada superstar, Raj Kumar."
Andy Iyengar, shown here with family: "When I land in Bangalore, I have tears in my eyes."

But the second part of his dream – going back to Bangalore – has not quite panned out. His wife works with American Express and his daughter is majoring in journalism, and in the last two decades, since he has built up a business, a family and a community that has roots in Plainsboro, NJ, the dream now embraces America.
Has the engineer who set out from India changed? "Yes, big time. The vision was much narrower then. I was focused on making money, now I'm more focused on charity. Earlier I had my bills to pay, I had my responsibilities and commitments. But there's a comfort zone this country gave me; you don't have to be a rocket scientist to make it here. If you do simple, straight work and plan your finances and keep your money right, you can make a decent life."
Now, Iyengar's goals include working in the preservation of an ancient temple in Mysore, a Rs. 28 lakh project, and helping needy students in India with their fees. He is also involved with a Rotary Club, the first in New Jersey with an all-Indian membership.
In his 30's and 40's, Iyengar saw himself as that "all-American" Indian. "But these days, I feel different. I feel that India is my motherland, and America is my fatherland. It's like a typical Indian family where the father earns and takes care of the family in terms of its monetary needs and the mother takes care of its emotional needs. That's exactly how I feel.
"When I land in Bangalore, I have tears in my eyes. I feel like I've seen my mom! But when I'm there, believe me, I miss this country. America gave me the confidence and the comfort zone. If you think about it for a minute, if your day-to-day needs are not met, would you even be able to think about anything else?"
The man who came to America was an Indian. How does he see himself now? Says Iyengar, " I'm an American with a lot of Indian values."
Yet interestingly enough, it is American values that are sometimes a draw for immigrants. America's celebration of the rights of the individual is a resonating allure in political upheavels worldwide and it does not leave those who come into contact with it, unchanged. The law protects so many freedoms from racial equality to the rights of the disabled that even the weakest are assured of their day in court.
Bhajan Singh Gill is an immigrant who was compelled to spend ten years away from his wife and daughters, enticed by just such an America. Indeed, while he had been drawn by the siren call of consumerism in American television shows that he saw in his hometown, what has been transforming for him is the value Americans place on human life and dignity.
He missed a decade of his children's growing up years and gave up the post of assistant district attorney in India to become a part of America. Very few people would go down to go up, but that is what happened to this lawyer from India, who discovered that the next rung in the ladder when he came to America was – pumping gas!
"I worked ten hours every day in the night shift in a gas station in downtown San Francisco," he recalls. " It was a very rough neighborhood where nobody wanted to live, but I worked and lived there."
Gill, who grew up in Rurka, 20 kms. from the industrial city of Ludhiana in Punjab, served in the Indian Air Force before getting his license to practice law. He worked as an attorney for five years before coming to the U.S. for a visit: "I held that post (of district attorney) for just six months; there was just so much corruption in the police department that I resigned. I just didn't want to live that kind of life."
Gill struggled at the gas station until he met a fellow law graduate from Ludhiana who encouraged him to study and helped him secure a job at The Mann Law Firm as a legal assistant. In 1995 he was able to buy a three-bedroom condo in Union City and finally call over his wife and four daughters.
With his legal background, Gill is impressed by the deference to the law in this society. "They say honesty pays everywhere but I don't see it pays in India. I feel here in America if you work hard and you're honest you can get anything in this country."
He recalls what he used to tell his fellow villagers, "In America, a man is treated as a man. If there is an auto accident, within few minutes his life is saved – they don't see his color or his station in life. It's like 'Let the whole of America be sold out but this person must be saved.' Even a cop who gives you a speeding ticket will tell you to have a nice day."
America's promise of financial security, which attracted Gill, has come through for him: he recently sold his condo and bought a big, brand new home with four bedrooms and three full baths and a big backyard. "I have five cars – four cars and a van. How can you dream of such things back in India, even if you work very hard?"
Bhajan Singh Gill: "They say honesty pays everywhere but I don't see it pays in India. I feel here in America if you work hard and you're honest you can get anything in this country."
But his deeper transformation has been personal. Many immigrants bring antiquated stereotypes of how daughters should be reared and dictate what their future should be.
For Gill, however, educating his daughters has become an important objective, giving them the freedom to pursue their goals.
Back in the Punjab, he says, the pressure would have been on the girls to get married and his eldest would probably have been the mother of two or three kids by now. He says, "I feel they should be on their own feet and self-sufficient before they step into their married lives so they need not be dependent on their husbands. Both husband and wife can work and have a good life."
One of his daughters graduated from San Jose State University as a registered nurse while the other has a bachelor's in business administration. His two younger daughters are in college. He says, "Everyone is working, including my wife Surinder. It's so peaceful and such a happy life."
America has also inculcated a philanthropic streak in him as he seeks to help others, like a girl from their village who needed funding for education: "We see here how much people help others and that's changed my opinion too – if I'm able to help someone, I must." For some immigrants the journey from India takes them half a globe away – back to their roots! Growing up in India, many young people were fascinated by the west, by Hollywood films, by the Beatles and Elvis and Marilyn Monroe. Everyone knew what the Statue of Liberty looked like, but few had ventured to the far recesses of their own land. And if one can venture further, there were perhaps hang-ups of the Raj too, where everything western was so much better, and Coke was It.
Ironically, many immigrants have got to know their own culture in a more meaningful way here, seeing remote idylls on public television, encountering paintings and sculptures in landmark exhibitions and listening to concerts of noted Hindustani musicians in American cities. America's blatant love affair with everything Indian from fashion to food and literature has also spiked the interest of Indian Americans in their own culture.
Vanita Sakhrani, for example, had to come all the way from Bombay to New York to discover the joys of yoga! A diehard businesswoman, it took her two decades to embrace this lifestyle. A certified yoga teacher for the past five years, she laughs: "The funny part is when we got married, my husband used to do yoga – and I used to think he's weird! He would practice the headstand every morning and I would say to myself, how does he do that? Now it's the other way around, I must practice yoga every morning and he doesn't."
Sakhrani was in her teens when her parents expanded the family business to London and moved the children there for higher education. She literally grew up with a silver spoon, attending an elite boarding school for girls and then joining her father's business. She traveled on business to Europe, especially Hamburg, where the family had another office. The business training really came in handy after her marriage to Girdhari, a Sindhi businessman in Bombay.
It was Girdhari who came first to the United States and set up a store in New York. Within a year he was able to arrange visas for his wife and two children. Says Sakhrani: "We wanted to start something new for our children. It was like new pastures, and we wanted to start a-new. My dreams were for my children – that's why we came here, to have a better life for them."
The family stayed in a modest hotel in Manhattan until they got a three bedroom apartment in Queens. She recalls, "I was overjoyed! I got nothing but bare walls and my first job was to run to Alexander's to buy the cleaning stuff and other essentials. We slept on the floor till we could get real furniture; it was a real new way of beginning a life.
"In the beginning I had no career goals or aspirations. I wanted to be with the children and be the best mother that I could. That was my goal." After the children were in high school, she joined Girdhari in his export and import business. Then in 1986, both her husband and her 86-year-old mother-in-law whom they had brought over from India to live with them, had heart attacks.
Recalls Sakhrani, "The real battle had just begun and I vowed to put up a fight to hold on to my sanity. Life is about choices that we make as the circumstances play in front of us. When my mother-in-law became very ill, she was adamant about going back to India. Girdhari and I decided that we would now have to set up a second home in Pune, India."
The short sojourn turned out to be a five-year stay for Girdhari who decided to give up everything to take care of his ailing mother while his wife commuted between Pune and New York, keeping both sides connected.
It was during one of those visits that Sakhrani's life started changing. "I was going through a lot of stress and I think this stress went to my shoulder. I couldn't lift my right shoulder. The doctors told me I needed surgery, which I wasn't ready to have." She saw the Iyengar Institute of Yoga in Pune and decided to give it a try. The pain ebbed: Slowly she learned to enjoy the painful stretches. "That was my first step towards changing my lifestyle and it's basically the best thing I've ever done."
Back in New York, she tried finding a yoga center in Queens to continue her practice and found none. This was five years back when yoga hadn't really mainstreamed. She finally found an ashram in Queens that was running yoga classes. She later furthered her training at the Yoga Teachers Training Institute on Long Island, and graduated in 2000. All the while in her frequent commutes to India she kept taking advanced classes with expert teachers.
For Sakhrani, yoga become a profession, a passion and a way of life. She rented a studio in the Ballet School of Forest Hills in Queens where she started to teach yoga twice a week. She was then invited to give a yoga demonstration at St. John's Hospital, which was initiating diverse health related programs for the community. Starting with a weekly class, she now teaches six classes every week at the hospital and also at two senior centers in Queens.
"Even though my roots are from India, I did not appreciate the true wealth and meaning of my heritage until I was in severe pain," says Sakhrani.
"For me the philosophy and the research in this field is a never-ending goal. I feel that besides learning from my peers, I am forever learning from my own students who make teaching a pleasurable adventure.
"They are a gift that I learn to unwrap everyday and I believe that learning yoga can make a lot of difference to each and every soul that is open to embrace it. I am still amazed to discover the hidden potential of my body and the difference I can make to others and myself."
Vanita Sakhrani, seen here with her family, came all the way from Bombay to New York to discover the joys of Yoga.

With her two sons professionally established in New York, Sakhrani's goals now encapsulate the larger community. She recalls the joy of teaching yoga to senior citizens who could not even cross their legs when they started. She laughs, "Never in my dreams had I thought that I'd be a yoga instructor! It's been the joy of my life. I want to breathe, talk about it, and to feel a difference in every person I touch."
Where does this immigrant from India place herself in the American landscape?
"I'm American with a deep-rooted background of India, which I admire. I love my culture as much as myself and particularly more so now that I have become part of the heritage that I have connected myself with. I've been able to assimilate a lot of different cultures and become more open to understanding other people."
Indian. American. Indian American. American with Indian values. So many descriptions for a state of mind that defies description. At what point does one shut off one's Indian-ness and become a full-fledged American? Does this – can this – ever happen? Does the identity struggle ever end, especially as the In-Between Generation passes the 40's and 50's into retirement and final good-byes?
The pull of the homeland contends fiercely with the pull of children and grandchildren. Continents, oceans and thousands of air miles separate the two and many immigrants in their sunset years realize finally that their original dream of returning to the homeland is just that – a dream.
Just too many intangibles like a grandchild's first steps or a toddler's embrace bind them to this land. With their belief in reincarnation, many can hope to go back to India to live, if not in this life, then in the next.
Satya Rana of Markham, Ontario, is not going back to the homeland, but he says his ashes are: "I would have loved to die in India but at least my ashes are going back to India, back to the Ganges."
Life is about many journeys and for Rana, the most traumatic began in 1947 when, as a 9th grade student, he had to leave his home in the small town of Gujrat in Punjab, about 100 miles west of Lahore. "Everything got disrupted with the Partition. Our family was totally ruined, nothing was left."
His father, a medical professional, started over again in Pathankot in India, and Rana secured his masters in journalism and political science. He ran a paper called Book Times but that soon folded and with the job market bleak, he immigrated to Kenya with his wife Lalita to work with a publication called Industry Journal.
As his children were growing up, Rana moved once again to Ontario, Canada, to work with a weekly magazine called The Northern Miner. Here he and his wife raised two daughters. After 14 years as a journalist, Rana jumped into real estate, first as a sales person, and then into buying and selling properties, and that's where he made his fortune.
Rana acknowledges the bond to his adopted land, which has given him many choices in every field for his children and even for himself: "I could not have done what I did in real estate – starting out as an agent and moving to buying and selling, and becoming a landlord. What money did I leave India with? Just $8. What could you do with that?"
Transformed by his sojourn in the West he might be, but India has a hold on him even as he reconciles to never moving back: "I'm a Canadian citizen but in hearts of hearts, India never leaves me. I always was an Indian, and I remain an Indian."
What moves him the most about India? "Sights, the land itself, the smell of it. Whenever I go to India, I rejuvenate myself. There's hardly any spiritual side here and moreover, roots are very important. I tell my kids: without roots you cannot stand anywhere in the world."
But certainly his perception of India has changed over the years: "Sure we cannot settle back in India because our lifestyles have changed, our lives have changed, the language has changed. When we go back to India, they know immediately, within a second, that we are foreigners."
Rana now feels the pull of his children and grandchildren, and yet inexorably he also feels the pull of the homeland. His father left him an apartment and properties in Pathankot, but it doesn't look like anyone will set up home there any time soon.
Says Rana, who is settling into a comfortable retirement in Markham, Ontario: "We always thought we'd go back but hardly anyone knows me back there, my children are not going back so there's no purpose in going back."
All six of Rana's siblings are settled with their families in the United States and Canada, so the ancestral land lies abandoned. Says Rana, "The homeland never disappears, but in the closing days of your life there's not much left there; it's the people that make a life – children, brothers and sisters – there's nobody left there to hold you. Yet, you cannot forget your motherland."
For the In-Between-Generation, time is moving on. While some may actually return home, the vast majority scout out retirement spots in America and Canada, close to their children and grandchildren. But India is never far from their minds. In Rana's circle in Toronto, the immigrant generation talks about India constantly.
"We read all the papers on the Internet these days. Sometimes we are more informed about what's happening in India than the Indians there, because they read one newspaper, we read ten.
"We keep track of all the news and this is the way we pass it on to our children and grandchildren. I just told my grandchildren about Partition, about how we were running. It's very important. We do not want them to forget who they are, from where they came and what's their heritage. Without heritage, they are lost people."
Immigrants can never quite go back, at least not to the home in the yellowed snapshot because the India of their youth has metamorphosed, but increasingly it's a part of their new reality.
Indian memories, colors, fragrances and philosophies, like myriad pieces of glass embedded in a child's fanciful kaleidoscope, create startlingly beautiful new patterns in the ever-evolving mosaic of their perceptions and identity.
For every nameless, faceless immigrant, the story always begins with a mighty steel bird making a leap into the sky, leaving terra firma for an adventure in rediscovering the self. Was it meant to be – or was each immigrant writing his own part in his own play? Vanita Sakhrani thinks it is all written in the stars: "I believe that sometimes our choices are made for us, we just have to play our parts, even though we believe that we are the masters of our destiny, our destiny is already written; we just do our part for the day. "I am grateful for every second of my life and the way the Creator has designed it for me."