Food
The Immigrant Kitchen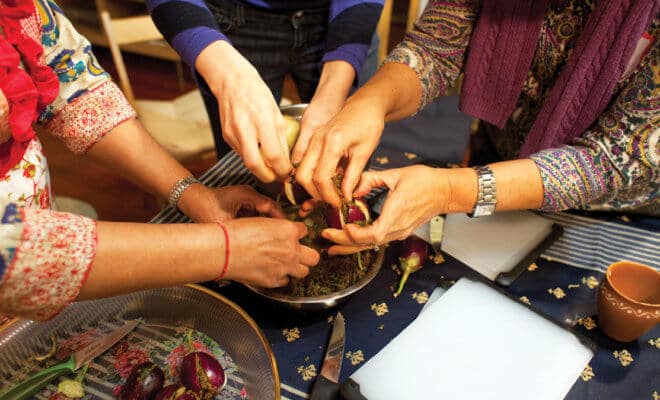 Across the United States, immigrant South Asian women are opening a window to their world to discerning diners.
Ranjana Bhargava was a new bride when she first came to the United States in the 1960s. With scarcely any Indian cultural markers in sight, Bhargava began finding solace in Indian cooking in her kitchen. Just a week after her arrival, she was startled to find her American neighbor knocking on the door to bluntly tell her to stop cooking Indian food. The neighbors found the smell of her cooking too overwhelming.
Although Bhargava was heartbroken, she did not let the experience define her opinion of America or Americans: "I understood that the problem was not that they wanted to rattle me, but for Americans, the smell of Indian food was too alien and hence unwelcoming. After the incident, I took it upon myself to try and introduce every American I met bit by bit into the culture I came from."
Food formed a major part of how Bhargava formed many meaningful connections in America. She began demonstrating Indian cooking everywhere from public schools to libraries to festivals. Today she runs Ranjana's Indian Cooking Classes from her Southside home in Chicago. Her interactive cooking classes are followed by a nine-course sit down meal in her home where complete strangers often meet and discuss everything from their personal stories to the current political situation as they bond over food.
Elsewhere in New York, Yamini Joshi, an instructor at League of Kitchens, a New York City based unique culinary experience, prepares a long list of ingredients and crafts a menu every week for her immersive cooking classes. Joshi teaches vegetarian Indian cooking and the nuances of food in Indian culture as participants soak in the sights and smell of India in Yamini's home kitchen. Amidst rolling chapatis and making paneer together, the motley group of culinary adventurers cross many cultural boundaries as they break bread together.
Across the United States, immigrant South Asian women are opening a window to their world to discerning diners. Over hearty meals, the boundaries that may separate them by race and culture are dissolved and new understandings formed.
Wisconsin-based Alamelu Vairavan, cookbook author and food show host, conducts regular spice tours of the famous Devon Avenue in Chicago. The tour participants are mostly Americans curious about the spices that form an integral part of Indian cuisine.
Rachana Rimal, an instructor with League of Kitchen, welcomes food lovers from all walks of life at her Flushing, NY apartment. The Nepali accents throughout her home set the mood for a meal that borrows from Indian, Chinese and Tibetan influences. Rimal says: "Our food is influenced from India and China. So we have pilau, manchurian, dumplings and other dishes that we take from other cultures but make differently."
Rimal appreciates the opportunity to treat strangers to her food: "Any time I cook, I always remember that my mother said, 'We are all from God, so when you feed somebody you are engaged in a Godly act.'"
Bay area based Prerna Singh blogs and Instagrams with the handle Indiansimmer. She launched her blog with the goal of making Indian food approachable and posts everyday home food that she prepares for her family to help people understand Indian food better. Singh, whose blog has gained popularity across the United States is also tackling the tough territory of desi tiffin ideas for kids by running an Instagram handle showcasing Indian inspired tiffin for her kids every day.
In Cincinnati, Ohio, chef Madhu Sinha leads everything from Indian Rice Workshops to show Americans the difference between biryani, lemon rice and coconut rice and introduce them to curries at The Learning Kitchen, a cooking class destination where conversations are held about food and culture at their inviting boutique kitchen.
Food plays an important role in America's immigrant history. The rise of immigrant cuisines, such as Indian, is particularly notable against the backdrop of growing hostility toward newcomers in the current political climate. Chitrita Banerji , a Cambridge, Mass., based, food historian and author of several books on regional cuisines and cultures of India, says: "The US, more than any other country, has been shaped by successive waves of immigration. People from different countries come here and initially, their nostalgia and homesickness finds expression in the recreation of their own foods. Once they start sharing that food with the people, they create a coterie that learns to appreciate a new cuisine and then perhaps try to replicate that when cooking at home. This builds a cultural bridge that extends to other areas of exchange and understanding."
Emotional Process
As more South Asian home cooks showcase their skills in warm, informal settings, the connections formed are decidedly deeper. Participants at these programs find these food journeys more impactful than those from dining at Indian curry houses. While often the delightful experiences bring the spotlight on regional, relatively unknown foods, principally the exchanges lead to identifying similarities in defiance of pre-conceived notions.
Afsari Jahan, a Bangladeshi American, who is also a League of Kitchens instructor, spends her Saturdays simmering saffron phirni and cooking up kachche gosht ki biryani in a group. An eclectic group of bankers to tourists join in her apartment in Flushing, Queens.
Jahan, who has been cooking and catering for a restaurant too, says the experience of inviting people home for food experiences was an eye-opener to her too: "When I started, a lot of Italian and French chefs participated in the program. I would be lying if I say that I wasn't surprised by their interest. If that was not all, they also agreed that they found Indian food subcontinental cuisine healthier than their own as it has no excess cheese or fat. They also wanted to know how a cooking tradition evolved and the ancient knowledge and customs of our kitchens. I don't think when one is eating those commercially made dishes in a restaurant such reciprocity is formed."
For many home cooks, the fact that many locals choose to visit and try their food in a simple home setting without any qualms also translates into acceptance. Yamini Joshi says its truly gratifying for her to discover everyone from CEOs to historians come into her modest Kew Gardens, Queens, apartment to learn her food: "When I started, I definitely did have apprehensions. After all I am a home cook. I have not studied culinary arts. I do not speak fluent English. I am not even very educated and came to the U.S. much later in life and still follow my cultural practices. But it was eye-opening that none of it deter the visitors."
Even though the political atmosphere is increasingly charged and the public rhetoric inflammatory, Joshi affirms that on the ground she is experiencing a deep interest in her culture: "The fact that someone comes to my door and sits in my kitchen and chats while we stuff the samosas speaks much more about their openness than mine to embrace cultures."
Prof. Banerji says the respect is mutual: "I am sure that many immigrant women impress locals through their enterprise, their energy and their dual ability to adapt to American life and also retain their attachment to native beliefs and customs."
For the women involved, the process is empowering. Lisa Gross, founder of The League of Kitchens (LoK), says: "It is doubly meaningful today to have such connections. Right now, there is so much hatred towards immigrants that it is important to bring these humanizing stories closer together."
She adds: "So much of what we do is about creating opportunities for cross-cultural connections. When the classes are held there is no staff member, but only the immigrant who is in the position of power. There is an incredible intimacy and warmth that often does not happen even in a diverse city like New York where most conversations are service based."
India For Inspiration
Nation's Restaurant News, one of the leading resources for business intelligence on the food industry, predicted Indian food as one of the biggest trends in 2017. Its 2018 trends again looked Eastwards with naan or Indian flatbread making its way as one of the fastest growing breads in the menus according to Dataessential.
Nation's Restaurant News noted: "The fact that chains are referring to naan instead of pita, which would have likely been their choice just a few years ago, indicates that naan might be one of the hero foods that moves Indian cuisine further into the mainstream."
According to LoK's Gross, the interest in Indian food extends beyond commercial restaurant food: "When we conceptualized LOK we did keep immigrant population and interest in cuisines in mind. But the fact that three out of ten of our instructors are from South and East Asia and the interest in them continues to rise proves that Indian cuisine is extremely sought for."
"Also the fact that helped also is that Indian cuisine is so diverse. For instance, Yamini who does Rajasthani vegetarian fare has a totally different repertoire from Afsari who is into Mughal non-vegetarian cuisine."
Chicago based professor Ashish Sen, who serves as vice chairman of the Chicago Transit Authority, often holds informal Indian cookouts both at his home and in public venues. He says that even though the culture of understanding Indian cuisine is fairly new in America, with more enriching experiences the knowledge about Indian food and places is becoming more informed: "Last time when I did a cooking demonstration at a Whole Foods in Chicago area, I prepared a simple chicken curry and pulao for people to sample. But what caught my attention was that people asked questions such as — is Pakistani food similar to Indian food? Or what is the difference between Hindu and Muslim food in India? This surely reflects that the days when all Americans knew about our food was curry or chicken tikka may be waning."
Indian food authors in America have also contributed to bringing the regional aspects to the fore. Chitrita Banerji says, "My very first book, Life and Food in Bengal (Bengali Cooking in the U.S.) is a cultural/anthropological presentation of the food of Bengal, including both West Bengal and Bangladesh. Although it includes recipes, my real interest was in writing about how the cooking and eating habits of the region were integrated with geography, seasons, religious practices, folk beliefs and historical events. I felt that for the readers, especially Western readers, a mere catalogue of recipes might be exotic and perhaps tasty (if they cooked them), but it would not provide the richer appreciation of the food that knowledge of its origins and history provided."
For many Americans armed with the new knowledge about variations in Indian food by regions and religions, also highlighted how different Indian home food is from the food served in restaurants across the western world. The precision, knowledge and efforts that go into Indian cooking shows the dedication of the community toward food and sharing.
Ranjana Bhargava recalls her first cook out in America at Chicago's Blackstone Library in 1970: "I made chai and sooji halwa as a curious crowd watched me over. The chai, even though an alien concept then, won over many hearts."
"Back then even though we had limitations, such as availability of ingredients, it did not stop me from introducing people to our cooking. I made many experiments, such as adding khatai in applesauce to make saunth for papri, or one time during a school cooking for kids I carried elaichi powder I saved from my India trip to make mango shake. I believe that Americans do admire this dedication towards our food which of course reflects in all aspects of our social lives."
Very often these passionate home cooks also create cooking pop-ups not for commercial gains, but from personal passions. Bhargava recalls that many times she would do demos and charge just $2 for the food from participants. Ashish Sen continues to occasionally hold classes in his home, but refuses to charge for it: "The last time I did a cooking demo in my home for six Americans and showed them three different style of cooking chicken curry. Since I do not want to charge for it they wrote a check for my charity."
The bonds formed over food often enhance human interactions, Banerji says: "When the new immigrant has the ability to present his/her food a wider circle of interest and appreciation is created. This often results in a two-way street of influence. The immigrant tries to modify and adapt the native food to suit the palate of the locals (think American chop suey, spaghetti with meatballs, Tex-Mex tacos, tandoori chicken or chicken tikka masala). The native expands his/her tastes by learning to tolerate unfamiliar ingredients and spices. Whether they admit it or not, this sharing, adapting, accepting of food generates a broader outlook and understanding among many members of the public, something you are less likely to see in countries with closed, homogenized societies. In my view, this, along with other intellectual/cultural exchanges, is one of the most positive things about immigration. The immigrants' food becomes the native's food and vice versa, in the process enriching society and human relationships."
The Indian affinity to welcome guests into their homes comes naturally. As Yamini Joshi sums it up: "If I had my way, I would invite everyone to come to my home to enjoy my sambhariya (a stuffed vegetable dish). There is so much happiness in sharing the food, never mind the leg work!"