Magazine
The Daddy Mummy Generation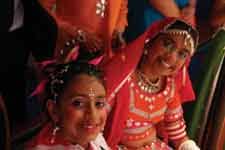 Shall We Dance? Na, Na, Na!
Peep into a desi home in Ohio or Philadelphia and chances are a 3-year-old tot is in front of the DVD player, lip-synching to a hot Kareena Kapoor dance number. When she's six she'll probably join a dance school; by 16, she'll be performing at a family wedding, gyrating with a bevy of girl friends. Increasingly, boys are following suit because Salman and Shahrukh have made male dancing hip, not sissyish.
A decade ago the word "Boogie Woogie" might have drawn a puzzled look, but now participants from the Indian Diaspora travel to New York to participate in Sony's annual Boogie Woogie International dance contest, which this year was judged by Bollywood stars like Sunil Shetty, Mahima Chaudhary and choreographer Padma Khanna. The dancers, all children of immigrants, had come from UAE, Australia, South Africa and Kenya to dance on a New Jersey stage to Bollywood music.
For most immigrants growing up in India, dance was a passive, viewer sport where someone else danced and everyone else watched. But how things have changed. Indians are dancing – in discos, parties, weddings, and in contests. People seem to have finally given themselves permission to let their bodies move freely to the music.
While classical dance has always been a part of the Hindu ethos, it is Bollywood that has taken its own spiced up version of classical, folk and modern dance moves and transformed it into a national passion. Dance has always been an integral part of Indian cinema and song scenes have long riveted audiences while the love triangle played out at a party, usually at the piano. The really hot cabaret numbers belonged to Helen, and even in movies, the party audience watched.
Then slowly, the Bollywood dances became more participatory. You'd see entire families joining in the dance scenes that often imitated real life on the streets, on campus and even in the kitchen.
In the 1980s, after Hum Apke Hain Kaun, came a whole glut of movies with wedding song dance scenes, with everyone from grandma to the kids kicking up their heels. One of the most popular scenes in Kabhi Khushi Kabhie Gham shows the entire family – glamorous and gorgeous – dancing together for a karva chaut festival.
Overseas Indians have jumped into this band-baja-togetherness with a vengeance. The elaborate wedding of NRI Indian billionaire Lakshmi Mittal's daughter Vanisha showcased family members lip synching and dancing the love story of the couple with panache, just like in the movies. Today, at virtually every Indian wedding, movies come to life as old, young, and middle-aged all descend, or are coaxed, on the dance floor, lip-synching and moving to the latest Bollywood hits.
Until a few decades ago, popular dance in India was confined to clubs and ballrooms with a distinctly Western flair – Western pop music, the twist, or the waltz… But increasingly in India, people are celebrating their own music and dance. In the last two decades, Indian ethnic fashion has taken center stage. Stylish kurtas and sherwanis are being reflected on the screen with swashbuckling Shahrukh Khan and Salman Khan, clad in kurtas or achkans and shawls, breaking into dance at the slightest pretext. Indian dance had never seemed so hip, legitimate or manly.
Now go to any Indian party or wedding and you would be hard pressed to find Western dance -the moves are truly desi, in a pan-Indian way. Once again Bollywood has done some good, popularizing everything from classical dance to bhangra and garba. In India itself regional, folk and tribal dances had been confined to their own communities, but Bollywood has familiarized audiences with them.
Indian parents, even second generation ones, are anxious to pass on their cultural heritage to their children and schools of classical music and dance are sprouting up all over the United States. There are scores of such schools in virtually every major metro from Boston, Atlanta and Miami to Houston, Los Angeles and Seattle.
Arangetrams (initiations into classical dance) are taking place across the nation, a big bustling industry with everything from music, costumes, lessons, and of course the big gala performance and dinner to mark the event. For activity addicted Indian children this is another "thing" to put on their resumes while at the same time making parents and grandparents blissful.
The Indian community was always drawn to Bollywood music and dance, but not until recently did it feel free to join in. "With the way the Desi society viewed dancing during my parent's generation, I think it would have been a challenge," says Pooja Narang of Bollywood Axion, a dance studio in Manhattan. "It is something that has only become a phenomenon in the last 10 years or so. Now even the parents are starting to come out to classes either for exercise or just to fulfill a passion they didn't feel they could ever articulate."