Arts
The Changing Music Scene in India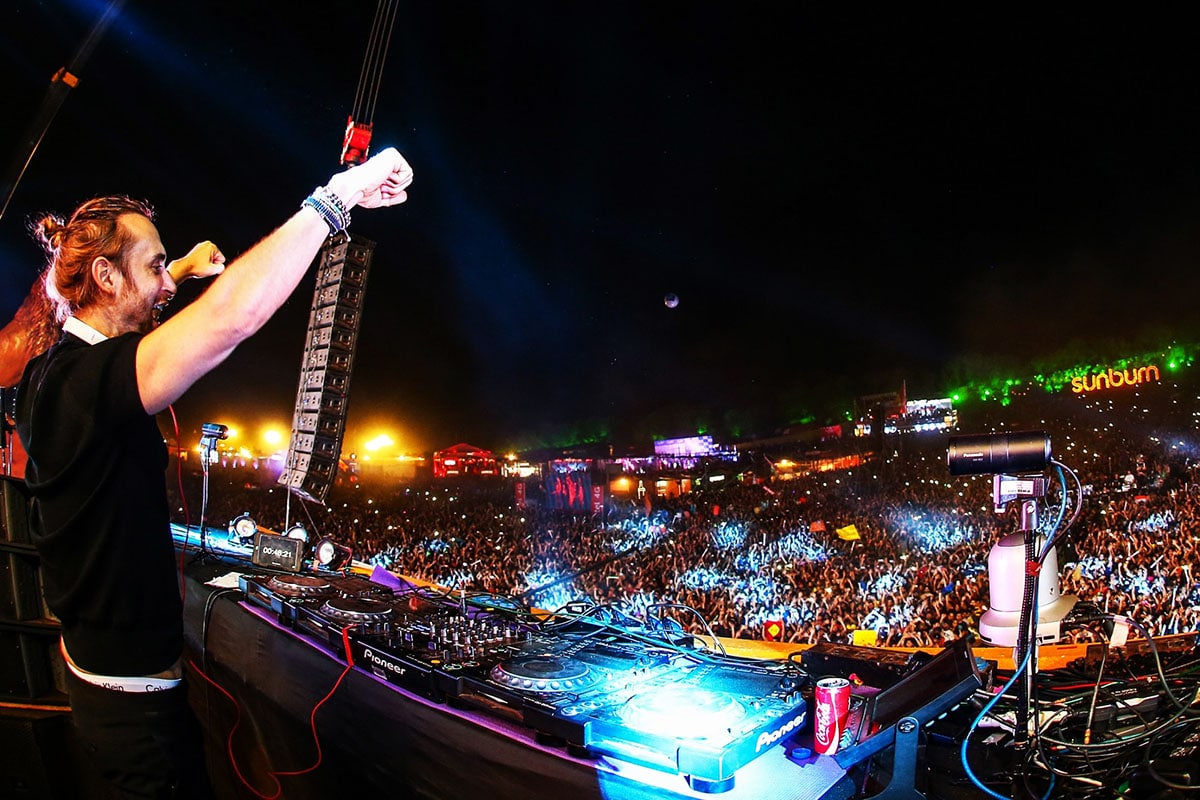 Big ticket concerts in a wide range of music genres have become part of the millennial culture.
If there was any excitement during the uncomfortably hot and humid month of August in India, it was the news that the rock band Coldplay was coming to play in Mumbai in November. Since the announcement, everything from the rumors on the price of tickets to the dates has engaged an entire generation of young Indians. The performance will be a part of the Global Citizen Festival, an event that takes place in New York's Central Park each year on the sidelines of the UN General Assembly. And just like its Central Park counterpart, tickets to the India concert are free.

KSHMR performing at the Sunburn festival in Goa.
In the rapidly changing music scene in India, big-ticket concerts have become a part of millennial culture. Music loving youth from India no longer have to satiate their aural senses listening to the experience of friends and relatives settled abroad about attending live music concerts with world renowned musicians. The growing import of music and musicians from Europe and America to India is boosting the interest of Indian youngsters in music genres.
The progression from Bollywood songs to MTV, which whetted Indian music tastes on Madonna and Michael Learns to Rock with a bit of Indian pop thrown in, to world music may have taken a decade. But today a variety of concerts in genres ranging from classic to rock to electronic are fast becoming a mainstay of India's music scene.
Western music promoters have taken note of the widening serious music fan base in India and are only too eager to comply. Coming up also in November to Delhi, is The Electric Daisy Carnival, one of the largest music festivals held annually in Las Vegas. The biggest celebration of electronic dance music (EDM), which attracts more than 300,000 revelers to cities such as Las Vegas and New York will be wowing Delhi with some of the top EDM DJs in the world. The line-up includes Los Angeles based Tommy Trash, Dutch Afrojack and Netherland based DJ and record producer duo Yellow Claw.
And if you thought it was just a big city phenomenon, then know that Tommorrowland, another major electronic music festival in the world, which is held in Belgium, has been live streaming in Hyderabad for two years, complete with live DJ sets and machines synced with Tommorrowland's main stage in Belgium.

Sufi music festival in Jaipur.Leading Western DJs have been regularly playing in India and in an interesting twist, some Indian American young music lovers are timing their India trips to take in the big concerts and famous gigs in the country.
Shalini Sinh who travelled to India from Florida last year around the time Bacardi NH7 Weekender, a multicity music festival, was being held, says: "A few years ago I couldn't imagine that a holiday to India would mean attending a concert with Megadeth and AR Rahman performing. I think the time for spending days in India watching back to back Bollywood movies are over."
Sinh is not alone; for many visiting from abroad the changing face of Indian music is a pleasant surprise. India has its own edition of very successful music festival Sunburn that is held annually in Goa, the hot spot for electronic music in India. In recent years, Bangalore has been holding everything from heavy metal to blues festivals. Cult fest is a unique musical event introduced in Bangalore, which emphasizes emotive expression of music and brings together well-known Indian and US based artists.
In recent years, many popular musicians from around the world have performed in India. Earlier this year, Mike Candy, a Swiss DJ with a cult following, performed in Mumbai. American alternate rock band Switchfoot, who toured India in March this year said that the country had long been on their list and that they found the crowds extremely energetic.
While the Beatles toured the country as early as 1968, demonstrating that India as exotica has always fascinated Western artists, it is only now that the younger generation is actually ready to explore the global music scene.
Indian singer, songwriter and You Tube sensation Sanah Moidutty says: "Today genres such as EDM are particularly popular as melody and lyrics have taken a back seat. A song with more beats and electronic elements has a larger market among the youth."
Also as India has the world's largest population of youth, who are more attuned to the Internet, streaming and downloading has altered the music space. Beyond the concerts and events, the music scene in city clubs and cafes is also undergoing a transformation.

Tickets for a Penn Masala, an American Capella group, for a gig in Delhi and Mumbai sold out in a record 60 seconds.Varun Duggal, who manages music at Farzi Café, a hip modernist eatery across India says: "Music today has indeed broken language barriers. A lot of our foreign guests request Sufi rock, they like the rhythm without understanding the lyrics and a lot of our local visitors from suburbs, such as Gurgaon, too demand for rock and metal for the beats, not so much for the fast-paced words that they barely understand."
Where once Bollywood dominated the scene, for youth today the alternate music scene and the rising interest in global beats have begun to influence Bollywood. Moidutty says, "Bollywood music has started incorporating elements of various genres like EDM, hip hop, RnB, etc., and has definitely become more arrangement centric than melody centric."
A growing demand for independent acts during concerts also shows that the audience is evolving. Duggal cites an example: "Some time ago we invited Penn Masala, an American Capella group, for a gig in Delhi and Mumbai. The tickets priced at Rs 1,500 (approx. $30) were sold out in a record 60 seconds. For the second lot we raised the price to Rs 2,500, thinking that the tickets will remain up for sale for some time, but this time it took three minutes for tickets to get sold out."

Supersonic electronic dance music festival at Candolim, Goa.According to music industry insiders, the number of albums released by Indian artists is growing phenomenally. The volume ensures that Indians are exposed to all kinds of music — from the unbearable to the exceptional in the home market.
Duggal notices another trend of an increased maturity in understanding and appreciating music. He says: "It has also happened that some of the gigs we organized with brilliant but upcoming artists were better received than some of the very established names. What this means is simple. Not only are we turning into music aficionados, but are also in a mood to promote musical talent."