Arts
The Bollywood-award Epidemic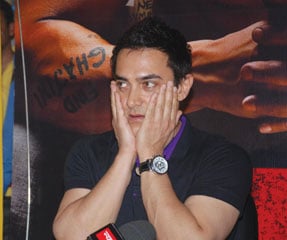 Breaking News! Between January-June 2011, there will be a torrential flood of close to (believe it or not?) 175 Awards Functions, according to media reports. Exploring different categories, showcasing stars of every size, shape, color and status, these full-on, glitz, glam and gloss-driven shows will translate into mega bucks for the organizers, stars and TV channels beaming these
dhamakedaar
spectacles. They will invariably be followed by the ritually staged bonding-shows,
jhappis
, bonhomie, camaraderie,
khana-peena
….
Somewhere along the way, something critical is always missing: seriousness credibility, purpose, transparency and focus, leading sane watchers to ask one simple question — who's doing what for whom … and why?
Shah Rukh Khan and Salman Khan are frequent participants, forever picking up awards at every show they grace.
A quick look at Bollywood's Baap, Hollywood, presents a totally different picture. In their seminal paper on "What's an Oscar Worth?" in Economic Inquiry, Randy Nelson and Michael Donihue of Colby College and Donald Waldman of the University of Colorado at Boulder, estimate the average benefit for a Best Picture winner at a cool $17 million in ticket sales. Slumdog Millionaire — for people who are interested — zoomed into the dizzy $47 million slot, okay?
Most Oscar-nominated actors climb up the pay-check and esteem ladder too and even smaller movies profit. Sure, there are veiled whispers of rigging, favoritism, etc., but hey, it's practically impossible to "fix" a 6,000 member jury. And multi-million dollar, hi-decibel campaigns, heavy-duty lobbying — as Mr. Perfectionist Shah Rukh Khan will tell you — can only do that much.
Also in terms of scale, it is a freak out. Consider the 2011 Oscars. $270,000 worth of goody bags were presented to all the losing nominees. 3,332 privileged guests witnessed this amazing spectacle at Kodak Theater. It was followed by 50 officially sanctioned parties. Some 248 films were eligible for this year's Best Picture Award and 1,700 man hours went into counting and verifying the ballots. Everything considered, the results are mostly fair, the prize hugely coveted and for sheer glamor, grandeur and glory, the Oscars remain the planet's premier show, spectacle and award!
Aamir Khan avoids the awards show circuit.
In comparison, our award-mela — which wraps up by mid-year — is often reduced to mockery. The same, long, boring hi-voltage hamming by chosen anchors, energetic dance numbers by leading stars, gossip, bitching … and yet the shows — all 175 — rock!
The award phenomenon was formally launched 57 years ago in 1954 with the first Filmfare Award. Today, five decades (and a zillion Award functions later) the award show phenomenon has been reduced to a populist, glamor-driven farce catering to the lowest common denominator. Diluted and devalued beyond imagination and solely engaged in the business of attracting TV ratings and grabbing eyeballs, most of these award shows seem to have totally lost the plot. But does anyone care or complain?
Moans Mimi Chaudhary, a Bollywood-watcher tracking the award function circus: "In recent times, these shows have turned into huge commercial, ego-massaging exercises. Star presence defines the show's success and remains the centerpiece. Aamir Khan never attends, but the other two — Shah Rukh Khan and Salman Khan — are frequent participants, forever picking up awards at every show they grace! The limit was seen in hard close-up recently when both these mega-stars got the Best Actor award — Salman, for Best Actor, SRK for Best Actor, popular choice!"
Ali Larter and Salman Khan in Marigold
Adds Chaudhary: "New categories are routinely added to add glamor, variety and spice, but most importantly accommodate as many stars as possible because they are the show; the show is them, So, the bottom line is if you want a star to participate, make sure he carries home an award, apart from that fat fee for shakin' a leg, on stage."
Young collegian Anita Chopra, a die-hard award-show-watcher, vehemently disagrees: "C'mon yaar, let's not be cynical and do the kill-joy jig, guys! Bollywood is about stars, glamor, sex-appeal and entertainment, so why shouldn't the Award shows reflect it? Seeing SRK, Salman, Akki (Akshay Kumar), Hrithik (Roshan), Kat (Katrina Kaif), Priyanka (Chopra), Bipasha (Basu) and Kareena (Kapoor) sizzle on state is an impossible high. To most of us Bollywood fans, the value or fairness of the awards — naturally we want our favorites to win — is less important than the action on the stage. Watching Ranbir (Kapoor) perform is like … wow!"
Aside from Aamir Khan, at least one big star has had the guts to categorically reject the whole concept of today's Awards. Ajay Devgan — the quiet, intense and hugely underrated talent who's had an amazing 2010 and seldom been awarded — is on record stating: "Awards seem to have become a business, dhanda ho gaya. The organizers sell TV rights for big money and have to justify it by bringing in as many stars as possible. The poor guys call everybody and when some stars say that they will come or perform only if they are assured of awards, these people are forced to buckle down. They create categories to fit in as many stars possible." Devgun ranks the National Awards highly, but complains that there too "sometimes politics makes an appearance."
A local wit says that the only way to counter this award-mania is to publicize and celebrate the desi version of Hollywood's Golden Raspberry Awards recognizing the worst movies — Golden Kelas and Ghanta Awards. Point is, unlike Hollywood, will any of our self-absorbed and ego-tripping narcissistic stars have the guts or sporting spirit to participate and pick
Ajay Devgan: "Awards seem to have become a business,
dhanda ho gaya."
up their prize for the "worst of the worst" performance/films? Full marks to Abhishek Bachchan who had the "cool" to pick up his Golden Kela award for Delhi 6 last year. Bravo! Others should learn from the Chhota B.
So what gives? Why can't an industry — forever yelling its head off about being global, corporate, professional, respectable and generally at par with the best of the best and romancing a loyal fan-base of a gigantic 3.6 billion fans across the globe — put together one single, credible, believable, coveted, respect-worthy award function? Why doesn't any award make any impact on anyone — trade, fraternity, media, fans or the box office? Surely, the true-blue Bollywood junkie deserves an honest answer. The truth, I guess, lies in playing safe, maintaining the status quo, pandering to vested interest … and god knows, there's lots of that!
And so on to the next award (y-a-w-n) function.